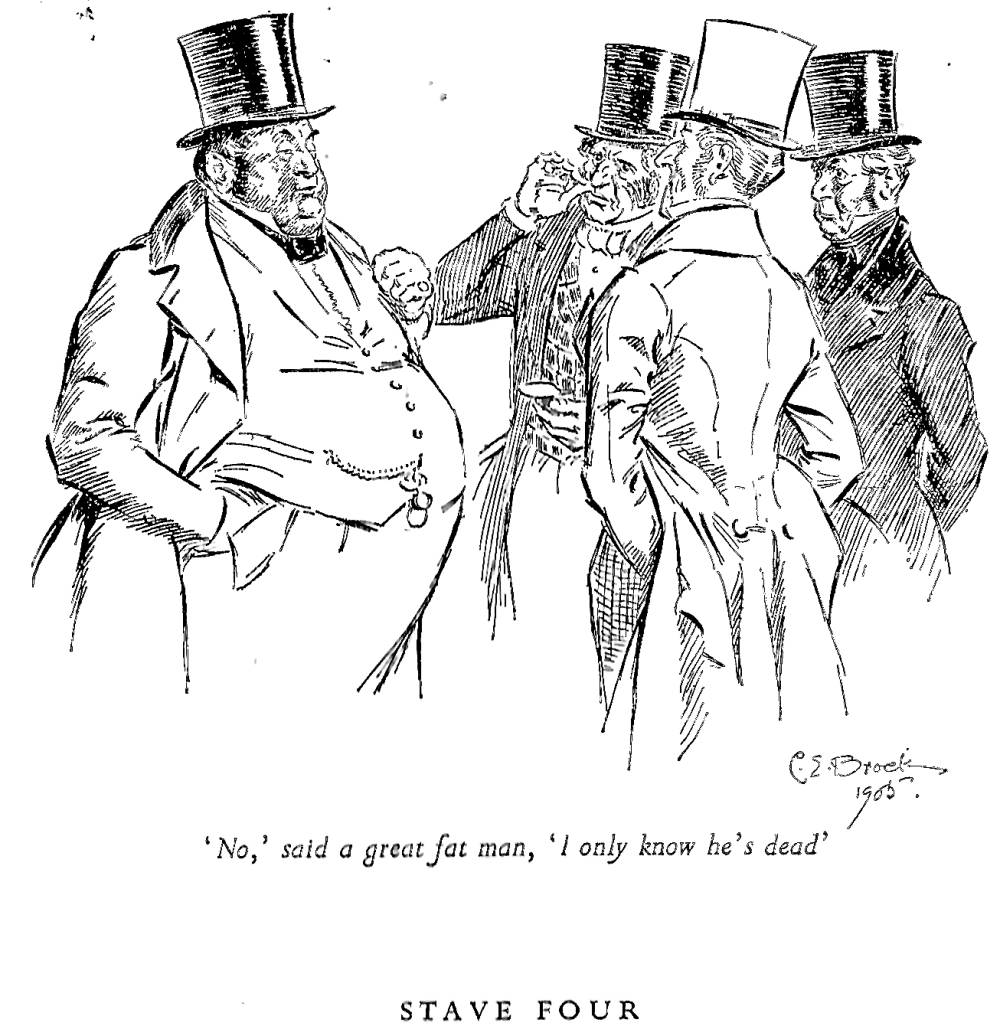 "No," said a great fat man, "I only know he's dead" (1905), a half-page headpiece for Stave Four, "The Last of the Spirits," 8.3 cm by 10.6 cm, vignetted (74), is Brock's realisation of Scrooge's visit to the 'Change at some future Christmas to observe how his fellow capitalists react to the news of his death. Men whom he has respected and whose good opinion he has courted reveal no genuine sympathy for him, and examine his demise from a purely pragmatic perspective, as perhaps he himself did the death of Jacob Marley seven years earlier. Although the original illustrator of the novella, John Leech, did not develop a realisation of this significant scene, various later illustrators have examined these "captains of industry" with a satirical eye, and doubtless have contributed thereby to shooting-scripts for various cinematic adaptations of A Christmas Carol.
Context of the Illustration
They scarcely seemed to enter the city; for the city rather seemed to spring up about them, and encompass them of its own act. But there they were, in the heart of it; on 'Change, amongst the merchants; who hurried up and down, and chinked the money in their pockets, and conversed in groups, and looked at their watches, and trifled thoughtfully with their great gold seals; and so forth, as Scrooge had seen them often.
The Spirit stopped beside one little knot of business men. Observing that the hand was pointed to them, Scrooge advanced to listen to their talk.
"No," said a great fat man with a monstrous chin," I don't know much about it, either way. I only know he's dead."
"When did he die?" inquired another.
"Last night, I believe."
"Why, what was the matter with him?" asked a third, taking a vast quantity of snuff out of a very large snuff-box. "I thought he'd never die."
"God knows," said the first, with a yawn.
"What has he done with his money?" asked a red-faced gentleman with a pendulous excrescence on the end of his nose, that shook like the gills of a turkey-cock.
"I haven't heard," said the man with the large chin, yawning again. "Left it to his company, perhaps. He hasn't left it to me. That's all I know."
This pleasantry was received with a general laugh. [Stave Four, "The Last of the Spirits," 76]
Commentary
Dickens mentions in the second stave that Scrooge has "business friends in the City" (33). This scene, set inside the old London Exchange, makes clear that Scrooge really has no business "friends," but only acquaintances who regard him as a corporate entity rather than a person — he is merely "Scrooge and Marley's" (10) even to the charity-collectors, who are after all men of his own class, merely a little more tender-hearted and solicitous on behalf of "the poor and destitute, who suffer greatly at this present time" (10) in their view, which is at best a rather restricted and patronizing perspective. Scrooge is surprised at first that the Spirit has even bothered to let him overhear "conversations apparently so trivial" (78), little realising that his own demise is the subject. Previous illustrators after John Leech have focussed on the ironic situation and the callous men of Scrooge's own class. Among the several illustrators have included a version of this scene are Sol Eytinge, Junior, Fred Barnard, and Charles Green, whose approach is more realistic than the others', and therefore closer to Brock's, in which well-fed and well-dressed middle-aged businessmen casually discuss a colleague's death as one takes snuff (centre) and ponder whether a luncheon is to be served at the funeral.
Victorian readers must have relished the irony of the scene in which Scrooge's business associates respond with little other than mild interest to the death of Ebenezer Scrooge, capitalist, investor, money-lender, and member of the stock exchange — but never actually name him. Readers strongly suspect that the dead man is Scrooge (this is, after all, a vision of his personal future, not just the future in general), but Scrooge does not reach the all too obvious conclusion. Rather, he expects to see his future self "in his accustomed corner" of the Exchange (appropriately in the 1951 film, "under the clock"), and is surprised when he sees another in his place.
Since the "great fat man" with the largest chin is holding forth in all these illustrations while others gathered round (presumably in the porch of the Old Exchange building) listen attentively to this "captain of industry," he is clearly the focal point of each illustration, a supreme representative of Scrooge's class. He is yawning in the Eytinge caricature of three top-hatted capitalists, but holding forth, his hands in his capacious, flowered waistcoat; conspicuously displayed, his paunch is the outward and visible sign of his affluence, and therefore of his commercial enterprise and sagacity. Here, in the Brock interpretation, the group is smaller, and the only figure who stands out in any way is the monstrously fat, waistcoated capitalist in the silk hat. Like his contemporary Charles Green, E. C. Brock as a realist does not render him a disgusting monster; rather, he merely shows him as larger than his fellows. They are otherwise all much of a type: wearing top hats and business suits of broadcloth with period tailccoats, but they are neither hideous nor repulsive; indeed, they are ordinary businessmen in Brock's interpretation. However, there is no informing context as there is in Barnard's rather more theatrical illustration of the scene inside the London Exchange; Brock has drawn his group of capitalists in the round, so to speak, and provides no backdrop for the vignette, so that one must engage (as with Green's illustration) with text and lithograph simultaneously to understand the significance of the setting and this overheard conversation.
Relevant Illustrations from various editions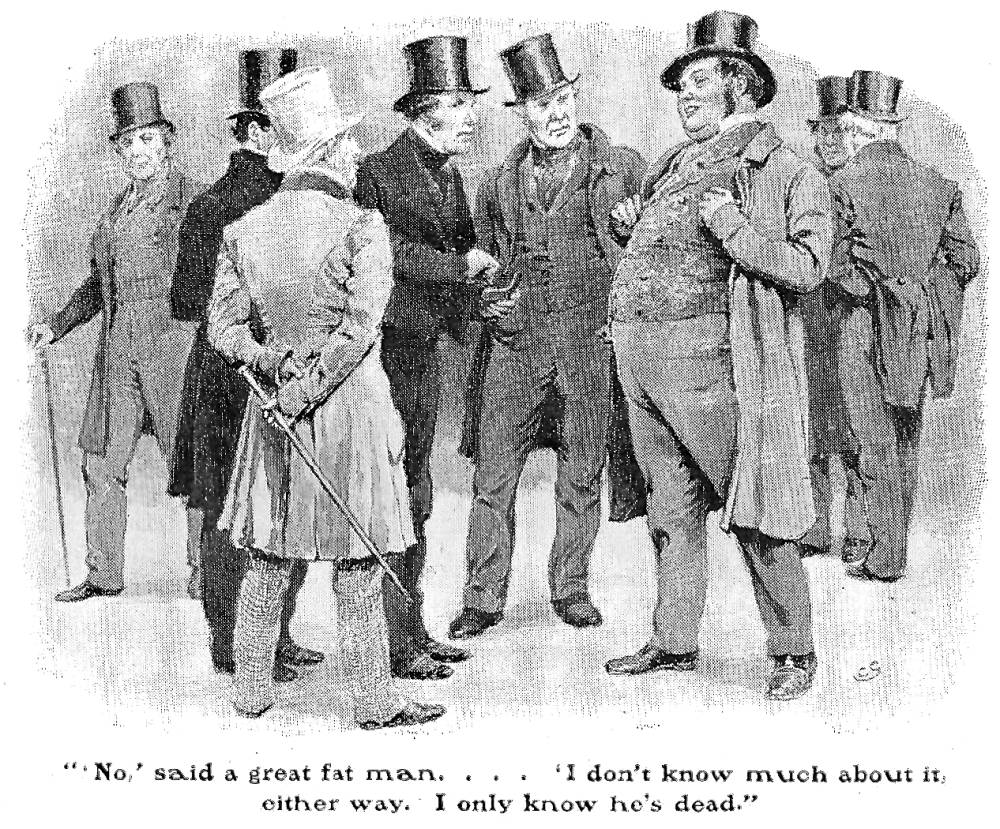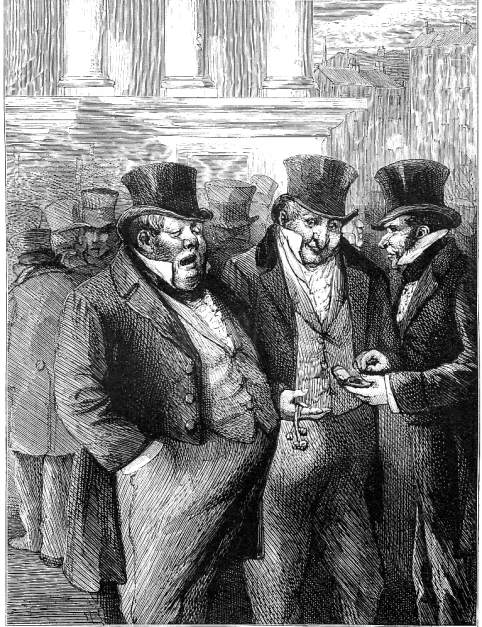 Left: Green's interpretation of the capitalists whom Scrooge overhears, Scrooge hears of his own death Right: Eytinge ridicules the callousness of the businessmen on the Exchange by depicting them as physically repulsive beasts in On 'Change, in the 1868 single-volume edition.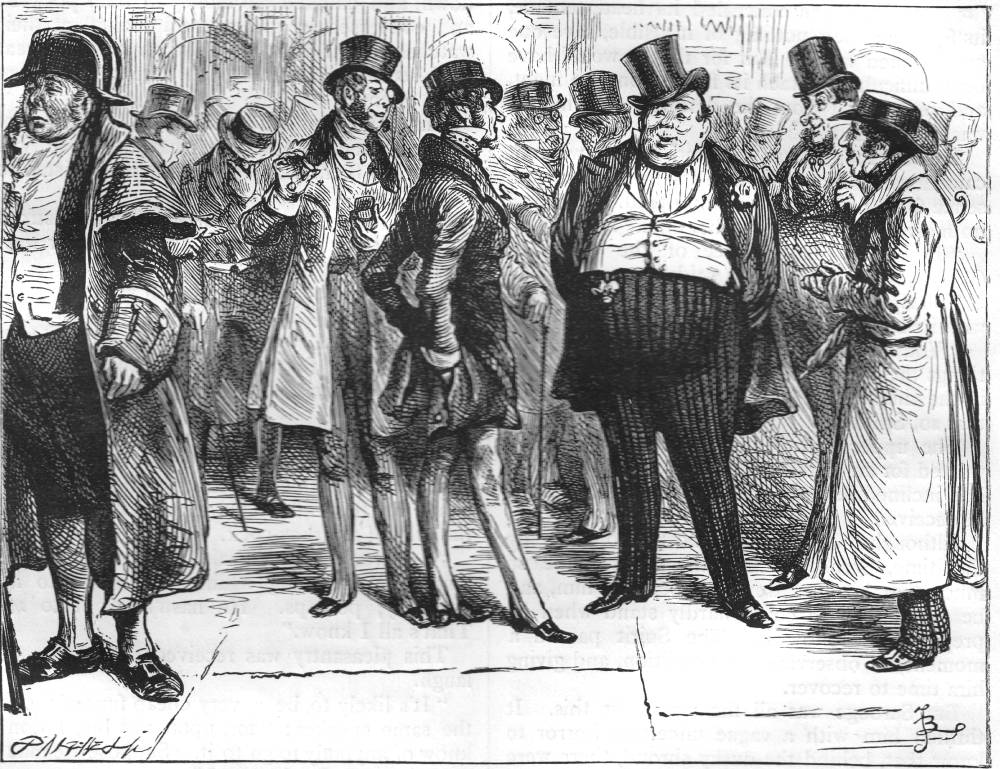 Above: Barnard's satirical view of the capitalists as complacent and self-centred, "This pleasantry was received with a general laugh" (1876).
Scanned image and text by Philip V. Allingham. [You may use this image without prior permission for any scholarly or educational purpose as long as you (1) credit the person who scanned the image and (2) link your document to this URL in a web document or cite the Victorian Web in a print one.]
Bibliography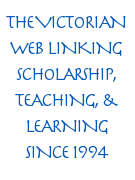 Dickens, Charles. Christmas Books. Illustrated by Sol Eytinge, Jr. The Diamond Edition. Boston: Ticknor and Fields, 1867.
_____. Christmas Books, illustrated by Fred Barnard. Household Edition. London: Chapman and Hall, 1878.
_____. Christmas Books, illustrated by A. A. Dixon. London & Glasgow: Collins' Clear-Type Press, 1906.
_____. Christmas Books. Illustrated by Harry Furniss. The Charles Dickens Library Edition. London: Educational Book, 1910.
_____. A Christmas Carol in Prose, Being a Ghost Story of Christmas. Illustrated by John Leech. London: Chapman and Hall, 1843.
_____. A Christmas Carol in Prose: Being a Ghost Story of Christmas. Illustrated by Sol Eytinge, Jr. Boston: Ticknor & Fields, 1868.
_____. A Christmas Carol and The Cricket on the Hearth. Illustrated by C. E. [Charles Edmund] Brock. London: J. M. Dent, 1905; New York: Dutton, rpt., 1963.
_____. A Christmas Carol. Illustrated by Charles Green, R. I. London: A. & F. Pears, 1912.
_____. A Christmas Carol. Illustrated by Arthur Rackham. London: William Heinemann, 1915.
_____. A Christmas Carol in Prose, Being A Ghost Story of Christmas. Illustrated by John Leech. (1843). Rpt. in Charles Dickens's Christmas Books, ed. Michael Slater. Hardmondsworth: Penguin, 1971, rpt. 1978.
_____. Christmas Stories. Illustrated by E. A. Abbey. The Household Edition. New York: Harper and Brothers, 1876.
Guiliano, Edward, and Philip Collins, eds. The A nnotated Dickens. New York: Clarkson N. Potter, 1986. Vol. 1.
Hearn, Michael Patrick, ed. The Annotated Christmas Carol. New York: Avenel, 1976.
---
Created 23 September 2015

Last modified 14 March 2020