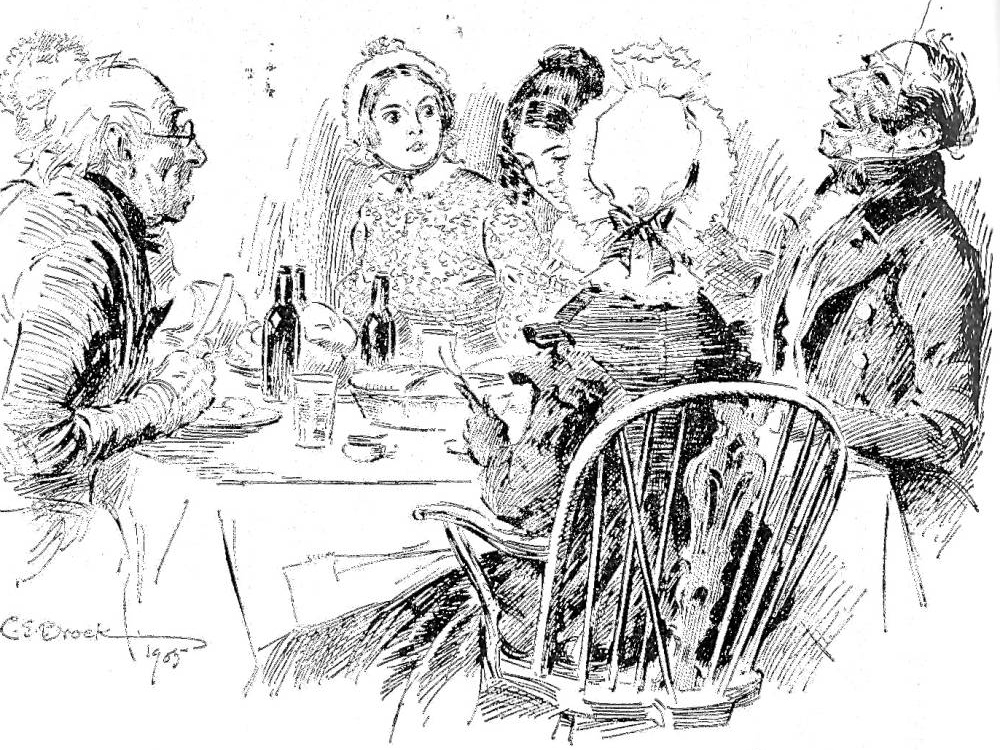 "Where are your gay young bridegrooms now!" (1905), a half-page illustration for "Chirp the Second," 9 cm by 11.2 cm, vignetted (160).
Context of the Illustration
"Even the very persons themselves — real live young men — were fixed on sometimes," said Dot. "We little thought how things would come about. I never fixed on John I'm sure; I never so much as thought of him. And if I had told you, you were ever to be married to Mr. Tackleton, why you'd have slapped me. Wouldn't you, May?"
Though May didn't say yes, she certainly didn't say no, or express no, by any means.
Tackleton laughed — quite shouted, he laughed so loud. John Peerybingle laughed, too, in his ordinary good-natured and contented manner; but his was a mere whisper of a laugh, to Tackleton's.
"You couldn't help yourselves, for all that. You couldn't resist us, you see," said Tackleton. "Here we are! Here we are!"
"Where are your gay young bridegrooms now!"
"Some of them are dead," said Dot; "and some of them forgotten. Some of them, if they could stand among us at this moment, would not believe we were the same creatures; would not believe that what they saw and heard was real, and we could forget them so. No! they would not believe one word of it!" [Chapter Two, "Chirp the Second," 159-160.
Commentary
Brock has re-drafted the betrothal pic-nic for dramatic effect, realizing the moment when the improbable groom (Tackleton) insults by implication the absent fiancée Edward Plummer, the young sailor lost at sea. The misanthropic Tackleton speaks almost gleefully about the loss of the brother, whose place as May Fielding's intended husband he has usurped. The figures around the table from left to right are Caleb Plummer, John Peerybingle, the indignant Dot (centre), May Fielding, Mrs. Fielding (back to the viewer), and the sardonic toy-merchant, Tackleton. In the program of illustration in the original, 1845 edition of The Cricket on the Hearth: A Fairy Tale of Hearth and Home, Tackleton does not make a reappearance until the little book's final illustration, The Dance. In constructing Tackleton's spruce figure here Brock would have found two useful models for the sarcastic groom, as the British Household Edition offered him a useful image, Caleb, Bertha, and Tackleton (see below), and his American counterpart, E. A. Abbey, depicted a confrontation between an angry Carrier and a shocked Tackleton, "Listen to me!" he said. "And take care that you hear me right".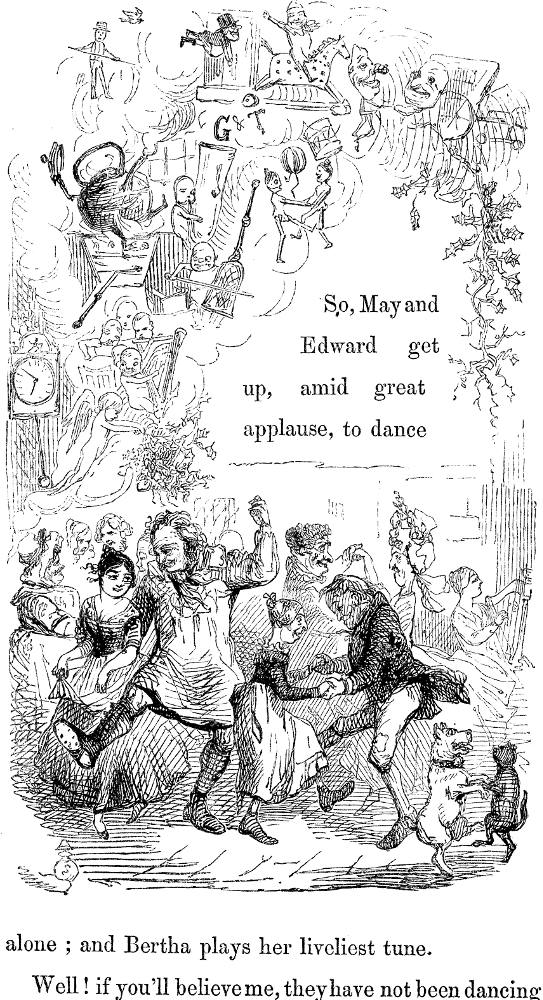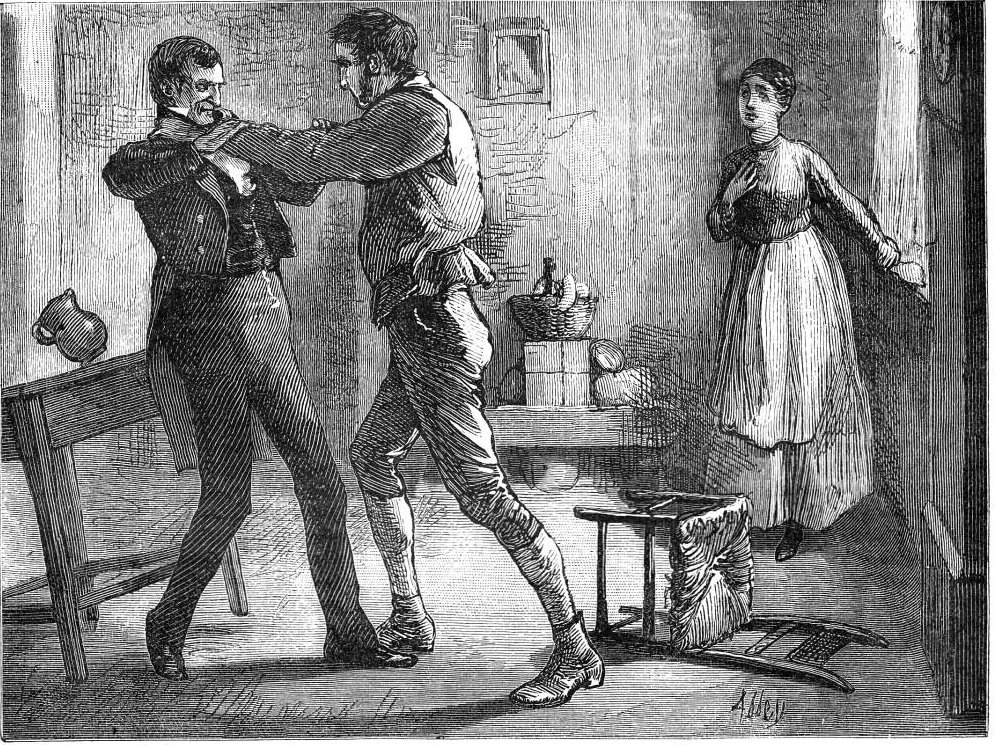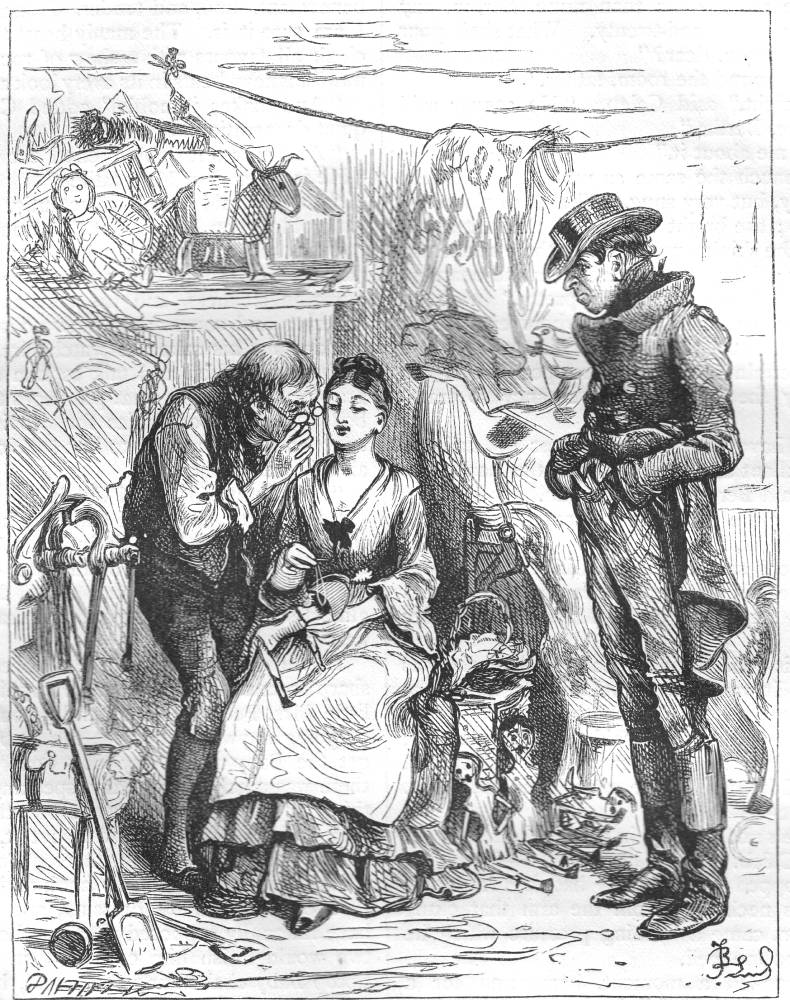 Representations of Caleb and Bertha Plummer, Tackleton, and John Peerybingle: Left: Leech's The Dance. Centre: Abbey's "Listen to me!" he said. "And take care that you hear me right.". Right: Barnard's Caleb, Bertha, and Tackleton (1878).
In contrast to these Iago-like images of the Plummers' employer Harry Furniss five years after Brock presented the image of a well-fed, arrogant, pompous bourgeois in Tackleton's Wedding Day! (see below) — including silk hat and cape. Brock's well-dressed Tackleton, in contrast, has a lean and hungry look. Although Brock does not reveal all of the characters' faces, he is clear about Dot's facial expression, which conveys her attitude towards the cynical employer's allusion to the long-absent youth given up for dead. She expresses shock and indignation that Tackleton should take so superior an attitude towards May's former fiancée; Caleb seems aghast, while Tackleton, oblivious to the others' feelings, appears to be thoroughly enjoying himself (which the text reveals is not precisely the case). The chair upon which Mrs. Fielding sits is convincing in its stout ornateness, but is perhaps too noble a piece of furniture for the penurious Plummers' hovel.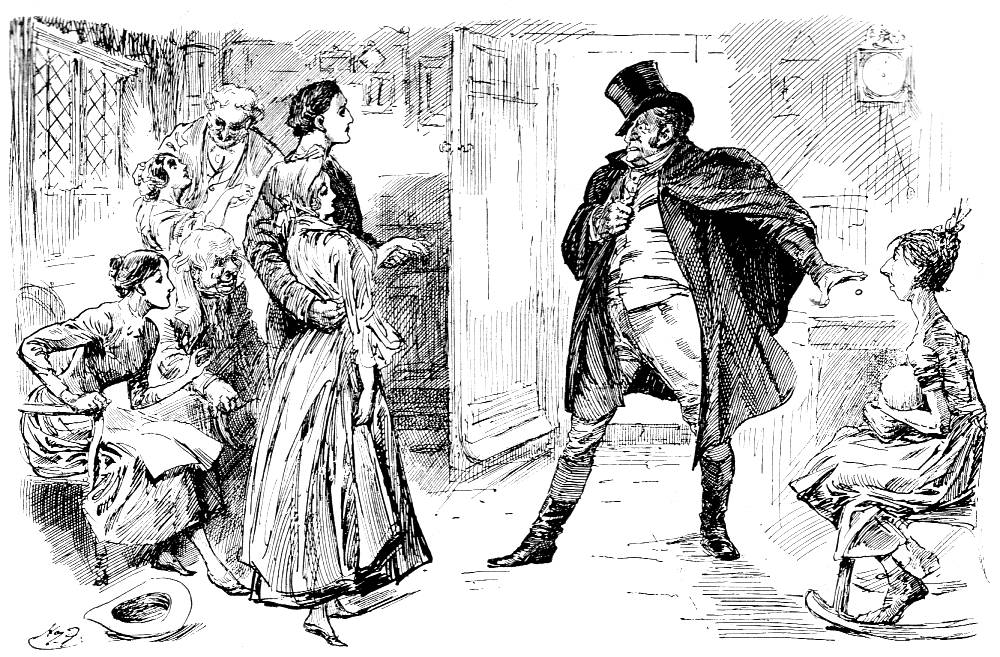 Above: Furniss's 1910 pen-and-ink drawing transferred to lithograph, Tackleton's Wedding Day!"
Middle-class Sentimentality: The Pic-Nic and The Dance
Incidental to the main plot issue — Dot's supposed adultery with the old stranger whom Dickens reveals as a handsome youth in disguise — is the matter of the paste-board villain Tackleton's forcing an engagement upon May, who has been pining for her sailor-lover lost at sea. With the sailor's sister and father, the toy-makers Bertha and CalebPlummer, he reveals himself to be a somewhat callous employer who disregards the welfare of his employees in order to turn a profit. However, Dickens's portrait of an exploitative capitalist falls short of his detailing in A Christmas Carol the vices of the miser of the London 'Change, Ebenezer Scrooge. Dickens implies that Tackleton's gruffness is superficial in the ease with which (without much motivation) he experiences a change of heart in the final scene, and receives the heart-felt welcome of the community at festival. This culminating scene of the melodrama disgusted such social critics as Vladimir Lenin, who, upset with the excess of bourgeois sentiment of the story, walked out of a Russian-language stage adaptation of the novella before the final curtain, probably that by Nikolai Efros (this incident in the Communist leader's life was alluded to by George Orwell early in his 1939 essay on Dickens).
Undercutting such "middle-class sentimentality" (Orwell, 7) is this scene in which Tackleton ridicules the notion of youthful romance. Brock realises a textual moment that shows his antagonist at his most insensitive as Tackleton tries to manipulate May into believing that a May-December marriage such as John and Dot's is generally conducive to domestic bliss. Appropriately, Leech in The Dance depicts him well in the background, dancing with the elderly Mrs. Fielding, perhaps to underscore the unsuitability of his putative match with her young daughter. However, both Household Edition illustrators, Abbey and Barnard, have, like Brock, highlighted the enigmatic villain of the piece; whereas Barnard treats Tackleton with detached humour in the scene in which Bertha extols him as a kind and caring employer, Abbey interprets him as a slender, fashionably-dressed gentleman who suavely serves as forthright John's alter-ego.
Other Illustrations for
The Cricket on the Hearth

(1845-1915)

Scanned image and text by Philip V. Allingham. [You may use this image without prior permission for any scholarly or educational purpose as long as you (1) credit the person who scanned the image and (2) link your document to this URL in a web document or cite the Victorian Web in a print one.]
Bibliography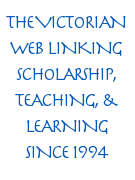 Bolton, H. Philip. "The Cricket on the Hearth (1845)."Dickens Dramatized. London & Boston: Mansell & G. K. Hall, 1987. 273-95
Dickens, Charles. Christmas Books. Illustrated by Fred Barnard. The Household Edition. London: Chapman and Hall, 1878.
_______. Christmas Books, illustrated by Sol Eytinge, Jr. The Diamond Edition. Boston: Ticknor and Fields, 1867.
_______. Christmas Books, illustrated by Fred Barnard. Household Edition. London: Chapman and Hall, 1878.
_______. Christmas Books, illustrated by A. A. Dixon. London & Glasgow: Collins' Clear-Type Press, 1906.
_______. Christmas Books, illustrated by Harry Furniss. The Charles Dickens Library Edition. London: Educational Book, 1910.
_______. A Christmas Carol and The Cricket on the Hearth, illustrated by C. E. [Charles Edmund] Brock. London: J. M. Dent, 1905; New York: Dutton, rpt., 1963.
_______. Christmas Stories, illustrated by E. A. Abbey. The Household Edition. New York: Harper and Brothers, 1876.
_______. The Cricket on the Hearth: A Fairy Tale of Home. Illustrated by John Leech, Daniel Maclise, Richard Doyle, Clarkson Stanfield, and Edwin Landseer. London: Bradbury and Evans, 1845.
Orwell, George. "Charles Dickens." (1939) Critical Essays. London: Secker and Warburg, 1946 (first published in 1940 in "Inside the Whale" and Other Essays.]
---
Created 20 October 2015

Last modified 8 July 2020