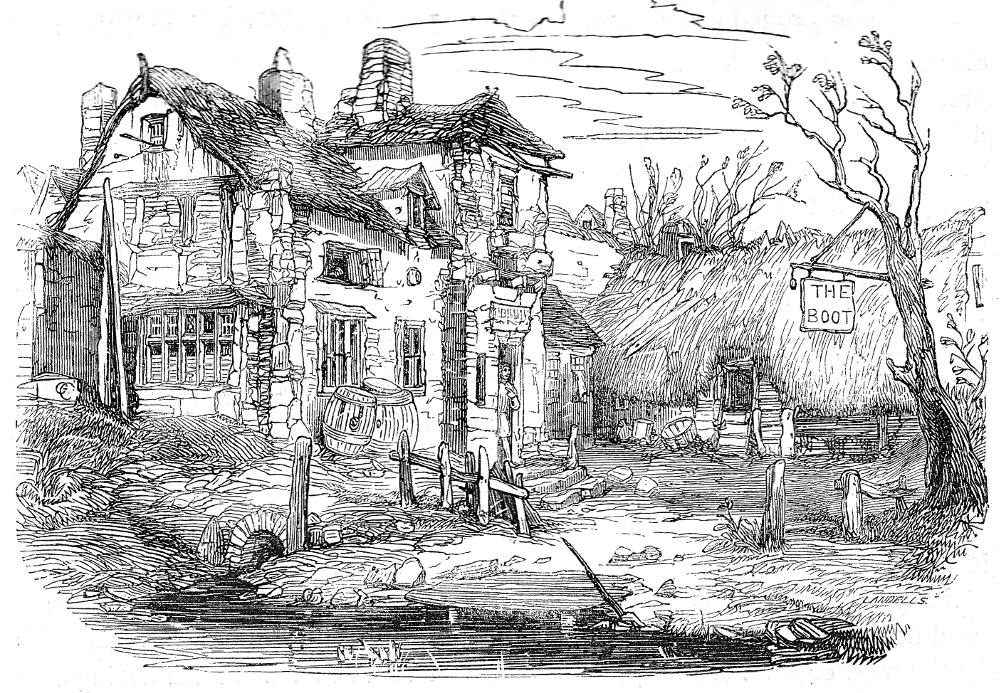 The Rioters' Head-Quarters by George Cattermole. 3 ⅛ x 4 ½ inches (8 cm by 11.5 cm). Vignetted, wood-engraved. Chapter LII, Barnaby Rudge. 14 August 1841 in serial publication (forty-eighth full-page plate in the series). Part 27 in the novel, serialised in Master Humphrey's Clock, Vol. III (part 66), 236. [Click on the image to enlarge it.]
Passage Illustrated: An Atmospheric Description of the Disreputable "Boot"
The people who were boisterous at Westminster upon the Friday morning, and were eagerly bent upon the work of devastation in Duke Street and Warwick Street at night, were, in the mass, the same. Allowing for the chance accessions of which any crowd is morally sure in a town where there must always be a large number of idle and profligate persons, one and the same mob was at both places. Yet they spread themselves in various directions when they dispersed in the afternoon, made no appointment for reassembling, had no definite purpose or design, and indeed, for anything they knew, were scattered beyond the hope of future union.
At The Boot, which, as has been shown, was in a manner the head-quarters of the rioters, there were not, upon this Friday night, a dozen people. Some slept in the stable and outhouses, some in the common room, some two or three in beds. The rest were in their usual homes or haunts. Perhaps not a score in all lay in the adjacent fields and lanes, and under haystacks, or near the warmth of brick-kilns, who had not their accustomed place of rest beneath the open sky. As to the public ways within the town, they had their ordinary nightly occupants, and no others; the usual amount of vice and wretchedness, but no more. [Chapter the Fifty-second, Vol. III, 236]
Related Material including Other Illustrated Editions of
Barnaby Rudge
Scanned image, colour correction, sizing, caption, and commentary by Philip V. Allingham. [You may use this image without prior permission for any scholarly or educational purpose, as long as you (1) credit the person who scanned the image, and (2) link your document to this URL in a web document or cite the Victorian Web in a print one.]
Bibliography
Dickens, Charles. Barnaby Rudge. Illustrated by Hablot K. Browne ('Phiz') and George Cattermole. London: Chapman and Hall, 1841; rpt., Bradbury & Evans, 1849.
________. Barnaby Rudge — A Tale of the Riots of 'Eighty. Illustrated by Fred Barnard. The Household Edition. 22 vols. London: Chapman and Hall, 1874. VII.
Hammerton, J. A. "Ch. XIV. Barnaby Rudge." The Dickens Picture-Book. The Charles Dickens Library Edition, illustrated by Harry Furniss. London: Educational Book Co., 1910. 213-55.
Vann, J. Don. "Barnaby Rudge in Master Humphrey's Clock, 13 February 1841-27 November 1841." Victorian Novels in Serial. New York: MLA, 1985. 65-6.
---
Created 4 January 2006

Last modified 15 December 2020