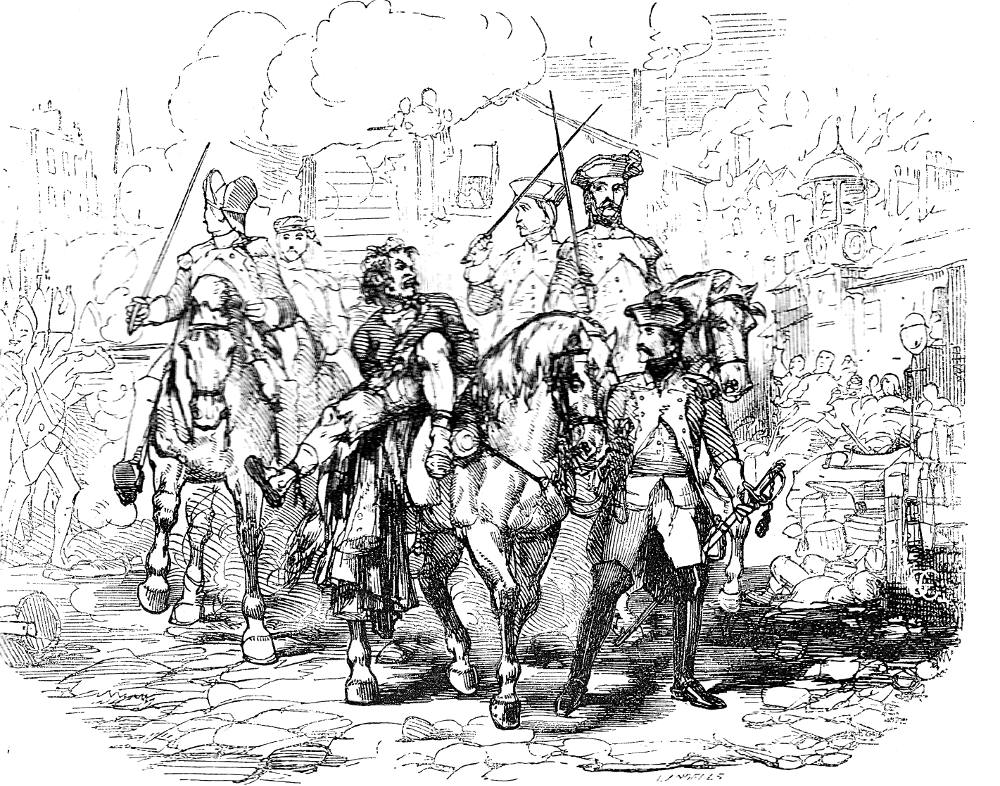 Carrying off the Prisoners by George Cattermole. 3 ⅝ x 4 ½ inches (9.2 cm by 11.5 cm). Framed, wood-engraved. Chapter LXIX, Barnaby Rudge. 16 October 1841 in weekly serial publication (sixty-fifth full-page plate in the series). Part 36 in the novel, serialised in Master Humphrey's Clock, Vol. III (part 79), 343. [Click on the images to enlarge them.]
Passage Illustrated: Hugh, under martial arrest, taken through the streets
They were not all three carried off together, but in two parties; Barnaby and his father, going by one road in the centre of a body of foot; and Hugh, fast bound upon a horse, and strongly guarded by a troop of cavalry, being taken by another.
They had no opportunity for the least communication, in the short interval which preceded their departure; being kept strictly apart. Hugh only observed that Barnaby walked with a drooping head among his guard, and, without raising his eyes, that he tried to wave his fettered hand when he passed. For himself, he buoyed up his courage as he rode along, with the assurance that the mob would force his jail wherever it might be, and set him at liberty. But when they got into London, and more especially into Fleet Market, lately the stronghold of the rioters, where the military were rooting out the last remnant of the crowd, he saw that this hope was gone, and felt that he was riding to his death. [Final paragraphs of Chapter the Sixty-ninth, 343]
Commentary: Hugh, fast bound upon a horse, and strongly guarded by a troop of cavalry
The affable hangman, Ned Dennis, has sold out his former comrades to the military authorities. Barnaby and his roguish father, who had escaped from Newgate with the assistance of the rioters, are once again in custody. And at their hiding place in the fields the soldiers have also caught Hugh and shot Stagg as he was running away. By different routes the soldiers take the prisoners back to prison. The close of the chapter implies that the power of the rioters is fast ebbing away, and that Hugh cannot reasonably expect rescue from that quarter. A prison cell now await him and the Rudges. The illustrator effectively captures Hugh's discomfiture as he already realizes an attempt at escape will bring upon him the same fate that Stagg has just met.
Parallel Scenes from the Household and Charles Dickens Library Editions
Above: Fred Barnard's more prosaic scene for the same chapter: L"No offence, no offence," said that personage in a conciliatory tone, as Hugh stopped in his draught . . . (1874).
Related Material including Other Illustrated Editions of
Barnaby Rudge
Scanned image, colour correction, sizing, caption, and commentary by Philip V. Allingham. [You may use this image without prior permission for any scholarly or educational purpose, as long as you (1) credit the person who scanned the image, and (2) link your document to this URL in a web document or cite the Victorian Web in a print one.]
Bibliography
Dickens, Charles. Barnaby Rudge. Illustrated by Hablot K. Browne ('Phiz') and George Cattermole. London: Chapman and Hall, 1841; rpt., Bradbury & Evans, 1849.
________. Barnaby Rudge — A Tale of the Riots of 'Eighty. Illustrated by Fred Barnard. The Household Edition. 22 vols. London: Chapman and Hall, 1874. VII.
Hammerton, J. A. "Ch. XIV. Barnaby Rudge." The Dickens Picture-Book. The Charles Dickens Library Edition, illustrated by Harry Furniss. London: Educational Book Co., 1910. 213-55.
Vann, J. Don. "Barnaby Rudge in Master Humphrey's Clock, 13 February 1841-27 November 1841." Victorian Novels in Serial. New York: MLA, 1985. 65-6.
---
Created 4 January 2006

Last modified 15 December 2020