Introduction
Harry Clarke, who created book stained glass and textile designs in addition to his macabre illustrations, was born in Dublin, Ireland and attended Belvedere College, a Jesuit school. According to Diana J. Johnson, he "apprenticed to an architect before joining his father's firm of stained glass designers. During this period he also studied with great success at the Dublin Metropolitan School of Art and won a traveling scholarship to study early stained glass in the French province of Ile de France in 1914. In 1911, 1912 and 1913 he won the only gold medals given in stained glass at the South Kensington exhibitions. Clarke was an active member of his father's Dublin workshop, which designed stained glass for religious institutions and secular clients from Ireland to Africa" (54). After Clarke's father died in 1921, he served as the firm's director and main designer.
His illustrations draw upon both Aubrey Beardsley's earlier style that emphasizes fine line and intricate patterns and his later one that contrasts of large areas of solid black and white. As Peppin and Micklethwait point out in the entry on Clarke in their Dictionary of British Book Illustrators: The Twentieth Century, "Throughout his illustrative work, decorative elegance was combined with an atmosphere of dark intensity, often enhanced by closely textured surface patterns and dominant areas of black. Like Beardsley, his imagery often contained ingenious sexual allusions, but these were often combined with images drawn from ecclesiastical iconography" that occasionally gives a "peculiarly medieval" quality to his art (72). Clarke, who delights in the erotic, grotesque, and horrific, often use images and motifs associated with the Decadents and Symbolists. Tuberculosis cut short the life of this disciple of Beardsley in 1931. — George P. Landow.
Commentary, galleries, and other material
Volumes illustrated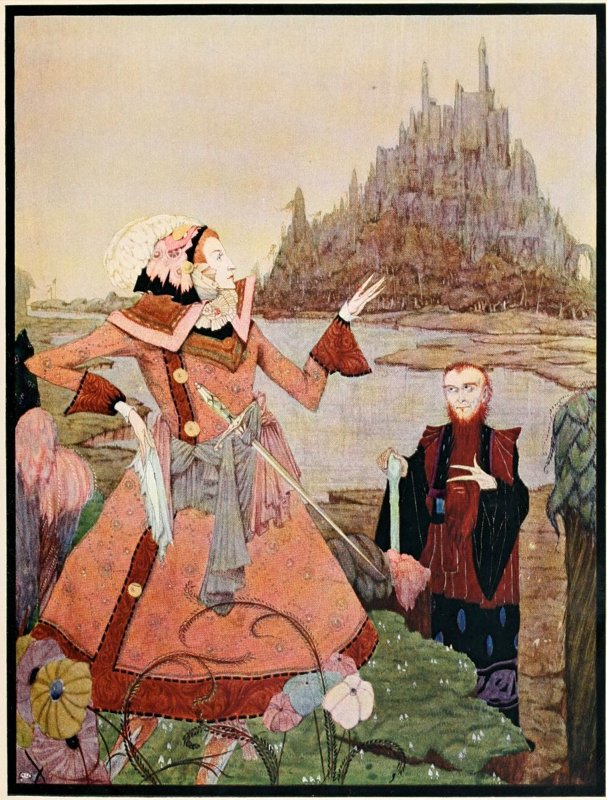 Hans Christian Anderson,

Fairy Tales

(George Harrap, 1916)
Edgar Allen Poe's

Tales of Mystery and Imagination

(Harrap, 1919)

The Fairy Tales of Charles Perrault

(Harrap, 1922)
Algernon Charles Swinburne's

Selected Poems

. London: John Lane, 1928
Illustrations
Title-pages for books and individual stories, head-pieces, tail-pieces, bindings, and other book decoration
Bibliography
Johnson, Diana L. Fantastic Illustration and Design in Britain, 1830-1930. Providence"Museum of Art of the Rhode Island School of Design, 1979.
Peppin, Bridget, and Lucy Micklethwait. Dictionary of British Book Illustrators: The Twentieth Century. London: John Murray, 1983.
Salaman, M.C. Modern Book Illustrators and heir Work. Ed. C. Geoffrey Holme and Ernest G. Halton. London: The Studio Ltd., 1914. Internet Archive version in a copy of the Cornell University Library. Web. 24 December 2012.
---
Last modified 26 December 2012