Illustrations for Charles Dickens's
The Mystery of Edwin Drood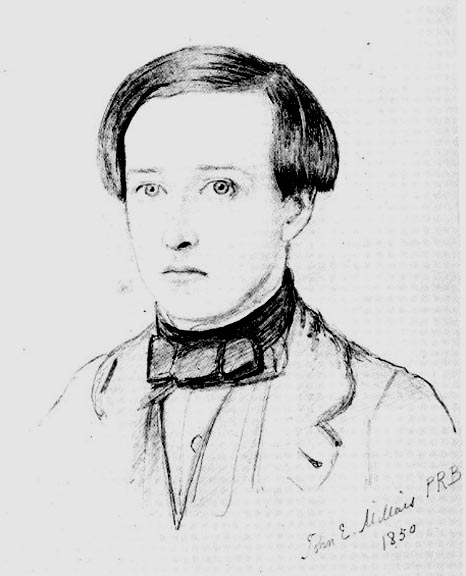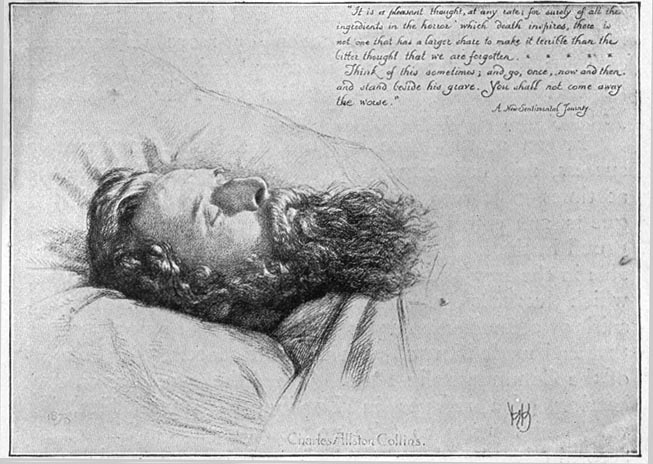 William Holman Hunt's deathbed portrait of Collins and John Everett Millais's portrait of him as a young man.
Collins was 12 years older than his 21-year-old bride, Kate (Catherine Elizabeth Macready) Dickens, and Dickens admired his son-in-law's work as an artist. He became a member of Dickens's circle by virtue of the artistic collaboration between his brother, Wilkie, and Dickens in the 1850s. Apparently these sketches are as far as Collins got in the project when his health failed him, and the commission then passed to another young artist, Luke Fildes.
Kate (1839-1929) had married the handsome artist in July 1860 at Gadshill to escape a difficult household and a controlling father, perhaps not realising that Collins was gay. Upon his death from cancer in 1873, she married another artist, Charles Edward Perguni (1839-1918), and quite by coincidence died shortly after the discovery of these sketches. — Philip V. Allingham
Works in other media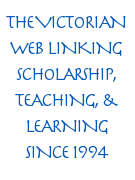 Bibliography
William Holman Hunt, Pre-Raphaelitism and the Pre-Raphaelite Brotherhood. 2 vols. New York: Macmillan, 1905.
Lehmann-Hauptmann, C.F. "New Facts Concerning 'Edwin Drood'." The Dickensian. (1929): 165-175.
---
Last modified 22 June 2013