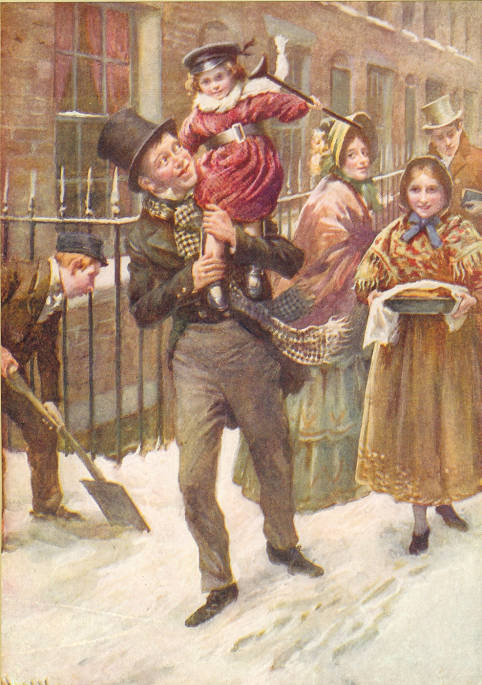 Bob Cratchit and Tiny Tim
Harold Copping
1924
Colour lithography
Approximately 7 x 5 inches (18 x 12.2 cm)
From Character Sketches from Dickens, facing p. 122.
Scanned image, caption, and commentary below by Philip V. Allingham
[You may use this image without prior permission for any scholarly or educational purpose as long as you (1) credit the person who scanned the image and (2) link your document to this URL in a web document or cite the Victorian Web in a print one.]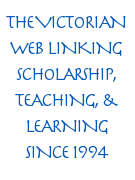 The snowy Yuletide scene in which Copping illustrates Bob Cratchit's carrying Tiny Tim home from church through the streets of Camden Town may strike the modern Londoner as somewhat improbable, given the long odds against White Christmases at present. As Paul Simons and Will Pavia have ably argued in the London Times for 24 December 2008, that Londoners should be depicted as "scraping the snow from pavements in front of their dwellings" in A Christmas Carol is not so improbable if we assume that the Christmas depicted in that best-seller of 1843 is not the one previous, but rather one of the series from 1817 through 1822, when Dickens was a child of five through ten years of age, and the south of England suffered six White Christmases in swift succession, together with daytime highs of -2 to -6 Celsius. The newspaper columnists attribute this "little Ice Age" to "a series of colossal volcanic eruptions that enveloped the globe in dust and shrouded the sun" (4). This was the same period in which the Shelleys in Switzerland, enduring one of Europe's coldest summers on record, generated the tale that would become Frankenstein (published in 1818). Thus, one may reasonably interpret Dickens's depiction of the Cratchits' Christmas not merely as a paean to the seasonal, middle-class family gathering, but as an invocation of his childhood Christmases with his family before his father fell into debt and was sent to debtors' prison.
In order to permit warmer hues to dominate the scene and sharply contrast the snow underfoot, Copping gives Tiny Tim a velvet snowsuit of intense scarlet, set against red-brown brick row-houses and backed by passengers in red-brown clothing. Complementing the scene Dickens so fleetingly mentions in Stave 3, "The Second of the Three Spirits," or "Christmas Present," Copping offers us a seasonal, lower-middle-class street scene probably quite out of character with the Hungry Forties during which Dickens actually composed the first of the Christmas Books. Bob is respectably clad, with little hint in the picture that his Sunday best is " thread-bare." Copping's Tiny Tim is certainly diminutive—even to the point of having a head out of normal proportions for a child. But the chief objection a New Historicist might raise is the illustration's fundamentally sweet vision of the suburban London streets of the period, especially the clean, well-dressed, cheerful pedestrians who smile benignly as father and son pass. These cheerful Londoners seem a far cry from the necessitous, shabby denizens of the metropolis who would have seen Bob return home from church with his physically challenged son on his shoulder. Although Copping gives us the tiny crutch, he merely suggests the boy's iron leg-brace which the letterpress unequivocal describes as supporting his limbs.
Copping has created in scene which Dickens does not actually give us, for Scrooge and the Spirit in passing through the streets had earlier seen "poor revelers," "innumerable people, carrying their dinners to the bakers' shops." These "dinner-carriers" Copping has blended with Dickens's later image of Bob and Tim arriving at their own door. Penguin's editor of the two-volume Christmas Books (1971), Michael Slater, cites the unpublished notes of eminent Dickensian T. W. Hill: "On Sundays and on Christmas Day, when bakers were legally forbidden to bake bread, people would take their joints of meat, etc., to the bake-houses to cook" (260). Such a young woman, perhaps as much smiling already at the prospect of a piping hot joint as enjoying the sight of the happy father and son, is depicted standing immediately to Bob's left.
Bibliography
Matz, B. W., and Kate Perugini; illustrated by Harold Copping. Character Sketches from Dickens. London: Raphael Tuck, 1924. Copy in the Paterson Library, Lakehead University.
Slater, Michael. "Notes to A Christmas Carol. The Christmas Books. Harmondsworth: Penguin, 1971. Rpt. 1978. Pp. 257-261.
Simons, Paul, and Will Pavia. "Dreaming of a white Christmas? Put it down to Dickens's nostalgia for his lost childhood." The Times. 24 December 2008. Page 4.
---

Victorian
Web

Illus-
tration

Harold
Copping

Next

Charles
Dickens
Last modified 1 March 2009