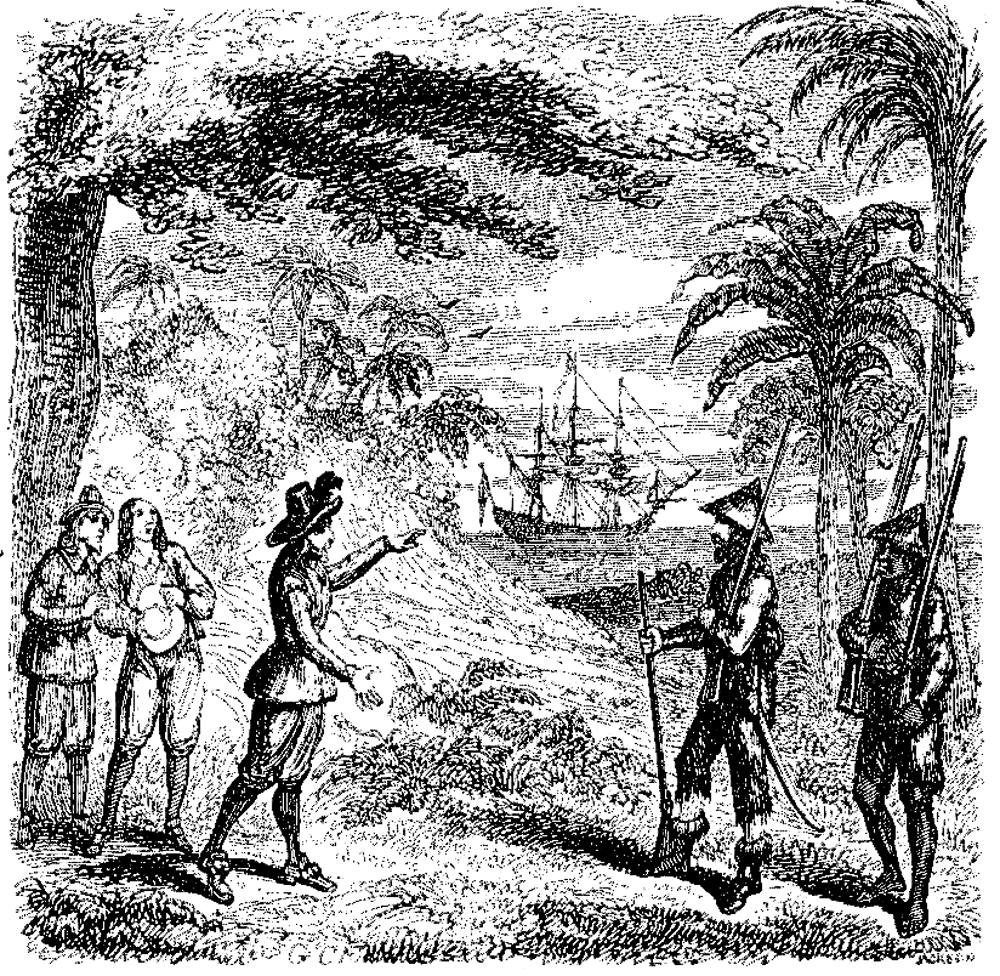 Crusoe and Friday encounter the captain of a British ship whose crew have mutinied by George Cruikshank as the realisation in vignette of episode that leads to Crusoe's return to Europe in John Major's edition of The Life and Surprising Adventures of Robinson Crusoe (1831). Cruikshank has composed the half-page vignette that suggests a stage adaptation of the Defoe text: the ship might well be painted on a canvas, and the five figures are well forward, near the curtain line. Cruikshasnk has the Captain pointing to the ship in the backdrop rather than to "a thicket of trees" (240). Vignette: 6.6​ cm high by 6.8 cm wide, p. 240. [Click on the image to enlarge it.]
Scanned image and text by Philip V. Allingham. [You may use this image without prior permission for any scholarly or educational purpose as long as you (1) credit the person who scanned the image and (2) link your document to this URL in a web document or cite the Victorian Web in a print one.]
The Passage Illustrated: The Possibility of Returning to Europe
The poor man, with tears running down his face, and trembling, looking like one astonished, returned, "Am I talking to God or man? Is it a real man or an angel?" "Be in no fear about that, sir," said I; "if God had sent an angel to relieve you, he would have come better clothed, and armed after another manner than you see me; pray lay aside your fears; I am a man, an Englishman, and disposed to assist you; you see I have one servant only; we have arms and ammunition; tell us freely, can we serve you? What is your case?" — "Our case, sir," said he, "is too long to tell you while our murderers are so near us; but, in short, sir, I was commander of that ship; my men have mutinied against me; they have been hardly prevailed on not to murder me, and, at last, have set me on shore in this desolate place, with these two men with me, one my mate, the other a passenger, where we expected to perish, believing the place to be uninhabited, and know not yet what to think of it." — . . . .
"Look you, sir," said I, "if I venture upon your deliverance, are you willing to make two conditions with me?" He anticipated my proposals by telling me that both he and the ship, if recovered, should be wholly directed and commanded by me in everything; and if the ship was not recovered, he would live and die with me in what part of the world soever I would send him; and the two other men said the same. "Well," says I, "my conditions are but two; first, that while you stay in this island with me, you will not pretend to any authority here; and if I put arms in your hands, you will, upon all occasions, give them up to me, and do no prejudice to me or mine upon this island, and in the meantime be governed by my orders; secondly, that if the ship is or may be recovered, you will carry me and my man to England passage free." [Chapter XVII, "Visit of Mutineers," pp. 239-241]
Related Material
Parallel Scenes from Stothard (1790), a Children's Book (1818), and Cassell's (1863-64)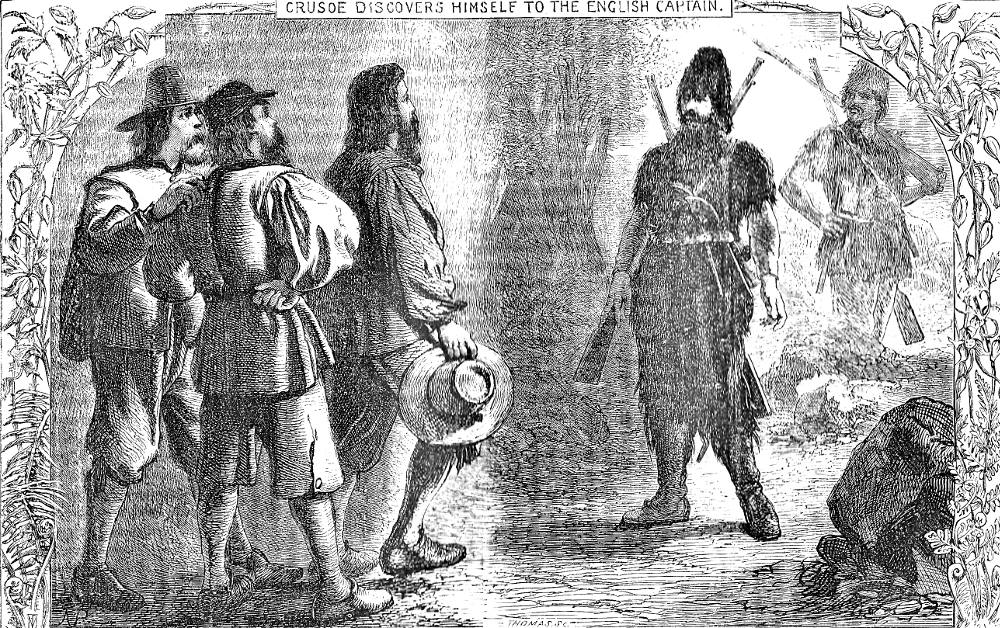 Above: In the highly illustrated Cassell's edition, Crusoe and Friday encounter the three victims of the mutineers from the English ship, stranded on the shore: Crusoe discovers Himself to the English Captain (1863-64). [Click on the image to enlarge it.]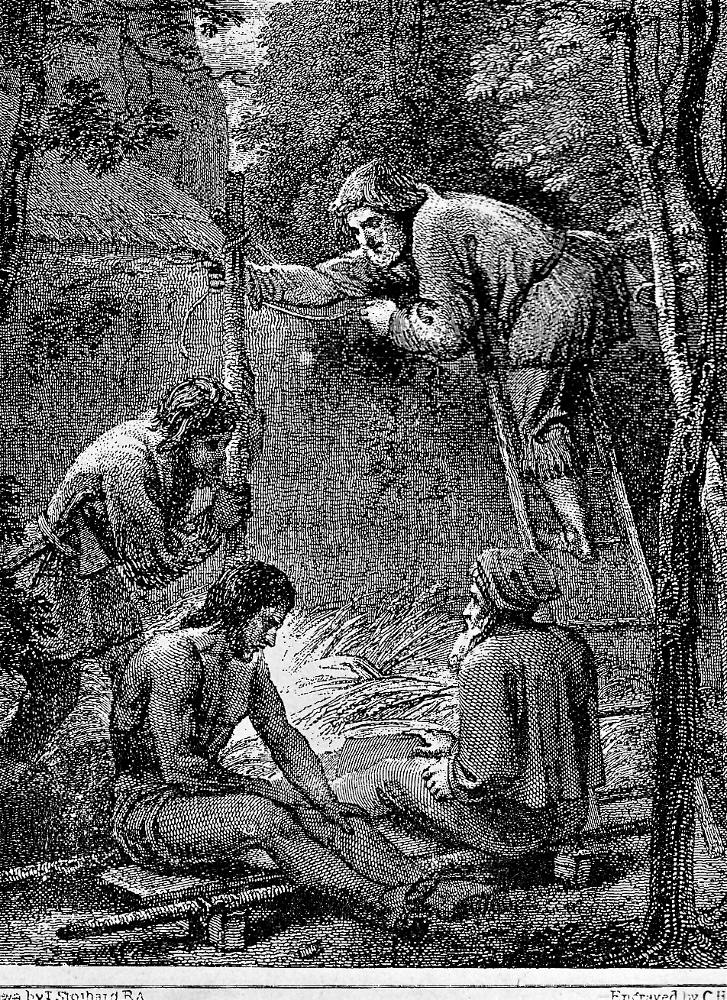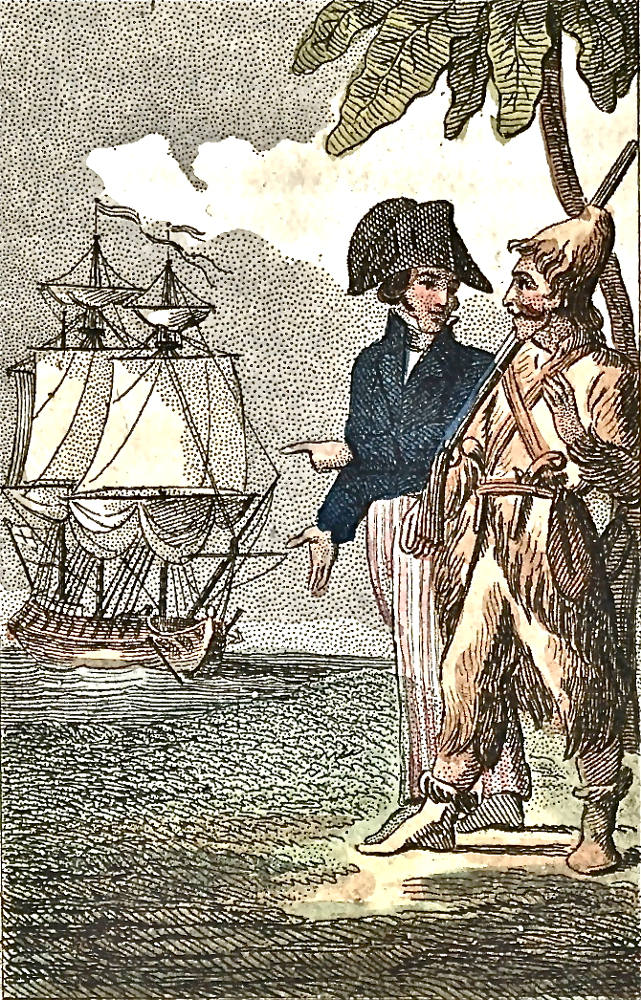 Left: Stothard's 1790 realisation of another significant meeting at the end of the first book, Robinson Crusoe and Friday making a tent to lodge Friday's father and the Spaniard (Chapter XVI, "Rescue of the Prisoners from the Cannibals," copper-engraving). Centre: In the children's book illustration, the Captain offers Crusoe his ship without any reference to quelling the mutiny first, The Captain offers a Ship to Robinson Crusoe. [Click on the images to enlarge them.]
Bibliography
Defoe, Daniel. The Life and Surprising Adventures of Robinson Crusoe, of York, Mariner, with introductory verses by Bernard Barton, and illustrated with numerous engravings from drawings by George Cruikshank expressly designed for this edition. 2 vols. London: Printed at the Shakespeare Press, by W. Nichol, for John Major, Fleet Street, 1831.
De Foe, Daniel. The Life and Adventures of Robinson Crusoe, Written by Himself. Illustrated by Gilbert, Cruikshank, and Brown. London: Darton and Hodge, 1867?].
Defoe, Daniel. The Life and Surprising Adventures of Robinson Crusoe of York, Mariner. (1831). Illustrated by George Cruikshank. Major's Edition. London: Chatto & Windus, 1890.
Patten, Robert L. "Phase 2: "'The Finest Things, Next to Rembrandt's,' 1720–1835." Chapter 20, "Thumbnail Designs." George Cruikshank's Life, Times, and Art, vol. 1: 1792-1835. Rutgers, NJ: Rutgers U. P., 1992; London: The Lutterworth Press, 1992. Pp. 325-339.
---
Last modified 22 February 2018