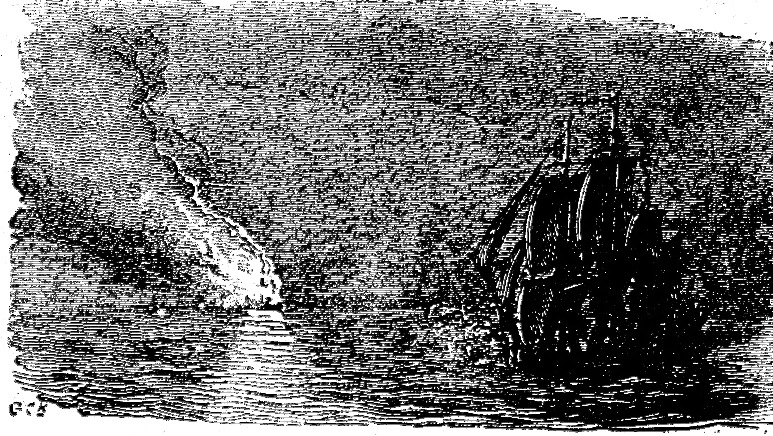 Crusoe sees a ship on fire at sea by George Cruikshank for the John Major edition of The Farther Adventures of Robinson Crusoe (1831). Vignette: 3.6 cm high by 6.6 cm wide, middle of page 302. [Click on the image to enlarge it.]
Scanned image and text by Philip V. Allingham. [You may use this image without prior permission for any scholarly or educational purpose as long as you (1) credit the person who scanned the image and (2) link your document to this URL in a web document or cite the Victorian Web in a print one.]
The Passage Illustrated
We set out on the 5th of February from Ireland, and had a very fair gale of wind for some days. As I remember, it might be about the 20th of February in the evening late, when the mate, having the watch, came into the round-house and told us he saw a flash of fire, and heard a gun fired; and while he was telling us of it, a boy came in and told us the boatswain heard another. This made us all run out upon the quarter-deck, where for a while we heard nothing; but in a few minutes we saw a very great light, and found that there was some very terrible fire at a distance; immediately we had recourse to our reckonings, in which we all agreed that there could be no land that way in which the fire showed itself, no, not for five hundred leagues, for it appeared at WNW. Upon this, we concluded it must be some ship on fire at sea; and as, by our hearing the noise of guns just before, we concluded that it could not be far off, we stood directly towards it, and were presently satisfied we should discover it, because the further we sailed, the greater the light appeared; though, the weather being hazy, we could not perceive anything but the light for a while. In about half-an-hour's sailing, the wind being fair for us, though not much of it, and the weather clearing up a little, we could plainly discern that it was a great ship on fire in the middle of the sea.
I was most sensibly touched with this disaster, though not at all acquainted with the persons engaged in it; I presently recollected my former circumstances, and what condition I was in when taken up by the Portuguese captain; and how much more deplorable the circumstances of the poor creatures belonging to that ship must be, if they had no other ship in company with them. Upon this I immediately ordered that five guns should be fired, one soon after another, that, if possible, we might give notice to them that there was help for them at hand and that they might endeavour to save themselves in their boat; for though we could see the flames of the ship, yet they, it being night, could see nothing of us.
We lay by some time upon this, only driving as the burning ship drove, waiting for daylight; when, on a sudden, to our great terror, though we had reason to expect it, the ship blew up in the air; and in a few minutes all the fire was out, that is to say, the rest of the ship sunk. This was a terrible, and indeed an afflicting sight, for the sake of the poor men, who, I concluded, must be either all destroyed in the ship, or be in the utmost distress in their boat, in the middle of the ocean; which, at present, as it was dark, I could not see. However, to direct them as well as I could, I caused lights to be hung out in all parts of the ship where we could, and which we had lanterns for, and kept firing guns all the night long, letting them know by this that there was a ship not far off. [Chapter I, "Revisits the Island," pp. 320-303]
Related Material
Bibliography
Defoe, Daniel. The Life and Surprising Adventures of Robinson Crusoe, of York, Mariner, with introductory verses by Bernard Barton, and illustrated with numerous engravings from drawings by George Cruikshank expressly designed for this edition. 2 vols. London: Printed at the Shakespeare Press, by W. Nichol, for John Major, Fleet Street, 1831.
De Foe, Daniel. The Life and Adventures of Robinson Crusoe, Written by Himself. Illustrated by Gilbert, Cruikshank, and Brown. London: Darton and Hodge, 1867?].
Defoe, Daniel. The Life and Surprising Adventures of Robinson Crusoe of York, Mariner. (1831). Illustrated by George Cruikshank. Major's Edition. London: Chatto & Windus, 1890.
Patten, Robert L. "Phase 2: "'The Finest Things, Next to Rembrandt's,' 1720–1835." Chapter 20, "Thumbnail Designs." George Cruikshank's Life, Times, and Art, vol. 1: 1792-1835. Rutgers, NJ: Rutgers U. P., 1992; London: The Lutterworth Press, 1992. Pp. 325-339.
---
Last modified 22 February 2018