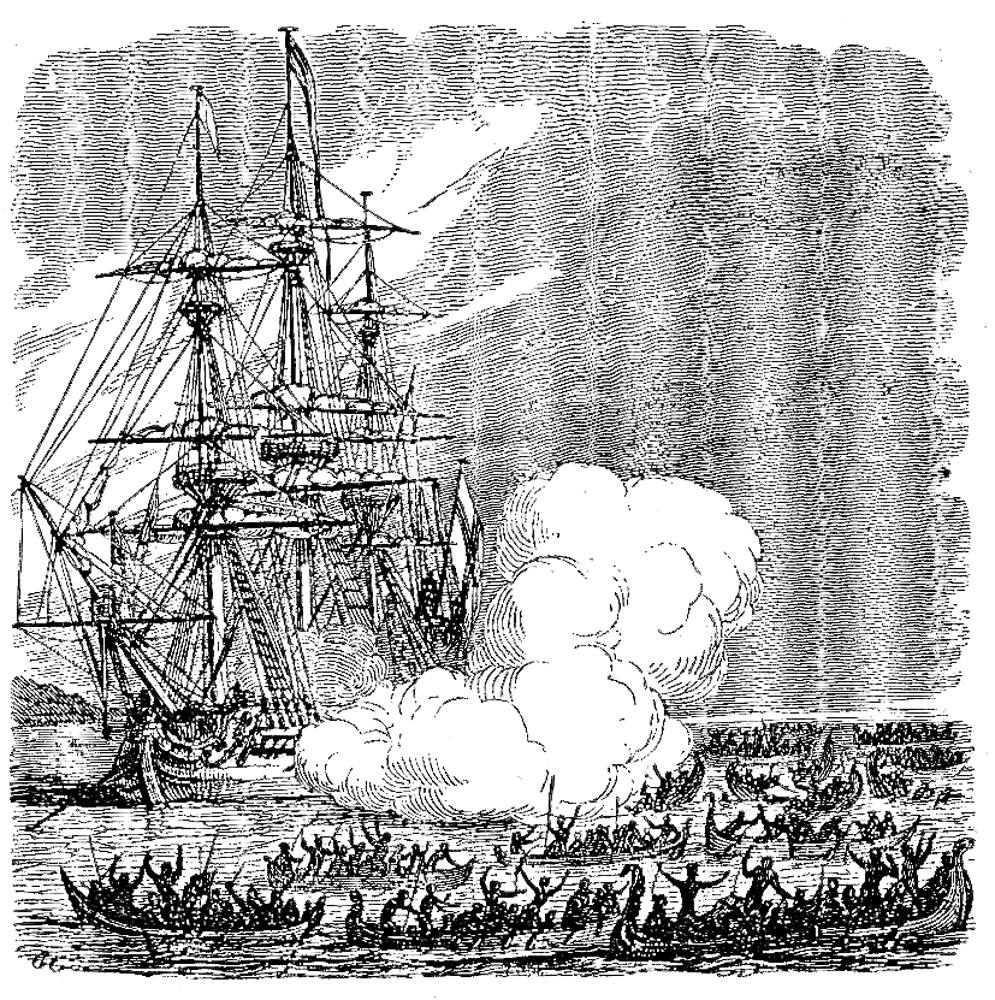 Islanders attack Crusoe's ship, killing Friday by George Cruikshank as the ninth vignette for Part Two, The Farther Adventures of Robinson Crusoe, Chapter VIII, "Sails from the Island for the Brazils," 6.7 cm high by 6.7 cm wide, middle of page 443. In many of the scenes in Part Two, Crusoe is a mere spectator rather than an active participant. Although here he is a central figure in the text, serving as the commander of the counter-attack on the aboriginals in their fleet of canoes, in the illustration he is merely represented by the European ship discharging its canons. [Click on the image to enlarge it.]
Scanned image and text by Philip V. Allingham. [You may use this image without prior permission for any scholarly or educational purpose as long as you (1) credit the person who scanned the image and (2) link your document to this URL in a web document or cite the Victorian Web in a print one.]
Passage Illustrated: Friday dies in combat with his own people
About half-an-hour afterwards they all came up in a body astern of us, and so near that we could easily discern what they were, though we could not tell their design; and I easily found they were some of my old friends, the same sort of savages that I had been used to engage with. In a short time more they rowed a little farther out to sea, till they came directly broadside with us, and then rowed down straight upon us, till they came so near that they could hear us speak; upon this, I ordered all my men to keep close, lest they should shoot any more arrows, and made all our guns ready; but being so near as to be within hearing, I made Friday go out upon the deck, and call out aloud to them in his language, to know what they meant. Whether they understood him or not, that I knew not; but as soon as he had called to them, six of them, who were in the foremost or nighest boat to us, turned their canoes from us, and stooping down, showed us their naked backs; whether this was a defiance or challenge we knew not, or whether it was done in mere contempt, or as a signal to the rest; but immediately Friday cried out they were going to shoot, and, unhappily for him, poor fellow, they let fly about three hundred of their arrows, and to my inexpressible grief, killed poor Friday, no other man being in their sight. The poor fellow was shot with no less than three arrows, and about three more fell very near him; such unlucky marksmen they were!
I was so annoyed at the loss of my old trusty servant and companion, that I immediately ordered five guns to be loaded with small shot, and four with great, and gave them such a broadside as they had never heard in their lives before. They were not above half a cable's length off when we fired; and our gunners took their aim so well, that three or four of their canoes were overset, as we had reason to believe, by one shot only. The ill manners of turning up their bare backs to us gave us no great offence; neither did I know for certain whether that which would pass for the greatest contempt among us might be understood so by them or not; therefore, in return, I had only resolved to have fired four or five guns at them with powder only, which I knew would frighten them sufficiently: but when they shot at us directly with all the fury they were capable of, and especially as they had killed my poor Friday, whom I so entirely loved and valued, and who, indeed, so well deserved it, I thought myself not only justifiable before God and man, but would have been very glad if I could have overset every canoe there, and drowned every one of them. [Chapter​VIII, "Sails from the Island for the Brazils," pp.​442-443.]
Commentary
Cruikshank has transformed Crusoe's personal loss into a scene of battle between aboriginals in a legion of canoes a symbol of British imperium, a warship discharging a cannonade directly at the attackers. Although the contest which Cruikshank presents seems unequal as the European military technology is vastly superior to the spears and arrows of the natives in their primitive vessels, in the text the men in the canoes mount so credible an attack that three of their arrows hit their mark, despite the distance. The moment depicted occurs after Friday has fallen and an enraged Crusoe has given the command to discharge a broadside with five cannons loaded with small shot — very effective in laying low lightly armed attackers. However, the viewer here does not see the broadside as a personal vengeance for the killing of a friend and companion; rather, Cruikshank presents it as the confrontation of advanced European technology and primitive weaponry.
Related Material
Bibliography
Defoe, Daniel. The Life and Surprising Adventures of Robinson Crusoe, of York, Mariner, with introductory verses by Bernard Barton, and illustrated with numerous engravings from drawings by George Cruikshank expressly designed for this edition. 2 vols. London: Printed at the Shakespeare Press, by W. Nichol, for John Major, Fleet Street, 1831.
De Foe, Daniel. The Life and Adventures of Robinson Crusoe, Written by Himself. Illustrated by Gilbert, Cruikshank, and Brown. London: Darton and Hodge, 1867?].
Defoe, Daniel. The Life and Surprising Adventures of Robinson Crusoe of York, Mariner. (1831). Illustrated by George Cruikshank. Major's Edition. London: Chatto & Windus, 1890.
Patten, Robert L. "Phase 2: "'The Finest Things, Next to Rembrandt's,' 1720–1835." Chapter 20, "Thumbnail Designs." George Cruikshank's Life, Times, and Art, vol. 1: 1792-1835. Rutgers, NJ: Rutgers U. P., 1992; London: The Lutterworth Press, 1992. Pp. 325-339.
---
Last modified 6 March 2018