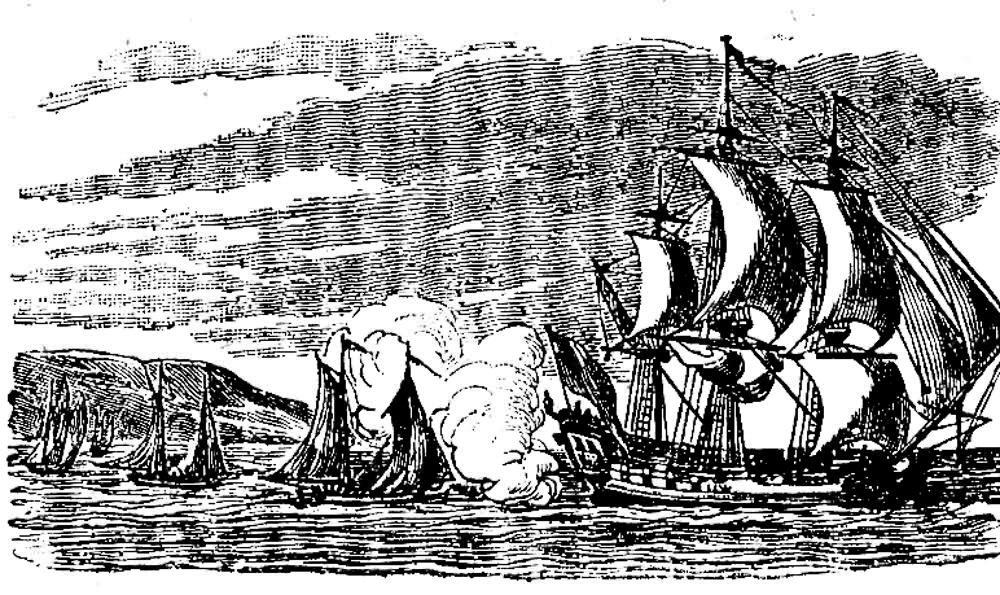 Malayan pirates attacking Crusoe's ship in the Malacca Straits by George Cruikshank as the eleventh vignette for Part Two, The Farther Adventures of Robinson Crusoe, Chapter XI, Warned of Danger by a Countryman," 3.5 cm high by 6.7 cm wide, middle of page 481. In many of the scenes in Part Two, Crusoe is a mere spectator rather than an active participant; here, the illustrator describes yet another naval battle without foregrounding any figures. in a sense, the superior of technology of the Europeans and the gifted seamanship of the British are a metonymy for the valiant Crusoe. [Click on the image to enlarge it.]
Scanned image and text by Philip V. Allingham. [You may use this image without prior permission for any scholarly or educational purpose as long as you (1) credit the person who scanned the image and (2) link your document to this URL in a web document or cite the Victorian Web in a print one.]
Passage Illustrated: Another Military Engagement in "Further Adventures"
It was all one; they crowded after us, and endeavoured to come under our stern, so as to board us on our quarter; upon which, seeing they were resolute for mischief, and depended upon the strength that followed them, I ordered to bring the ship to, so that they lay upon our broadside; when immediately we fired five guns at them, one of which had been levelled so true as to carry away the stern of the hindermost boat, and we then forced them to take down their sail, and to run all to the head of the boat, to keep her from sinking; so she lay by, and had enough of it; but seeing the foremost boat crowd on after us, we made ready to fire at her in particular.
While this was doing one of the three boats that followed made up to the boat which we had disabled, to relieve her, and we could see her take out the men. We then called again to the foremost boat, and offered a truce, to parley again, and to know what her business was with us; but had no answer, only she crowded close under our stern. Upon this, our gunner who was a very dexterous fellow ran out his two case-guns, and fired again at her, but the shot missing, the men in the boat shouted, waved their caps, and came on. The gunner, getting quickly ready again, fired among them a second time, one shot of which, though it missed the boat itself, yet fell in among the men, and we could easily see did a great deal of mischief among them. We now wore the ship again, and brought our quarter to bear upon them, and firing three guns more, we found the boat was almost split to pieces; in particular, her rudder and a piece of her stern were shot quite away; so they handed her sail immediately, and were in great disorder. To complete their misfortune, our gunner let fly two guns at them again; where he hit them we could not tell, but we found the boat was sinking, and some of the men already in the water: upon this, I immediately manned out our pinnace, with orders to pick up some of the men if they could, and save them from drowning, and immediately come on board ship with them, because we saw the rest of the boats began to come up. Our men in the pinnace followed their orders, and took up three men, one of whom was just drowning, and it was a good while before we could recover him. As soon as they were on board we crowded all the sail we could make, and stood farther out to the sea; and we found that when the other boats came up to the first, they gave over their chase. [Chapter 11, "Warned of Danger by a Countryman," pp. 480-482]
Related Material
Comparable Scene in the Cassell's Illustrated Edition (1863-64)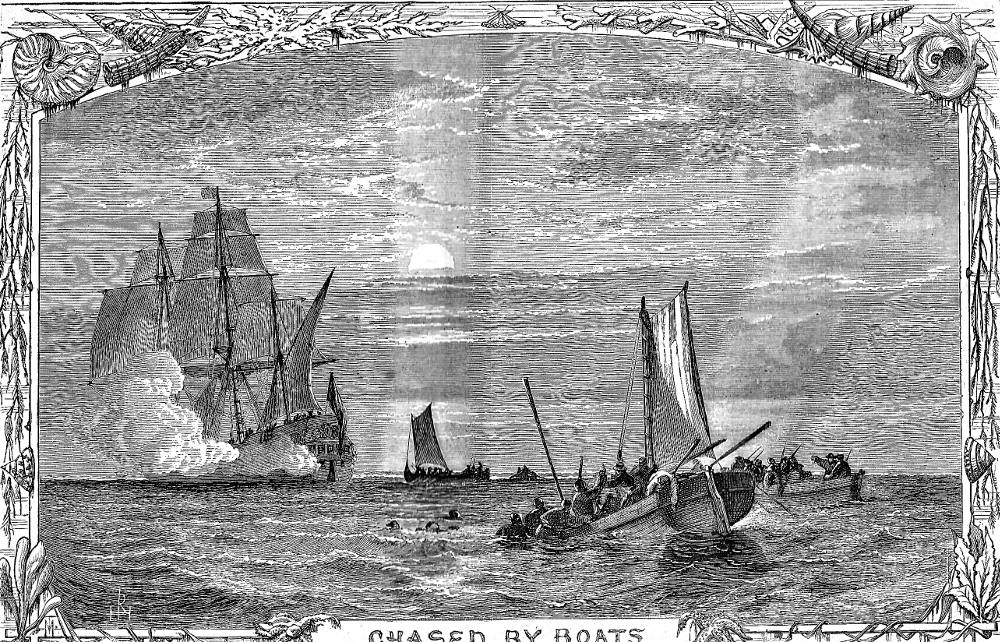 Above: The Cassell's house-artist's realistic wood-engraving of the naval battle between the outgunned pirate boats and Crusoe's vessel, Chased by Boats. [Click on image to enlarge it.]
Bibliography
Defoe, Daniel. The Life and Surprising Adventures of Robinson Crusoe, of York, Mariner, with introductory verses by Bernard Barton, and illustrated with numerous engravings from drawings by George Cruikshank expressly designed for this edition. 2 vols. London: Printed at the Shakespeare Press, by W. Nichol, for John Major, Fleet Street, 1831.
De Foe, Daniel. The Life and Adventures of Robinson Crusoe, Written by Himself. Illustrated by Gilbert, Cruikshank, and Brown. London: Darton and Hodge, 1867?].
Defoe, Daniel. The Life and Surprising Adventures of Robinson Crusoe of York, Mariner. (1831). Illustrated by George Cruikshank. Major's Edition. London: Chatto & Windus, 1890.
Patten, Robert L. "Phase 2: "'The Finest Things, Next to Rembrandt's,' 1720–1835." Chapter 20, "Thumbnail Designs." George Cruikshank's Life, Times, and Art, vol. 1: 1792-1835. Rutgers, NJ: Rutgers U. P., 1992; London: The Lutterworth Press, 1992. Pp. 325-339.
---
Last modified 6 March 2018