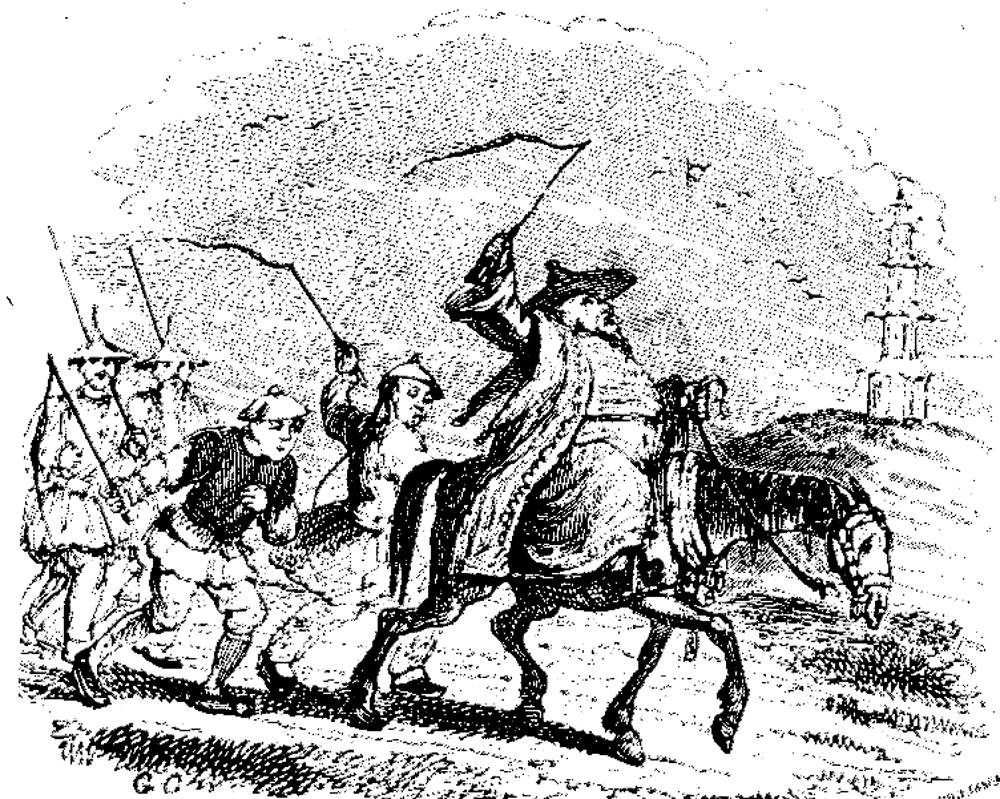 The ill-mounted Mandarin riding through Tartary by George Cruikshank as the vignette realising a scene in the second part of the John Major edition of The Life and Surprising Adventures of Robinson Crusoe (1831). Chapter XIII, "Arrival in China," 5.1 cm high by 6.5 cm wide, middle of page 511. In this scene, Crusoe is merely the observer rather than an active participant. [Click on the image to enlarge it.]
Scanned image and text by Philip V. Allingham. [You may use this image without prior permission for any scholarly or educational purpose as long as you (1) credit the person who scanned the image and (2) link your document to this URL in a web document or cite the Victorian Web in a print one.]
Passage Illustrated: An Overfed Bureaucrat cracks the Whip
I must confess I travelled more pleasantly afterwards in the deserts and vast wildernesses of Grand Tartary than here, and yet the roads here are well paved and well kept, and very convenient for travellers; but nothing was more awkward to me than to see such a haughty, imperious, insolent people, in the midst of the grossest simplicity and ignorance; and my friend Father Simon and I used to be very merry upon these occasions, to see their beggarly pride. For example, coming by the house of a country gentleman, as Father Simon called him, about ten leagues off the city of Nankin, we had first of all the honour to ride with the master of the house about two miles; the state he rode in was a perfect Don Quixotism, being a mixture of pomp and poverty.
His habit was very proper for a merry-andrew, being a dirty calico, with hanging sleeves, tassels, and cuts and slashes almost on every side: it covered a taffety vest, so greasy as to testify that his honour must be a most exquisite sloven.
His horse was a poor, starved, hobbling creature, and two slaves followed him on foot to drive the poor creature along; he had a whip in his hand, and he belaboured the beast as fast about the head as his slaves did about the tail; and thus he rode by us, with about ten or twelve servants, going from the city to his country seat, about half a league before us. We travelled on gently, but this figure of a gentleman rode away before us . . . . [Chapter XIII, "Arrival in China," pp. 510-511]
Commentary: Satirizing a Bloated Government Official
Cruikshank never had any sympathy with the pompous bureaucrats and politicians that had blocked and hounded him ever since, as a young caricaturist, he pilloried in hilarious images the Prince Regent, later George IV. The scene, as established by a multi-storied great pagoda not unlike the one at Kew Gardens designed by Sir William Chambers (1762), is that part of China between the coast and Pekin (modern Beijing). The enormous mandarin flourishes his whip aloft as his minions immediately behind him employ theirs to force the poor creature to keep moving.
Related Material
Related Scenes from Stothard (1790), Phiz (1864) and Cassell's (1863-64)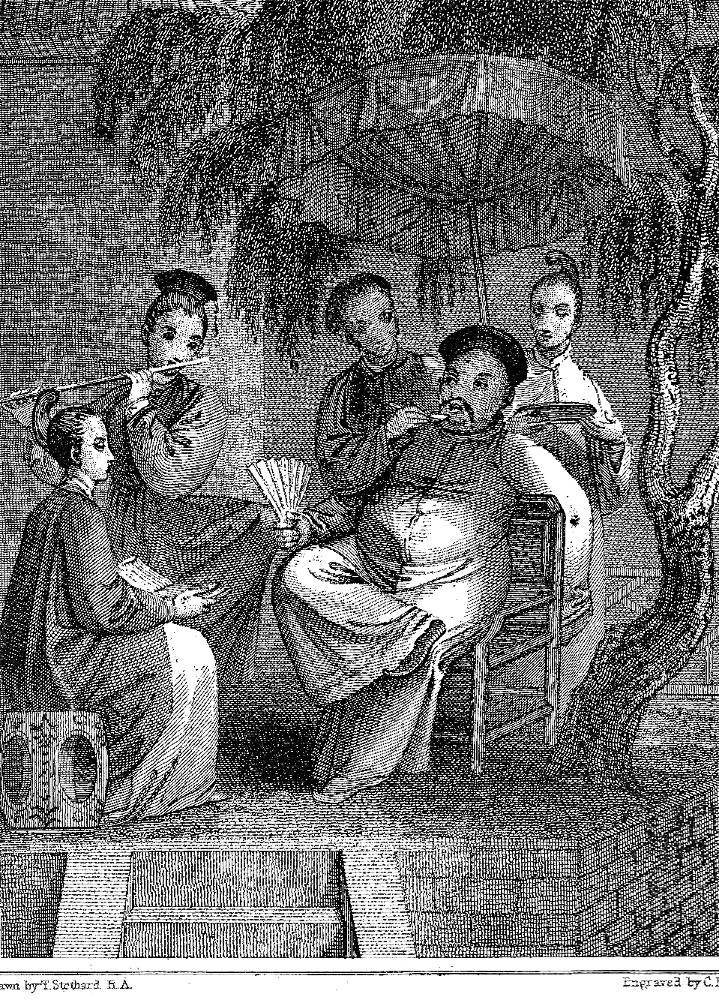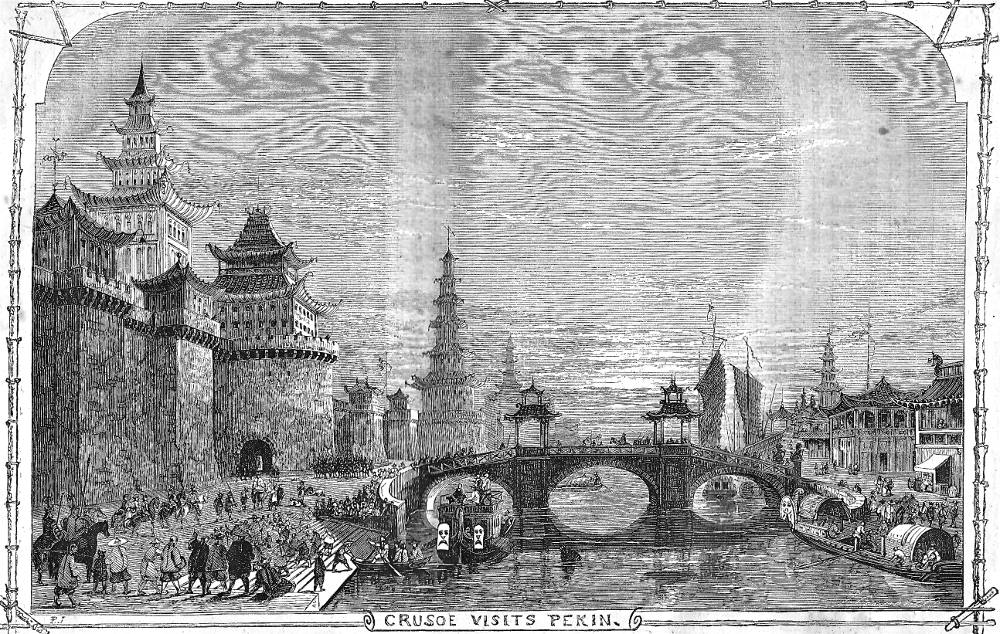 Left: Thomas Stothard's elegant dining scene, A Chinese gentleman at his repast (1790). Right: The Cassell's illustrator establishes the physical setting without visual comment on the mandarin as Defoe depicts him in The City of Nankin (1864). [Click on the images to enlarge them.]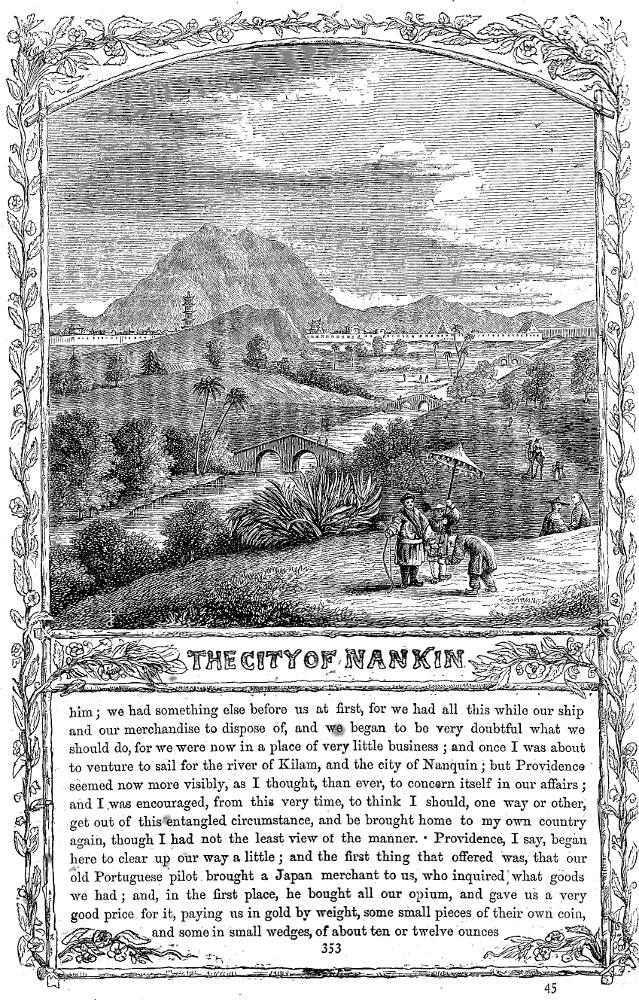 In the Cassell's full-page composite-woodblock engraving, the illustrator provides a view of the exotic East that minimizes the figures: Crusoe introduced to a Chinese Merchant (1864). [Click on the image to enlarge it.]
Bibliography
Defoe, Daniel. The Life and Surprising Adventures of Robinson Crusoe, of York, Mariner, with introductory verses by Bernard Barton, and illustrated with numerous engravings from drawings by George Cruikshank expressly designed for this edition. 2 vols. London: Printed at the Shakespeare Press, by W. Nichol, for John Major, Fleet Street, 1831.
De Foe, Daniel. The Life and Adventures of Robinson Crusoe, Written by Himself. Illustrated by Gilbert, Cruikshank, and Brown. London: Darton and Hodge, 1867?].
Defoe, Daniel. The Life and Surprising Adventures of Robinson Crusoe of York, Mariner. (1831). Illustrated by George Cruikshank. Major's Edition. London: Chatto & Windus, 1890.
Patten, Robert L. "Phase 2: "'The Finest Things, Next to Rembrandt's,' 1720–1835." Chapter 20, "Thumbnail Designs." George Cruikshank's Life, Times, and Art, vol. 1: 1792-1835. Rutgers, NJ: Rutgers U. P., 1992; London: The Lutterworth Press, 1992. Pp. 325-339.
---
Last modified 6 March 2018