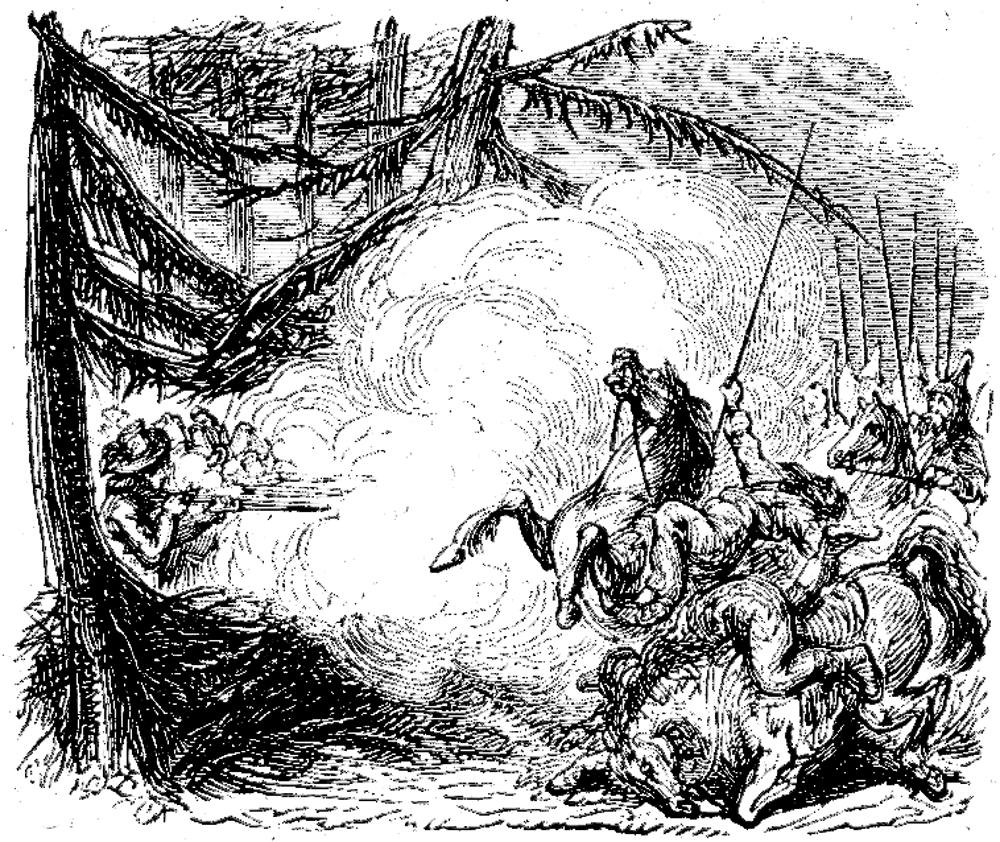 The Europeans fire a withering volley at the charging Tartar horde in Russia by George Cruikshank as the tailpiece realising the last adventure among the Tartars in the second part of the John Major edition of The Life and Surprising Adventures of Robinson Crusoe (1831). Chapter XVI, "Safe Arrival in England," 5.3 cm high by 6.3 cm wide, bottom of page 563. In this scene, although he is not in charge of the defences, Crusoe is likely the rifleman to the left. [Click on the image to enlarge it.]
Scanned image and text by Philip V. Allingham. [You may use this image without prior permission for any scholarly or educational purpose as long as you (1) credit the person who scanned the image and (2) link your document to this URL in a web document or cite the Victorian Web in a print one.]
Passage Illustrated: Final Military Action against the Tartar Hordes
In passing this forest (after all our dangers were, to our imagination, escaped), I thought, indeed, we must have been plundered and robbed, and perhaps murdered, by a troop of thieves: of what country they were I am yet at a loss to know; but they were all on horseback, carried bows and arrows, and were at first about forty-five in number. They came so near to us as to be within two musket-shot, and, asking no questions, surrounded us with their horses, and looked very earnestly upon us twice; at length, they placed themselves just in our way; upon which we drew up in a little line, before our camels, being not above sixteen men in all. Thus drawn up, we halted, and sent out the Siberian servant, who attended his lord, to see who they were; his master was the more willing to let him go, because he was not a little apprehensive that they were a Siberian troop sent out after him. The man came up near them with a flag of truce, and called to them; but though he spoke several of their languages, or dialects of languages rather, he could not understand a word they said; however, after some signs to him not to come near them at his peril, the fellow came back no wiser than he went; only that by their dress, he said, he believed them to be some Tartars of Kalmuck, or of the Circassian hordes, and that there must be more of them upon the great desert, though he never heard that any of them were seen so far north before.
This was small comfort to us; however, we had no remedy: there was on our left hand, at about a quarter of a mile distance, a little grove, and very near the road. I immediately resolved we should advance to those trees, and fortify ourselves as well as we could there; for, first, I considered that the trees would in a great measure cover us from their arrows; and, in the next place, they could not come to charge us in a body: it was, indeed, my old Portuguese pilot who proposed it, and who had this excellency attending him, that he was always readiest and most apt to direct and encourage us in cases of the most danger. We advanced immediately, with what speed we could, and gained that little wood; the Tartars, or thieves, for we knew not what to call them, keeping their stand, and not attempting to hinder us. When we came thither, we found, to our great satisfaction, that it was a swampy piece of ground, and on the one side a very great spring of water, which, running out in a little brook, was a little farther joined by another of the like size; and was, in short, the source of a considerable river, called afterwards the Wirtska; the trees which grew about this spring were not above two hundred, but very large, and stood pretty thick, so that as soon as we got in, we saw ourselves perfectly safe from the enemy unless they attacked us on foot.While we stayed here waiting the motion of the enemy some hours, without perceiving that they made any movement, our Portuguese, with some help, cut several arms of trees half off, and laid them hanging across from one tree to another, and in a manner fenced us in. About two hours before night they came down directly upon us; and though we had not perceived it, we found they had been joined by some more, so that they were near fourscore horse; whereof, however, we fancied some were women. They came on till they were within half-shot of our little wood, when we fired one musket without ball, and called to them in the Russian tongue to know what they wanted, and bade them keep off; but they came on with a double fury up to the wood-side, not imagining we were so barricaded that they could not easily break in. Our old pilot was our captain as well as our engineer, and desired us not to fire upon them till they came within pistol-shot, that we might be sure to kill, and that when we did fire we should be sure to take good aim; we bade him give the word of command, which he delayed so long that they were some of them within two pikes' length of us when we fired.
We aimed so true that we killed fourteen of them, and wounded several others, as also several of their horses; for we had all of us loaded our pieces with two or three bullets apiece at least.​[Chapter XVI, "Safe Arrival in England," pp. 558-559]
Related Material
Stothard's (1820), Phiz's (1864) and Cruikshank's Scenes of Combat with the Tartars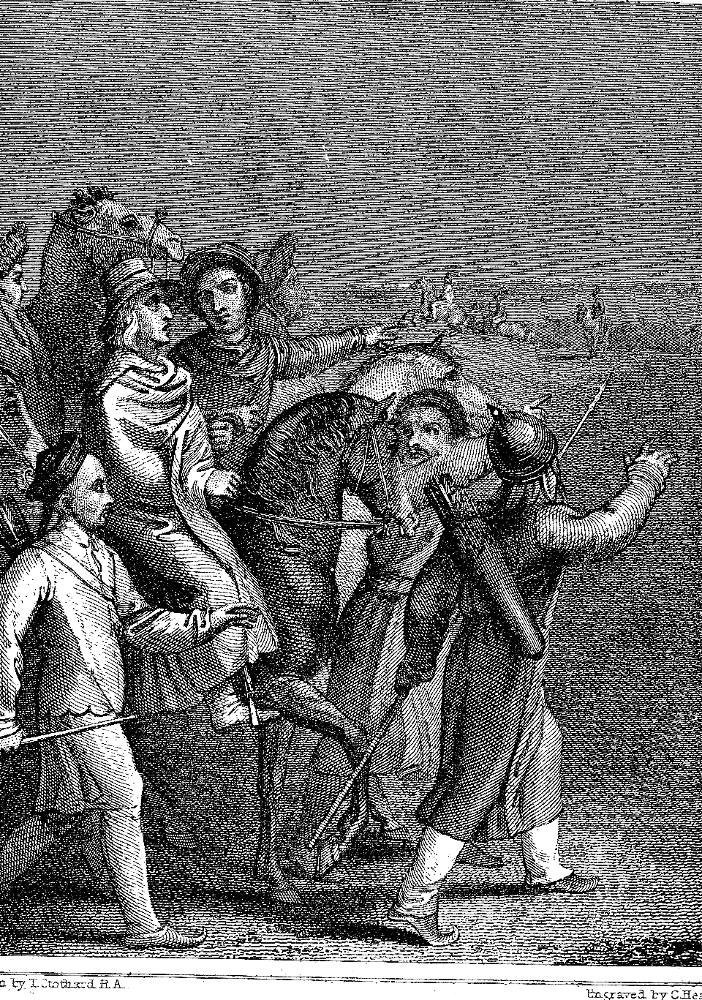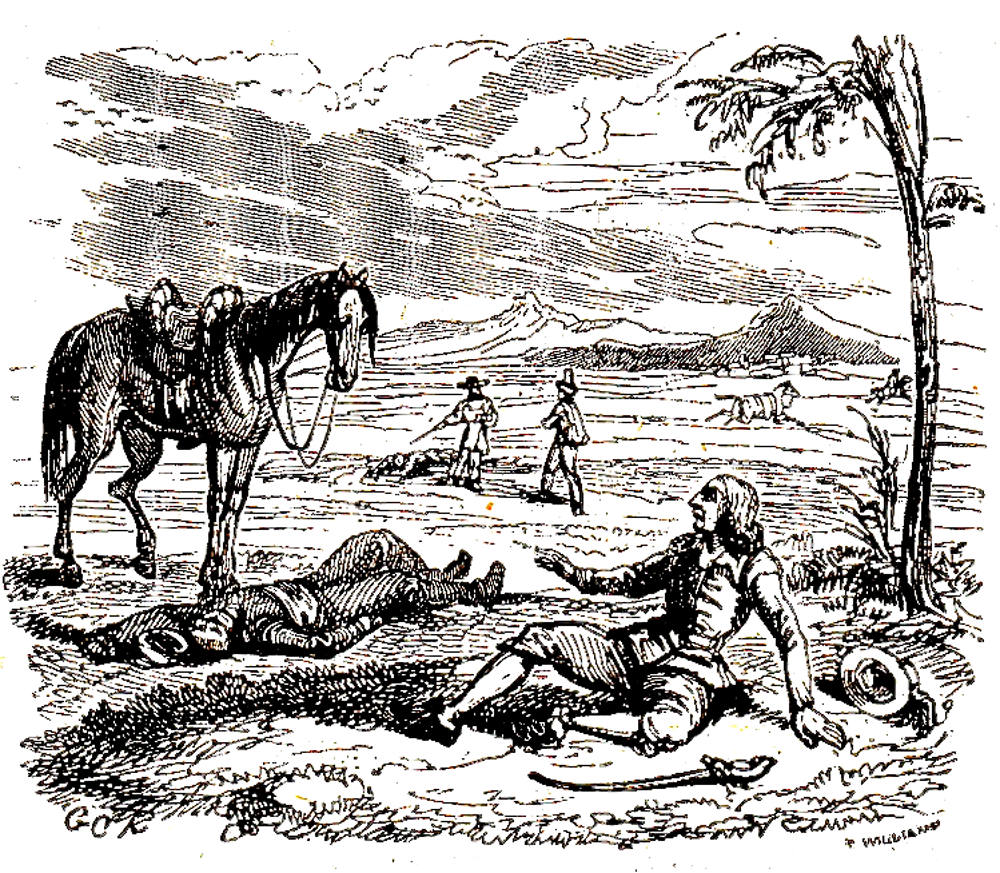 Left: As Crusoe regain consciousness, he discovers that his companions have driven off the robbers in Crusoe, regaining consciousness, sees the dead Tartar. Centre: The first illustration of Crusoe's adventure on the Russian steppes, Robinson Crusoe travelling in Chinese Tartary, a scene full of apprehension, but no action. Right: Cruikshank's dramatic tailpiece for Farther Adventures: The earlier episode in which a small contingent of Tartars attempt to rob Crusoe of his camel, Crusoe, regaining consciousness, sees the dead Tartar. [Click on the images to enlarge them.]
Above: Phiz's action-packed, full-page illustration of the earlier encounter: Robinson Crusoe attacked and robbed by Tartars. [Click on the image to enlarge it.]
Bibliography
Defoe, Daniel. The Life and Surprising Adventures of Robinson Crusoe, of York, Mariner, with introductory verses by Bernard Barton, and illustrated with numerous engravings from drawings by George Cruikshank expressly designed for this edition. 2 vols. London: Printed at the Shakespeare Press, by W. Nichol, for John Major, Fleet Street, 1831.
De Foe, Daniel. The Life and Adventures of Robinson Crusoe, Written by Himself. Illustrated by Gilbert, Cruikshank, and Brown. London: Darton and Hodge, 1867?].
Defoe, Daniel. The Life and Surprising Adventures of Robinson Crusoe of York, Mariner. (1831). Illustrated by George Cruikshank. Major's Edition. London: Chatto & Windus, 1890.
Patten, Robert L. "Phase 2: "'The Finest Things, Next to Rembrandt's,' 1720–1835." Chapter 20, "Thumbnail Designs." George Cruikshank's Life, Times, and Art, vol. 1: 1792-1835. Rutgers, NJ: Rutgers U. P., 1992; London: The Lutterworth Press, 1992. Pp. 325-339.
---
Last modified 7 March 2018