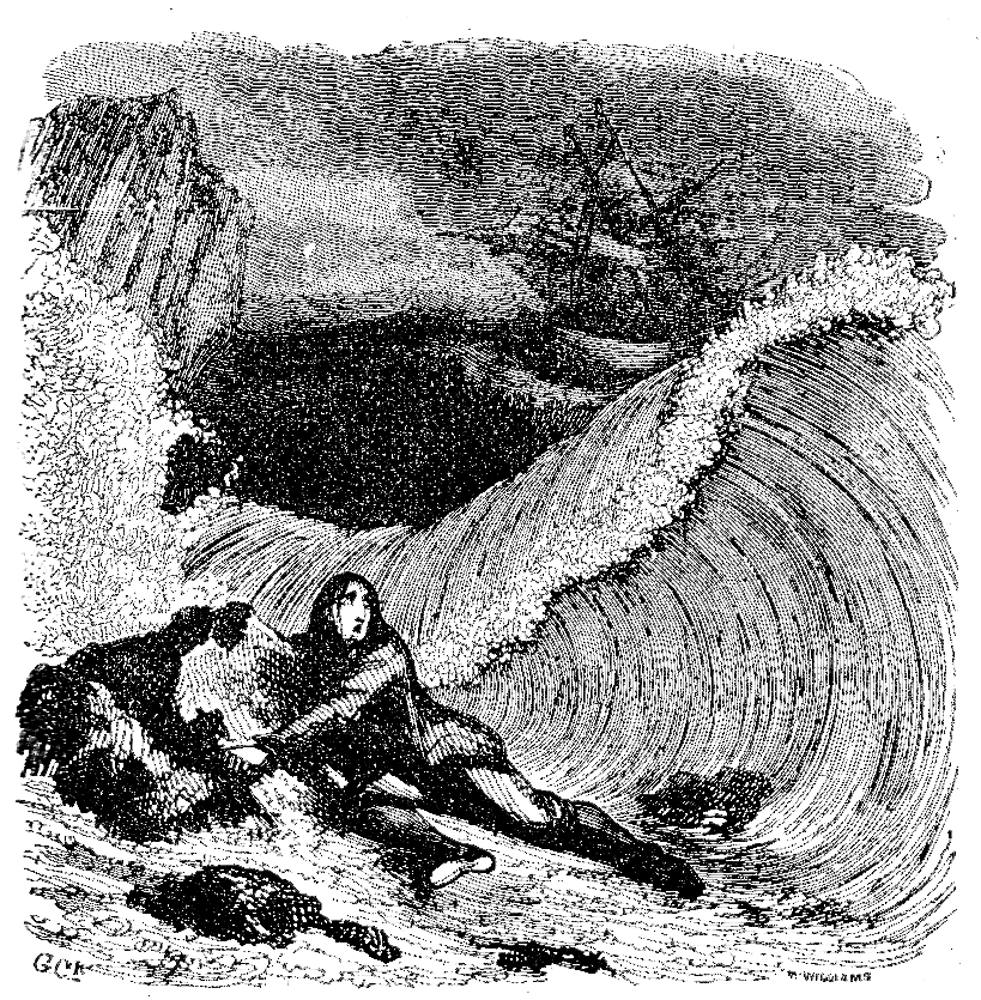 Crusoe clinging to a rock on the beach by George Cruikshank in John Major's edition of The Life and Surprising Adventures of Robinson Crusoe (1831). Although this is but a small-scale vignette, Cruikshank masterfully sketches the essential situation, with the hapless castaway and overwhelming surf in the foreground and the shipwreck underneath a dark sky in the background. Vignette: 6.6 cm high by 6.7 cm wide, p. 43. [Click on the image to enlarge it.]
Scanned image and text by Philip V. Allingham. [You may use this image without prior permission for any scholarly or educational purpose as long as you (1) credit the person who scanned the image and (2) link your document to this URL in a web document or cite the Victorian Web in a print one.]
Passage Illustrated
The wave that came upon me again buried me at once twenty or thirty feet deep in its own body, and I could feel myself carried with a mighty force and swiftness towards the shore​ — a very great way; but I held my breath, and assisted myself to swim still forward with all my might. I was ready to burst with holding my breath, when, as I felt myself rising up, so, to my immediate relief, I found my head and hands shoot out above the surface of the water; and though it was not two seconds of time that I could keep myself so, yet it relieved me greatly, gave me breath, and new courage. I was covered again with water a good while, but not so long but I held it out; and finding the water had spent itself, and began to return, I struck forward against the return of the waves, and felt ground again with my feet. I stood still a few moments to recover breath, and till the waters went from me, and then took to my heels and ran with what strength I had further towards the shore. But neither would this deliver me from the fury of the sea, which came pouring in after me again; and twice more I was lifted up by the waves and carried forward as before, the shore being very flat. [Chapter III, "Wrecked on a Desert Island," p. 42]
Commentary
One of the standard scenes in illustrated programs for Robinson Crusoe, this rendering bears the stamp of George Cruikshank in the illustrator's handing of the breakers, the inclusion of the shipwreck, and the composition's compelling the reader to sympathize with the plight of the young castaway whom the surf threatens to engulf momentarily. The effect of the chiaroscuro is to put the spotlight on Crusoe and the surging water, throwing the dark sea and lowering sky​well into the background. Cruikshank renders the young sailor as stunned rather than "senseless," but the picture definitely contributes to the suspense which the bare text has created about Crusoe's fate at this point — although, of course, the first-person point-of-view implies that he survives.
Related Material
Related Scenes from Stothart (1790), the 1818 Children's Book, Wehnert (1862), and Cassell's (1863-64)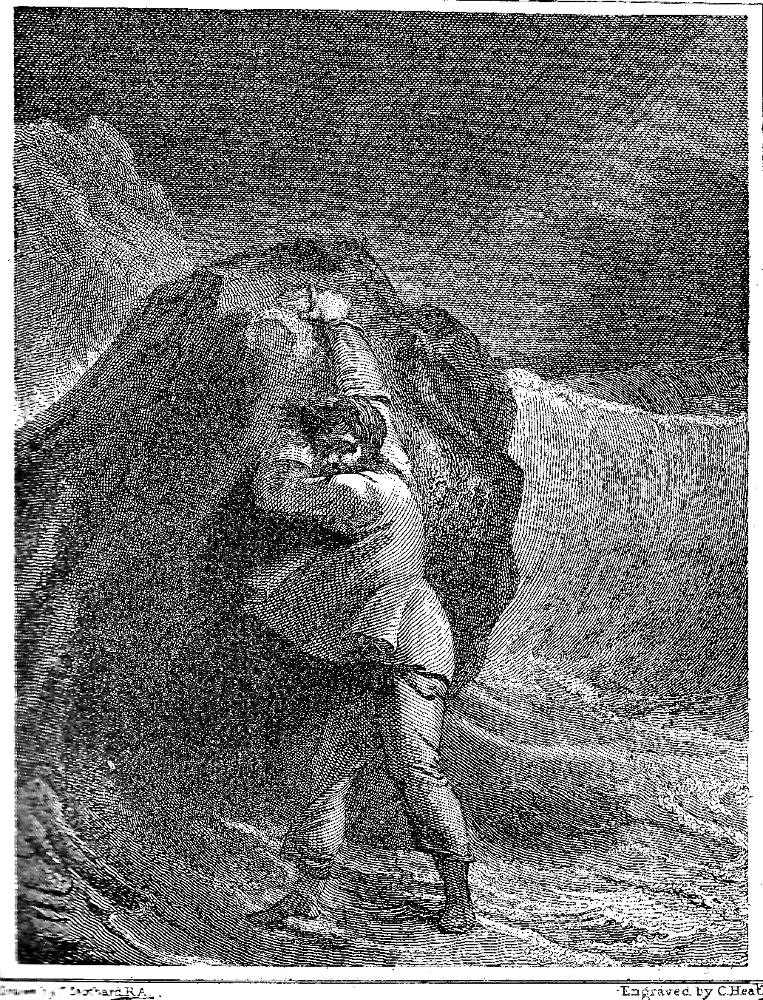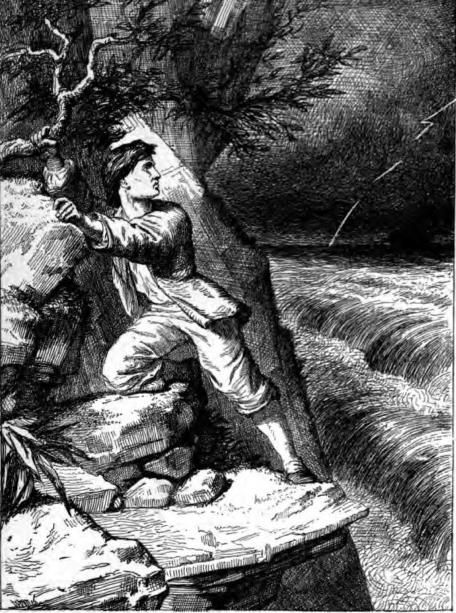 Right: Stothard's elegant realisation of Crusoe clinging to the rock, Centre: Wehnert's more dynamic realisation of the same episode, Crusoe saved on the island (1862: wood-engraving, Chapter III, "Wrecked on a Desert Island"). Right: Colourful children's book realisation of the same scene, but utterly lacking in realistic perspective: Robinson Crusoe cast away on the rock (1818). [Click on the images to enlarge them.]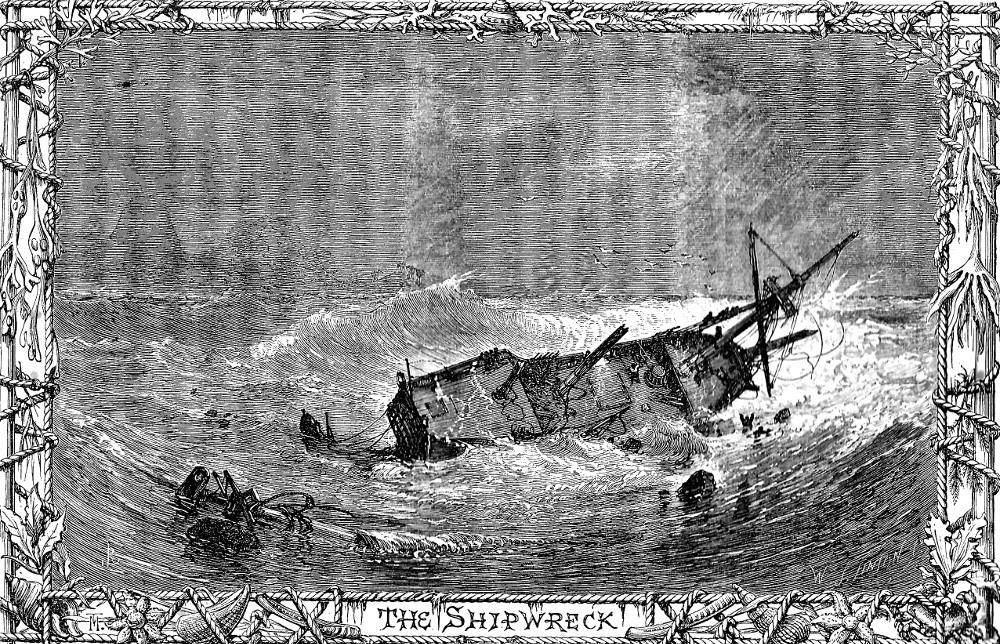 Above: The Cassell's house-artist's realistic wood-engraving of the wreck of Crusoe's slave-ship, The Shipwreck. [Click on image to enlarge it.]
Bibliography
Defoe, Daniel. The Life and Surprising Adventures of Robinson Crusoe, of York, Mariner, with introductory verses by Bernard Barton, and illustrated with numerous engravings from drawings by George Cruikshank expressly designed for this edition. 2 vols. London: Printed at the Shakespeare Press, by W. Nichol, for John Major, Fleet Street, 1831.
De Foe, Daniel. The Life and Adventures of Robinson Crusoe, Written by Himself. Illustrated by Gilbert, Cruikshank, and Brown. London: Darton and Hodge, 1867?].
Defoe, Daniel. The Life and Surprising Adventures of Robinson Crusoe of York, Mariner. (1831). Illustrated by George Cruikshank. Major's Edition. London: Chatto & Windus, 1890.
Patten, Robert L. "Phase 2: "'The Finest Things, Next to Rembrandt's,' 1720–1835." Chapter 20, "Thumbnail Designs." George Cruikshank's Life, Times, and Art, vol. 1: 1792-1835. Rutgers, NJ: Rutgers U. P., 1992; London: The Lutterworth Press, 1992. Pp. 325-339.
---
Last modified 21 February 2018