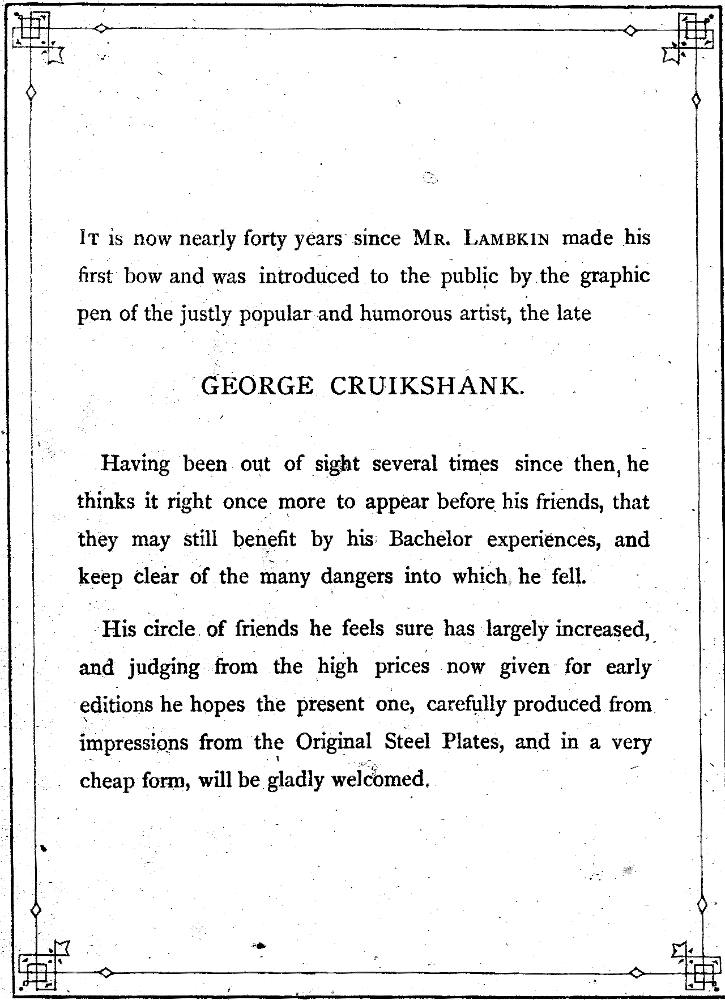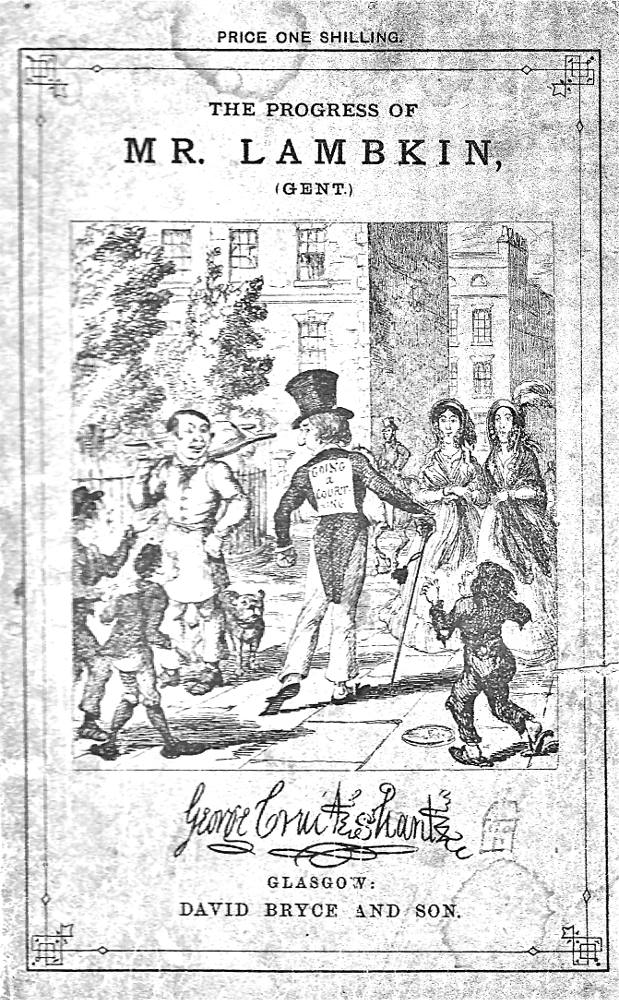 Cover for The Bachelor's Own Book; or, The Progress of Mr. Lambkin, (Gent.), In the Pursuit of Pleasure and Amusement, and also in search of Health and Happiness. In Twenty-four Plates, Designed and etched by George Cruikshank. Glasgow: David Bryce & Son, 129 Buchanan Street. 1880: title-page: 16.8 cm high by 10.6 cm wide, framed.
Scanned image and text by Philip V. Allingham. [You may use this image without prior permission for any scholarly or educational purpose as long as you (1) credit the person who scanned the image and (2) link your document to this URL.]
Accompanying Text
The cartoon satire of the middle-class bachelor who has waited half his life for his great expectations was initially not commercially successful enough to spawn a sequel. However, thirty-six years later, the Glasgow form of David Bryce and Sons reprinted the little booklet with the following note prefacing the initial illustration:
It is now nearly forty years since Mr. Lambkin made his first bow and was introduced to the public by the graphic pen of the justly popular and humorous artist, the late
George Cruikshank.
Having been out of sight several times since then, he thinks it right once more to appear before his friends, that they may still benefit by his Bachelor experiences, and keep clear of the many dangers into which he fell.
His circle of friends he feels sure has largely increased, and judging from the high prices now given for early editions he hopes the present one, carefully produced from impressions from the Original Steel Plates, and in very cheap form, will be gladly welcomed. [page ii]
Commentary
Taken together, Lambkin, the Table-Book, and Maxwell's Rebellion register in 1844-1845 a very different art from the bourgeois humor of the Almanack or the tragic history of the Tower. Cruikshank moved from comedy to pathos, from pathos to protest, and from protest to outrage, while simultaneously seeking to escape from the thrall of publishers by dealing directly with his public. To do so successfully, he would have to find an appropriate subject that engaged middle-class patrons and that could be treated in a medium allowing multiple replications at little cost. And it would have to be a subject about which he felt strongly, one that focused his personal anxieties and permitted his anger. Within two years he would find such a subject in Temperance. [Patten, p. 212]
References
Cruikshank, George. The Bachelor's Own Book; Or, The Progress Of Mr. Lambkin, In The Pursuit Of Pleasure And Amusement. Glasgow: David Bryce, 1844, rpt. 1880.
Patten, Robert L. George Cruikshank's Life, Times, and Art, vol. 2: 1835-1878.Cambridge: The Lutterworth Press, 1992.
---
Last modified 15 May 2018