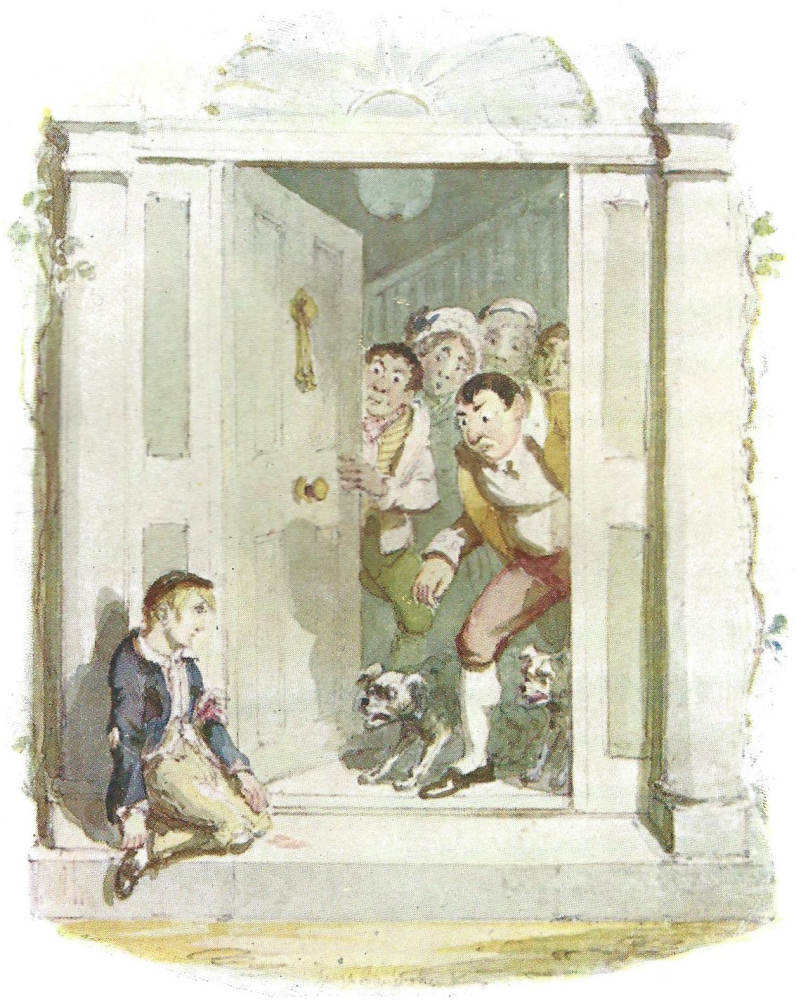 Oliver Twist found wounded at Mrs. Maylie's door — the thirteenth steel engraving and later a watercolour for Charles Dickens's The Adventures of Oliver Twist; or, The Parish Boy's Progress, first published in volume by Richard Bentley after its April 1838 appearance in Bentley's Miscellany, Chapter XXVIII (thirteenth instalment). 4 ¾ by 3 ¾ inches (12 cm by 9.7 cm), vignetted, facing page 156 in the 1846 edition (originally leading off the monthly number). Cruikshank's own 1866 watercolour, commissioned by book-collector F. W. Cosens, is the basis for the 1903 chromolithograph. [Click on the images to enlarge them.]
Passage Illustrated: Providence Brings Oliver to the Maylies
These precautions having been taken, Mr. Giles held on fast by the tinker's arm (to prevent his running away, as he pleasantly said), and gave the word of command to open the door. Brittles obeyed; the group, peeping timorously over each other's shoulders, beheld no more formidable object than poor little Oliver Twist, speechless and exhausted, who raised his heavy eyes, and mutely solicited their compassion.
"A boy!" exclaimed Mr. Giles, valiantly, pushing the tinker into the background. "What's the matter with the — eh? — Why — Brittles — look here — don't you know?"
Brittles, who had got behind the door to open it, no sooner saw Oliver, than he uttered a loud cry. Mr. Giles, seizing the boy by one leg and one arm (fortunately not the broken limb) lugged him straight into the hall, and deposited him at full length on the floor thereof.
"Here he is!" bawled Giles, calling in a state of great excitement, up the staircase; "here's one of the thieves, ma'am! Here's a thief, miss! Wounded, miss! I shot him, miss; and Brittles held the light." [Chapter XXVIII, "Looks after Oliver, and proceeds with his Adventures," pp. 156-157 in the 1846 edition]
Commentary: A Near-fatal Experience
Here the picture is literally only half of the story in that the servants are as terrified of the person at the door as Oliver is at the kind of reception he may receive at the hands of those whom he had conspired to rob. Dickens has specified that the front of the house has a neoclassical, pillared portico in the style of Robert Adam. However, Cruikshank has had to complement Dickens's text by drawing a convincing picture of the liveried male servants Giles and Brittles, and the timid female servants behind them. But the picture does not prepare the reader for the intervention of the young mistress on the boy's behalf. Then, too, this illustration of an emaciated, ill-clothed child begging for entry contrasts with the image of a well-dressed, pampered Noah Claypole, Oliver's nemesis at the Sowerberrys, gluttonously devouring oysters, the illustration immediately preceding this.
Subsequent studies of Oliver's being "recalled to life" after his harrowing experience hours earlier contrast the boy's situation just before and during the robbery with his present impotence. In the Household Edition illustrator James Mahoney seems more interested in the events leading up to this moment and the arrival of the Bow Street Runners than he is Oliver's harrowing ordeal. Although "Just send somebody out to relieve my mate, will you, young man?" is positioned at the head of Chapter 29, just after Oliver has been carried into the house, the rather prosaic illustration of the police officer and the servant anticipates Chapter 31, "Involves a Critical Position." On the other hand, Harry Furniss in the Charles Dickens Library Edition (1910) specifically depicts Sikes and his confederate, Toby Crackit, fleeing into the woods after dropping the unconscious Oliver into a ditch. Moreover, Furniss omits Oliver's interrogation by the minions of the law, and focusses instead upon Rose Maylie's tender care of the recuperating child.
Relevant Illustrations from the serial and later editions (1837-1910)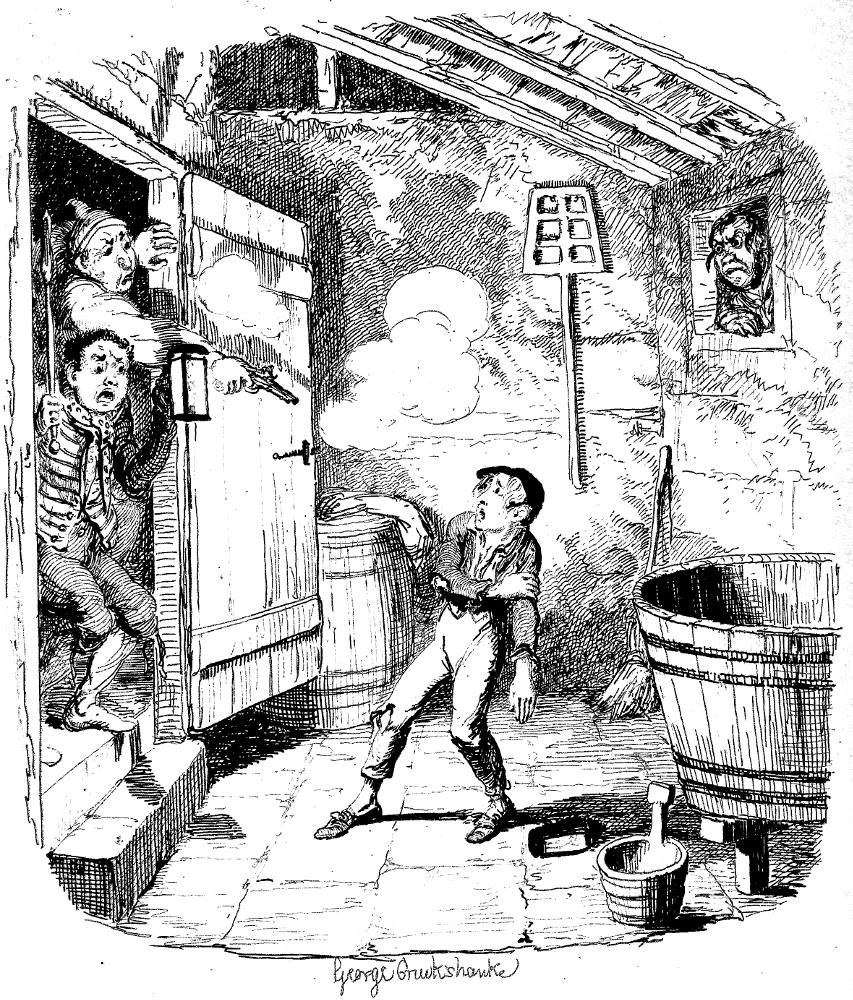 Left: George Cruikshank's The Robbery (January 1838). Right: The Wounded Oliver smiles in his Sleep (1910). [Click on the images to enlarge them.]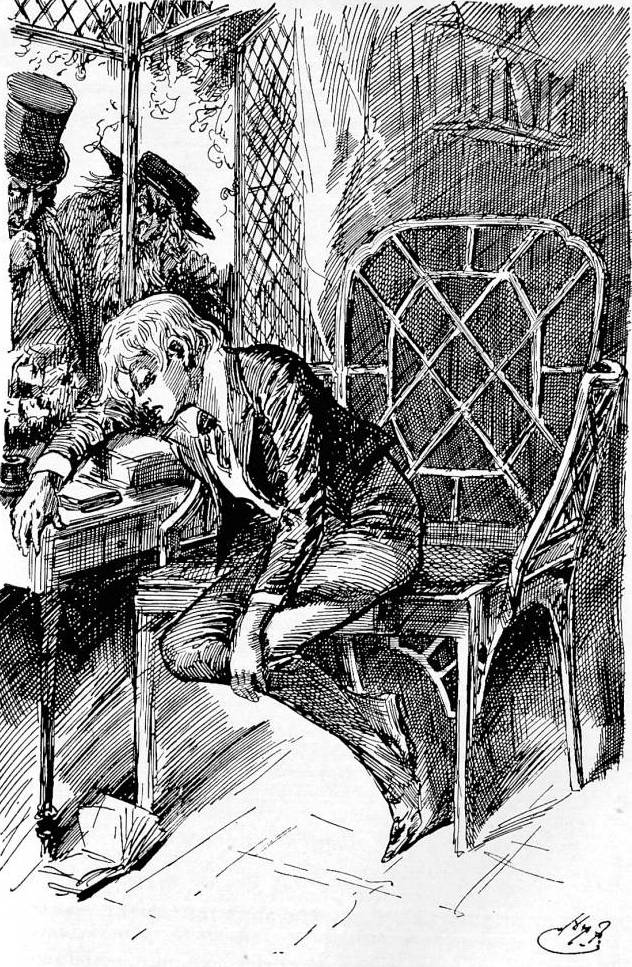 Left: James Mahoney's Household Edition illustration "Just send somebody out to relieve my mate, will you, young man?" (1871). Right: Furniss's The wounded Oliver thrown into a ditch. [Click on the images to enlarge them.]
Related Material
Scanned images and commentary by Philip V. Allingham. [You may use these images without prior permission for any scholarly or educational purpose as long as you (1) credit the photographer and (2) link your document to this URL in a web document or cite the Victorian Web in a print one.]
Bibliography
Bentley, Nicolas, Michael Slater, and Nina Burgis. The Dickens Index. New York and Oxford: Oxford U. P., 1990.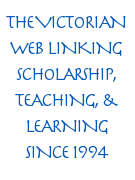 Cohen, Jane Rabb. "George Cruikshank." Charles Dickens and His Original Illustrators. Columbus: Ohio State U. P., 1980. Pp. 15-38.
Darley, Felix Octavius Carr. Character Sketches from Dickens. Philadelphia: Porter and Coates, 1888.
Davis, Paul. Charles Dickens A to Z: The Essential Reference to His Life and Work. New York: Facts On File, 1998.
Dickens, Charles. The Adventures of Oliver Twist; or, The Parish Boy's Progress. Illustrated by George Cruikshank. London: Bradbury and Evans; Chapman and Hall, 1846.
_______. Oliver Twist. Works of Charles Dickens. Household Edition. 55 vols. Illustrated by F. O. C. Darley and John Gilbert. New York: Sheldon and Co., 1865.
_______. Oliver Twist. Works of Charles Dickens. Diamond Edition. 14 vols. Illustrated by Sol Eytinge, Jr. Boston: Ticknor and Fields, 1867.
_______. Oliver Twist. Works of Charles Dickens. Household Edition. 22 vols. Illustrated by James Mahoney. London: Chapman and Hall, 1871. Vol. I.
_______. The Adventures of Oliver Twist. Works of Charles Dickens. Charles Dickens Library Edition. 18 vols. Illustrated by Harry Furniss. London: Educational Book Company, 1910. Vol. 3.
Forster, John. "Oliver Twist 1838." The Life of Charles Dickens. Ed. B. W. Matz. The Memorial Edition. 2 vols. Philadelphia: J. B. Lippincott, 1911. Vol. 1, book 2, chapter 3. Pp. 91-99.
Grego, Joseph (intro) and George Cruikshank. "Oliver Twist found wounded at Mrs. Maylie's door." Cruikshank's Water Colours. [27 Oliver Twist illustrations, including thewrapper and the 13-vignette title-page produced for F. W. Cosens; 20 plates for WilliamHarrison Ainsworth's The Miser's Daughter: A Tale of the Year1774; 20 plates plus the proofcover the work for W. H. Maxwell's History of the Irish Rebellion in 1798 and Emmetts Insurrection in1803]. London: A. & C. Black, 1903. OT = pp. 1-106]. Page 50.
Kitton, Frederic G. "George Cruikshank." Dickens and His Illustrators: Cruikshank, Seymour, Buss, "Phiz," Cattermole, Leech, Doyle, Stanfield, Maclise, Tenniel, Frank Stone, Topham, Marcus Stone, and Luke Fildes. 1899. Rpt. Honolulu: U. Press of the Pacific, 2004. Pp. 1-28.
Pailthorpe, Frederic W. (Illustrator). Charles Dickens's Oliver Twist. London: Robson & Kerslake, 1886. Set No. 118 (coloured) of 200 sets of proof impressions.
Patten, Robert L. George Cruikshank's Life, Times, and Art, Volume Two: 1836-1878. New Brunswick, New Jersey: Rutgers University Press, 1996.
Patten, Robert L. George Cruikshank: A Revaluation. Princeton: Princeton U. P., 1992.
---
Created 9 September 2014 Last modified 11 January 2022