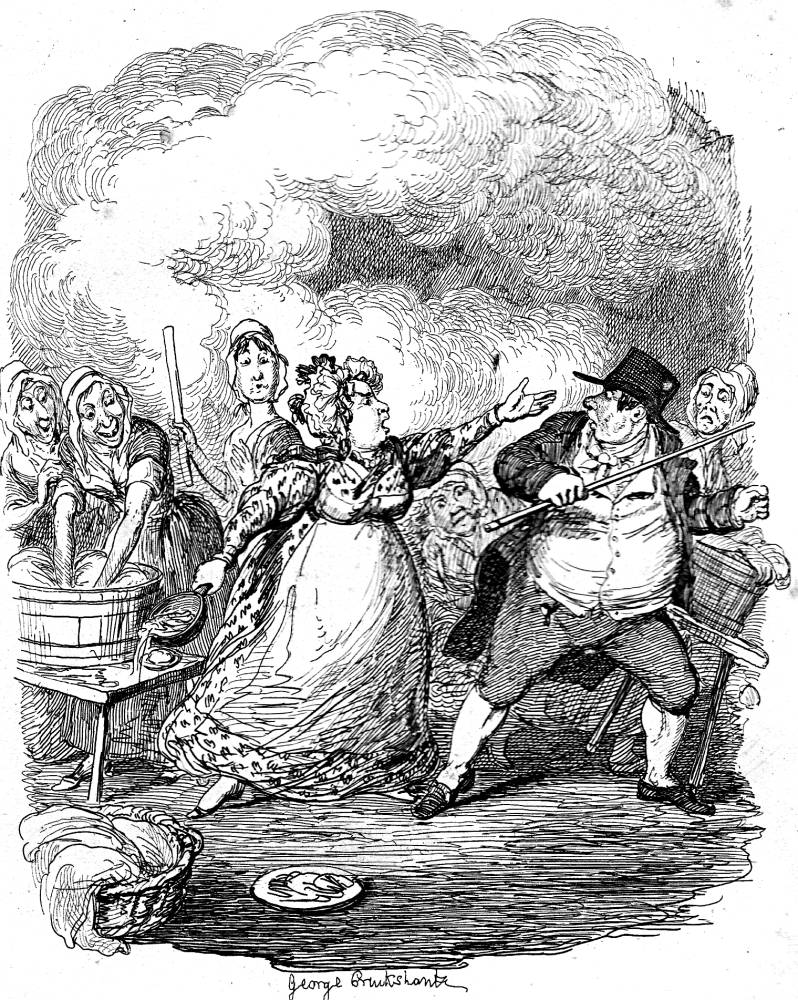 Mr. Bumble degraded in the eyes of the Paupers
George Cruikshank, 1792-1878
Part 16, July 1838
Etching on steel
Sixteenth monthly illustration, The Adventures of Oliver Twist; or, The Parish Boy's Progress
Scanned image and text by Philip V. Allingham.
[You may use this image without prior permission for any scholarly or educational purpose as long as you (1) credit the person who scanned the image and (2) link your document to this URL in a web document or cite the Victorian Web in a print one.].
Passage Illustrated
With these words, Mr. Bumble opened the door, and walked in with a very fierce and angry manner: which was at once exchanged for a most humiliated and cowering air, as his eyes unexpectedly rested on the form of his lady wife.
"My dear," said Mr. Bumble, "I didn't know you were here."
"Didn't know I was here!' repeated Mrs. Bumble. "What do you do here?"
"I thought they were talking rather too much to be doing their work properly, my dear," replied Mr. Bumble: glancing distractedly at a couple of old women at the wash-tub, who were comparing notes of admiration at the workhouse-master's humility.
"You thought they were talking too much?" said Mrs. Bumble. "What business is it of yours?"
"Why, my dear — " urged Mr. Bumble submissively.
"What business is it of yours?" demanded Mrs. Bumble, again.
"It's very true, you're matron here, my dear," submitted Mr. Bumble; "but I thought you mightn't be in the way just then."
"I'll tell you what, Mr. Bumble," returned his lady. "We don't want any of your interference. You're a great deal too fond of poking your nose into things that don't concern you, making everybody in the house laugh, the moment your back is turned, and making yourself look like a fool every hour in the day. Be off; come!"
Mr. Bumble, seeing with excruciating feelings, the delight of the two old paupers, who were tittering together most rapturously, hesitated for an instant. Mrs. Bumble, whose patience brooked no delay, caught up a bowl of soap-suds, and motioning him towards the door, ordered him instantly to depart, on pain of receiving the contents upon his portly person.
What could Mr. Bumble do? He looked dejectedly round, and slunk away; and, as he reached the door, the titterings of the paupers broke into a shrill chuckle of irrepressible delight. It wanted but this. He was degraded in their eyes; he had lost caste and station before the very paupers; he had fallen from all the height and pomp of beadleship, to the lowest depth of the most snubbed hen-peckery. [Chapter 37, "In which the Reader may Perceive a Contrast, not Uncommon in Matrimonial Cases," p. 192]
Commentary: Satirising Pompous Authority
The expectations of Bumble regarding the obedience of Mrs. Corney two months after their marriage are dashed by her face-saving ploy in front of her female charges at the workhouse, for such refuges for the destitute and unemployed practiced gender segregation, even to the point of dividing families. The incident is not a mere comeuppance for the haughty beadle in that it marks a shift in his erstwhile alliance with the matron of the workhouse. Retreating from the workhouse to the sanctuary of a nearby pub, Bumble encounters a well-dressed, enigmatic stranger who is looking for information about Oliver's mother. Thus, the tiff between husband and wife sets up the plot-oriented scene involving Monks and the secret of Oliver's birth.
Sol Eytinge, Junior's dual character study Mr. Bumble and Mrs. Corney in the 1867 Diamond Edition of the novel focuses upon their earlier amity, when Mr. Bumble was courting the comfortably circumstanced widow — whereas in the present scene she has revealed her true mettle and will brook no domestic tyrant in her workplace, in which heretofore she has been reigning monarch.
In the Household Edition illustrator James Mahoney focusses not on the humourous scene involving the parish beadle's loss of face at the workhouse, but on his subsequent interview with Monks in "Were you looking for me," he said, "when you peered in at the window?", although even an astute reader might not connect the mysterious figure in the cloak and top-hat in the illustration for Chapter 26 ("Fagin!" whispered a voice close to his ear) back in Holborn with Bumble's curious interlocutor here. Again, as with the scene at the garden window in Chapter 34, perhaps Mahoney seems to have been reluctant to attempt a scene handled with such panache by Dickens's original illustrator.
In the 1838 steel engraving, Cruikshank places husband and wife in the centre, although Mrs. Bumble is already forcing her astounded husband towards the right margin, much to amusement of the gaunt laundresses (left). This is no longer the demure, tea-drinking matron of Cruikshank's earlier Mr. Bumble and Mrs. Corney taking tea, in which she was very much to the left of centre in a private setting; here, in a scene played out before her institutional charges, the matron seems to have grown in size and stature, having exchanged her diminutive teacup for a large saucepan. She fills the workplace scene, a vessel of war (with billowing sail) who commands rather than demures. Whereas the te-drinking scene occurred in the confines of a parlour, Cruikshank presents not background details to establish the size or nature of the laundry room in the workhouse, so that the figures of the Bumbles stand out.
Harry Furniss's Mrs. Bumble turns Mr. Bumble out is based directly upon Cruikshank's highly theatrical comedic composition. Whereas Mahoney has deliberately selected scenes involving Mrs. Corney and Mr. Bumble that relate them only to the plot and do not indulge in his predecessor's penchant for visual satire and character comedy, Furniss pays homage to the original scene selected by Dickens and Cruikshank for the serial. Indeed, Furniss has borrowed the costumes, juxtapositions, poses, and expressions of Cruikshank's couple, but in a Baroque manner has altered the perspective so that the pauper women, the delighted audience of the momentary domestic comedy, are no longer stage right, but in fact are downstage, so that Furniss's viewer surveys the routing of beadle (no longer habited as such) from behind the angular, ill-fed women and their washtubs. As in the earlier illustration, clouds of steam (suggestive of Mrs. Bumble's ill-temper) envelop the upper register, but in Furniss's treatment Bumble is only partially visible as he is already abandoning the field of battle to the fairer sex, even as his wife pours the suds on him. Thus, Furniss's energetic realisation completes the action begun in Cruikshank's. Furniss expands the role of the female audience, foregrounding the observers and relegating the principals to the rear.
Illustrations from the Diamond Edition (1867), Household Edition (1871), and Charles Dickens Library Edition (1910)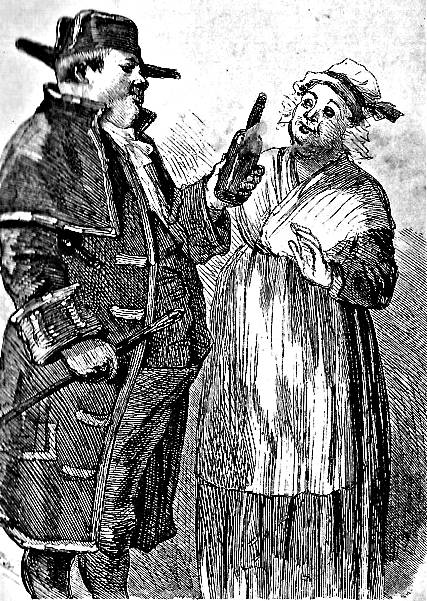 Left: Sol Eytinge, Junior's "Mrs. Corney and Mr. Bumble". Right: James Mahoney's "Were you looking for me," he said, "when you peered in at the window?" [Click on images to enlarge them.]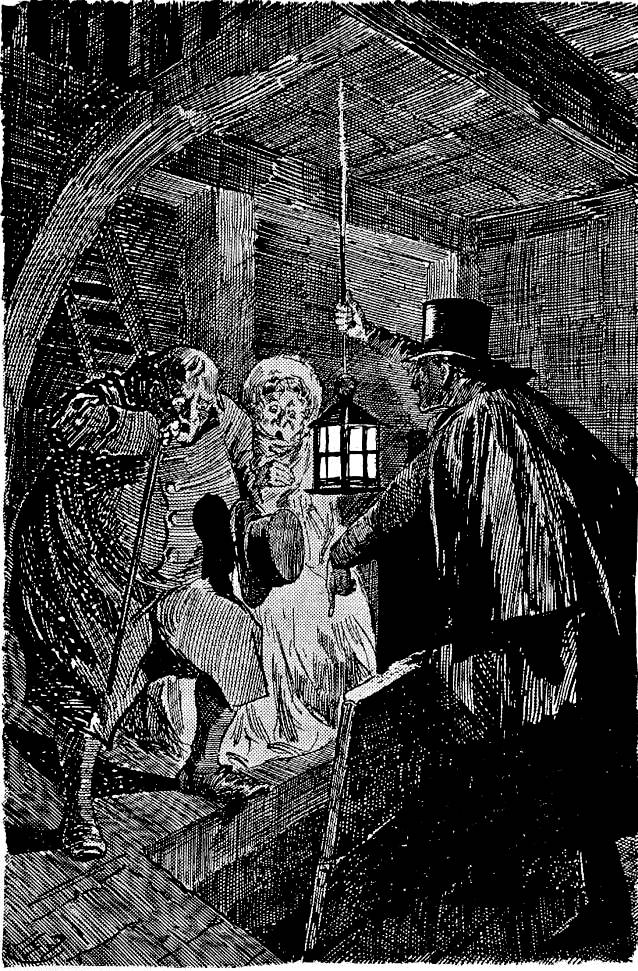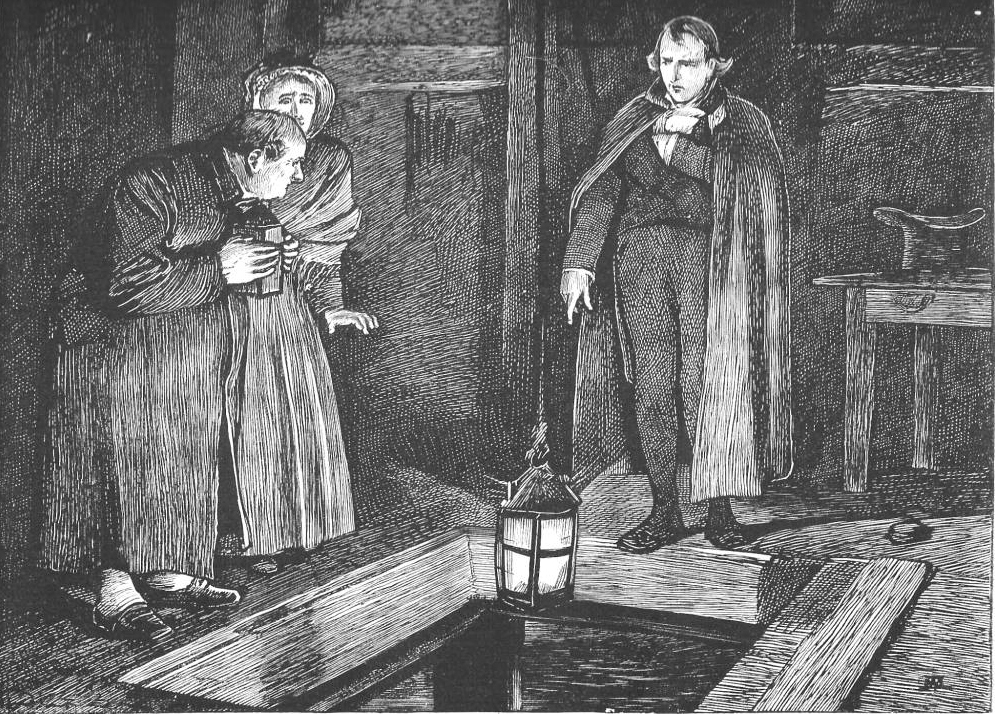 Left: Harry Furniss's Charles Dickens Library Edition illustration (1910) "Mrs. Bumble turns Mr. Bumble out". Right: James Mahoney's "The Evidence Destroyed". [Click on images to enlarge them.]
References
Bentley, Nicolas, Michael Slater, and Nina Burgis. The Dickens Index. New York and Oxford: Oxford U. P., 1990.
Cohen, Jane Rabb. "George Cruikshank." Charles Dickens and His Original Illustrators. Columbus: Ohio State U. P., 1980. Pp. 15-38.
Darley, Felix Octavius Carr. Character Sketches from Dickens. Philadelphia: Porter and Coates, 1888.
Davis, Paul. Charles Dickens A to Z: The Essential Reference to His Life and Work. New York: Facts On File, 1998.
Dickens, Charles. The Adventures of Oliver Twist; or, The Parish Boy's Progress. Il. George Cruikshank. London: Bradbury and Evans; Chapman and Hall, 1846.
Dickens, Charles. Oliver Twist. Works of Charles Dickens. Household Edition. 55 vols. Il. F. O. C. Darley and John Gilbert. New York: Sheldon and Co., 1865.
Dickens, Charles. Oliver Twist. Works of Charles Dickens. Diamond Edition. 14 vols. Il. Sol Eytinge, Jr. Boston: Ticknor and Fields, 1867.
Dickens, Charles. Oliver Twist. Works of Charles Dickens. Household Edition. Il. James Mahoney. London: Chapman and Hall, 1871.
Dickens, Charles. The Adventures of Oliver Twist. Works of Charles Dickens. Charles Dickens Library Edition. Il. Harry Furniss. London: Educational Book Company, 1910. Vol. 3.
Forster, John. "Oliver Twist 1838." The Life of Charles Dickens. Ed. B. W. Matz. The Memorial Edition. 2 vols. Philadelphia: J. B. Lippincott, 1911. Vol. 1, book 2, chapter 3. Pp. 91-99.
Kitton, Frederic G. "George Cruikshank." Dickens and His Illustrators: Cruikshank, Seymour, Buss, "Phiz," Cattermole, Leech, Doyle, Stanfield, Maclise, Tenniel, Frank Stone, Topham, Marcus Stone, and Luke Fildes. 1899. Rpt. Honolulu: U. Press of the Pacific, 2004. Pp. 1-28.
---

Victorian
Web

Illus-
tration

George
Cruikshank

Oliver
Twist

Next
Last modified 15 September 2014