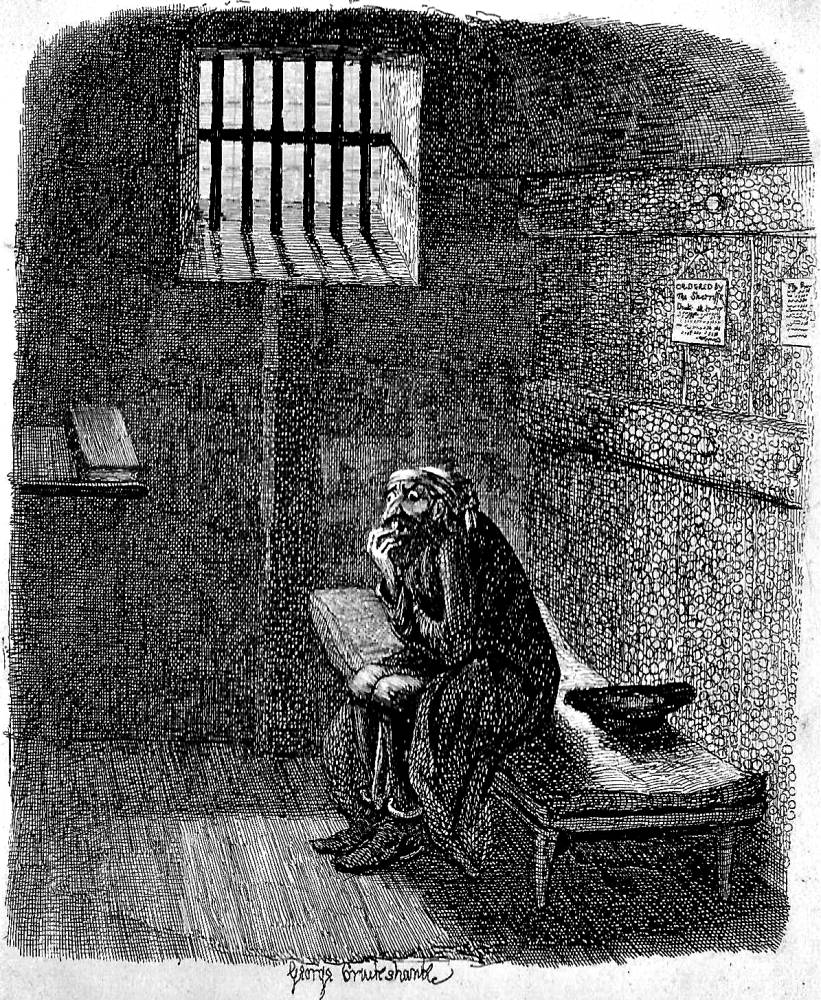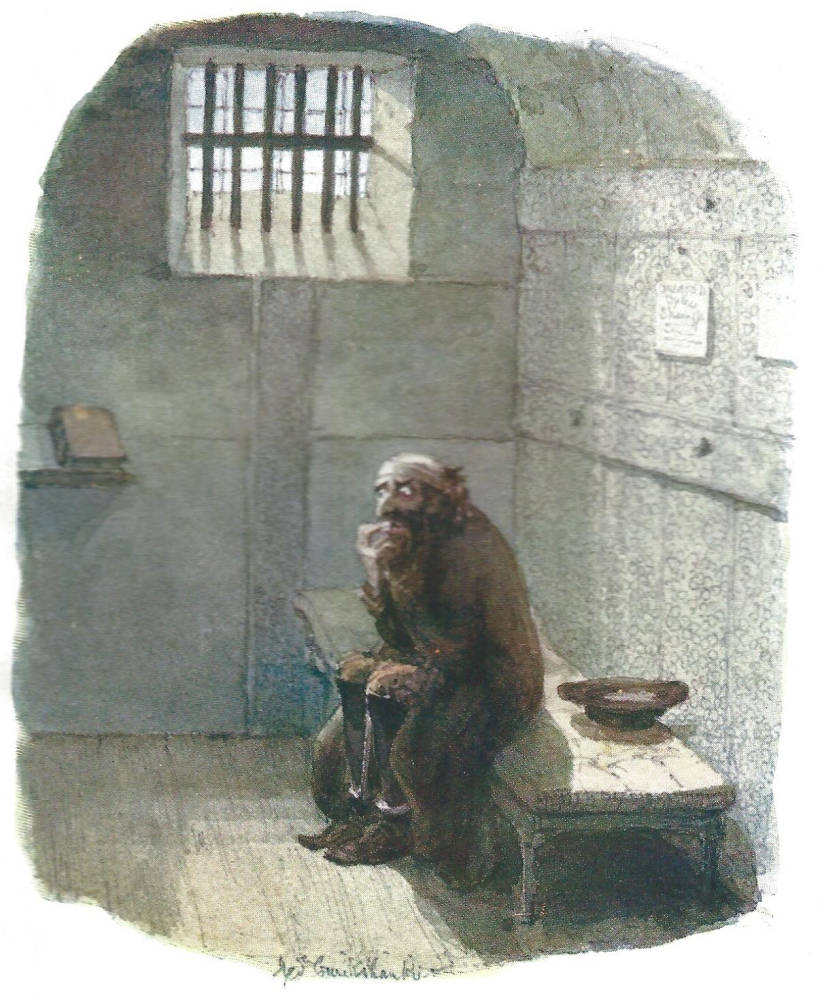 Fagin in the condemned cell, the twenty-third steel engraving and later watercolour for Charles Dickens's The Adventures of Oliver Twist; or, The Parish Boy's Progress, published in Volume III by Richard Bentley after its November 1838 appearance in Bentley's Miscellany, Chapter L. 4 ½ by 3 ¾ inches (11.8 cm by 10.1 cm), framed, facing page 304 in the 1846 edition (originally leading off the third volume as the frontispiece for the three-volume edition of 9 November 1838). Cruikshank's own 1866 watercolour, commissioned by F. W. Cosens, is the basis for the 1911 chromolithograph. [Click on the images to enlarge them.]
Passage Illustrated: Fagin's Last Night Alive at Newgate
He had spoken little to either of the two men, who relieved each other in their attendance upon him; and they, for their parts, made no effort to rouse his attention. He had sat there, awake, but dreaming. Now, he started up, every minute, and with gasping mouth and burning skin, hurried to and fro, in such a paroxysm of fear and wrath that even they — used to such sights — recoiled from him with horror. He grew so terrible, at last, in all the tortures of his evil conscience, that one man could not bear to sit there, eyeing him alone; and so the two kept watch together.
He cowered down upon his stone bed, and thought of the past. He had been wounded with some missiles from the crowd on the day of his capture, and his head was bandaged with a linen cloth. His red hair hung down upon his bloodless face; his beard was torn, and twisted into knots; his eyes shone with a terrible light; his unwashed flesh crackled with the fever that burnt him up. Eight — nine — then.  If it was not a trick to frighten him, and those were the real hours treading on each other's heels, where would he be, when they came round again! Eleven! Another struck, before the voice of the previous hour had ceased to vibrate. At eight, he would be the only mourner in his own funeral train; at eleven —
Those dreadful walls of Newgate, which have hidden so much misery and such unspeakable anguish, not only from the eyes, but, too often, and too long, from the thoughts, of men, never held so dread a spectacle as that. The few who lingered as they passed, and wondered what the man was doing who was to be hanged to-morrow, would have slept but ill that night, if they could have seen him. [Chapter LII, "The Jew's Last Night Alive" — subsequently re-entitled "Fagin's Last Night Alive," p. 305 in the 1846 single-volume edition]
Commentary: Cruikshank's Self-Portrait
Although other illustrators have shown the condemned Fagin awaiting execution at Newgate, Cruikshank's treatment of both the prisoner and the physical setting remains the locus classicus because of the plate's conveying with effective economy the starkness of the chamber and the psychological unravelling of the inmate.
Aware that one of the sordid, lower-class villains — Sikes, or Fagin — would finish the novel in Newgate Prison, Cruikshank did multiple studies of both criminals in the condemned cell. Eventually, of course, he realised that the solitary prisoner facing execution would be Fagin; however, he struggled to find the right pose and facial expression for the condemned man who, in Dickens's text, experiences a great range of reactions to his own impending death. Although he later repudiated the story, Cruikshank later recounted how his own facial expression led to his telling study of Fagin in which the disconsolate prisoner
is seen biting his finger-nails and suffering the tortures of remorse and chagrin [;] Horace Mayhew took an opportunity of asking [the illustrator] by what mental process he had conceived such an extraordinary notion; and his answer was, that he had been labouring at the subject for several days, but had not succeeded in getting the effect he desired. At length, beginning to think the task was almost hopeless, he was sitting up in bed one morning, with his hand covering his chin and tips of his fingers between his lips, the whole attitude expressive of disappointment and despair, when he saw his face in a chevalier-glass which stood on the floor opposite to him. "That's It!" he involuntarily exclaimed. . . . [Kitton 15]
G. K. Chesterton, critic and Dickensian, pronounced the resulting illustration a psychological projection of Fagin's mental state.: "it does not look merely like a picture of Fagin; it looks like a picture by Fagin" (Charles Dickens, A Critical Study, p. 112; cited in Cohen, p. 23). Jane Rabb Cohen notes that, whereas Dickens became fixated on Bill Sikes and almost relished performing the murder of Nancy over and over again in his readings throughout England and the eastern United States, Cruikshank identified himself with Fagin, offering images of himself in George Cruikshank's Omnibus (May 1842) in which he has represented himself as possessing the face and skeletal physique of the cunning criminal:
there is an odd physical resemblance between the artist and his best-known criminal subject, to judge by some of Cruikshank's self-portraits. In many of his innumerable representations of himself, even the ones with which he often decorated the margins of his working sketches, the artist portrayed himself as an elegantly dressed gentleman with dark hair, flashing dark eyes, and an aristocratically long nose. In reality, this was somewhat self-flattering. . . .
Indeed, the artist's identification with Fagin was more than momentary. As Dickens, in his late years, became obsessed with the murder of Nancy, so Cruikshank increasingly relished discussing and dramatizing Fagin. Cuthbert Bede was present on one of those occasions when the artist crouched "in the huddled posture of 'the Jew' — fiercely gnawing at his finger- nails, tossing his hair loosely against his head, and calling up a look of wild horror into his eyes. [Cohen 23]
Although the 1870s Household Edition illustrator James Mahoney depicts Fagin in his last hours, his treatment of his subject clearly subsumes the slightly more caricaturistic treatment of Cruikshank. Having depicted Fagin with his open cash-box at the very beginning of his sequence of character studies, Sol Eytinge had no opportunity to revisit the character, and, perhaps as a consequence of Cruikshank's memorable plate, no inclination to attempt to outdo Dickens's original illustrator. Mahoney, on the other hand, obviously felt that he could recreate the highly dramatic moment in a more realistic manner in the Newgate cell as He sat down on a stone bench opposite the door pays homage to Cruikshank's original conception, but eliminates the theatrical properties and gestures to focus on Fagin's tortured inner state. In fact, Mahoney has realised an earlier passage when, having just received his death sentence, Fagin is searched before entering one of the condemned cells. Although manacled about the ankles like his counterpart in the 1839 engraving, Mahoney's figure rests upon a stone bench rather than a cot. Mahoney includes neither the bars or bible from the Cruikshank plate, and dispenses with the two embedded, hand-written notes (from the Sheriff, and therefore presumably directed towards inmates) notes above the prisoner. The only ornamentation in Mahoney's wood-engraving is the initials of several former occupants of the cell (upper left).
Whereas Cruikshank provides visual continuity by dressing Fagin in much the same clothing throughout, and consistently emphasizes his bulging eyes, here he is neither in motion or in company; he becomes in his isolation a pitiable figure worthy of some compassion. After all, although a career criminal and receiver of stolen goods, Fagin is hardly guilty of violent crimes so that, unlike Sikes, the death of Fagin seems disproportionate to his actions. Mahoney seems avoided depicting Sikes and other gang members in these later chapters, depicting a Sikes without either hat or dog in the rooftop scene, And creeping over the tiles, looked over the low parapet, putting this scene of the criminal mastermind facing execution on the morrow as the final plate and climax of his series of twenty-eight.
Again focussing on the figure of the condemned prisoner, Harry Furniss in his 1910 lithographic series depicts Fagin as manacled are wrists and ankles, staring vacantly ahead with eyes that glow in the darkness of the cell, whose bars are reflected on the floor. The shading of the figure and strong lines delineating his clothing and beard suggest a pent-up energy. As he startes at the reader, Fagin is an enigma, For neither remorse nor reflection is immediately apparent. He is an alienated figure, still dominating the page, but now bereft of associates and subordinates. His eyes shining "with a terrible light," Fagin in the Furniss illustration is both a haunted and a haunting presence, drawn with neither sentiment nor humour, but with smouldering intensity.
As Tony Lunch notes, Dickens had already employed Newgate as a setting in "A Visit to Newgate," the last of the "Scenes" section of Sketches by Boz, an essay especially written for the first collected edition of 1836. Dickens therein evokes the probable thoughts and feelings of three actual condemned prisoners: Robert Swan, convicted of armed robbery and subsequently reprieved, and two homosexuals, John Smith and John Pratt, who were hanged on the prison grounds on 27 November 1835. In novels after Oliver Twist, Dickens returned to Newgate, but only once to visit an inmate under sentence of death, Abel Magwitch in Great Expectations; however, whereas Fagin suffers execution, Magwitch cheats the system by succumbing to his injuries. "The Central Criminal Court — known as the Old Bailey — now cover the site of Newgate Prison" (Lynch 137), occupying Ludgate Hill.
The Case of Ikey Solomon and Dickens's Poetic Justice for Nancy's Murder
Clayton J. Clarke ('Kyd"): Bill Sikes, Player's Cigarette Card No. 9 (1910).
Sikes, a bad actor in the sense of a malignant but powerful criminal dies as he should, victim of his own own incipient conscience as Nancy's eyes (in fact, those of the faithful Bull's-Eye) pursue him to the brink of the roof on Jacob's Island. He dies almost heroically, and certainly as befits a man of action. The only intellectual aspects of his accidental death are his calculating how best to jump, and how to escape to France. In contrast, the criminal mastermind, Fagin, dies after a long night of contemplating his fate and mental agony. But why exactly is Fagin about to be executed? Although the reader is aware of his role in Nancy's murder, that cannot be proven in court; after all, the chief witness to Fagin's involvement, Bill Sikes, is dead. Why does the court not sentence Fagin to fourteen years transportation for his crimes against property as it has already sentenced The Artful Dodger? At the opening of the chapter, the jury returns from its deliberations, and pronounces Fagin "Guilty" (303). But of what? Dickens does not say, but the verdict and Fagin's final night of agony seem wholly consistent with Victorian notions of Poetic Justice.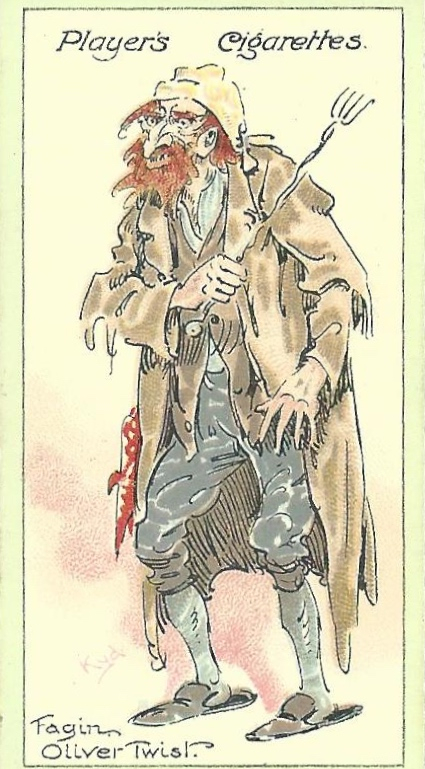 Clayton J. Clarke ('Kyd"): Fagin, Player's Cigarette Card No. 2 (1910).
Penal transportation to New South Wales ceased in 1840 as a result of agitation by legitimate colonists and the findings of the Molesworth Commission (1838), but Fagin's sentence at the Old Bailey probably dates from a decade earlier, when transportation of fourteen years or life was still a common sentence for property crimes; indeed, Dickens's model for Fagin, Ikey Solomon (a notorious receiver of stolen goods, 1787?-1850), was sentenced to penal transportation to Van Dieman's Land (now Tasmania) in this way, after he had been returned to London.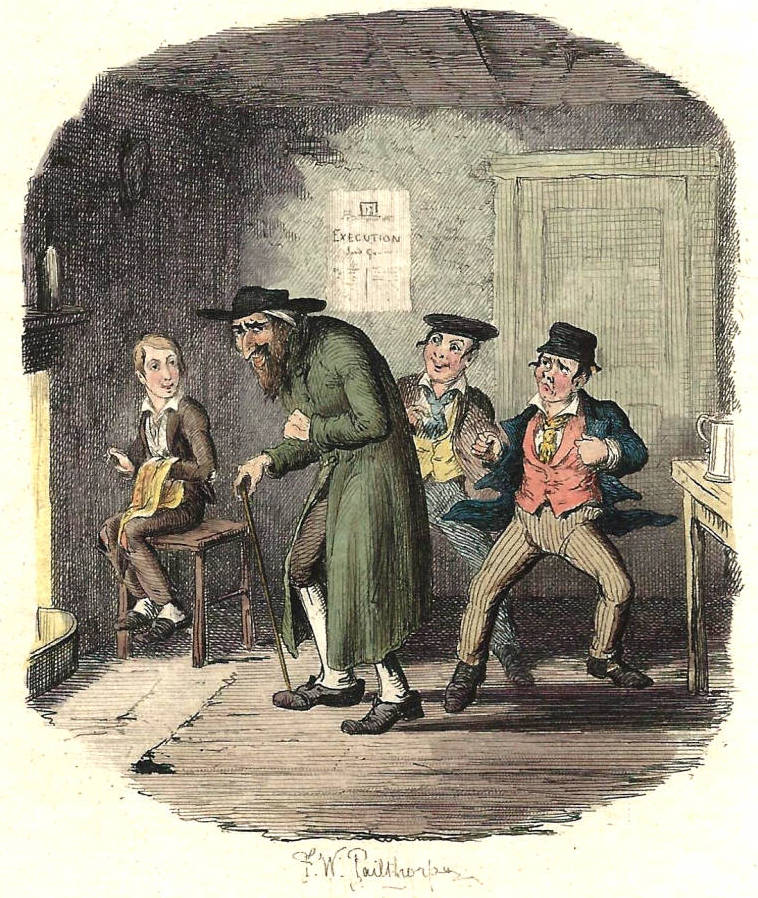 F. W. Pailthorpe: The merry old gentleman's pretty little game (1886).
Solomon had originally escaped from transportation to New Zealand, and gone to the Australian penal colony in search of his wife and family who had been sent there by the British authorities. Aware of Solomon's presence in the colony, the governor of Van Dieman's Land in 1829 had ordered his arrest and return to Britain. At the Old Bailey in June 1830 (as widely reported in the London newspapers) he was convicted on two charges of receiving stolen goods, and given the standard sentence of transportation: fourteen years. Dickens would likely have become aware of Solomon through three "tabloid" style pamphlets circulating at the time. Although he received his "ticket-of-leave" in 1835, he remained in Hobart, Tasmania, where he ran a tobacconist's shop. Such a fate, Dickens must have reasoned, would hardly have met the demands of his readers for justice for Nancy.
Relevant Illustrations from the serial edition wrapper (1838), Household Edition (1871), and Charles Dickens Library Edition (1910)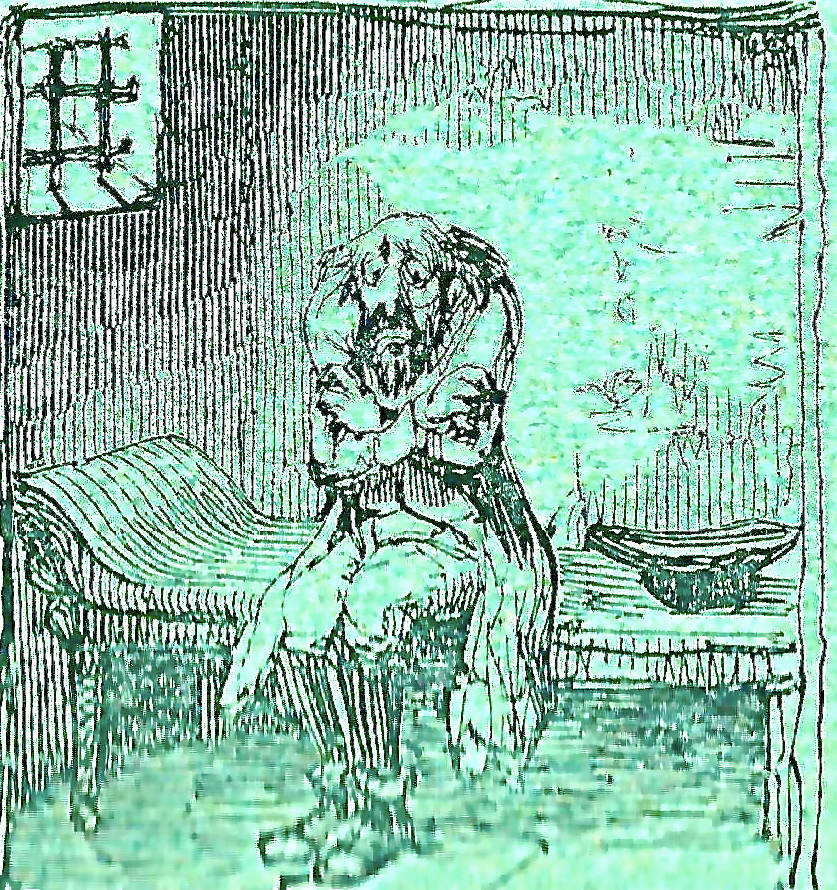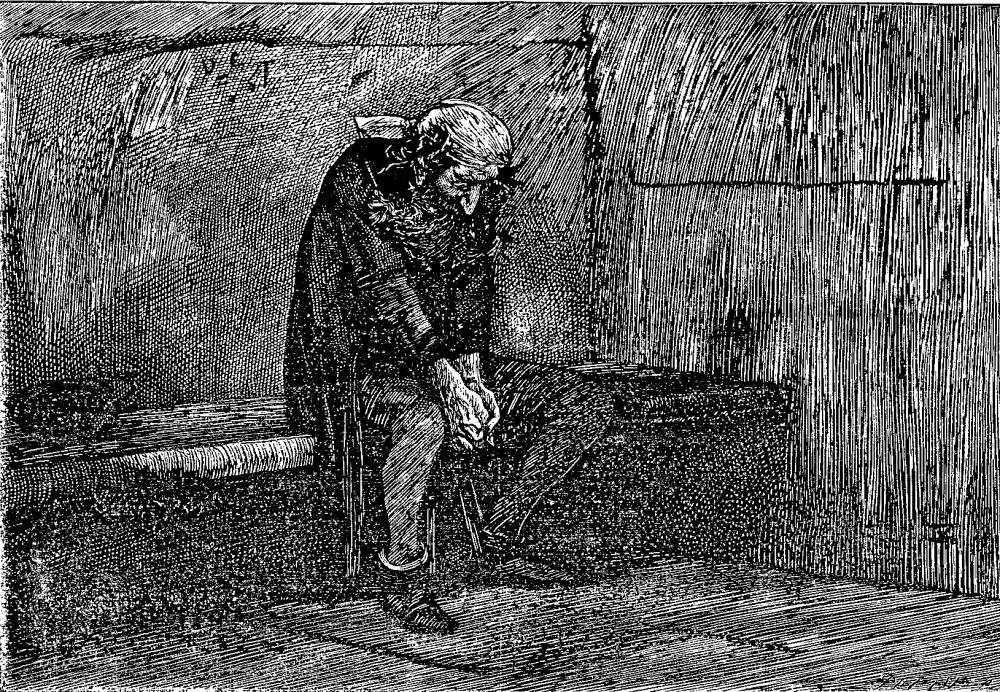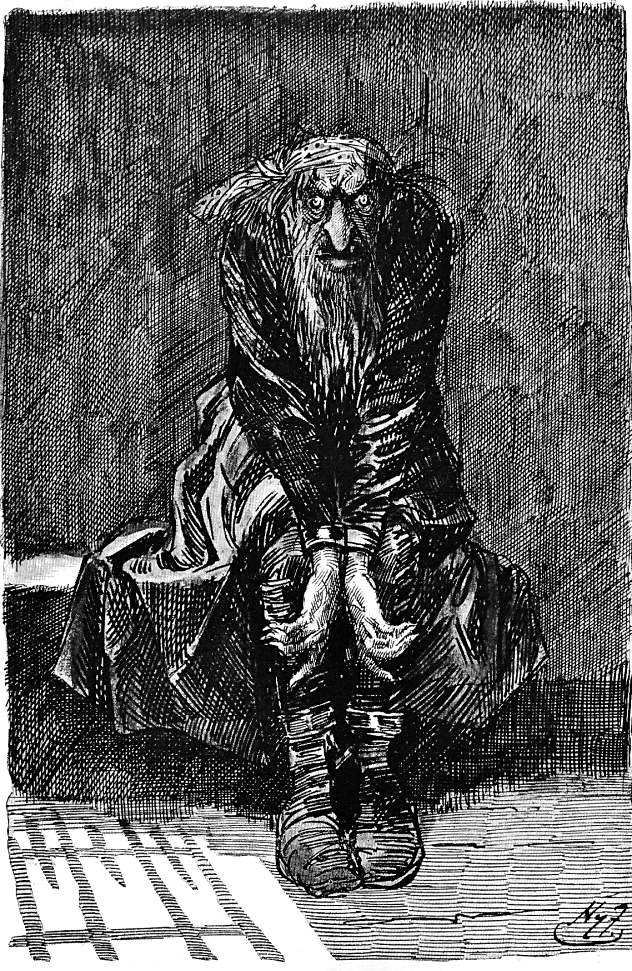 Left: George Cruikshank's depiction of Fagin in prison, detail from the wrapper (1838), bottom centre. Center: James Mahoney's He sat down on a stone bench opposite the door (1871). Right: Harry Furniss's Charles Dickens Library Edition study of the condemned criminal, Fagin in the Condemned Cell (1910). [Click on the images to enlarge them.]
Scanned images and text by Philip V. Allingham. [You may use these images without prior permission for any scholarly or educational purpose as long as you (1) credit the photographer and (2) link your document to this URL in a web document or cite the Victorian Web in a print one.]
Bibliography
Bentley, Nicolas, Michael Slater, and Nina Burgis. The Dickens Index. New York and Oxford: Oxford U. P., 1990.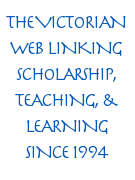 Cohen, Jane Rabb. "George Cruikshank." Charles Dickens and His Original Illustrators. Columbus: Ohio State U. P., 1980. Pp. 15-38.
Darley, Felix Octavius Carr. Character Sketches from Dickens. Philadelphia: Porter and Coates, 1888.
Davies, Philip. "Warren of Sunless Courts." Lost London, 1870-1945. Croxley Green, Hertfordshire: Transatlantic, 2009. Pp. 258- 260.
Davis, Paul. Charles Dickens A to Z: The Essential Reference to His Life and Work. New York: Facts On File, 1998.
Dickens, Charles. The Adventures of Oliver Twist; or, The Parish Boy's Progress. Illustrated by George Cruikshank. London: Bradbury and Evans; Chapman and Hall, 1846.
_______. Oliver Twist. Works of Charles Dickens. Household Edition. 55 vols. Illustrated by F. O. C. Darley and John Gilbert. New York: Sheldon and Co., 1865.
_______. Oliver Twist. Works of Charles Dickens. Diamond Edition. 14 vols. Illustrated by Sol Eytinge, Jr. Boston: Ticknor and Fields, 1867.
_______. Oliver Twist. Works of Charles Dickens. Household Edition. 22 vols. Illustrated by James Mahoney. London: Chapman and Hall, 1871. Vol. I.
_______. The Adventures of Oliver Twist. Works of Charles Dickens. Charles Dickens Library Edition. 18 vols. Illustrated by Harry Furniss. London: Educational Book Company, 1910. Vol. 3.
Forster, John. "Oliver Twist 1838." The Life of Charles Dickens. Ed. B. W. Matz. The Memorial Edition. 2 vols. Philadelphia: J. B. Lippincott, 1911. Vol. 1, book 2, chapter 3. Pp. 91-99.
Grego, Joseph (intro) and George Cruikshank. "Fagin in the condemned cell." Cruikshank's Water Colours. [27 Oliver Twist illustrations, illustrations, including the wrapper and the 13-vignette title-page produced for F. W. Cosens; 20 plates for William Harrison Ainsworth's The Miser's Daughter: A Tale of the Year 1774; 20 plates plus the proofcover the work for W. H. Maxwell's History of the Irish Rebellion in 1798 and Emmett's Insurrection in 1803]. London: A. & C. Black, 1903. [OT = pp. 1-106]. Page 100
Kitton, Frederic G. "George Cruikshank." Dickens and His Illustrators: Cruikshank, Seymour, Buss, "Phiz," Cattermole, Leech, Doyle, Stanfield, Maclise, Tenniel, Frank Stone, Topham, Marcus Stone, and Luke Fildes. 1899. Rpt. Honolulu: U. Press of the Pacific, 2004. Pp. 1-28.
Lynch, Tony. "Jacob's Island, London." Dickens's England: An A-Z Tour of the Real and Imagined Locations. London: Batsford, 2012. Pp. 122.
Patten, Robert L. George Cruikshank's Life, Times, and Art, Volume 2: 1835-1878​. Cambridge: The Lutterworth Press, 1996.
State Library New South Wales. "Ikey Solomon and his adventures."Australian Jewish Community and Culture. Accessed 4 January 2022. https://www/sl.nsw.gov.au/stories/australian-jewish-commubnity-and-culture/ikey-solomon-and-his-adventures
---
Created 17 November 2017 Last modified 3 January 2022