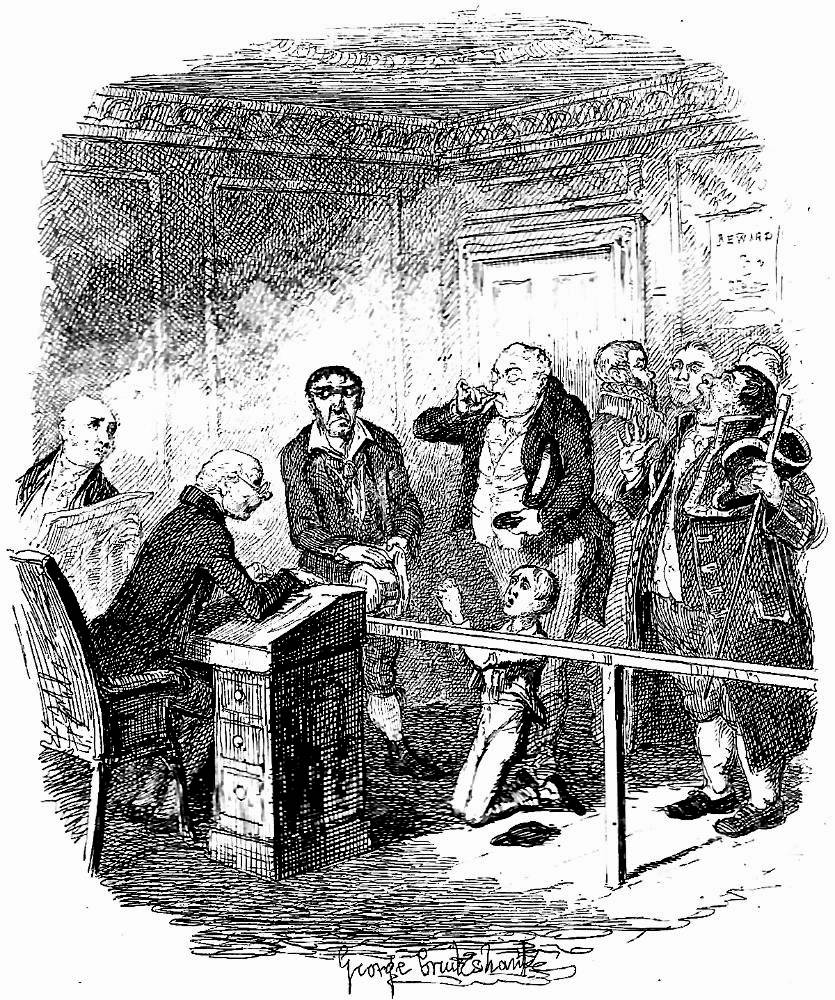 Oliver Escapes Being Bound to a Sweep
George Cruikshank, 1792-1878
1846 (originally March 1837)
Etching on steel
Second illustration, The Adventures of Oliver Twist; or, The Parish Boy's Progress
Scanned image and text by Philip V. Allingham.
[You may use this image without prior permission for any scholarly or educational purpose as long as you (1) credit the person who scanned the image and (2) link your document to this URL in a web document or cite the Victorian Web in a print one.].
Passage Illustrated in the 1846 edition
"I have no doubt you are, my friend," replied the old gentleman: fixing his spectacles more firmly on his nose, and looking about him for the inkstand.
It was the critical moment of Oliver's fate. If the inkstand had been where the old gentleman thought it was, he would have dipped his pen into it, and signed the indentures, and Oliver would have been straightway hurried off. But, as it chanced to be immediately under his nose, it followed, as a matter of course, that he looked all over his desk for it, without finding it; and happening in the course of his search to look straight before him, his gaze encountered the pale and terrified face of Oliver Twist: who, despite all the admonitory looks and pinches of Bumble, was regarding the repulsive countenance of his future master, with a mingled expression of horror and fear, too palpable to be mistaken, even by a half-blind magistrate.
"The old gentleman stopped, laid down his pen, and looked from Oliver to Mr. Limbkins; who attempted to take snuff with a cheerful and unconcerned aspect.
"My boy!" said the old gentleman, "you look pale and alarmed. What is the matter?"
"Stand a little away from him, Beadle," said the other magistrate: laying aside the paper, and leaning forward with an expression of interest. "Now, boy, tell us what's the matter: don't be afraid."
Oliver fell on his knees, and clasping his hands together, prayed that they would order him back to the dark room — that they would starve him — beat him — kill him if they pleased — rather than send him away with that dreadful man.
"Well!" said Mr. Bumble, raising his hands and eyes with most impressive solemnity. "Well! of all the artful and designing orphans that ever I see, Oliver, you are one of the most bare-facedest."
"Hold your tongue, Beadle," said the second old gentleman, when Mr. Bumble had given vent to this compound adjective. [Chapter 3, "Relates How Oliver Twist was Very Near Getting a Place, Which Would Not Have Been a Sinecure," p. 15-16]
Commentary
Again, Oliver astonishes an authority figure — this time, the parish Beadle, Mr. Bumble — by daring to assert himself. Oliver is dwarfed by the adults who will determine his future: Mr. Bumble in uniform; the master of the workhouse, Mr. Limbkins (centre, in front of the magistrate's death), taking snuff and disregarding the boy entirely; the sooty chimney-sweep Mr. Gamfield, whose villainous countenance is in complete contradiction of the magistrate's describing him as "an honest, open-hearted man" (15); the wigged old gentleman, the presiding magistrate, left. Two elements prepare us for future scenes: the benevolent, elderly magistrate anticipates the kindly Mr. Brownlow (also associated with writing and reading), and the reward poster (above Bumble's head) foreshadows Oliver's running away from his apprenticeship at the undertaker's, Mr. Sowerberry, in Part 4 (May 1837).
References
Bentley, Nicolas, Michael Slater, and Nina Burgis. The Dickens Index. New York and Oxford: Oxford U. P., 1990.
Darley, Felix Octavius Carr. Character Sketches from Dickens. Philadelphia: Porter and Coates, 1888.
Davis, Paul. . Charles Dickens A to Z: The Essential Reference to His Life and Work. New York: Facts On File, 1998.
Dickens, Charles. Oliver Twist. Il. George Cruikshank. London: ​Bradbury and Evans; ​ Chapman and Hall, 1846.
Dickens, Charles. Oliver Twist. Works of Charles Dickens. Household Edition. 55 vols. Il. F. O. C. Darley and John Gilbert. New York: Sheldon and Co., 1865.
Dickens, Charles. Oliver Twist. Works of Charles Dickens. Diamond Edition. 18 vols. Il. Sol Eytinge, Jr. Boston: Ticknor and Fields, 1867.
Dickens, Charles. Oliver Twist. Works of Charles Dickens. Household Edition. Il. James Mahoney. London: Chapman and Hall, 1871.
Dickens, Charles. Oliver Twist. Works of Charles Dickens. Charles Dickens Library Edition. Il. Harry Furniss. London: Educational Book Company, 1910.
---

Victorian
Web

Illus-
tration

George
Cruikshank

Oliver
Twist

Next
Last modified 1​7​ August 2014