Introductory material
Works
Related Material
Works Cited
Allderidge, Patricia. The Late Richard Dadd. London: Tate Gallery, 1974.
Book of British Ballads, The. Ed. S. C. Hall. London: How, 1842–44.
Engen, Rodney. Richard Doyle. Stroud: Catalpa Press, 1983.
Houfe, Simon. The Dictionary of Nineteenth Century Book Illustrators. Woodbridge: Antique Collectors' Club, revised ed. 1996.
Kentish Coronal, The. Ed. H. G. Adams. London: Simpkin, 1841.
Maas, Jeremy. Victorian Painters. London: Barrie & Jenkins, rev. ed, 1978.
Muir, Percy. Victorian Illustrated Books. London: Batsford, rev. ed. 1985.
Ray, Gordon, N. The Illustrator and the Book in England from 1790 to 1914. NY: Pierpont Morgan Library, 1976.
Tromans, Nicholas. Richard Dadd: The Artist and the Asylum. London: Tate Publishing, 2011.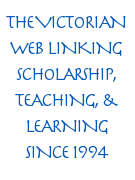 ---
Last modified 27 January 2013