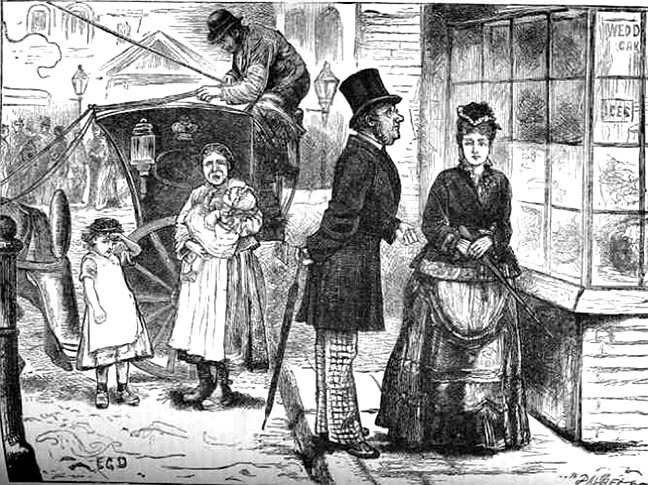 Mr. Grazinglands looked in at a pastry cook's window, hesitating as to the expediency of lunching at that establishment" (frontispiece) by Edward G. Dalziel. Wood engraving. From Dickens's "Refreshments for Travellers," chapter six in The Uncommercial Traveller.
Scanned imageand text by Philip V. Allingham [You may use this image without prior permission for any scholarly or educational purpose as long as you (1) credit the person who scanned the image and (2) link your document to this URL in a web document or cite the Victorian Web in a print one.]
Passage Realized;
Mr. Grazinglands, of the Midland Counties, came to London by railroad one morning last week, accompanied by the amiable and fascinating Mrs. Grazinglands. Mr. G. is a gentleman of a comfortable property, and had a little business to transact at the Bank of England, which required the concurrence and signature of Mrs. G. Their business disposed of, Mr. and Mrs. Grazinglands viewed the Royal Exchange, and the exterior of St. Paul's Cathedral. The spirits of Mrs. Grazinglands then gradually beginning to flag, Mr. Grazinglands (who is the tenderest of husbands) remarked with sympathy, "Arabella, my dear, I fear you are faint." Mrs. Grazing-lands replied, "Alexander, I am rather faint; but don't mind me, I shall be better presently." Touched by the feminine meekness of this answer, Mr. Grazinglands looked in at a pastrycook's window, hesitating as to the expediency of lunching at that establishment. He beheld nothing to eat, but butter in various forms, slightly charged with jam, and languidly frizzling over tepid water. Two ancient turtle-shells, on which was inscribed the legend, "SOUPS," decorated a glass partition within, enclosing a stuffy alcove, from which a ghastly mockery of a marriage-breakfast spread on a rickety table, warned the terrified traveller. An oblong box of stale and broken pastry at reduced prices, mounted on a stool, ornamented the doorway; and two high chairs that looked as if they were performing on stilts, embellished the counter. Over the whole, a young lady presided, whose gloomy haughtiness as she surveyed the street, announced a deep-seated grievance against society, and an implacable determination to be avenged. From a beetle-haunted kitchen below this institution, fumes arose, suggestive of a class of soup which Mr. Grazinglands knew, from painful experience, enfeebles the mind, distends the stomach, forces itself into the complexion, and tries to ooze out at the eyes. As he decided against entering, and turned away, Mrs. Grazinglands becoming perceptibly weaker, repeated, "I am rather faint, Alexander, but don't mind me." Urged to new efforts by these words of resignation, Mr. Grazinglands looked in at a cold and floury baker's shop, where utilitarian buns unrelieved by a currant, consorted with hard biscuits, a stone filter of cold water, a hard pale clock, and a hard little old woman with flaxen hair, of an undeveloped-farinaceous aspect, as if she had been fed upon seeds. He might have entered even here, but for the timely remembrance coming upon him that Jairing's was but round the corner. [27]
Commentary
"Refreshments for Travellers," the sixth chapter of The Uncommercial Traveller, satirizes what we today would call Victorian "fast food," particularly the variety of comestibles sold to railway travellers, for Dickens far below the standard of "refreshments" offered to travellers on French rail. However, whereas Dickens's interest in this chapter lies in what the upper-middle class couple sees in the window of the London pastrycook's, Household Edition illustrator Edward Dalziel some seventeen years after the initial publication of the article in All the Year Round (24 March 1860) is interested in contrasting the affluent couple with the tawdry street scene behind them. The shop window contains the captions "wedding cakes" and "ices," but nothing in the window suggests the picture of anything edible — and the gorgon of the pastrycook's (a disaffected young woman displaying utter disdain for potential customers) is nowhere in evidence. Such background details as the hitching post (left), the street gas-lamp (upper centre), the short woman struggling with her two young daughters, and the hansom cab and driver — none of which Dickens mentions — assume a far greater importance in Dalziel's composition. In short, Dalziel does not strictly represent what Dickens's observer sees; rather, he extends the observer's field of vision beyond the affluent couple visiting from the Midlands, England's industrial heartland, to contrast these exemplars of middle class fashion and attitude with the less privileged denizens of the metropolis. In other words, Dalziel makes the reader of the Household Edition volume see more than Dickens's original readers in All the Year Round for 24 March 1860.
Dalziel's focus, like Dickens's in the original article, remains the fashionably dressed middle-class couple just in from the Midlands to conduct business in London, and to take in such sights as the Royal Exchange and St. Paul's Cathedral. In particular, Mrs. Arabella Grazinglands seems to be almost a fashion plate out of a ladies' magazine: young, pretty, and elegantly attired, a suitable complement to her nattily dressed, middle-aged husband. The tranquil Mr. Alexander Grazinglands in the Dalziel illustration appears to be in no inward debate about how best to deal with a fainting wife and a shop window of repellent inedibles.
Other urban scenes
Bibliography
Dickens, Charles. The Uncommercial Traveller. Il. Edward Dalziel. The Household Edition. London: Chapman and Hall, 1877.
Scenes and Characters from the Works of Charles Dickens; being eight hundred and sixty-six drawings, by Fred Barnard, Hablot Knight Browne (Phiz); J. Mahoney; Charles Green; A. B. Frost; Gordon Thomson; J. McL. Ralston; H. French; E. G. Dalziel; F. A. Fraser, and Sir Luke Fildes; printed from the original woodblocks engraved for "The Household Edition." New York: Chapman and Hall, 1908. Copy in the Robarts Library, University of Toronto.
Slater, Michael, ed. Dickens's Journalism. London: Orion Books, 1997.
---
Last modified 11 February 2013