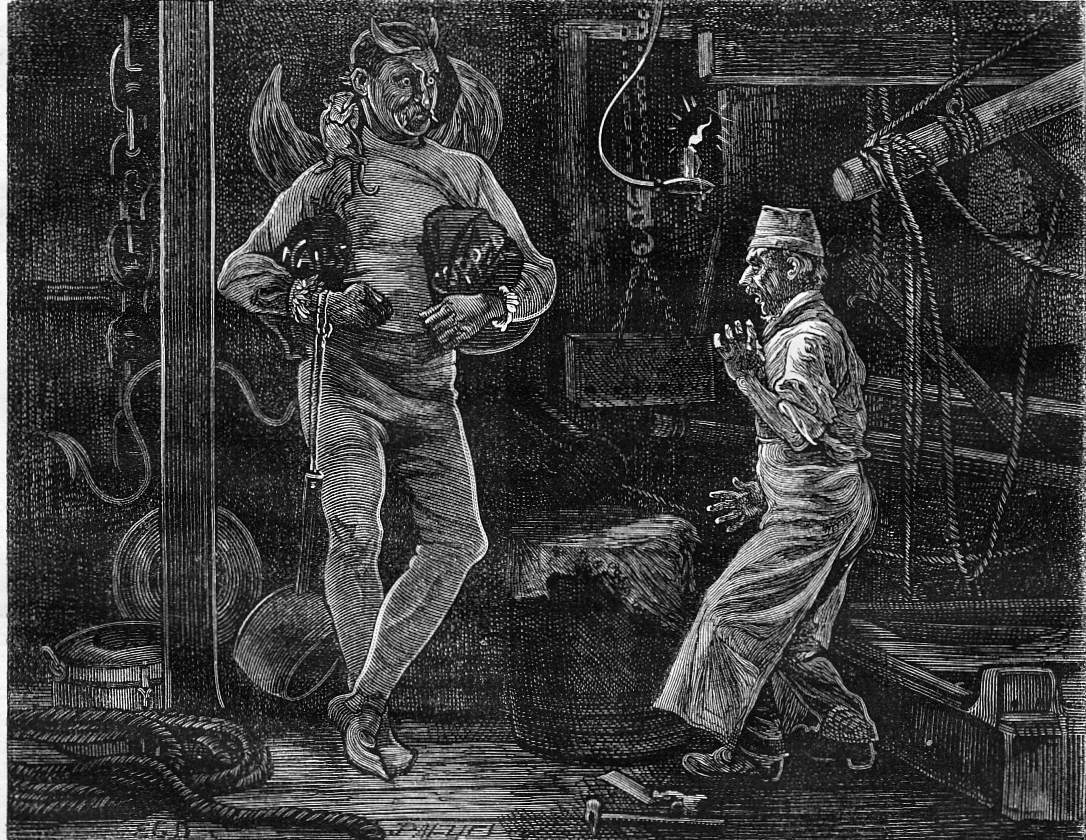 "A lemon has pips, a yard has ships, and I'll have chips! " (p. 76) by Edward G. Dalziel. Wood engraving. From Dickens's "Nurse's Stories," chapter fifteen in The Uncommercial Traveller.
Passage Realized
There was once a shipwright, and he wrought in a Government Yard, and his name was Chips. And his father's name before him was Chips, and his father's name before him was Chips, and they were all Chipses. And Chips the father had sold himself to the Devil for an iron pot and a bushel of tenpenny nails and half a ton of copper and a rat that could speak; and Chips the grandfather had sold himself to the Devil for an iron pot and a bushel of tenpenny nails and half a ton of copper and a rat that could speak; and Chips the great-grandfather had disposed of himself in the same direction on the same terms; and the bargain had run in the family for a long, long time. So, one day, when young Chips was at work in the Dock Slip all alone, down in the dark hold of an old Seventy-four that was haled up for repairs, the Devil presented himself, and remarked:
"A Lemon has pips, And a Yard has ships, And I'll have Chips!"
(I don't know why, but this fact of the Devil's expressing himself in rhyme was peculiarly trying to me.) Chips looked up when he heard the words, and there he saw the Devil with saucer eyes that squinted on a terrible great scale, and that struck out sparks of blue fire continually. And whenever he winked his eyes, showers of blue sparks came out, and his eye-lashes made a clattering like flints and steels striking lights. And hanging over one of his arms by the handle was an iron pot, and under that arm was a bushel of tenpenny nails, and under his other arm was half a ton of copper, and sitting on one of his shoulders was a rat that could speak. [75]
Commentary
The precise identity of the tale-teller is not a problem for the illustrator simply he merely needs to identify a scene that exemplifies the conflict facing the protagonist, the dockyard carpenter and shipwright "Chips," a working-class Faustus who makes a pact with the Devil. Slater and Drew speculate as to whether Charles Dickens's own nurse at Chatham, Mary Weller, is the original tale-teller, whose words and narratorial strategies the second narrator, the Uncommercial Traveller, critiques, both from the perspective of the child-auditor and the reflective adult. The problem for the Dickens illustrator, operating without the constraints of having to follow Dickens's directions and inclinations, was that "Nurse's Stories" (first published in All the Year Round on 8 September 1860) is that the tale of Chips the shipwright is but one of a number of chilling narratives included in the essay. The Traveller alludes to some of his childhood favourites, including Robinson Crusoe, Gulliver, and sundry figures in The Arabian Nights' Entertainments, and two horrific tales originating with his nurse: "Captain Murderer" (loosely based on Perrault's "Bluebeard," 1697) and Chips." Presumably Dalziel elected to illustrate "Chips" as it was both less lurid and offered more visual appeal.
Since the narrator has just mentioned that he was six years old and living in "Dullborough" (the fanciful name that Dickens ascribed to Chatham and Rochester in later years), it seems logical that the "Government Yard" he alludes to is that of the Royal Navy at Chatham, in Dickens's day some eighty acres, "mainly consisting of Georgian and early Victorian dock buildings: shops, houses, slips, lofts, storehouses, offices and officers' accommodation" (Slater and Drtew, p. 287). However, the setting in Dalziel's illustration appears to be some sort of marine storehouse, illuminated by a single candle and there appropriately dark for Chip's meeting with an extremely tall Devil. The Fiend has the bag of nails and the spool of copper (rather small for "half a ton") under either arm, and the talking rat sitting confidentially on his right shoulder. Although Dalziel's Satan has the customary tail and horns, as a fallen angel he is also equipped with wings, and has adopted a fairly spartan fashion: a shirt with frilled cuffs, pointed slippers, and trousers. So terrified is Chips that he cannot bring himself to look the Fiend directly in the eye. He holds uyp his left hand in horror, his right hand (having just dropped a hammer on the floor) held close to his body. Presumably Dalziel is using the authentic costume of a shipwright: boots and long aron. The sinuous curlings of the rope (left) reiterate the Devil's snake-like tail, and therefore his devious nature (hidden beneath a bland expression and casual pose), while chains to the left and centre imply the irrevocable nature of the pact that the shipwright is about to make with the Devil in this dark plate. Opting for naturalism, Dalziel has not given the Fiend saucer-like, fiery eyes, but they do possess an unworldly quality, nonetheless, almost glowing in the dark.
Scanned image and text by Philip V. Allingham. [You may use this image without prior permission for any scholarly or educational purpose as long as you (1) credit the person who scanned the image and (2) link your document to this URL in a web document or cite the Victorian Web in a print one.]
Bibliography
Dickens, Charles. The Uncommercial Traveller. Il. Edward Dalziel. The Household Edition. London: Chapman and Hall, 1877.
Leech, Clifford, and T. W. Craik, eds. The Revels History of Drama in English: Volume VI, 1750-1880. London: Methuen, 1975.
Scenes and Characters from the Works of Charles Dickens; being eight hundred and sixty-six drawings, by Fred Barnard, Hablot Knight Browne (Phiz); J. Mahoney; Charles Green; A. B. Frost; Gordon Thomson; J. McL. Ralston; H. French; E. G. Dalziel; F. A. Fraser, and Sir Luke Fildes; printed from the original woodblocks engraved for "The Household Edition." New York: Chapman and Hall, 1908. Copy in the Robarts Library, University of Toronto.
Slater, Michael, and John Drew, eds. Dickens' Journalism: 'The Uncommercial Traveller' and Other Papers 1859-70. The Dent Uniform Edition of Dickens' Journalism, vol. 4. London: J. M. Dent, 2000.
---
Last modified 20 February 2013