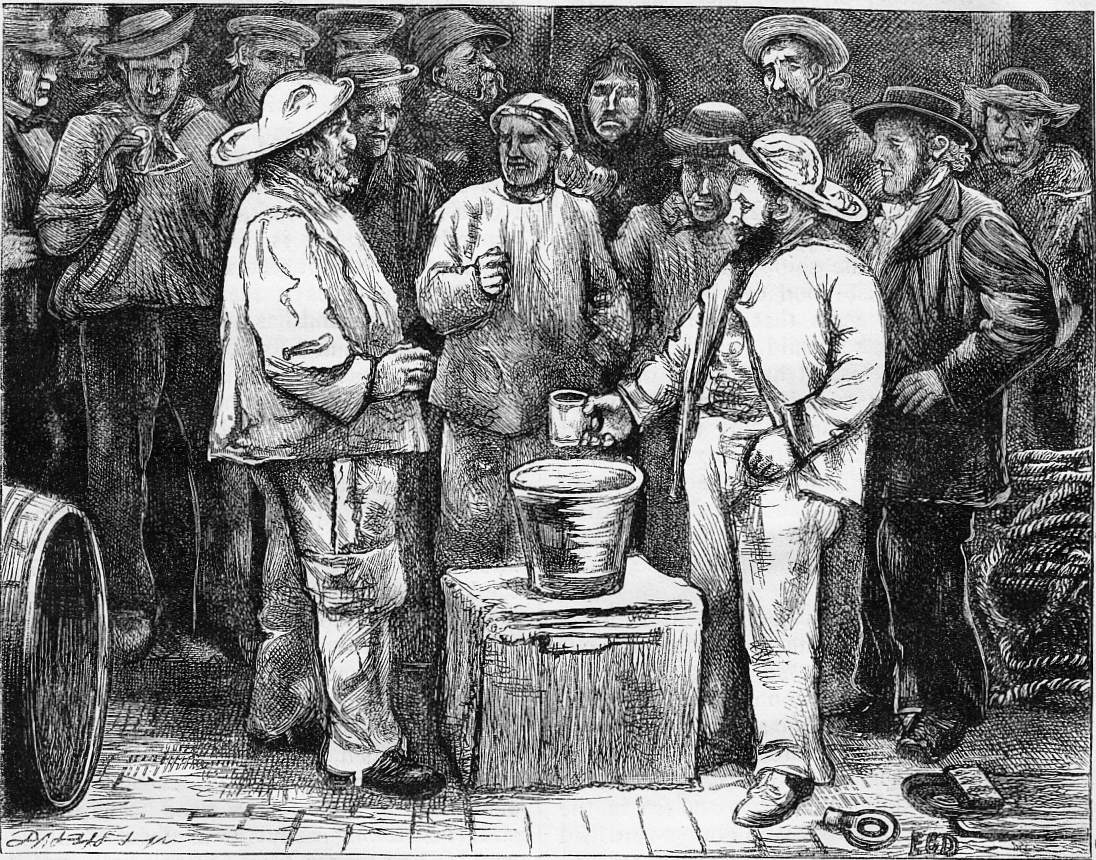 Over the grog, mixed in a bucket, presides the boatswain's mate. by Edward G. Dalziel. Wood engraving. From Dickens's "Aboard Ship," chapter 31 in The Uncommercial Traveller. [Click on image to enlarge it.]
Passage Realized
So, sticking to the ship, I was at the trouble of asking myself would I like to show the grog distribution in 'the fiddle' at noon to the Grand United Amalgamated Total Abstinence Society? Yes, I think I should. I think it would do them good to smell the rum, under the circumstances. Over the grog, mixed in a bucket, presides the boatswain's mate, small tin can in hand. Enter the crew, the guilty consumers, the grown-up brood of Giant Despair, in contradistinction to the band of youthful angel Hope. Some in boots, some in leggings, some in tarpaulin overalls, some in frocks, some in pea- coats, a very few in jackets, most with sou'wester hats, all with something rough and rugged round the throat; all, dripping salt water where they stand; all pelted by weather, besmeared with grease, and blackened by the sooty rigging.
Each man's knife in its sheath in his girdle, loosened for dinner. As the first man, with a knowingly kindled eye, watches the filling of the poisoned chalice (truly but a very small tin mug, to be prosaic), and, tossing back his head, tosses the contents into himself, and passes the empty chalice and passes on, so the second man with an anticipatory wipe of his mouth on sleeve or handkerchief, bides his turn, and drinks and hands and passes on, in whom, and in each as his turn approaches, beams a knowingly kindled eye, a brighter temper, and a suddenly awakened tendency to be jocose with some shipmate. Nor do I even observe that the man in charge of the ship's lamps, who in right of his office has a double allowance of poisoned chalices, seems thereby vastly degraded, even though he empties the chalices into himself, one after the other, much as if he were delivering their contents at some absorbent establishment in which he had no personal interest. But vastly comforted, I note them all to be, on deck presently, even to the circulation of redder blood in their cold blue knuckles; and when I look up at them lying out on the yards, and holding on for life among the beating sails, I cannot for my life see the justice of visiting on them — or on me — the drunken crimes of any number of criminals arraigned at the heaviest of assizes. [151]
Commentary
The observant Uncommercial Traveller, having been to America, makes the return crossing in Dickens's essay entitled "Aboard Ship," first published in All the Year Round on 5 December 1868. As Slater and Drew note, however, Dickens had originally conceived of this article as the introduction to a series of framed-tales for the 1868 extra-Christmas number, a plan which he was unable to carry out.
Having sailed for the United States aboard the Cunard Royal Mail steamer Cuba on 9 November 1867, Dickens accompanied by his indefatigible tour manager George Dolby visited sixteen major cities on the Eastern seaboard, including Boston (his first stop), Washington, Philadelphia, and New York (where he gave twenty-two readings at Steinway Hall alone). By the end of this winter reading tour he had amassed 19,000 pounds in profits from seventy-six readings attended by a total of some 100,000 Americans — including young Mark Twain. His return journey began on 22 April 1868, when he boarded the Cunard liner Russia in New York harbour, bound for Liverpool. The Uncommercial Traveller refers to the screw-propulsion of the ship, a system that had replaced the dual paddle-wheel propulsion method that Dickens and his wife had experienced aboard the Britannia in January 1842.
On this eight-day Atlantic crossing, Dickens had plenty of time for "people-watching," and he had some 300 fellow passengers to observe, besides the considerable crew needed to suplement the screw propulsion system with sail. Perhaps because "he found the other passengers on board to be 'Jackasses'" (Ackroyd 1022), he focussed on the crew, as his handwritten notes that were the immediate basis for this article suggest. Launched on 20 May 1867 in Glasgow, and therefore a steam vessel still in tip-top condition, the high-speed screw propellered steamer the Russia was an express mail liner of 358 feet and 2,950 GRT. Given the size of the ship and its modern technology, and the fact that it had been but recently launched, this should have been an easy voyage, then, but Dickens, exhausted from his recent exertions, was not in good health, and kept to his cabin for the first three days with catarrh and a swollen foot, and the crossing was punctuated by a number of gales.
Dalziel's illustration of some fifteen members of the crew (three in sou'westers, presumably fresh from the deck after encountering rough weather conditions) taking their daily tot of rum would not seem out-of-place if situated on the deck of a Royal Navy vessel, but one is surprised to see sailors aboard a civilian vessel (men, therefore, charged with maintaining safe conditions for the travelling public) imbibing at the company's expense. As in so many of Dalziel's illustrations, the figures are stalwart and betray no emotion as they chat among themselves as they wait their turn at the boatswain's can.
Other images of ships and emigration
Scanned image by Philip V. Allingham. [You may use this image without prior permission for any scholarly or educational purpose as long as you (1) credit the person who scanned the image and (2) link your document to this URL in a web document or cite the Victorian Web in a print one.]
Bibliography
Ackroyd, Peter. Dickens. London: Sinclair-Stevenson, 1990.
Browning, Logan Delano. "America, United States of." The Oxford Reader's Companion to Dickens, ed. Paul Schlicke. New York and Oxford: Oxford U. P., 1999. Pp. 14-18.
Dickens, Charles. The Uncommercial Traveller, Hard Times, and The Mystery of Edwin Drood. Il. Charles Stanley Reinhart and Luke Fildes. The Household Edition. New York: Harper and Brothers, 1876.
Dickens, Charles. The Uncommercial Traveller. Il. Edward Dalziel. The Household Edition. London: Chapman and Hall, 1877.
Scenes and Characters from the Works of Charles Dickens; being eight hundred and sixty-six drawings, by Fred Barnard, Hablot Knight Browne (Phiz); J. Mahoney; Charles Green; A. B. Frost; Gordon Thomson; J. McL. Ralston; H. French; E. G. Dalziel; F. A. Fraser, and Sir Luke Fildes; printed from the original woodblocks engraved for "The Household Edition." New York: Chapman and Hall, 1908. Copy in the Robarts Library, University of Toronto.
Slater, Michael, and John Drew, eds. Dickens' Journalism: 'The Uncommercial Traveller' and Other Papers 1859-70. The Dent Uniform Edition of Dickens' Journalism, vol. 4. London: J. M. Dent, 2000.
---
Last modified 31 March 2013