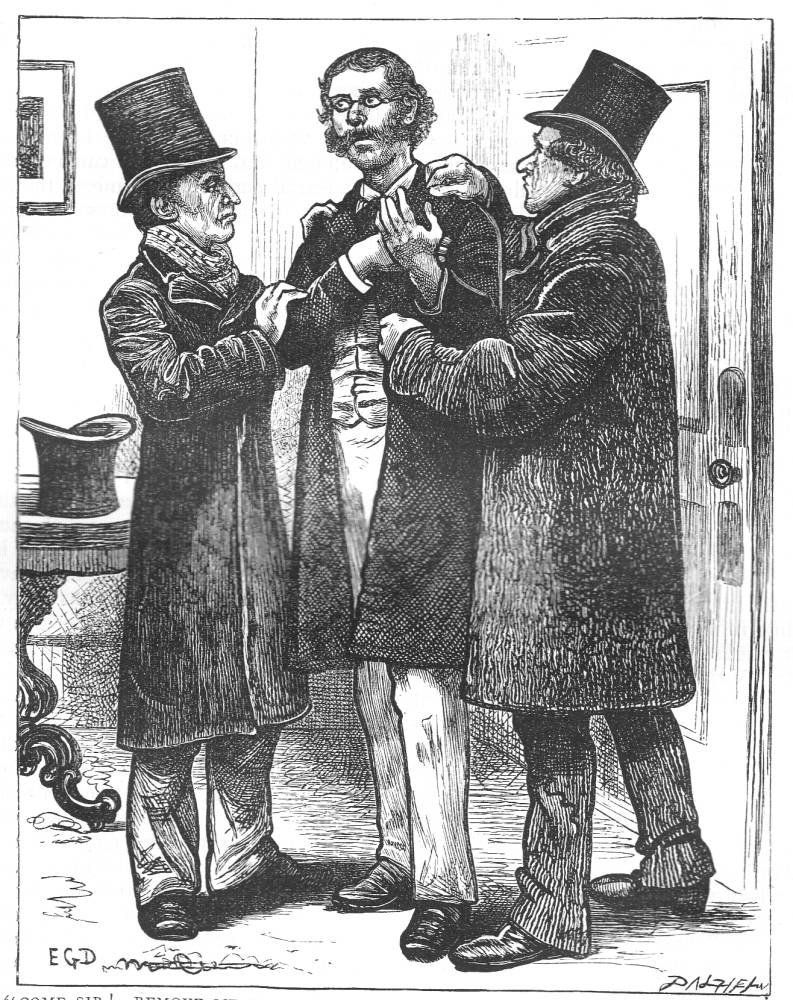 "Come Sir! Remove me to my vile dungeon. Where is my mouldy straw?"
Edward G. Dalziel
Wood engraving
13.5 cm high by 10.6 cm wide
Dickens's "Mrs. Lirriper's Legacy," p. 156, in Christmas Stories.
The overly melodramatic dialogue between Joshua Lirriper and the sheriff's men who have come to arrest him for debt is realized in this rather static three-quarter-page woodblock in which Mrs. Lirriper's brother-in-law theatrically plays the role of the victim of a merciless legal system.
Scanned image and text by Philip V. Allingham
[You may use this image without prior permission for any scholarly or educational purpose as long as you (1) credit the person who scanned the image and (2) link your document to this URL in a web document or cite the Victorian Web in a print one.]
Passage Illustrated
My dear it gave me such a dreadful turn to think of the brains of my poor dear Lirriper's own flesh and blood flying about the new oilcloth however unworthy to be so assisted, that I went out of my room here to ask him what he would take once for all not to do it for life when I found him in the custody of two gentlemen that I should have judged to be in the feather-bed trade if they had not announced the law, so fluffy were their personal appearance. "Bring your chains, sir," says Joshua to the littlest of the two in the biggest hat, "rivet on my fetters!" Imagine my feelings when I pictered him clanking up Norfolk Street in irons and Miss Wozenham looking out of window! "Gentlemen," I says all of a tremble and ready to drop "please to bring him into Major Jackman's apartments." So they brought him into the Parlours, and when the Major spies his own curly-brimmed hat on him which Joshua Lirriper had whipped off its peg in the passage for a military disguise he goes into such a tearing passion that he tips it off his head with his hand and kicks it up to the ceiling with his foot where it grazed long afterwards. "Major" I says "be cool and advise me what to do with Joshua my dead and gone Lirriper's own youngest brother." "Madam" says the Major "my advice is that you board and lodge him in a Powder Mill, with a handsome gratuity to the proprietor when exploded." "Major" I says "as a Christian you cannot mean your words." "Madam" says the Major "by the Lord I do!" and indeed the Major besides being with all his merits a very passionate man for his size had a bad opinion of Joshua on account of former troubles even unattended by liberties taken with his apparel. When Joshua Lirriper hears this conversation betwixt us he turns upon the littlest one with the biggest hat and says "Come sir! Remove me to my vile dungeon. Where is my mouldy straw?" My dear at the picter of him rising in my mind dressed almost entirely in padlocks like Baron Trenck in Jemmy's book I was so overcome that I burst into tears and I says to the Major, "Major take my keys and settle with these gentlemen or I shall never know a happy minute more," which was done several times both before and since, but still I must remember that Joshua Lirriper has his good feelings and shows them in being always so troubled in his mind when he cannot wear mourning for his brother. Many a long year have I left off my widow's mourning not being wishful to intrude, but the tender point in Joshua that I cannot help a little yielding to is when he writes "One single sovereign would enable me to wear a decent suit of mourning for my much-loved brother. I vowed at the time of his lamented death that I would ever wear sables in memory of him but Alas how short-sighted is man, How keep that vow when penniless!" It says a good deal for the strength of his feelings that he couldn't have been seven year old when my poor Lirriper died and to have kept to it ever since is highly creditable. [155-7]
Commentary
Much of the story is set in France, Dickens's second home in the 1860s. A further point of correspondence between Dickens's life and this story, about which Edward Dalziel, having in all likelihood read John Forster's Life of Charles Dickens, would have been aware, was that Joshua's being apprehended for debt by special constable parallels the real-life incarceration for debt of the writer's father, John Dickens, a biographical fact which also has echoes in the figure of Wilkins Micawber in David Copperfield. This is the same serio-comic moment that E. A. Abbey has also realized in Mrs. Lirriper's Legacy (December 1864), the sequel to Mrs. Lirriper's Lodgings in All the Year Round (December 1863) for the Harper and Brothers Household Edition of Christmas Stories, but Dalziel's treatment suffers by comparison, despite his capturing Joshua's anxiety and the implacable faces of the bailiffs.
Although the plot of this sequel revolves around Mrs. Lirriper's travelling to Sens in France to learn the identity of an Englishman who is dying there, having expressed the intention of leaving her a legacy, Joshua Lirriper, her deceased husband's much younger brother, something an alcoholic and wastrel, affords much comic relief as Mrs. Lirriper's rambling, unpunctuated dialectal narrative (anticipating that of James Joyce's Molly Bloom in Ulysses) communicates her warm-hearted, philanthropic nature. Whereas Abbey's composition of the scene in the American Household Edition is complicated, with a number if characters in a horizontal field, that of Dalziel in the British Household Edition is far simpler and much more static. Less histrionic, his Joshua Lirriper is the largest figure in the vertically-oriented illustration, the undistinguished bailiffs acting like bookends to their charge, who offers no resistance. The book neatly embeds the image in the midst of the accompanying text, so that the reader encounters both simultaneously.
Diamond, Library, Household, and Charles Dickens Library Edition (1867-68, 1876-77, and 1910) Illustrations Relevant to "Mrs. Lirriper's Legacy" (1864)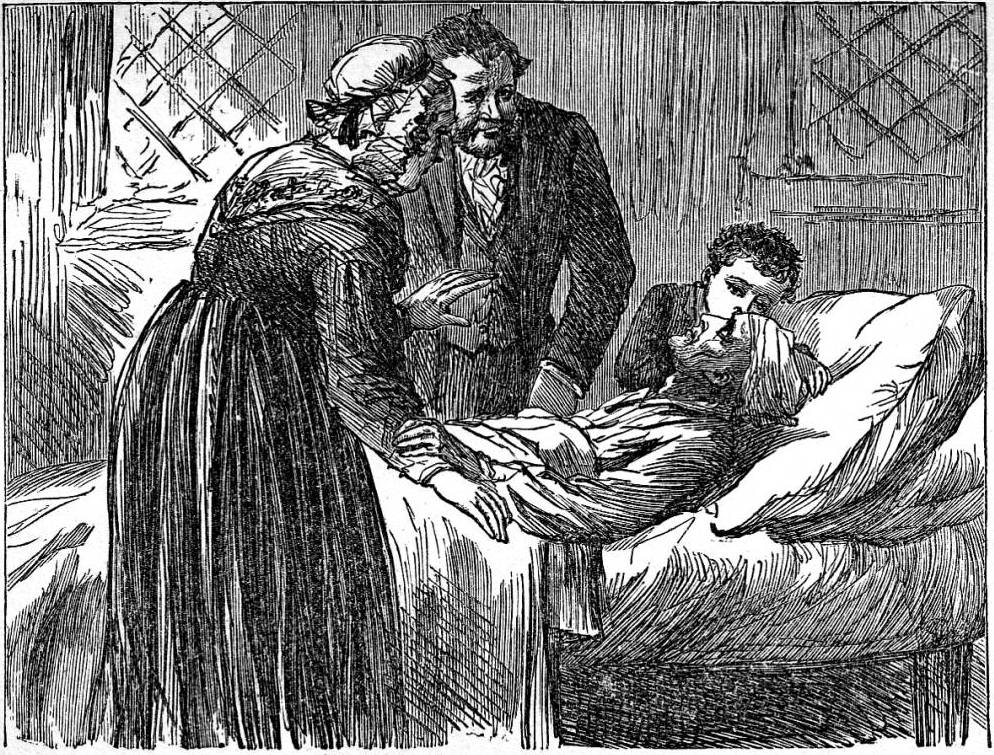 Left: Sol Eytinge, Junior's "The Death of Edson". E. A. Abbey's "She prayed a good good prayer and I joined in it poor me" (1876). [Click on images to enlarge them.]
"Come Sir! Remove me to my vile dungeon. Where is my mouldy straw?"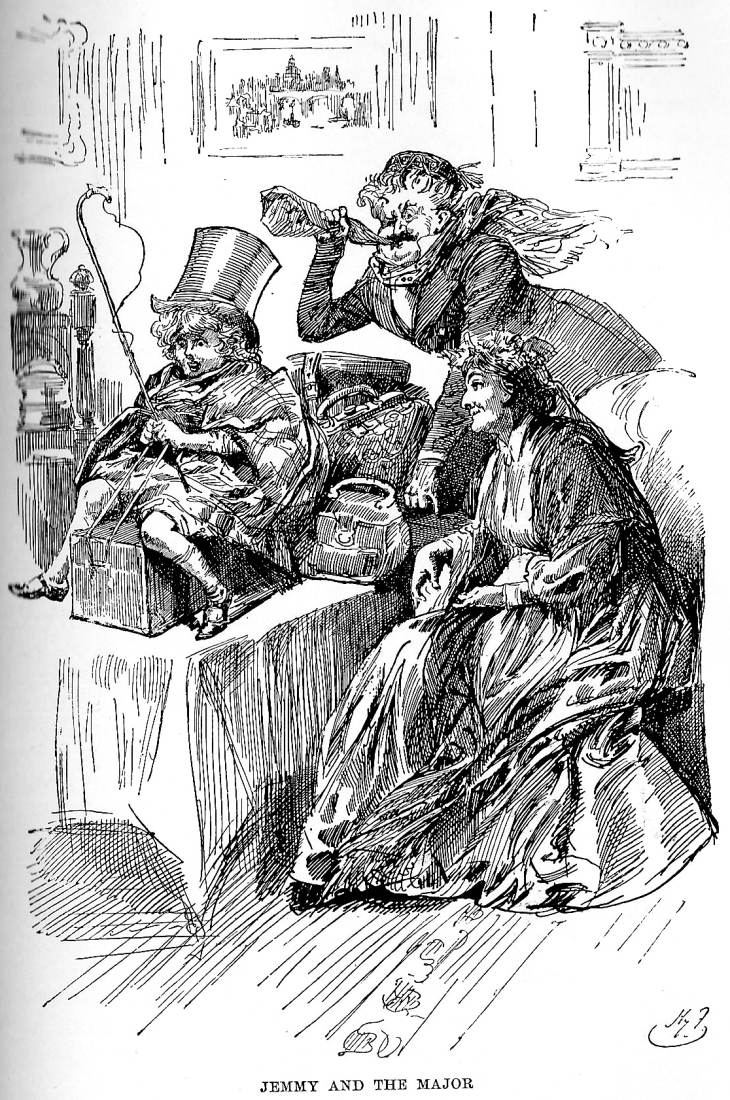 Left: Edward Dalziel's 1868 illustration "Mrs. Lirriper [The Death of Edson]". Right: Harry Furniss's delightful scene of seniors engaging in imaginative play with Mrs. Edson's boy, Jemmy in "Jemmy and the Major". [Click on images to enlarge them.]
Bibliography
Davis, Paul. Charles Dickens A to Z: The Essential Reference to His Life and Work. New York: Facts On File, 1998.
Dickens, Charles. Christmas Books. Il. Fred Barnard. The Household Edition. London: Chapman and Hall, 1878.
Bentley, Nicolas, Michael Slater, and Nina Burgis. The Dickens Index. Oxford and New York: Oxford U. P., 1988.
Davis, Paul. Charles Dickens A to Z: The Essential Reference to His Life and Work. New York: Checkmark and Facts On File, 1998.
Dickens, Charles. Christmas Books and The Uncommercial Traveller. Illustrated by Harry Furniss. Charles Dickens Library Edition. 18 vols. London: Educational Book Company, 1910. Vol. 10.
Dickens, Charles. Christmas Stories from "Household Words" and "All The Year Round". Illustrated by Townley Green, Charles Green, Fred Walker, F. A. Fraser, Harry French, E. G. Dalziel, and J. Mahony. The Illustrated Library Edition. London: Chapman and Hall, 1868, rpt. in the Centenary Edition of Chapman & Hall and Charles Scribner's Sons (1911). 2 vols.
Dickens, Charles. Christmas Stories. Illustrated by E. A. Abbey. The Household Edition. New York: Harper and Brothers, 1876.
Dickens, Charles. The Uncommercial Traveller and Additional Christmas Stories. Illustrated by Sol Eytinge, Junior. Boston: Ticknor and Fields, 1867.
Kitton, Frederic G. Dickens and His Illustrators. 1899. Rpt. Honolulu: U. Press of the Pacific, 2004.
Thomas, Deborah A. Dickens and The Short Story. Philadelphia: U. Pennsylvania Press, 1982.
---

Victorian
Web

Charles
Dickens

Visual
Arts

Illustration

The Dalziel
Brothers

Next
Last modified 16 April 2014