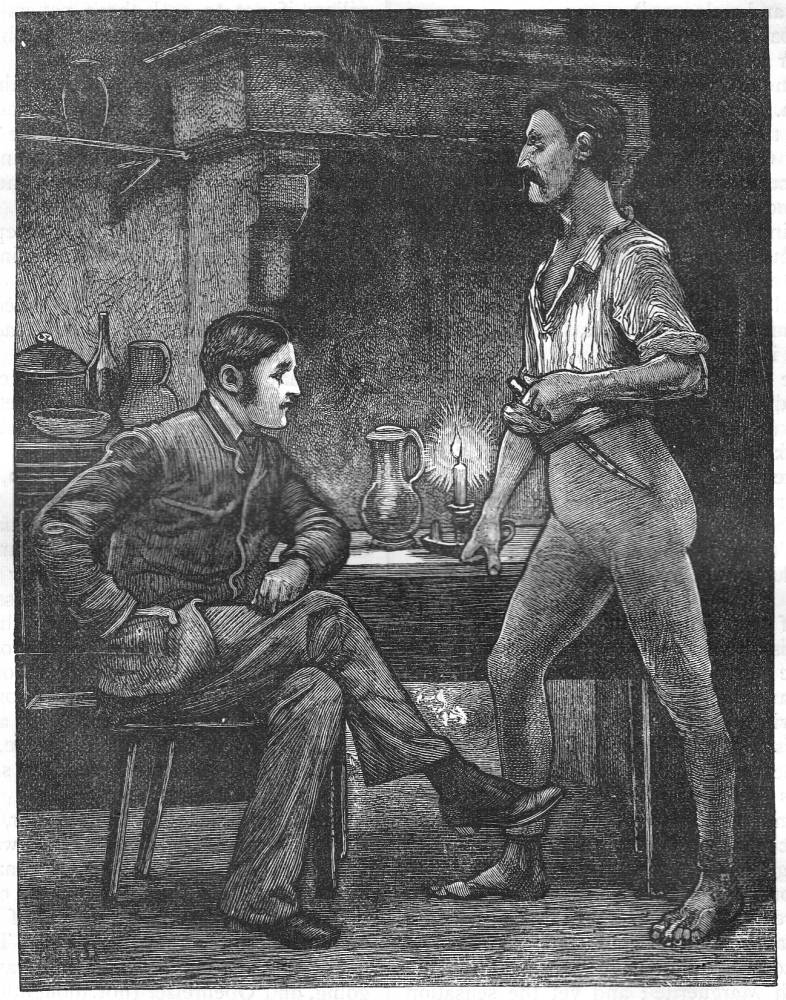 "'If there had been a wrestle with a robber, as I dreamed,' said Obenreizer, 'You see, I was stripped for it.' 'And armed, too,' said Vendale, glancing at his girdle."
Edward G. Dalziel
Wood engraving
13.7 cm high by 10.5 cm wide, framed.
Dickens's "No Thoroughfare," in Christmas Stories (1877), p. 260.
Scanned image and text by Philip V. Allingham
[You may use this image without prior permission for any scholarly or educational purpose as long as you (1) credit the person who scanned the image and (2) link your document to this URL in a web document or cite the Victorian Web in a print one.]
Passage Illustrated
The door opened again very slowly, until it opened wide enough to admit some one. It afterwards remained still for a while, as though cautiously held open on the other side. The figure of a man then entered, with its face turned towards the bed, and stood quiet just within the door. Until it said, in a low half-whisper, at the same time taking one stop forward: "Vendale!"
"What now?" he answered, springing from his seat; "who is it?"
It was Obenreizer, and he uttered a cry of surprise as Vendale came upon him from that unexpected direction. "Not in bed?" he said, catching him by both shoulders with an instinctive tendency to a struggle. "Then something is wrong!"
"What do you mean?" said Vendale, releasing himself.
"First tell me; you are not ill?"
"Ill? No."
"I have had a bad dream about you. How is it that I see you up and dressed?"
"My good fellow, I may as well ask you how it is that I see youup and ]undressed?"
"I have told you why. I have had a bad dream about you. I tried to rest after it, but it was impossible. I could not make up my mind to stay where I was without knowing you were safe; and yet I could not make up my mind to come in here. I have been minutes hesitating at the door. It is so easy to laugh at a dream that you have not dreamed. Where is your candle?"
"Burnt out."
"I have a whole one in my room. Shall I fetch it?"
"Do so."
His room was very near, and he was absent for but a few seconds. Coming back with the candle in his hand, he kneeled down on the hearth and lighted it. As he blew with his breath a charred billet into flame for the purpose, Vendale, looking down at him, saw that his lips were white and not easy of control.
"Yes!" said Obenreizer, setting the lighted candle on the table, "it was a bad dream. Only look at me!"
His feet were bare; his red-flannel shirt was thrown back at the throat, and its sleeves were rolled above the elbows; his only other garment, a pair of under pantaloons or drawers, reaching to the ankles, fitted him close and tight. A certain lithe and savage appearance was on his figure, and his eyes were very bright.
"If there had been a wrestle with a robber, as I dreamed," said Obenreizer, "you see, I was stripped for it."
"And armed too," said Vendale, glancing at his girdle.
"A traveller's dagger, that I always carry on the road," he answered carelessly, half drawing it from its sheath with his left hand, and putting it back again. "Do you carry no such thing?"
"Nothing of the kind."
"No pistols?" said Obenreizer, glancing at the table, and from it to the untouched pillow.
"Nothing of the sort."
"You Englishmen are so confident! You wish to sleep?"
"I have wished to sleep this long time, but I can't do it." ["Act Three: In the Valley," p. 258]
Commentary
The various illustrators of the novella in the anthologies subsequent to the story's initial appearance in print in the 1867 Extra Christmas Number of All the Year Round have deemed the climactic scene involving the struggle between the protagonist, the young English wine merchant George Vendale, and the villainous Swiss embezzler, Jules Obenreizer, on the ice-covered mountain in the Alps particularly suitable as a subject. The Collinsian criminal mastermind is the subject of a number of illustrations in the editions issued between 1868 and 1910. The illustrators, no matter what their style or the number of spots available in the text, are uniformly interested in the villainous foreigner, who is akin to such Collinsian villains as Count Fosco from The Woman in White:
"Mr. Obenreizer was a black-haired young man of a dark complexion, through whose swarthy skin no red glow ever shone. When colour would have come into another cheek, a hardly discernible beat would come into his, as if the machinery for bringing up the ardent blood were there, but the machinery were dry. He was robustly made, well proportioned, and had handsome features. Many would have perceived that some surface change in him would have set them more at their ease with him, without being able to define what change. If his lips could have been made much thicker, and his neck much thinner, they would have found their want supplied.
But the great Obenreizer peculiarity was, that a certain nameless film would come over his eyes — apparently by the action of his own will — which would impenetrably veil, not only from those tellers of tales, but from his face at large, every expression save one of attention. It by no means followed that his attention should be wholly given to the person with whom he spoke, or even wholly bestowed on present sounds and objects. Rather, it was a comprehensive watchfulness of everything he had in his own mind, and everything that he knew to be, or suspected to be, in the minds of other men. [Act I, "New Characters on the Scene," page 233]
Whereas Dalziel's antagonist in "If there had been a wrestle with a robber, as I dreamed," said Obenreizer, "You see, I was stripped for it." "And armed, too," said Vendale, glancing at his girdle seems to be a throwback to the Mediterranean villains of late eighteenth and earlier novels such as Anne Radcliffe's The Mysteries of Udolpho (1794) and melodramas such as The Corsican Brothers (1844, adapted for the stage by Dion Boucicault in 1852) — lithe, lean, olive-skinned, agressive, and black-mustachioed — in sharp contrast to the Dalziel construction of the thoroughly foreign and somewhat Satanic antagonist, Furniss's respectably-clad bourgeois is a wolf in late-nineteenth century business dress about which there is no apparent whiff of brimstone. Indeed, at this point all the reader knows of Obenreizer is that he has recently taken up residence in the Swiss district of Soho, and that he is the designated agent of a Swiss champagne export house, Defresnier et Cie., with headquarters at Neuchatel. From his own lips he has revealed to reader and George Vendale, recently made a partner in a London wine-importing house, that he was raised in a poverty-stricken and brutal household in rural Switzerland, and that he resents Vendale's gentlemanly origins — and yet, weighing Vendale's proposal for the hand of his ward Marguerite he finds Vendale not sufficiently wealthy.
Act 2 develops the relations among Obenreizer, Vendale, and Marguerite, as Vendale declares his love for Marguerite but is told by an angry Obenreizer that he cannot marry her until he earns three thousand pounds a year. Determined to do so, Vendale is dismayed to learn that a five-hundred-pound payment to the firm that employs Obenreizer was never received. The Swiss merchants tell Vendale that someone in their pay is embezzling funds and ask him to send them his forged receipt. Vendale chooses to deliver it himself, and Obenreizer offers to accompany him. We soon learn that Obenreizer is the embezzler; he vows to prevent discovery by stealing the forged document and murder Vendale, if necessary. At the end of the act,​despite Marguerite's repeated warnings​that her guardian poses a threat to him, Vendale sets off for the Alps with Obenreizer as guide. [Nayder, 142]
Fearing that Vendale's evidence will expose him as the as-yet-unknown embezzler, Obenreizer is already plotting the murder of the young Englishman in order to acquire the evidence against him that Vendale is carrying. Edward Dalziel's swarthy, lithe figure with the down-turned moustache and dagger in his belt appears to be more than a match physically and intellectually for the sleep George Vendale in the scene in the Swiss inn. The illustration continues to underscore the differences between the two men, despite their similar ages: seated and wearing a business suit and shoes, George Vendale seems much smaller than his antagonist, whose muscular form, fully revealed by the pygamas, terminates in claw-like feet. The mundane details in the background throw the contrasting figures into sharp relief, the darkness behind Obenreizer's form throwing his shirt and face into chiaroscuro as he almost glares at the hapless Englishman.
Relevant Illustrated Library Edition (1868) and Household Edition (1877) Illustrations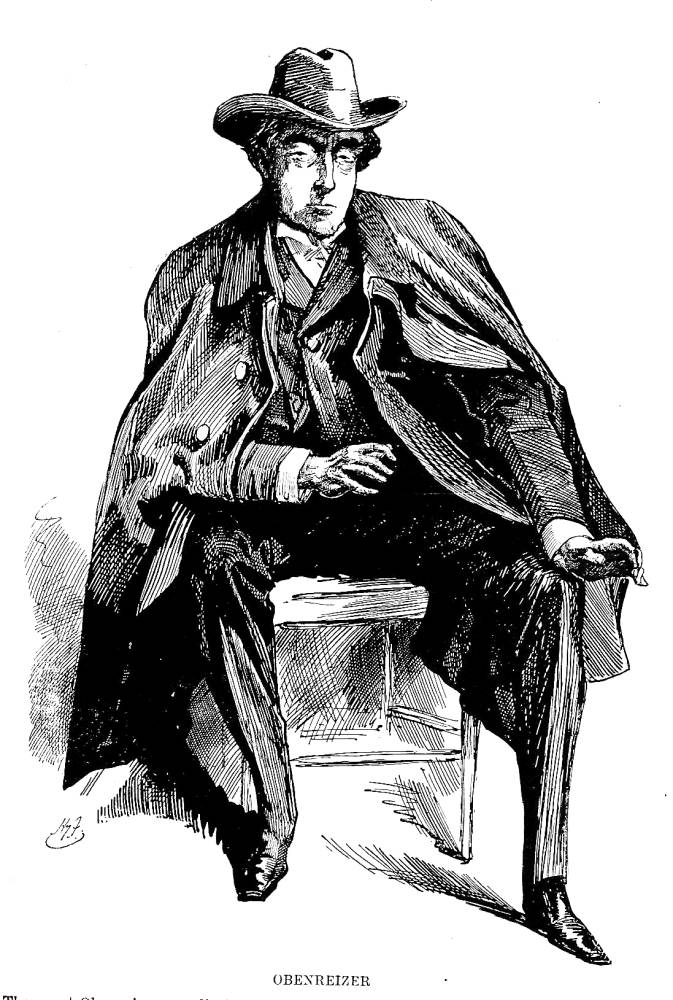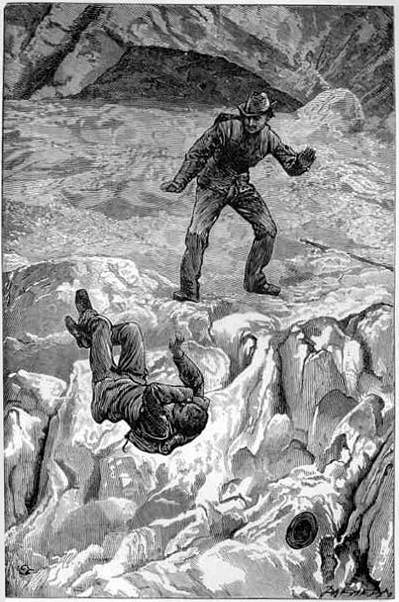 Left: Harry Furniss's suave foreign businessman, "Obenreizer" (1910). Right: Charles Green's dramatic 1868 illustration of the struggle in "No Thoroughfare". [Click on images to enlarge them.]
Bibliography
Bentley, Nicolas, Michael Slater, and Nina Burgis. The Dickens Index. Oxford and New York: Oxford U. P., 1988.
Davis, Paul. Charles Dickens A to Z: The Essential Reference to His Life and Work. New York: Facts On File, 1998.
Dickens, Charles. Christmas Books and The Uncommercial Traveller. Illustrated by Harry Furniss. Charles Dickens Library Edition. 18 vols. London: Educational Book Company, 1910. Vol. 10.
Dickens, Charles. Christmas Stories from "Household Words" and "All The Year Round". Illustrated by Townley Green, Charles Green, Fred Walker, F. A. Fraser, Harry French, E. G. Dalziel, and J. Mahony. The Illustrated Library Edition. London: Chapman and Hall, 1868, rpt. in the Centenary Edition of Chapman & Hall and Charles Scribner's Sons (1911). 2 vols.
Dickens, Charles. Christmas Stories. Illustrated by E. A. Abbey. The Household Edition. New York: Harper and Brothers, 1876.
Dickens, Charles. Christmas Stories from "Household Words" and "All the Year Round". Illustrated by E. G. Dalziel. The Household Edition. London: Chapman and Hall, 1877.
Nayder,,Lillian. Chapter 5, "'No Thoroughfare': The Problem of Illegitimacy."Unequal Partners: Charles a dickens, Wilkie Collins, & Victorian Authorship. Ithaca and London: Cornell U. P., 2002. Pp. 129-162.
Scenes and characters from the works of Charles Dickens; being eight hundred and sixty-six drawings, by Fred Barnard, Hablot Knight Browne (Phiz); J. Mahoney; Charles Green; A. B. Frost; Gordon Thomson; J. McL. Ralston; H. French; E. G. Dalziel; F. A. Fraser, and Sir Luke Fildes; printed from the original woodblocks engraved for "The Household Edition.". New York: Chapman and Hall, 1908. Copy in the Robarts Library, University of Toronto.
Thomas, Deborah A. Dickens and The Short Story. Philadelphia: U. Pennsylvania Press, 1982.
---

Victorian
Web

Charles
Dickens

Visual
Arts

Illustration

The Dalziel
Brothers

Next
Last modified 28 May 2014