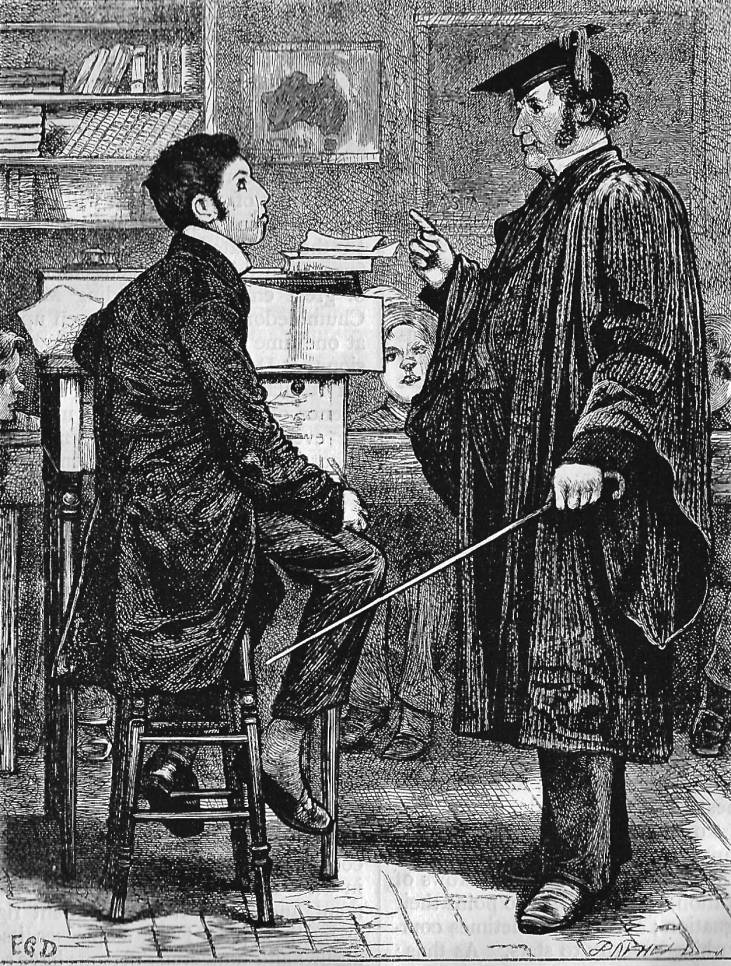 "Mr. Blinkins, are you ill, sir!"
Edward G. Dalziel
Wood engraving
13.8 cm high by 10.6 cm wide, framed.
Dickens's "Our School," in Reprinted Pieces (1879), p. 232.
Scanned image and text by Philip V. Allingham
[You may use this image without prior permission for any scholarly or educational purpose as long as you (1) credit the person who scanned the image and (2) link your document to this URL in a web document or cite the Victorian Web in a print one.]
Passage Illustrated
Our remembrance of Our School, presents the Latin master as a colourless doubled-up near-sighted man with a crutch, who was always cold, and always putting onions into his ears for deafness, and always disclosing ends of flannel under all his garments, and almost always applying a ball of pocket-handkerchief to some part of his face with a screwing action round and round. He was a very good scholar, and took great pains where he saw intelligence and a desire to learn: otherwise, perhaps not. Our memory presents him (unless teased into a passion) with as little energy as colour — as having been worried and tormented into monotonous feebleness — as having had the best part of his life ground out of him in a Mill of boys. We remember with terror how he fell asleep one sultry afternoon with the little smuggled class before him, and awoke not when the footstep of the Chief fell heavy on the floor; how the Chief aroused him, in the midst of a dread silence, and said, "Mr. Blinkins, are you ill, sir?" how he blushingly replied, "Sir, rather so;" how the Chief retorted with severity, "Mr. Blinkins, this is no place t o be ill in" (which was very, very true), and walked back solemn as the ghost in Hamlet, until, catching a wandering eye, he called that boy for inattention, and happily expressed his feelings towards the Latin master through the medium of a substitute. [230]
Commentary
This Dalziel illustration is from "Reprinted Pieces" in the Household Edition, 1879. The caption, "Mr. Blinkins, are you ill, sir?" suggests that the characters are the headmaster ("The Chief") to the right and the genial little Latin master (left), who has just been awakened by the headmaster in class in "Our School," published in Dickens's weekly journal Household Words in 1851. Leon Litvack notes the autobiographical connection to the Wellington House Academy, which Dickens attended for several years after his father's release from the Marshalsea:
Dickens's experiences prompted two other recollections of Wellington House: in his essay "Our School" he noted that Jones ("the Chief") had a penchant for ruling ciphering-books, and then "smiting the palms of offenders with the same diabolical instrument" (HW 4, 11 October 1851); in a speech of 1857 he remarked that it was Jones's business "to make as much out of us and put as little into us as possible" (Speeches 240). There were, however, positive aspects to Dickens's time at the school: he spoke well of the English teacher, Mr. Taylor, who had features in common with Mr. Mell (DC 5-7, 63), and the Latin master, who "took great pains when he saw intelligence and a desire to learn" (HW 4, 11 October 1851). By the time Dickens left in 1827 he had won the Latin prize. ["Education," The Oxford Reader's Guide to Dickens, 210]
In this reverie about his own experiences at school, Dickens notes that the headmaster "was considered to know nothing" (229) — a nice piece of satire on educational administrators. Apparently Mr. Blinkins, the Latin master, was not the Chief's only put-upon subordinate. The "Usher" had no one subject specialty at the secondary school level, but taught writing, mathematics, and English, and played the trombone. There was also a dancing master, a French master — but Dickens makes no mention of a science master, although since the term "scientist" was not coined until 1834, "natural philosophy" would be the subject designation. Dalziel contrasts the two teachers effectively by having the youthful (and aptly named) Blinkins seated (improbably, although he has fallen asleep at his desk, he has not fallen off his stool) and the reproving chief, armed with a cane, gowned and standing, with a boy's face between the pair to represent the context of the confrontation. The lightly shaded schoolroom in the background, with desk, books on shelves, and a map of Australia, represents the state of mid-Victorian education, although the reminiscence dates back to the Regency, when Dickens was a schoolboy. The headmaster is, perhaps, too noble and earnest to be a proper reflection of Jones of Wellington House Classical and Commercial Academy, and the mitre-board hat may be overstating his academic garb, although it increases his height and makes him even more imposing as a pillar of the educational establishment — which the sadistic William Jones was apparently not.
Edward Dalziel was Chapman and Hall's chosen illustrator for its lesser Household Edition volumes, Fred Barnard being the lead illustrator in the decade-long project to give Dickens's works an entirely new look. Even in the 1870s Dalziel would have been aware of Dickens's satire on the poor quality of public school education available in Britain prior to the Education Act of 1870. The illustration is one of nine that Dalziel executed for the composite Household Edition volume (no. 20), which features Barnard's and Fildes' illustrations more prominently on the title-page. These "reprinted" pieces include odd selections of Dickens's journalism as well as his early contributions to the Extra Christmas Numbers of Household Words, including A Round of Stories by the Christmas Fire (1852) and Another Round of Stories by the Christmas Fire (1853).
Relevant "David Copperfield" Household Edition and Other Illustrations of Schoolrooms in Dickens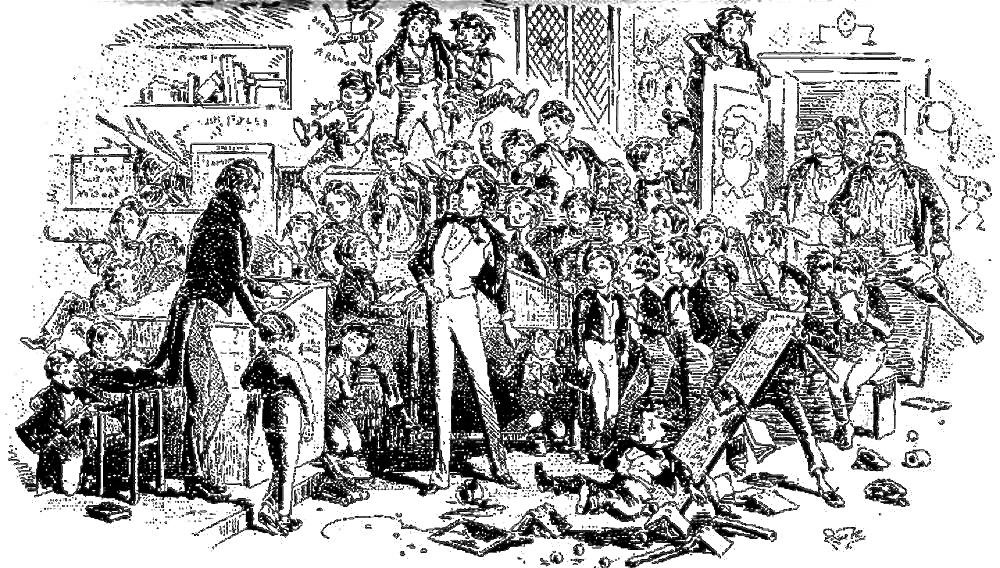 Left: Hablot Knight Browne's "Steerforth and Mr. Mell" (July 1849); Right: Fred Barnard's "He knows me, and I know him. Do you know me? Hey?" said Mr. Creakle, pinching my ear with ferocious playfulness; (1872). [Click on images to enlarge them.]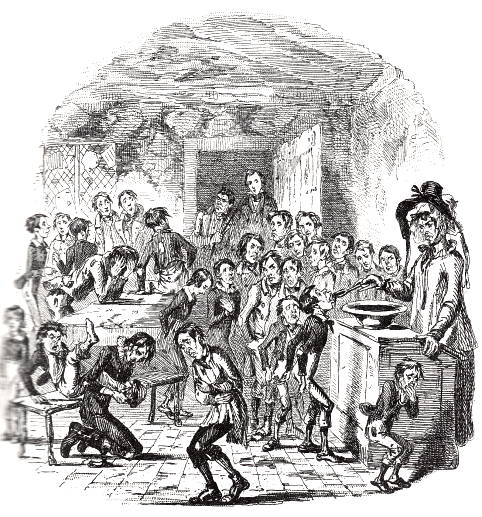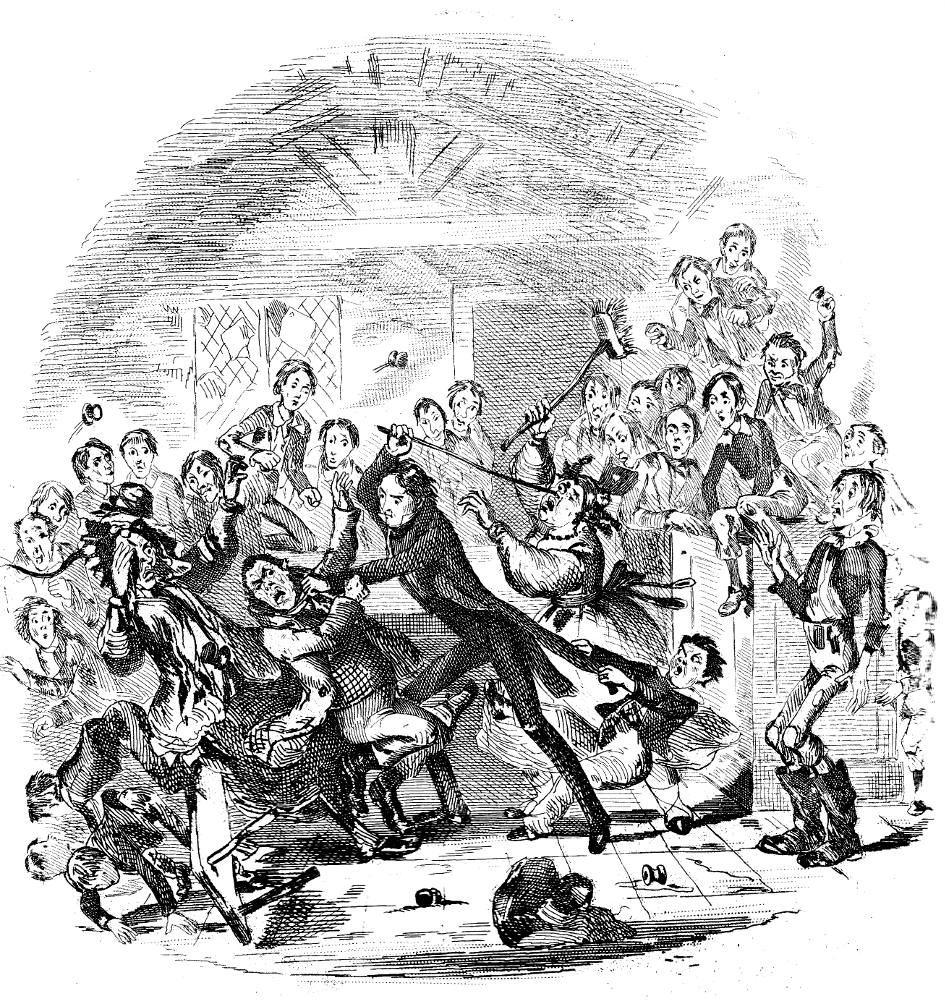 Left: Fred Barnard's "'Let him deny it,' said Steerforth." (1872). Centre: Phiz's satire of the Yorkshire schools in "The Internal Economy of Dotheboys Hall" (1838). Right: Phiz's dynamic realisation of Nicholas's punishment of the brutal Squeers in "Nicholas Astonishes Mr. Squeers and Family" (1838). [Click on images to enlarge them.]
Bibliography
Bentley, Nicolas, Michael Slater, and Nina Burgis. The Dickens Index. Oxford and New York: Oxford U. P., 1988.
Davis, Paul. Charles Dickens A to Z: The Essential Reference to His Life and Work. New York: Checkmark and Facts On File, 1998.
Dickens, Charles. Christmas Books and The Uncommercial Traveller. Illustrated by Harry Furniss. Charles Dickens Library Edition. 18 vols. London: Educational Book Company, 1910. Vol. 10.
Dickens, Charles. David Copperfield. Il. Phiz. London: Chapman and Hall, 1850.
Dickens, Charles. David Copperfield. Il. Fred Barnard. The Household Edition. London: Chapman and Hall, 1872.
Dickens, Charles. Nicholas Nickleby. Il. Phiz. London: Chapman and Hall, 1839.
Dickens, Charles. The Uncommercial Traveller and Additional Christmas Stories. Illustrated by Sol Eytinge, Junior. Boston: Ticknor and Fields, 1867.
Dickens, Charles. Christmas Stories from "Household Words" and "All The Year Round". Illustrated by Townley Green, Charles Green, Fred Walker, F. A. Fraser, Harry French, E. G. Dalziel, and J. Mahony. The Illustrated Library Edition. London: Chapman and Hall, 1868, rpt. in the Centenary Edition of Chapman & Hall and Charles Scribner's Sons (1911). 2 vols.
Litvack, Leon. "Education." The Oxford Reader's Companion to Dickens. Ed. Paul Schlicke. Oxford and New York: Oxford U. P., 1999. Pp. 209-213.
Dickens, Charles. The Mystery of Edwin Drood, Reprinted Pieces, and Other Stories. Illustrated by L. Fildes, E. G. Dalziel, and F. Barnard. The Household Edition. Vol. 20. London: Chapman and Hall, 1879.
Scenes and characters from the works of Charles Dickens; being eight hundred and sixty-six drawings, by Fred Barnard, Hablot Knight Browne (Phiz); J. Mahoney; Charles Green; A. B. Frost; Gordon Thomson; J. McL. Ralston; H. French; E. G. Dalziel; F. A. Fraser, and Sir Luke Fildes; printed from the original woodblocks engraved for "The Household Edition.". New York: Chapman and Hall, 1908. Copy in the Robarts Library, University of Toronto.
---

Victorian
Web

Charles
Dickens

Visual
Arts

Illustration

The Dalziel
Brothers
Last modified 1 ​6 May 2014