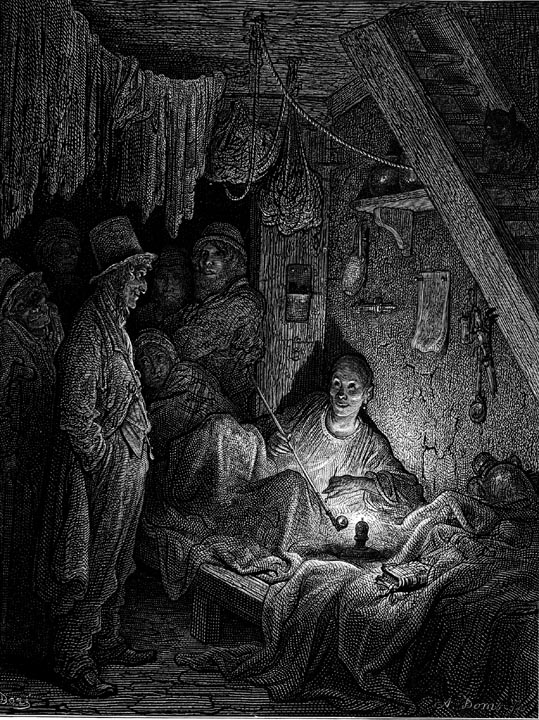 Opium Smoking — The Lascar's Room in "Edwin Drood"
Gustave Doré
1872
Douglas Jerrold's London: A Pilgrimage
[See below forJerrold's text]
"We threaded an extraordinary tangle of dark alleys where two men could just walk abreast, under the flickering lamps jutting from the ebon walls, to mark the corners. We were on our way to the dreadful paved court, flanked with tumble-down one storied houses, in which our old friend the Lascar opium smoker rolled upon his mattress, stirring his stifling narcotic over a lamp, and keeping his eyes — bright as burning coals — upon his latch. . . . . As for our friend the Lascar, whose portrait we had taken on a previous visit — we shouldn't see him to-night: he was 'in quod for a month: begging.' So we went to a neighbour and rival of his, and were introduced to the room in which "Edwin Drood" opens. Upon the wreck of a four-post bedstead (the posts of which almost met overhead, and from which depended bundles of shapeless rags), upon a mattress heaped with indescribable clothes, lay, sprawling, a Lascar, dead-drunk with opium; and at the foot of the bed a woman, with a little brass lamp among the rags covering her, stirring the opium over the tiny flame. She only turned her head dreamily as we entered. She shivered under the gust of night air we had brought in, and went on warming the black mixture. It was difficult to see any humanity in that face, as the enormous grey dry lips lapped about the rough wood pipe and drew in the poison. The man looked dead. She said he had been out since four in the morning trying to get a job in the docks — and had failed" (pp. 147-48)
Bibliography
Jerrold, Douglas. London: A Pilgrimage. London: 1872.
---

Victorian
Web

Visual
Arts

Illus-
tration

Gustave
Dor�
Last modified December 2001