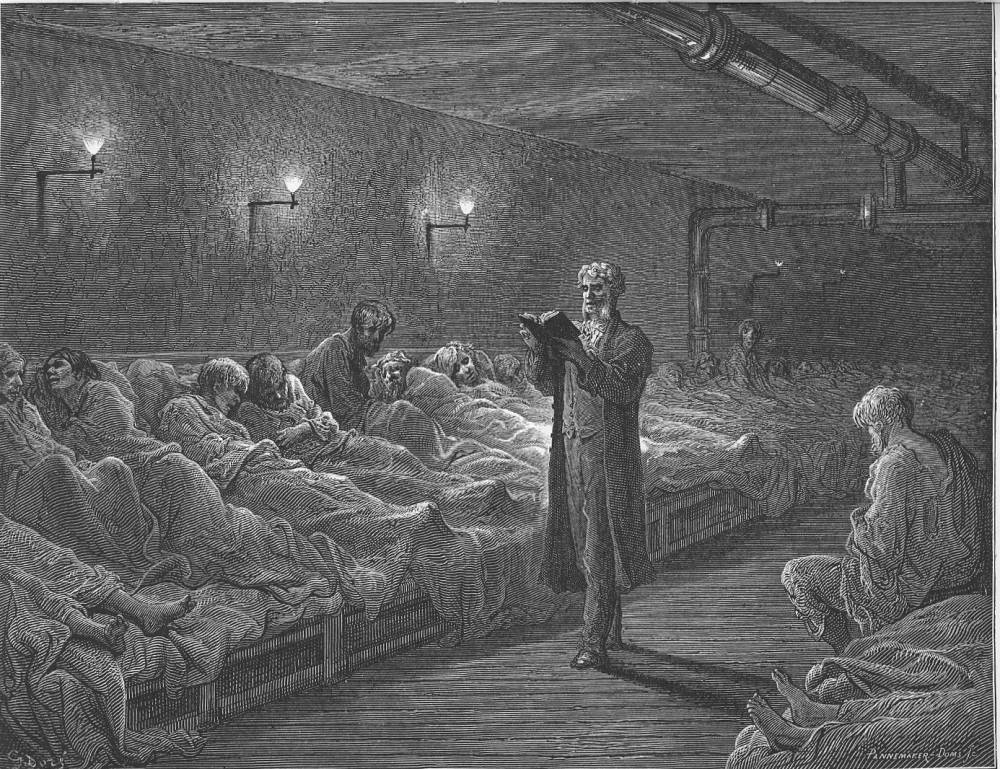 Scripture Reading in a Night Refuge. Gustave Doré (1832-83). 1872. Source: London, p. 145 [Click on image to enlarge it.]
[You may use this image without prior permission for any scholarly or educational purpose as long as you c link your document to this URL in a web document or cite the Victorian Web in a print one. — George P. Landow]
Although Gustave Doré did not visit England until 1869, he knew the work of the caricaturist, illustrator, and engraver George Cruikshank both from his London scenes in Oliver Twist and Sketches by Boz, and especially from his two Hogarthian temperance series, The Bottle (1847) and The Drunkard's Children (1848). Richard A. Vogler, who claims Cruikshank influenced Doré's conceptions of London, points to his scene in the threepenny lodging house that he believes was directly inspired by the fourth plate of The Drunkard's Children (p. 161). Although the the relationship between the two plates seems obvious, Doré emphasizes a general atmosphere more than specific details as the gas-jets in the Doré illustration imparting a weird glow to the bodies of the sleepers, as if they are already in their winding sheets and about to be consigned to their anonymous graves. Doré​ infuses numinous aura to his night scene through the morally elevated worker in charity who reads the scripture to dozens of sleepers​— it is as if Christ, dressed in nineteenth-century, middle-class clothing, has appeared in a shelter to minister to the poor. In another 1872 illustration betraying the Cruikshank influence, The Bulls-Eye", Doré depicts three constables using a lantern to illuminate a crowded scene in a slum alley. But neither of these Doré pictures is analogous to the situation in the Cruikshank illustration of the three-penny "lodging house" which the two uniformed "Bobbies," members of the Metropolitan Police Force, are visiting in order to apprehend the thief.
The Night Lodgings Scene from Cruikshank's 1848 Folio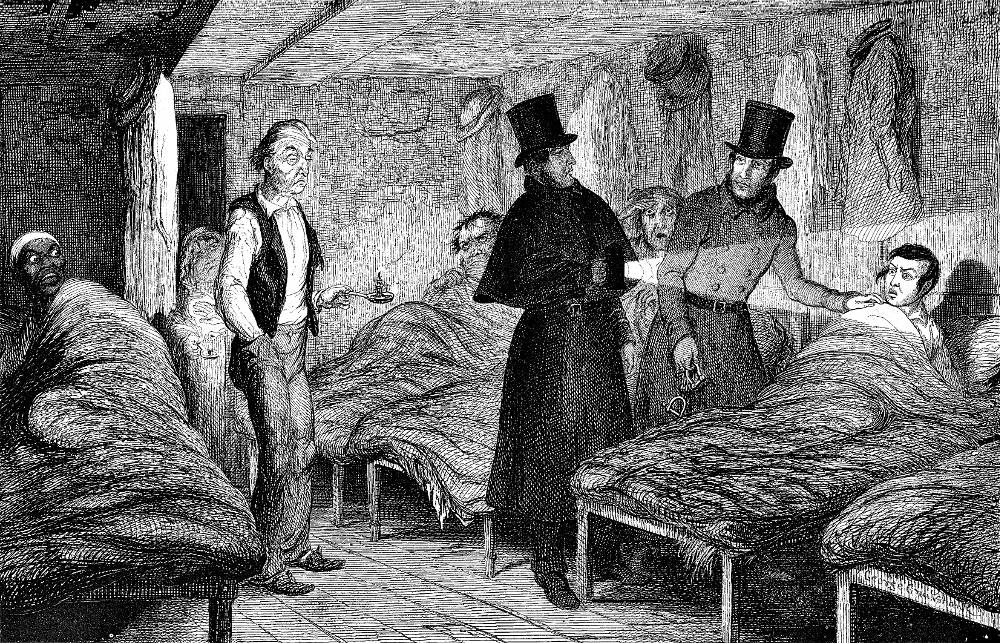 Above: George Cruikshank's realistic realisation of the apprehension of the Drunkard's son, Urged on by His Ruffian Companions, and Excited by Drink, He Commits a Desperate Robbery. — He is Taken by the Police at a Three-Penny Lodging House. [Click on image to enlarge it.]
Related Material
Bibliography
Cruikshank, George. The Drunkard's Children. A Sequel to "The Bottle." London: David Bogue, 1848.
Jerrold, Blanchard, and Gustave Doré. London: A Pilgrimage. London: Grant & Co., 1872.
Vogler, Richard A. Graphic Works of George Cruikshank. Dover Pictorial Archive Series. New York: Dover, 1979.
---
Last modified 27 August 2017