Illustrations from Doré and Jerrold's London appear throughout the Victorian Web (the illuminated initial "T" at the beginning of this essay is based one one of his illustrations in that work).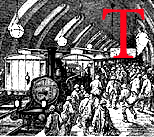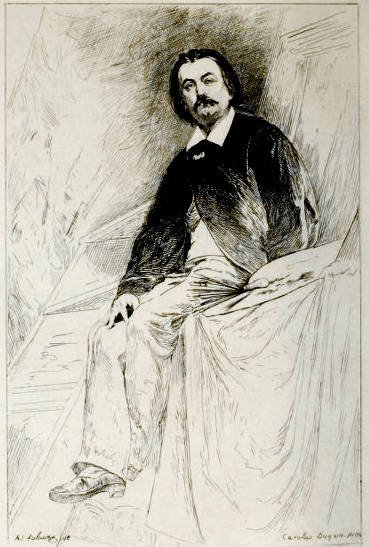 he celebrated nineteenth-century French painter and book illustrator (Paul) Gustave Doré (1832-83), whose somewhat theatrical but highly imaginative engravings accompany a number of nineteenth-century editions of various European literary classics, was born in Strasbourg. By the age of fifteen, Doré was earning a living by drawing caricatures for the Paris magazine pour Rire.
Having won wide-spread acclaim for his illustrations of a new edition of the works of François Rabelais (1854), Doré illustrated Honoré de Balzac's Contes drolatiques (Droll Stories), Dante's Inferno (1861), Perrault's Contes, and Miguel de Cervantes' Don Quixote (1863), and the Bible (1865-6). He then determined to tackle Milton's biblical epic Paradise Lost in 1866 in a series of illustrations that in turn led to his work on Dante's Purgatorio and Paradiso (1868). He also illustrated an edition of La Fontaine's Fables (1867) and of Alfred, Lord Tennyson's Idylls of the King (1867-8). Although not entirely realistic (perhaps in part owing to his lack of formal training), Doré's highly dramatic illustrations ably convey mood and setting, particularly in such melancholy and mysterious backdrops as Milton's Hell.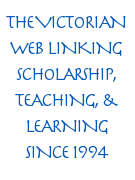 Sources
Cambridge Biographical Dictionary, ed. Magnus Magnusson and Rosemary Goring. Cambridge and New York: Cambridge University Press, 1990.
Doré, Gustav, illustrator. John Milton's Paradise Lost. New York: Peter Fenelon Collier, 1866.
Microsoft� Encarta '97: http://sunsite.dk/cgfa/doré/doré_bio.htm
---
Created December 2001. Last modified 1 July 2015