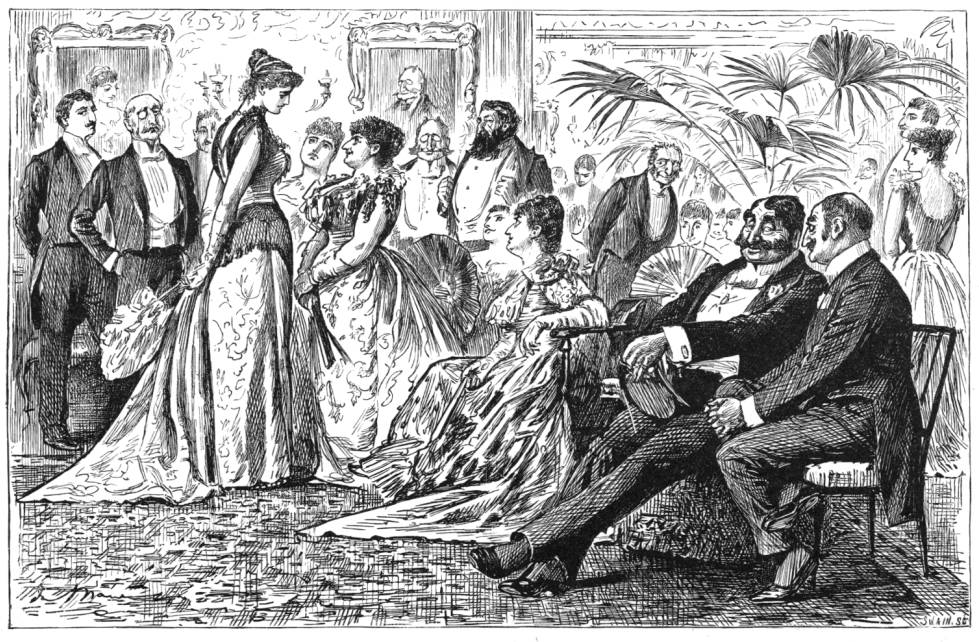 A Daughter of Heth. From English Society. Sketched by George du Maurier. Click on image to enlarge it.
Lionel.– "Oh, I say, Benjamin! how splendid your wife is looking! She pays for dressing, if you like!"
Benjamin.– "Does she, my boy? I only wish she did!"
The humor in this cartoon apparently comes from a play on the phrase "pay for," which seems to seems to mean something attractive. "Daughter of Heth" alludes to the Book of Genesis, in which Esau marries a member of this tribe or ethnic group. Wikipedia tells us that William Black published a novel entitled A Daughter of Heth in 1871. In this cartoon the artist uses the phrase to identify the speaker and his wife as Jews. du Maurier contrasts the speaker's wife with a beautiful, extraordinarily tall young woman, emphasizes the well-dressed women's on attractiveness.
In the book's forward the novelist W.D. Howells, who praises the artist for his gentleness, remarks that he can only think of one or two places where he's cruel:
It is in its sweetness, as well as its manliness, that I find the chief analogy between du Maurier's literature and his art. In all the long course of his dealing with the life of English society, I can think of but two or three instances of ungentleness. The humor which shone upon every rank, and every variety of character, never abashed the lowly, never insulted women, never betrayed the trust which reposed in its traditions of decency and generosity. If we think of any other caricaturist's art, how bitter it is apt to be, how brutal, how base! The cruelties that often pass for wit, even in the best of our own society satires, never tempted him to their ignoble exploitation; and as for the filthy drolleries of French wit, forever amusing itself with one commandment, how far they all are from him! His pictures are full of the dearest children, lovely young girls, honest young fellows; snobs who are as compassionable as they are despicable, bores who have their reason for being, hypocrites who are not beyond redemption. It is in his tolerance, his final pity of all life, that du Maurier takes his place with the great talents; and it is in his sympathy for weakness, for the abased and outcast, that he classes himself with the foremost novelists of the age, not one of whom is recreant to the high office of teaching by parable that we may not profitably despise one another. Not even Svengali was beyond the pale of his mercy, and how well within it some other sorts of sinners were, the grief of very respectable people testified. [5-6]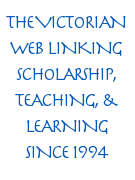 This cartoon with its portrayal of the speaker's ugly wife would seem to be one of the exceptions.
Scanned image and text by George P. Landow [You may use this image without prior permission for any scholarly or educational purpose as long as you (1) credit the person who scanned the image and (2) link your document to this URL in a web document or cite the Victorian Web in a print one.]
Bibliography
English Society. Sketched by George du Maurier. New York: Harper and Brothers, 1897.
---
Created 1 July 2001

Last modified 24 April 2020