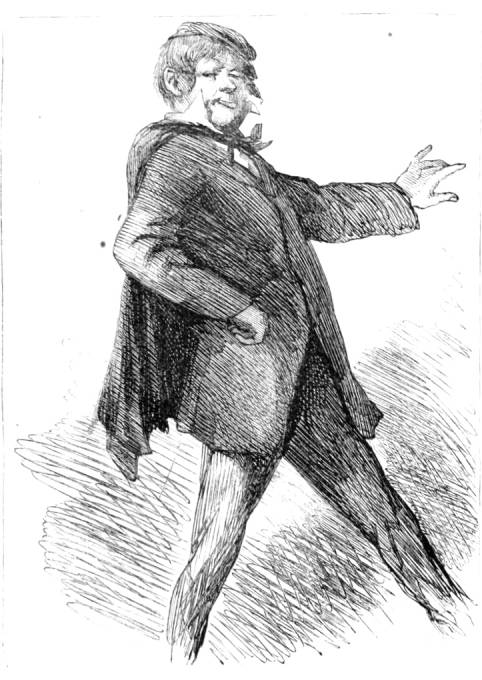 Trabb's Boy
Sol Eytinge
Wood engraving
Approximately 10 cm high by 7.5 cm wide (framed)
The final illustration in Dickens's Great Expectations in the single volume A Tale of Two Cities and Great Expectations in the Ticknor & Fields (Boston, 1867) Diamond Edition.
[Commentary continues below]
Scanned image and text by Philip V. Allingham.
[You may use these images without prior permission for any scholarly or educational purpose as long as you (1) credit the photographer and (2) link your document to this URL in a web document or cite the Victorian Web in a print one.]
In trying to determine why Eytinge decided to devote the last of his opportunities to illustrate the novel to a relatively minor character, one could consider the limited number of alternatives that presented themselves in this relatively short Dickens novel: the irascible Bill Barley, the colourless Herbert Pocket and Clara Barely, and the shadowy "Napoleon of Crime," Compeyson. None of these options offered Eytinge much to work with, despite their importance to the mechanisms of Dickens's plot. No, Trabb's Boy was the logical choice, not the least because, as an apprentice from Pip's village, he offers a sharp contrast to the boy with great expectations. But Eytinge's plate does not dwell upon this thematic parallel; rather, it realises a brilliant moment of character comedy when in chapter 30 Pip, briefly returning to his native ground, is mortified by the street theatre of his quondam rival apprentice, whom Pip earlier describes as "the most audacious boy in all the country-side" (ch. 19). Strolling down the High Street, feeling supremely self-confident in his London clothes, Pip is brought up short by Trabb's boy:
Casting my eyes along the street at a certain point of my progress, I beheld Trabb's boy approaching, lashing himself with an empty blue bag. Deeming that a serene and unconscious contemplation of him would best beseem me, and would be most likely to quell his evil mind, I advanced with that expression of countenance, and was rather congratulating myself on my success, when suddenly the knees of Trabb's boy smote together, his hair uprose, his cap fell off, he trembled violently in every limb, staggered out into the road, and crying to the populace, "Hold me! I'm so frightened!" feigned to be in a paroxysm of terror and contrition, occasioned by the dignity of my appearance. As I passed him, his teeth loudly chattered in his head, and with every mark of extreme humiliation, he prostrated himself in the dust.
Trabb's apprentice-haberdasher and shop-boy is both a foil to the upwardly mobile protagonist, mocking his pretentiousness when Pip returns to the village to flaunt his good fortune, and a deus-ex-machina when in chapter 53 he leads Herbert to the lime-kiln on the marshes and effects Pip's rescue from the monstrous Orlick. Eytinge's posing of Trabb's boy in this eighth illustration points strongly to the same textual moment which F. A. Fraser would later realise for the sixth volume of the Household Edition: "Don't know yah!", which depicts a much younger apprentice lampooning Pip (rapidly departing on the other side if the High Street) for the general amusement of his mirthful admirers, the other apprentice-boys of the village.
With a shock he became aware of me, and was severely visited as before; but this time his motion was rotatory, and he staggered round and round me with knees more afflicted, and with uplifted hands as if beseeching for mercy. His sufferings were hailed with the greatest joy by a knot of spectators, and I felt utterly confounded.
In Fraser's illustration, Pip, a rigid pillar in top hat and great coat, is passing on the other side, oblivious (apparently) to the apprentice's antics, which are nonetheless feeble in theatrical effect to those of the figure whom Eytinge gives us: arm akimbo, shirt-collar pulled up, and hair standing straight on end, a travesty of the prim-and-proper Londoner, exactly as in this passage:
I had not got as much further down the street as the post-office, when I again beheld Trabb's boy shooting round by a back way. This time, he was entirely changed. He wore the blue bag in the manner of my great-coat, and was strutting along the pavement towards me on the opposite side of the street, attended by a company of delighted young friends to whom he from time to time exclaimed, with a wave of his hand, "Don't know yah!" Words cannot state the amount of aggravation and injury wreaked upon me by Trabb's boy, when, passing abreast of me, he pulled up his shirt-collar, twined his side-hair, stuck an arm akimbo, and smirked extravagantly by, wriggling his elbows and body, and drawling to his attendants, "Don't know yah, don't know yah, 'pon my soul don't know yah!" The disgrace attendant on his immediately afterwards taking to crowing and pursuing me across the bridge with crows, as from an exceedingly dejected fowl who had known me when I was a blacksmith, culminated the disgrace with which I left the town, and was, so to speak, ejected by it into the open country.
Thus, Eytinge effectively transforms the uncomfortable first-person narrative, replete with ironic character comedy, into a dramatic moment, enabling the reader as audience to see what Pip sees without the concomitant sense of chagrin at having been exposed so publicly as a snob. Lacking the parodic dimension of language as a resource, Eytinge goes over the top in creating a moment of great physical humour which nonetheless scores a thematic point against the self-conscious protagonist-narrator. Trabb's boy, unlike Wopsle, is a ham actor fully in control of his comic effects, and his motivation — satirical correction — is one which the sensitive reader can thoroughly endorse, so that we have an odd moment in the narrative when we as readers identify with the central character's antagonist rather than with the protagonist-narrator himself.
In this respect, John McLenan's illustration of the same general textual moment, "Hold me! I'm so frightened!" is quite misleading and incorrect in that Trabb's boy in the Harper's Weekly episode for 6 April 1861 is a monster of Orlick proportions, a terrifying apparition (albeit, with the blue bag which Dickens mentions several times) that a mature, fashionably-accoutered Pip confronts confidently, and without the least trepidation, in the High Street, presumably in front of the Blue Boar Inn, where Jaggers first saw Pip and initiated the boy's coming into great expectations. In McLenan's plate, Pip is a normative figure with whom readers can identify, not the butt of the joke, as in the text.
Bibliography
Dickens, Charles. Great Expectations. Harper's Weekly: A Journal of Civilization. Il. John McLenan. Vol. V. 6 April 1861: 229.
Dickens, Charles. ("Boz."). Great Expectations. With thirty-four illustrations from original designs by John McLenan. Philadelphia: T. B. Peterson (by agreement with Harper & Bros., New York), 1861.
Dickens, Charles. A Tale of Two Cities and Great Expectations. Boston: Ticknor and Fields, 1867.
Dickens, Charles. Great Expectations. Il. F. A. Fraser. The Household Edition, vol. 6. London: Chapman and Hall, c. 1877.
---

Victorian
Web

Illus-
tration

Great
Expectations

Sol
Eytinge

Next
Last modified 4 October 2011