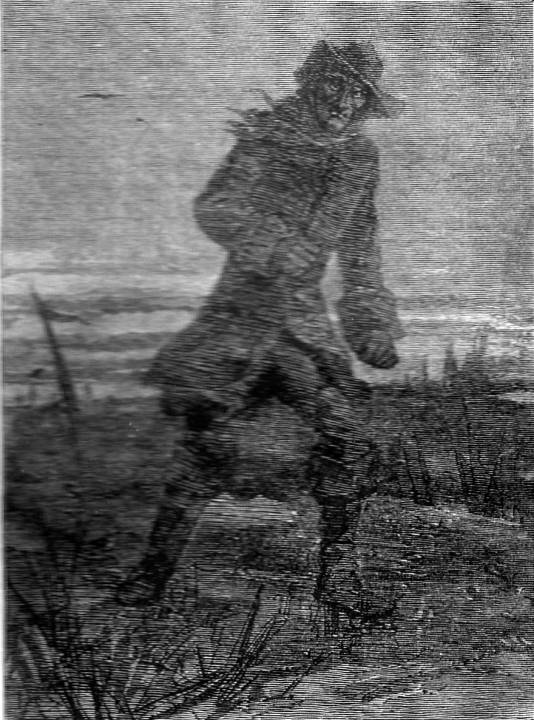 Old Rudge
Sol Eytinge
Wood engraving, approximately 10.1 cm high by 7.5 cm wide (framed), facing p. 82.
Fourth illustration for Dickens's Barnaby Rudge in the single volume Barnaby Rudge and Hard Times in the Ticknor & Fields (Boston, 1867) Diamond Edition.
Scanned image and text by Philip V. Allingham.
[You may use these images without prior permission for any scholarly or educational purpose as long as you (1) credit the photographer and (2) link your document to this URL in a web document or cite the Victorian Web in a print one.]
Having disappeared from the vicinity of the Maypole and the Warren the day after the murder of Reuben Haredale years before, Old Rudge has led a furtive, underworld existence in the meaner streets of the metropolis, occasionally dropping by his wife's shop to extort food and coins from her. In this night scene reminiscent of Phiz's dark plates for Bleak House (1852-53) Eytinge communicates his subject's shiftless, outlaw lifestyle:
Among all the dangerous characters who, in such a state of society, prowled and skulked in the metropolis at night, there was one man from whom many as uncouth and fierce as he, shrunk with an involuntary dread. Who he was, or whence he came, was a question often asked, but which none could answer. His name was unknown, he had never been seen until within about eight days or thereabouts, and was equally a stranger to the old ruffians, upon whose haunts he ventured fearlessly, as to the young. He could be no spy, for he never removed his slouched hat to look about him, entered into conversation with no man, heeded nothing that passed, listened to no discourse, regarded nobody that came or went. But so surely as the dead of night set in, so surely this man was in the midst of the loose concourse in the night-cellar where outcasts of every grade resorted; and there he sat till morning.
He was not only a spectre at their licentious feasts; a something in the midst of their revelry and riot that chilled and haunted them; but out of doors he was the same. Directly it was dark, he was abroad — never in company with any one, but always alone; never lingering or loitering, but always walking swiftly; and looking (so they said who had seen him) over his shoulder from time to time, and as he did so quickening his pace. In the fields, the lanes, the roads, in all quarters of the town — east, west, north, and south — that man was seen gliding on like a shadow. He was always hurrying away. Those who encountered him, saw him steal past, caught sight of the backward glance, and so lost him in the darkness.
This constant restlessness, and flitting to and fro, gave rise to strange stories. He was seen in such distant and remote places, at times so nearly tallying with each other, that some doubted whether there were not two of them, or more — some, whether he had not unearthly means of travelling from spot to spot. The footpad hiding in a ditch had marked him passing like a ghost along its brink; the vagrant had met him on the dark high-road; the beggar had seen him pause upon the bridge to look down at the water, and then sweep on again; they who dealt in bodies with the surgeons could swear he slept in churchyards, and that they had beheld him glide away among the tombs on their approach. And as they told these stories to each other, one who had looked about him would pull his neighbour by the sleeve, and there he would be among them. [Ch. 16, p. 82-83]
In Eytinge's illustration, dimly perceived in the background, weeds such as those that grow on the banks of the Thames frame the striding figure, his determination suggested by his clenched hands and singular gaze riveting the viewer. Eytinge has depicted him in period costume, notably in topboots. The fragmentary scarf blows in the wind, suggesting the speed with which the fugitive moves. Eventually, Geoffrey Haredale (the murdered man's brother) apprehends Old Barnaby Rudge, formerly steward to the Haredales, for Reuben's murder, and the ruffian is imprisoned at Newgate and hanged.
Bibliography
Bentley, Nicolas, Michael Slater, and Nina Burgis. The Dickens Index. Oxford and New York: Oxford U. P., 1988.
Davis, Paul. Charles Dickens A to Z: The Essential Reference to His Life and Work. New York: Checkmark and Facts On File, 1998.
Dickens, Charles. Barnaby Rudge and Hard Times. Il. Sol Eytinge, Jr. Boston: Ticknor and Fields, 1867.
---

Victorian
Web

Illus-
tration

Barnaby
Rudge

Sol
Eytinge

Next
Last modified 31 October 2011