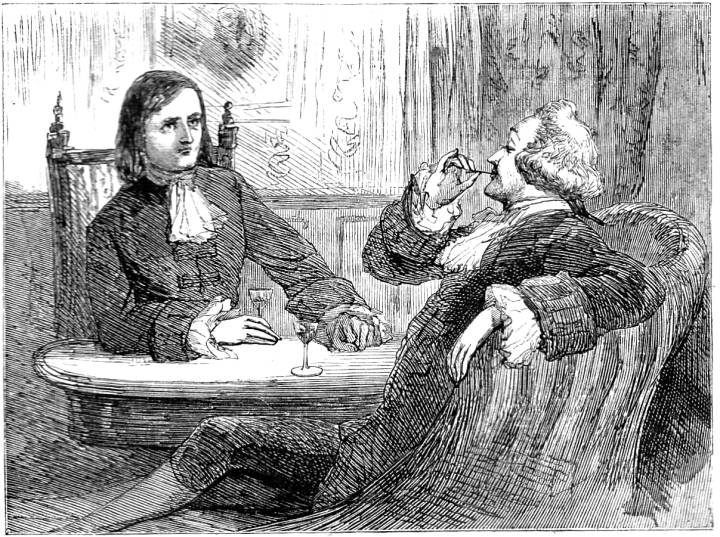 "Edward and Mr. Chester," the seventh full-page illustration for the volume by Sol Eytinge, Jr. 7.4 cm high by 10 cm wide. The Diamond Edition of Dickens's Barnaby Rudge and Hard Times (Boston: Ticknor and Fields, 1867). Scanned image and text by Philip V. Allingham. [You may use these images without prior permission for any scholarly or educational purpose as long as you (1) credit the photographer and (2) link your document to this URL in a web document or cite the Victorian Web in a print one.]
Just after the after-dinner moment realised, Edward reveals his love for Emma Haredale, and is disowned by his mercenary parent. Eytinge captures by their contrasting postures and facial expressions the very different natures of the father and the son, while conveying a sense of Mr. Chester's affluence and love of creature comforts through the furnishings of the apartment, and the rich textures of the fabrics of the upholstered divan and the owner's fashionable suit. This, then, is the moment Eytinge has chosen to realise:
Edward was reserved and silent. Mr Chester was more than usually gay; but not caring, as it seemed, to open a conversation with one whose humour was so different, he vented the lightness of his spirit in smiles and sparkling looks, and made no effort to awaken his attention. So they remained for some time: the father lying on a sofa with his accustomed air of graceful negligence; the son seated opposite to him with downcast eyes, busied, it was plain, with painful and uneasy thoughts.
"My dear Edward," said Mr. Chester at length, with a most engaging laugh, "do not extend your drowsy influence to the decanter. Suffer that to circulate, let your spirits be never so stagnant."
Edward begged his pardon, passed it, and relapsed into his former state.
"You do wrong not to fill your glass," said Mr. Chester, holding up his own before the light. "Wine in moderation — not in excess, for that makes men ugly — has a thousand pleasant influences. It brightens the eye, improves the voice, imparts a new vivacity to one's thoughts and conversation: you should try it, Ned."
"Ah, father!" cried his son, "if —"
"My good fellow," interposed the parent hastily, as he set down his glass, and raised his eyebrows with a startled and horrified expression, "for Heaven's sake don't call me by that obsolete and ancient name. Have some regard for delicacy. Am I grey, or wrinkled, do I go on crutches, have I lost my teeth, that you adopt such a mode of address? Good God, how very coarse!"
"I was about to speak to you from my heart, sir," returned Edward, 'in the confidence which should subsist between us; and you check me in the outset."
"Now do, Ned, do not,"said Mr. Chester, raising his delicate hand imploringly, "talk in that monstrous manner. About to speak from your heart. Don't you know that the heart is an ingenious part of our formation — the centre of the blood-vessels and all that sort of thing — which has no more to do with what you say or think, than your knees have? How can you be so very vulgar and absurd? These anatomical allusions should be left to gentlemen of the medical profession. They are really not agreeable in society. You quite surprise me, Ned."
"Well! there are no such things to wound, or heal, or have regard for. I know your creed, sir, and will say no more," returned his son.
"There again," said Mr. Chester, sipping his wine, "you are wrong. I distinctly say there are such things. We know there are. The hearts of animals — of bullocks, sheep, and so forth — are cooked and devoured, as I am told, by the lower classes, with a vast deal of relish. Men are sometimes stabbed to the heart, shot to the heart; but as to speaking from the heart, or to the heart, or being warm- hearted, or cold-hearted, or broken-hearted, or being all heart, or having no heart — pah! these things are nonsense, Ned." [149-150]
Bibliography
Bentley, Nicolas, Michael Slater, and Nina Burgis. The Dickens Index. Oxford and New York: Oxford U. P., 1988.
Davis, Paul. Charles Dickens A to Z: The Essential Reference to His Life and Work. New York: Checkmark and Facts On File, 1998.
Dickens, Charles. Barnaby Rudge and Hard Times. Il. Sol Eytinge, Junior. Boston: Ticknor and Fields, 1867.
---
Last modified 12 November 2011