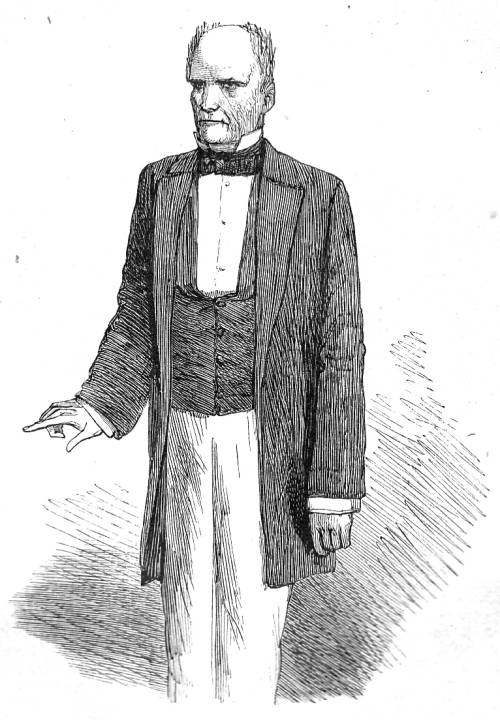 Thomas Gradgrind
Sol Eytinge
1867
Wood engraving
Approximately 10 cm high by 7.5 cm wide (framed), f
First illustration for Dickens's Hard Times in the Ticknor & Fields single volume Barnaby Rudge and Hard Times Diamond Edition, facing p. 375.
Scanned image and text by Philip V. Allingham.
[You may use these images without prior permission for any scholarly or educational purpose as long as you (1) credit the photographer and (2) link your document to this URL in a web document or cite the Victorian Web in a print one.]
Moreover, Eytinge's work bears little resemblance to that of the other Household Edition illustrator, Harry French, who produced a much more naturalistic series of woodcuts for the much larger Household Edition of the novel published by Chapman and Hall.
Eytinge in depicting Thomas Gradgrind, Senior, with square head and shoulders (but notably without the nobs on the balding pate) clearly had in mind Dickens's opening textual description on page 375, which this initial illustration faces. In the single volume containing both Barnaby Rudge and Hard Times, Eytinge's study of the Utilitarian Gradgrind constitutes something of a frontispiece, despite its location in the middle of book. The woodcut illustrates the following: [Commentary continues below.]
"NOW, what I want is, Facts. Teach these boys and girls nothing but Facts. Facts alone are wanted in life. Plant nothing else, and root out everything else. You can only form the minds of reasoning animals upon Facts: nothing else will ever be of any service to them. This is the principle on which I bring up my own children, and this is the principle on which I bring up these children. Stick to Facts, sir!"
The scene was a plain, bare, monotonous vault of a schoolroom, and the speaker's square forefinger emphasized his observations by underscoring every sentence with a line on the schoolmaster's sleeve. The emphasis was helped by the speaker's square wall of a forehead, which had his eyebrows for its base, while his eyes found commodious cellarage in two dark caves, overshadowed by the wall. The emphasis was helped by the speaker's mouth, which was wide, thin, and hard set. The emphasis was helped by the speaker's voice, which was inflexible, dry, and dictatorial. The emphasis was helped by the speaker's hair, which bristled on the skirts of his bald head, a plantation of firs to keep the wind from its shining surface, all covered with knobs, like the crust of a plum pie, as if the head had scarcely warehouse-room for the hard facts stored inside. The speaker's obstinate carriage, square coat, square legs, square shoulders, — nay, his very neckcloth, trained to take him by the throat with an unaccommodating grasp, like a stubborn fact, as it was, — all helped the emphasis. [chapter one, p. 375]
THOMAS GRADGRIND, sir. A man of realities. A man of facts and calculations. A man who proceeds upon the principle that two and two are four, and nothing over, and who is not to be talked into allowing for anything over. Thomas Gradgrind, sir — peremptorily Thomas — Thomas Gradgrind. With a rule and a pair of scales, and the multiplication table always in his pocket, sir, ready to weigh and measure any parcel of human nature, and tell you exactly what it comes to. It is a mere question of figures, a case of simple arithmetic. You might hope to get some other nonsensical belief into the head of George Gradgrind, or Augustus Gradgrind, or John Gradgrind, or Joseph Gradgrind (all supposititious, non-existent persons), but into the head of Thomas Gradgrind — no, sir! [chapter two, p. 375-376]
Other artists who illustrated this work
Bibliography
Bentley, Nicolas, Michael Slater, and Nina Burgis. The Dickens Index. Oxford and New York: Oxford U. P., 1988.
Davis, Paul. Charles Dickens A to Z: The Essential Reference to His Life and Work. New York: Checkmark and Facts On File, 1998.
Dickens, Charles. Barnaby Rudge and Hard Times. Il. Sol Eytinge, Jr. Boston: Ticknor and Fields, 1867.
---

Victorian
Web

Illus-
tration

Hard
Times

Sol
Eytinge

Next
Last modified 26 November 2011