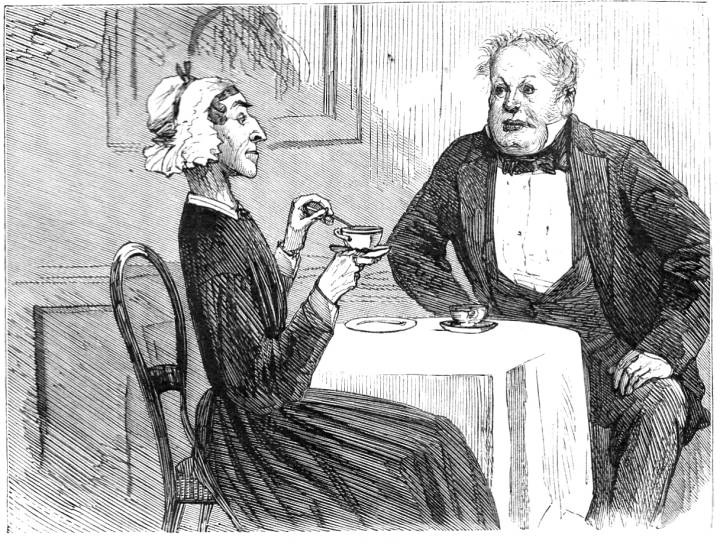 "Mr. Bounderby and Mrs. Sparsit," the third full-page illustration for the volume by Sol Eytinge, Jr. 7.4 cm high by 9.9 cm wide. The Diamond Edition of Dickens's Barnaby Rudge and Hard Times (Boston: Ticknor and Fields, 1867). Scanned image and text by Philip V. Allingham. [You may use this image without prior permission for any scholarly or educational purpose as long as you (1) credit the person who scanned the image and (2) link your document to this URL in a web document or cite the Victorian Web in a print one.]
The Household Edition illustrators of Hard Times , C. S. Reinhart and Harry French subsequently both offered readers on either side of the Atlantic telling studies of these characters, but Library Edition illustrator Fred Walker, with only four opportunities for visual commentary, did not deal with Mrs. Sparsit at all. The moment realised by Eytinge in the seventh chapter, utilising material on Bounderby from chapter four, is this:
MR. BOUNDERBY being a bachelor, an elderly lady presided over his establishment, in consideration of a certain annual stipend. Mrs. Sparsit was this lady's name; and she was a prominent figure in attendance on Mr. Bounderby's car, as it rolled along in triumph with the Bully of humility inside. . . . [395]
If Bounderby had been a Conqueror, and Mrs. Sparsit a captive Princess whom he took about as a feature in his state-processions, he could not have made a greater flourish with her than he habitually did. Just as it belonged to his boastfulness to depreciate his own extraction, so it belonged to it to exalt Mrs. Sparsit's. In the measure that he would not allow his own youth to have been attended by a single favourable circumstance, he brightened Mrs. Sparsit's juvenile career with every possible advantage, and showered waggon-loads of early roses all over that lady's path. "And yet, sir," he would say, "how does it turn out after all? Why here she is at a hundred a year (I give her a hundred, which she is pleased to term handsome), keeping the house of Josiah Bounderby of Coketown!" [395-396]
Although the lady of the Coriolanian eyebrows has only just appeared in the text, Eytinge is assuming that the reader will compare his image of the blustering factory-owner, Josiah Bounderby, with that which Dickens gives in ch. 4:
NOT being Mrs. Grundy, who was Mr. Bounderby?
Why, Mr. Bounderby was as near being Mr. Gradgrind's bosom friend, as a man perfectly devoid of sentiment can approach that spiritual relationship towards another man perfectly devoid of sentiment. So near was Mr. Bounderby — or, if the reader should prefer it, so far off.
He was a rich man: banker, merchant, manufacturer, and what not. A big, loud man, with a stare, and a metallic laugh. A man made out of a coarse material, which seemed to have been stretched to make so much of him. A man with a great puffed head and forehead, swelled veins in his temples, and such a strained skin to his face that it seemed to hold his eyes open, and lift his eyebrows up. A man with a pervading appearance on him of being inflated like a balloon, and ready to start. A man who could never sufficiently vaunt himself a self-made man. A man who was always proclaiming, through that brassy speaking-trumpet of a voice of his, his old ignorance and his old poverty. A man who was the Bully of humility. [381]
In light of these passages excerpted from the novel's early chapters, how well has Eytinge captured the essence of these antagonists? The angular, somewhat masculine-visaged Mrs. Sparsit in respectable widow's hat and weeds contrasts her porcine employer in starched shirt front and sober business-suit. In particular, Eytinge emphasises Mrs. Sparsit's sharp chin and nose, which features complement the rounded nose and enormous chin — with neck overflowing the starched collar &mdash of the man who believes himself the synthesis of such British national icons as "the Union-Jack, Magna Carta, [and] John Bull" (396). Indeed, Eytinge has made his "Bully of Humility" a species of John Bull in the garb of a nineteenth-century bourgeois capitalist. Mrs. Sparsit's equanimity is well suggested by her posture, but the illustration does not suggest her witch-like persecution of Louisa that is a necessary component of Dickens's Industrial Age fairy-tale.
Other artists who illustrated this work
Bibliography
Bentley, Nicolas, Michael Slater, and Nina Burgis. The Dickens Index. Oxford and New York: Oxford U. P., 1988.
Davis, Paul. Charles Dickens A to Z: The Essential Reference to His Life and Work. New York: Checkmark and Facts On File, 1998.
Dickens, Charles. Barnaby Rudge and Hard Times. Il. Sol Eytinge, Jr. Boston: Ticknor and Fields, 1867.
---
Last modified 26 November 2011