"Mr. Bailey and Poll Sweedlepipe," the tenth full-page illustration by Sol Eytinge, Jr. 7.5 cm high by 9.7 cm wide. The Diamond Edition of Dickens's The Life and Adventures of Martin Chuzzlewit (Boston: Ticknor and Fields, 1867). Scanned image and text by Philip V. Allingham. [You may use this image without prior permission for any scholarly or educational purpose as long as you (1) credit the person who scanned the image and (2) link your document to this URL in a web document or cite the Victorian Web in a print one.]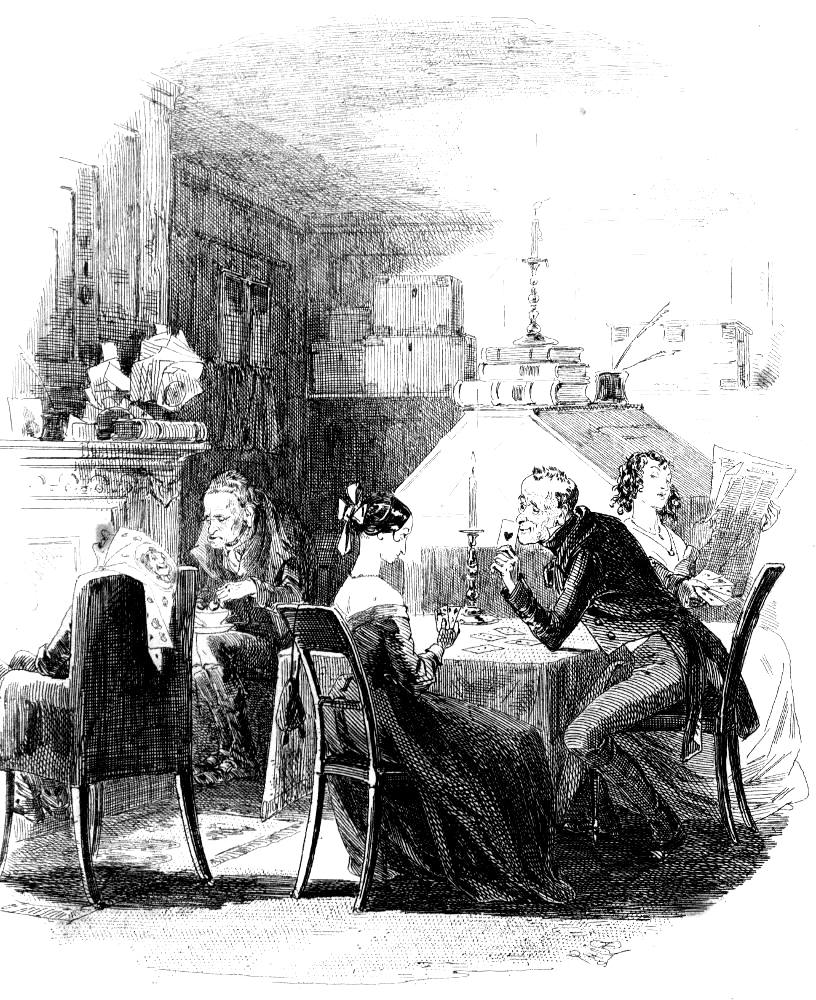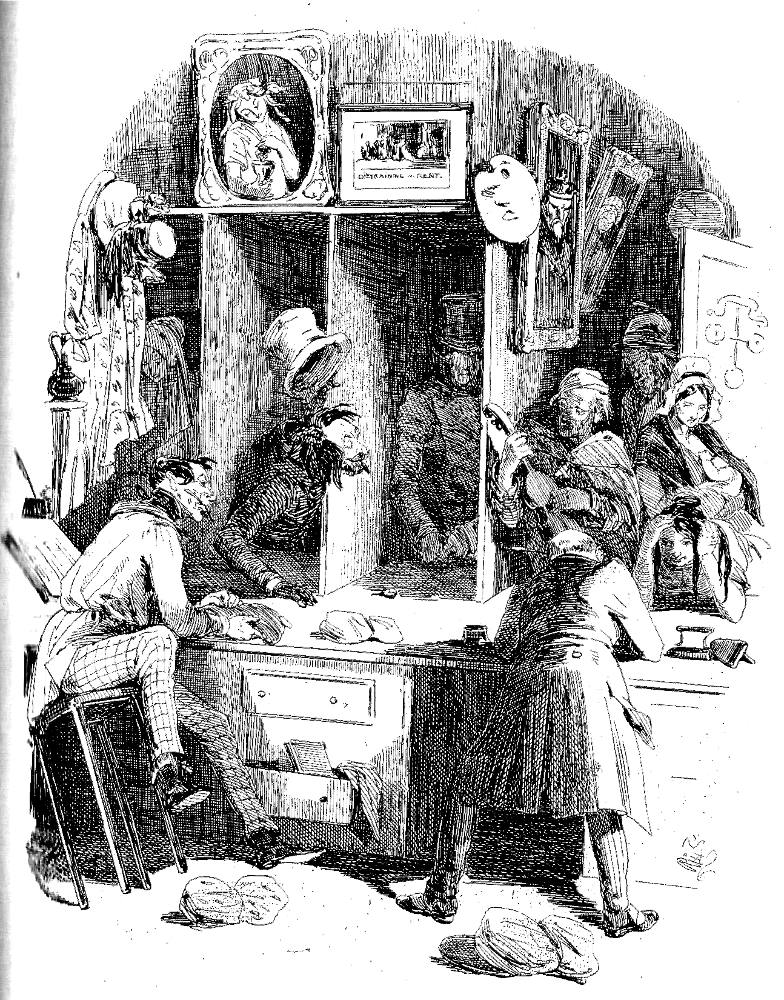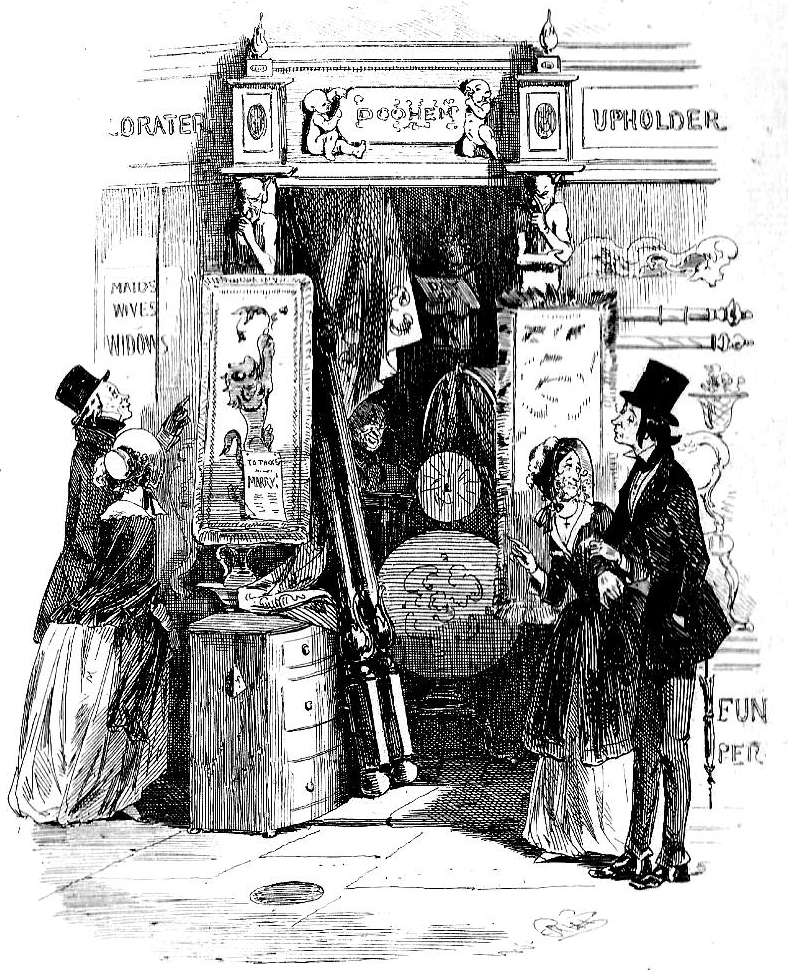 Three illustrations of Master Bailey. Left: "Easy Shaving" by Phiz. Centre: "I say — there's fowls to-morrow — not skinny ones. Oh, no!" by Fred Barnard. Right: "Times is changed, ain't they? I say, how you've growed!" by Fred Barnard. [Click on these images and those below to enlarge them and to obtain additional information.]
Two of the novel's most "Dickensian" — and decidedly odd — characters are the pre-pubescent "Master" Bailey, formerly of Mrs. Todgers's rooming-house near London's Monument to Great Fire of London and latterly in the employ of Chairman Tigg Montague of the Anglo-Bengalee, and barber-cum -bird fancier Poll Sweedlepipe. As the footman's livery that young Bailey wears suggests, has risen in the world, much to his friend Poll's admiration (Fred Barnard's illustration for chapter 8, executed five years later, memorialises Bailey's menial status at the rooming house, and imparts a leering quality to his precociousness as he is clearly trying to win the favour of Peckniff's adolescent daughters, staying at Todgers's with their father). In Barnard's second illustration of Young Bailey, the Household Edition illustrator contrasts Bailey's smart livery, diminutive size, and swagger with Jonas's newly achieved fashionable appearance as a result of his inheriting old Anthony's wealth. Barnard offers no interpretation of Poll Sweedlepipe, however, instead delighting in producing a miniature Sam Weller, supremely self-confident and even cheeky with his superiors.
Enjoying everything about this peculiar but benign character, Sol Eytinge has taken unusual pains to describe the key elements of Poll's shop: his wigs on mannekins' heads, his shaving equipment, and particularly his bird cages. Poll first appears in chapter 26, so that both Phiz and Eytinge have had to conflate a later narrative moment ("Easy Shaving") with Dickens's earlier description of Poll as "a little elderly man, with a clammy, cold right-hand, from which even rabbits and birds could not remove the smell of shaving-soap. Poll had something of a bird in his nature; not of the hawk or the eagle, but of the sparrow. . . . He was not quarrelsome, though, like a sparrow; but peaceful, like the dove. In his walk he strutted: and, in this respect, he bore a faint resemblance to the pigeon" (Diamond Edition, p. 242), a barber whose entire house "was one great bird's nest" (p. 241). Both Phiz and Eytinge show Poll's head inclined to one side, "with his eye cocked knowingly" and bald-headed. Eytinge's study brings out Poll's delicacy and tender-heartedness, as the artist captures Poll's velveteen coat and neckerchief, his barber's apron, but oddly enough not the flannel jacket that he wears when shaving customers in the great chair of his Kingsgate Street shop in the vicinity of Holborn. The precise moment realised would seem to be this:
He happened to have been sharpening his razors, which were lying open in a row, while a huge strop dangled from the wall. Glancing at these preparations, Mr Bailey stroked his chin, and a thought appeared to occur to him.
"Poll," he said, "I ain't as neat as I could wish about the gills. Being here, I may as well have a shave, and get trimmed close."
The barber stood aghast; but Mr Bailey divested himself of his neck-cloth, and sat down in the easy shaving chair with all the dignity and confidence in life. There was no resisting his manner. The evidence of sight and touch became as nothing. His chin was as smooth as a new-laid egg or a scraped Dutch cheese; but Poll Sweedlepipe wouldn't have ventured to deny, on affidavit, that he had the beard of a Jewish rabbi.
Go with the grain, Poll, all round, please," said Mr. Bailey, screwing up his face for the reception of the lather. "You may do wot you like with the bits of whisker. I don't care for 'em."
The meek little barber stood gazing at him with the brush and soap-dish in his hand, stirring them round and round in a ludicrous uncertainty, as if he were disabled by some fascination from beginning. At last he made a dash at Mr Bailey's cheek. Then he stopped again, as if the ghost of a beard had suddenly receded from his touch; but receiving mild encouragement from Mr. Bailey, in the form of an adjuration to "Go in and win," he lathered him bountifully. Mr Bailey smiled through the suds in his satisfaction. "Gently over the stones, Poll. Go a tip-toe over the pimples!"
Poll Sweedlepipe obeyed, and scraped the lather off again with particular care. Mr. Bailey squinted at every successive dab . . . .[Chapter 29; Diamond Edition, p. 266]
Although it misses something of the barber's sheer wonder at his young friend's temerity, the 1867 illustration charmingly captures the essence of the peculiar relationship between the book's oddest characters, the sensitive bird-fancier Paul ("Poll") Sweedlepipe and Benjamin Bailey ("Bailey Junior"), a mutually supportive friendship between a brazen, precocious, and resilient Cockney lad who seems so knowing in the ways of the great city and the refined, delicate, almost reclusive middle-aged barber. As in the text, Poll stirs the lather round and round in the cup while the client presents his cherubic cheek and chin, and offers advice as to how best to proceed. Bailey's crisp top hat sits on the counter by the window. Bailey in Eytinge's treatment is more child-like and less of a cartoon figure than Phiz's figure, who is surrounded in the 1843 engraving by multiple examples of Poll's fascination with birds. A fine touch by Eytinge not seen in Phiz's picture is making the barber's far too large for the boy.
Bibliography
Bentley, Nicolas, Michael Slater, and Nina Burgis. The Dickens Index. Oxford and New York: Oxford U. P., 1988.
Davis, Paul. Charles Dickens A to Z: The Essential Reference to His Life and Work. New York: Checkmark and Facts On File, 1998.
Dickens, Charles. The Life and Adventures of Martin Chuzzlewit (1842-43). Il. Hablot Knight Browne ("Phiz"). London: Chapman and Hall, 1843.
Dickens, Charles. The Life and Adventures of Martin Chuzzlewit. Il. Sol Eytinge, Jr. Engraved by A. V. S. Anthony. The Diamond Edition. Boston: Ticknor and Fields, 1867.
Dickens, Charles. The Life and Adventures of Martin Chuzzlewit. Il. Fred Barnard. Engraved by the Dalziels. The Household Edition. London: Chapman and Hall, 1872.
Hammerton, J. A. The Dickens Picture-Book. London: Educational Book Co., 1910.
Kitton, Frederic G. Dickens and His Illustrators. 1899. Rpt. Honolulu: U. Press of the Pacific, 2004.
Lester, Valerie Browne. Phiz: The Man Who Drew Dickens. London: Chatto and Windus, 2004.
Steig, Michael. Dickens and Phiz. Bloomington & London: Indiana U. P., 1978.
---
Last modified 6 May 2012