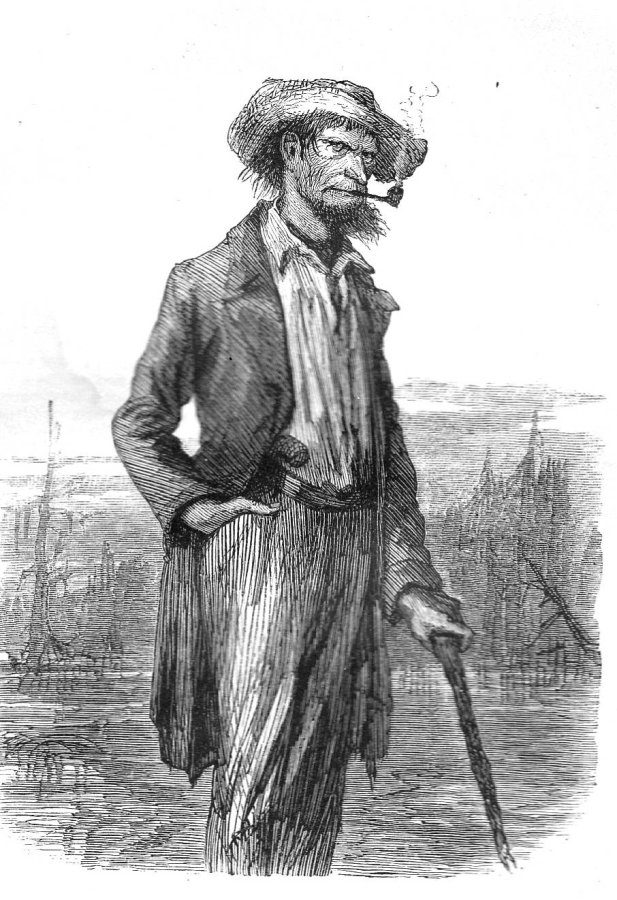 Hannibal Chollop
Sol Eytinge, Jr.
1867
[Click on image to enlarge it.]
Image scan and text by Philip V. Allingham; formatting by George P. Landow.
You may use this image without prior permission for any scholarly or educational purpose as long as you (1) credit the person who scanned the image and (2) link your document to this URL in a web document or cite the Victorian Web in a print one.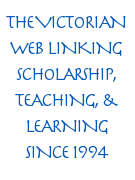 Although Barnard in the next decade chose to depict one of young Martin's more benign American acquaintances, the proprietor of the National Hotel, Captain Kedgick, he seems to have thought many of the most remarkable people in the country too grotesque even for his pen — too hyperbolical or exaggerated for a social realist. Eytinge, a Yankee and moreover an Easterner, must have eyed such denizens of the frontier as the diamond in the rough, Major Hannibal Chollop, with more than a little scorn as the knife-wielding, pistol- packing "Major" is a staunch defender of the institutions of slavery and lynching. By implication contrasting this American original with the New England sophisticate Mr. Bevan, Dickens paints an extensive portrait of the raw frontiersman in chapter 33, when he visits Mark and Martin at their cabin in the swamp of Eden on the shores of the Mississippi:
"There's one good thing in this place, sir," said Mr. Tapley, scrubbing away at the linen, "as disposes me to be jolly; and that is that it's a reg'lar little United States in itself. There's two or three American settlers left; and they coolly comes over one, even here, sir, as if it was the wholesomest and loveliest spot in the world. But they're like the cock that went and hid himself to save his life, and was found out by the noise he made. They can't help crowing. They was born to do it, and do it they must, whatever comes of it."
Glancing from his work out at the door as he said these words, Mark's eyes encountered a lean person in a blue frock and a straw hat, with a short black pipe in his mouth, and a great hickory stick studded all over with knots, in his hand; who smoking and chewing as he came along, and spitting frequently, recorded his progress by a train of decomposed tobacco on the ground. "Here's one on 'em," cried Mark, "Hannibal Chollop."
"Don't let him in," said Martin, feebly.
"He won't want any letting in," replied Mark. "He'll come in, sir." Which turned out to be quite true, for he did. His face was almost as hard and knobby as his stick; and so were his hands. His head was like an old black hearth-broom. He sat down on the chest with his hat on; and crossing his legs and looking up at Mark, said, without removing his pipe, —
"Well, Mr. Co.! and how do you git along, sir?"
It may be necessary to observe that Mr. Tapley had gravely introduced himself to all strangers, by that name.
"Pretty well, sir; pretty well," said Mark.
"If this ain't Mr. Chuzzlewit, ain't it!" exclaimed the visitor. "How do you git along, sir?"
Martin shook his head, and drew the blanket over it involuntarily; for he felt that Hannibal was going to spit; and his eye, as the song says, was upon him.
"You need not regard me, sir," observed Mr. Chollop, complacently. "I am fever-proof, and likewise agur."
"Mine was a more selfish motive," said Martin, looking out again. "I was afraid you were going to —"
"I can calc'late my distance, sir," returned Mr. Chollop, "to an inch."
With a proof of which happy faculty he immediately favoured him. "I re-quire, sir," said Hannibal, "two foot clear in a circ'lar di-rection, and can engage my-self toe keep within it. I have gone ten foot, in a circ'lar di-rection, but that was for a wager."
"I hope you won it, sir," said Mark. "Well, sir, I realised the stakes," said Chollop. "Yes, sir."
He was silent for a time, during which he was actively engaged in the formation of a magic circle round the chest on which he sat. When it was completed, he began to talk again.
"How do you like our country, sir?" he inquired, looking at Martin.
"Not at all," was the invalid's reply.
Chollop continued to smoke without the least appearance of emotion, until he felt disposed to speak again. That time at length arriving, he took his pipe from his mouth, and said: —
"I am not surprised to hear you say so. It re-quires An elevation, and A preparation of the intellect. The mind of man must be prepared for Freedom, Mr. Co."
He addressed himself to Mark; because he saw that Martin, who wished him to go, being already half-mad with feverish irritation, which the droning voice of this new horror rendered almost insupportable, had closed his eyes, and turned on his uneasy bed.
"A little bodily preparation wouldn't be amiss, either, would it, sir," said Mark, "in the case of a blessed old swamp like this?"
"Do you con-sider this a swamp, sir?" inquired Chollop gravely.
"Why yes, sir," returned Mark. "I haven't a doubt about it myself."
"The sentiment is quite Europian," said the major, "and does not surprise me; what would your English millions say to such a swamp in England, sir?"
"They'd say it was an uncommon nasty one, I should think, said Mark; "and that they would rather be inoculated for fever in some other way."
Europian!" remarked Chollop, with sardonic pity. "Quite Europian!"
And there he sat. Silent and cool, as if the house were his; smoking away like a factory chimney.
Mr. Chollop was, of course, one of the most remarkable men in the country; but he really was a notorious person besides. He was usually described by his friends, in the South and West, as "a splendid sample of our na-tive raw material, sir," and was much esteemed for his devotion to rational Liberty; for the better propagation whereof he usually carried a brace of revolving pistols in his coat pocket, with seven barrels a-piece. He also carried, amongst other trinkets, a sword-stick, which he called his "Tickler"; and a great knife, which (for he was a man of a pleasant turn of humour) he called "Ripper," in allusion to its usefulness as a means of ventilating the stomach of any adversary in a close contest. He had used these weapons with distinguished effect in several instances, all duly chronicled in the newspapers; and was greatly beloved for the gallant manner in which he had "jobbed out" the eye of one gentleman, as he was in the act of knocking at his own street-door.
Mr. Chollop was a man of a roving disposition; and, in any less advanced community, might have been mistaken for a violent vagabond. But his fine qualities being perfectly understood and appreciated in those regions where his lot was cast, and where he had many kindred spirits to consort with, he may be regarded as having been born under a fortunate star, which is not always the case with a man so much before the age in which he lives. Preferring, with a view to the gratification of his tickling and ripping fancies, to dwell upon the outskirts of society, and in the more remote towns and cities, he was in the habit of emigrating from place to place, and establishing in each some business — usually a newspaper — which he presently sold; for the most part closing the bargain by challenging, stabbing, pistolling, or gouging the new editor, before he had quite taken possession of the property.
He had come to Eden on a speculation of this kind, but had abandoned it, and was about to leave. He always introduced himself to strangers as a worshipper of Freedom; was the consistent advocate of Lynch law, and slavery; and invariably recommended, both in print and speech, the "tarring and feathering" of any unpopular person who differed from himself. He called this "planting the standard of civilization in the wilder gardens of My country."
There is little doubt that Chollop would have planted this standard in Eden at Mark's expense, in return for his plainness of speech (for the genuine Freedom is dumb, save when she vaunts herself), but for the utter desolation and decay prevailing in the settlement, and his own approaching departure from it. As it was, he contented himself with showing Mark one of the revolving-pistols, and asking him what he thought of that weapon.
"It ain't long since I shot a man down with that, sir, in the State of Illinoy," observed Chollop.
"Did you, indeed!" said Mark, without the smallest agitation. "Very free of you. And very independent!"
"I shot him down, sir," pursued Chollop, "for asserting in the Spartan Portico, a tri-weekly journal, that the ancient Athenians went a-head of the present Locofoco Ticket."
"And what's that?" asked Mark. "Europian not to know," said Chollop, smoking placidly. "Europian quite!" [Chapter 33; Diamond Edition p. 299-301]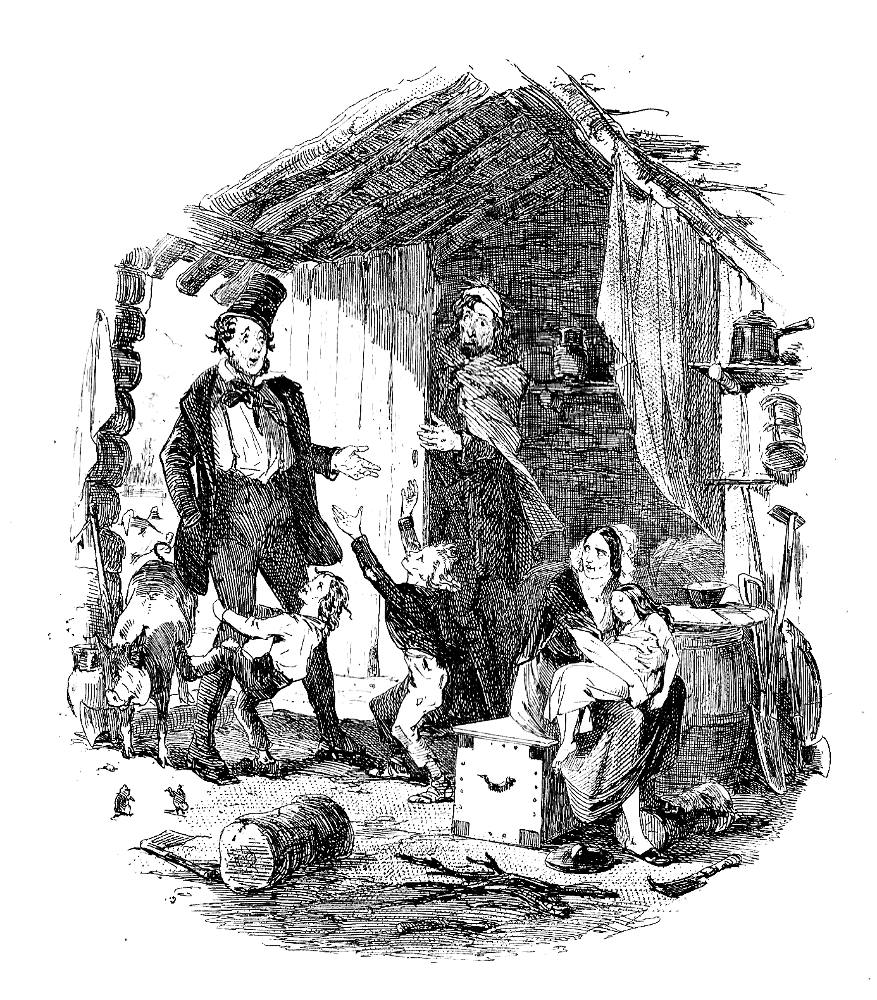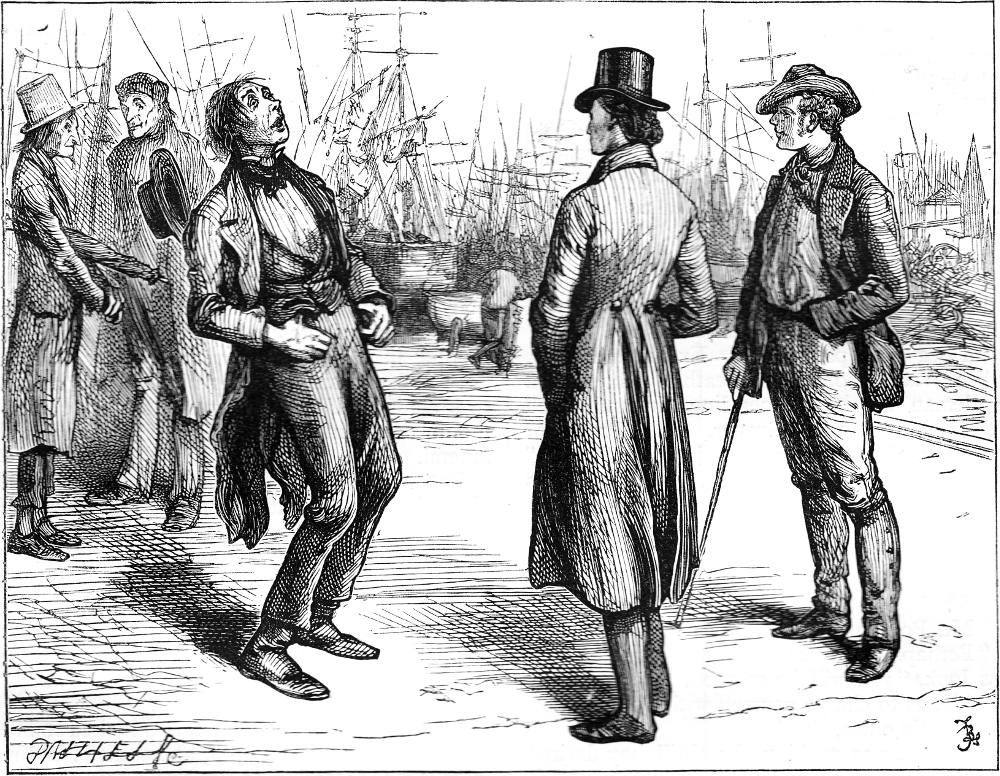 Two illustrations from the American chapters. Left: Phiz's "Mr. Tapley is Recognised by Some Fellow-Citizens of Eden" (January 1844). Right: "Why, what the 'tarnal!" cried the Captain. "Well! I do admire at this, I do!" (Fred Barnard, Chapter 34, the Household Edition).
Appropriately, Phiz neglected such Dickensian whimsies in favour of a scene between the indefatigble Mark and the desperate neighbours laid low by hunger and fever in "Mr. Tapley is Recognised by Some Fellow-Citizens of Eden" (January 1844), maintaining the focus on the moral development of the young Englishmen abroad in a slough of despond. However, reillustrating the novel from a Northerner's perspective just after the conclusion of the Civil War, Eytinge cannot resist the temptation to pillory Major Chollop and the "smart behaviour" of the western frontier, where "revolving-pistols" serve as the final arbiter of all human disputes. Eytinge has deliberately posed the Major in front of a swamp scene of desolation, for he is a figure in no way connected to the civilisation of the East. Chollop is characterised by his straw hat, corncob pipe, ill-kempt hairstyle and beard, and most significantly by the revolver in his belt and his sword-cane. In the ensuing debate between Old World and New World values which immediately precedes the woodcut of the Major, one cannot resist siding with Martin against the advocate of slavery and enemy of the rule of law.
Bibliography
Bentley, Nicolas, Michael Slater, and Nina Burgis. The Dickens Index. Oxford and New York: Oxford U. P., 1988.
Davis, Paul. Charles Dickens A to Z: The Essential Reference to His Life and Work. New York: Checkmark and Facts On File, 1998.
Dickens, Charles. The Life and Adventures of Martin Chuzzlewit (1842-43). Il. Hablot Knight Browne ("Phiz"). London: Chapman and Hall, 1843.
Dickens, Charles. The Life and Adventures of Martin Chuzzlewit. Il. Sol Eytinge, Jr. Engraved by A. V. S. Anthony. The Diamond Edition. Boston: Ticknor and Fields, 1867.
Dickens, Charles. The Life and Adventures of Martin Chuzzlewit. Il. Fred Barnard. London: Chapman and Hall, 1872.
Hammerton, J. A. The Dickens Picture-Book. London: Educational Book Co., 1910.
Kitton, Frederic G. Dickens and His Illustrators. 1899. Rpt. Honolulu: U. Press of the Pacific, 2004.
Lester, Valerie Browne. Phiz: The Man Who Drew Dickens. London: Chatto and Windus, 2004.
Steig, Michael. Dickens and Phiz. Bloomington & London: Indiana U. P., 1978.
---

Victorian
Web

Illus-
tration

Martin
Chuzzlewit

Sol
Eytinge

Next
Last modified 12 May 2012