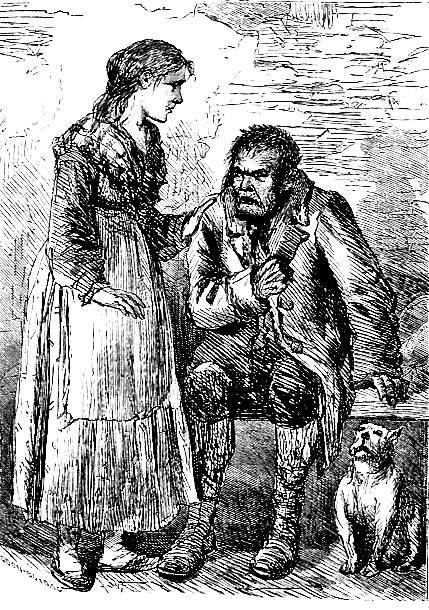 Bill Sikes and Nancy
Sol Eytinge, Jr.
1867
Eytinge does not, like Felix Octavius Carr Darley, depict housebreaker Bill Sikes and his common-law wife, Nancy, in the full vigour of their youth as they bully Oliver on the way to the burglary in Chertsey. Rather, Eytinge shows them both in a severe physical and mental decline after the botched robbery.
Scanned image and text by Philip V. Allingham.
[You may use this image without prior permission for any scholarly or educational purpose as long as you (1) credit the person who scanned the image and (2) link your document to this URL in a web document or cite the Victorian Web in a print one.].
Passage Illustrated
On the evening following that upon which the three worthies mentioned in the last chapter, disposed of their little matter of business as therein narrated, Mr. William Sikes, awakening from a nap, drowsily growled forth an inquiry what time of night it was.
The room in which Mr. Sikes propounded this question, was not one of those he had tenanted, previous to the Chertsey expedition, although it was in the same quarter of the town, and was situated at no great distance from his former lodgings. It was not, in appearance, so desirable a habitation as his old quarters: being a mean and badly-furnished apartment, of very limited size; lighted only by one small window in the shelving roof, and abutting on a close and dirty lane. Nor were there wanting other indications of the good gentleman's having gone down in the world of late: for a great scarcity of furniture, and total absence of comfort, together with the disappearance of all such small moveables as spare clothes and linen, bespoke a state of extreme poverty; while the meagre and attenuated condition of Mr. Sikes himself would have fully confirmed these symptoms, if they had stood in any need of corroboration.
The housebreaker was lying on the bed, wrapped in his white great-coat, by way of dressing-gown, and displaying a set of features in no degree improved by the cadaverous hue of illness, and the addition of a soiled nightcap, and a stiff, black beard of a week's growth. The dog sat at the bedside: now eyeing his master with a wistful look, and now pricking his ears, and uttering a low growl as some noise in the street, or in the lower part of the house, attracted his attention. Seated by the window, busily engaged in patching an old waistcoat which formed a portion of the robber's ordinary dress, was a female: so pale and reduced with watching and privation, that there would have been considerable difficulty in recognising her as the same Nancy who has already figured in this tale, but for the voice in which she replied to Mr. Sikes's question.
"Not long gone seven," said the girl. "How do you feel to-night, Bill?"
"As weak as water," replied Mr. Sikes, with an imprecation on his eyes and limbs. 'Here; lend us a hand, and let me get off this thundering bed anyhow." [Chapter 39, "Introduces some respectable Characters with whom the Reader is already acquainted, and shows how Monks and the Jew laid their worthy Heads together," p. 166-167]
Commentary
Although Dickens's official illustrator for Oliver Twist in the 1837-8 serial, George Cruikshank, depicts the housebreaker Bill Sikes as the sordid, lower-class villain out of contemporary melodrama, the figure whom Felix Octavius Carr Darley describes in his series of Character Sketches from Dickens (1888) is once again much more ​of an individual (despite his characteristic long face and white top hat) than a type. In the chapter 22 illustration which depicts Oliver's being surprised and shot at as soon as he has entered to house that Sikes is attempting to rob, The Burglary, George Cruikshank introduces the notorious housebreaker into the narrative-pictorial sequence in a framed portrait, as Sikes watches the unfolding scene with interest. Effectively rendered, Cruikshank's ruffian is unshaven, unkempt, and full-faced — but the small window through which he peers would prevent him from firing his own weapon on the two servants, let alone haul Oliver out of harm's way by the collar in the text on the page facing the steel-engraving. Selecting an equally dramatic moment in the story, Darley depicts Bill Sikes in action, rather than as a static figure, whereas in the Diamond Edition of 1867, Sol Eytinge in Bill Sikes and Nancy captures the disreputable couple's desperation and despondency. Taking a little more pity on the down-and-out couple, in the Household Edition, realist James Mahoney focuses on Nancy's tenderness for the exhausted Skies, whom she tends as if he were her child — a highly ironic scene, given Sikes's subsequent treatment of the woman whom he believes has betrayed him and Fagin's gang. In the 1910 Charles Dickens Library Edition, Furniss focusses on Nancy's emotional transformation as she becomes distraught at the thought of what Fagin and Monks have in store for Oliver. In the 1910 illustrations she is indeed the proverbial jade with a heart of gold.
Illustrations from the initial serial edition (1837-39), Household Edition (1871), and Charles Dickens Library Edition (1910)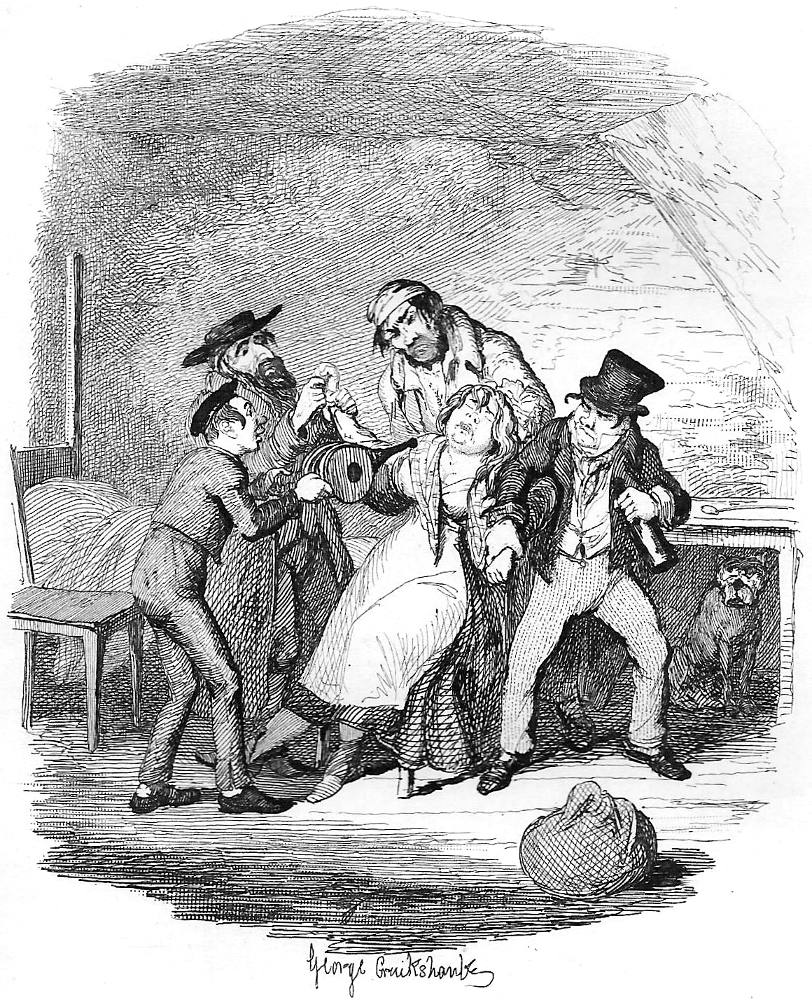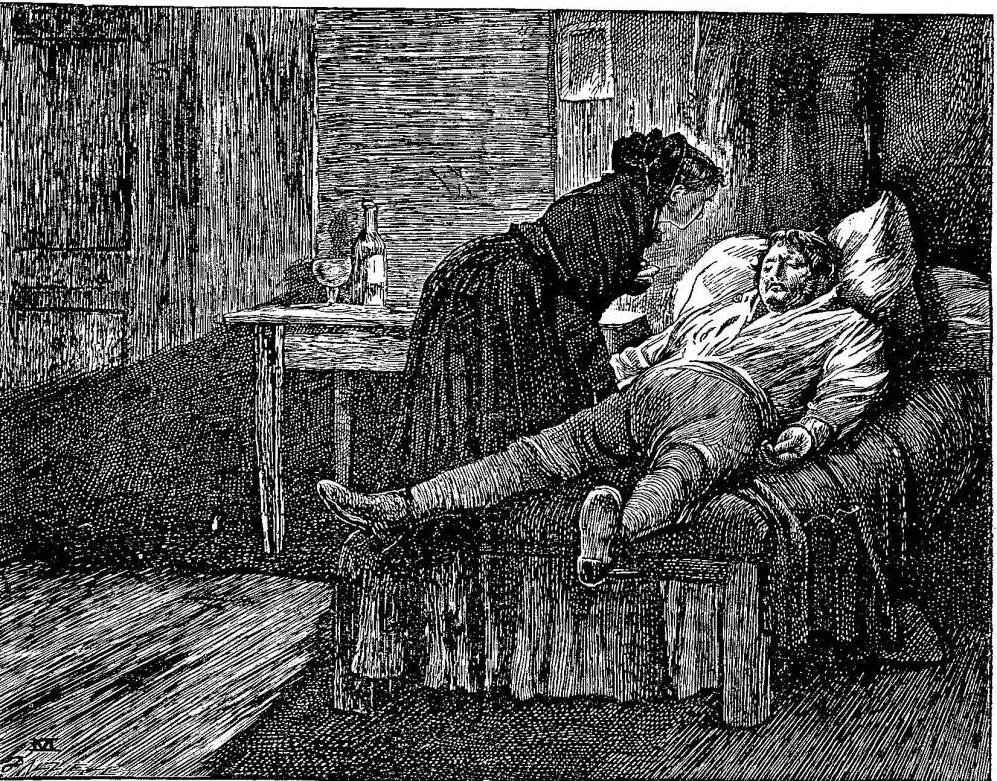 Left: George Cruikshank's Mr. Fagin and his pupils recovering Nancy. Right: James Mahoney's Then, stooping softly over the bed, she kissed the robber's lips. [Click on images to enlarge them.]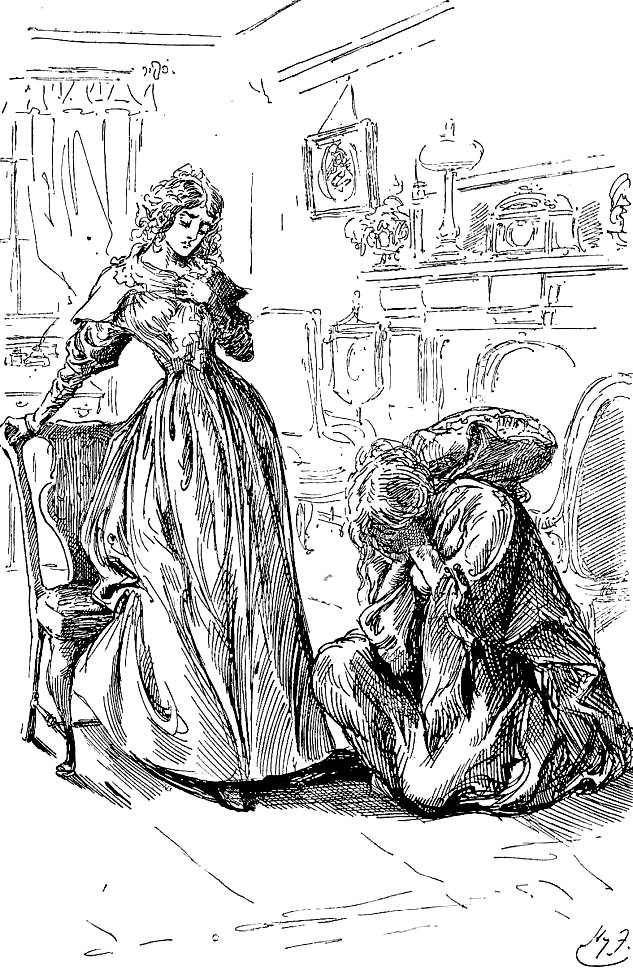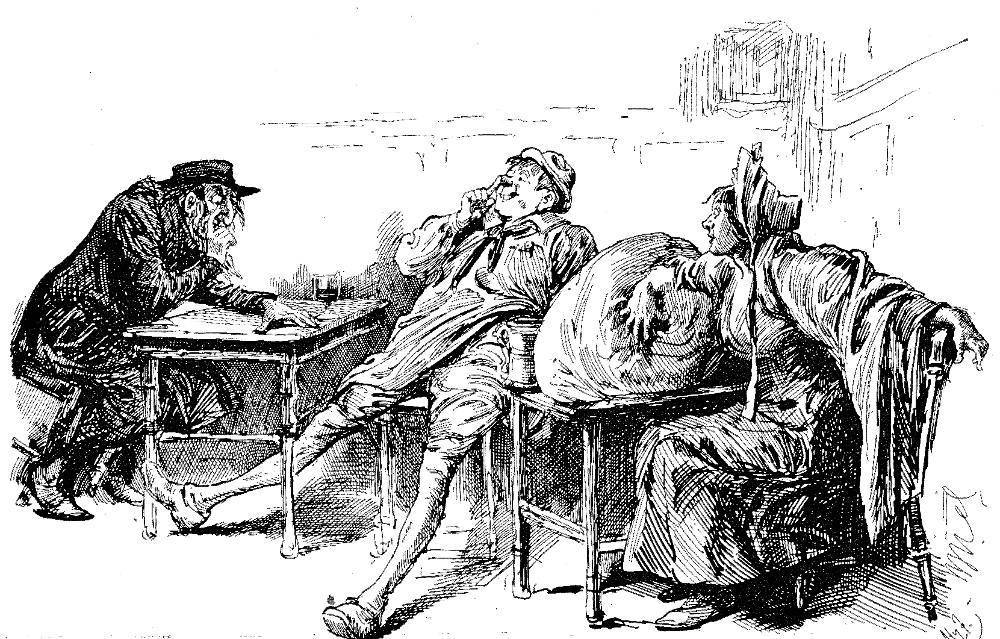 Left: Harry Furniss's "Nancy in Hysterics (1910). Right: Harry Furniss's Rose and Nancy (1910). [Click on images to enlarge them.]
Bibliography
Bentley, Nicolas, Michael Slater, and Nina Burgis. The Dickens Index. New York and Oxford: Oxford U. P., 1990.
Cohen, Jane Rabb. "George Cruikshank." Charles Dickens and His Original Illustrators. Columbus: Ohio State U. P., 1980. Pp. 15-38.
Darley, Felix Octavius Carr. Character Sketches from Dickens. Philadelphia: Porter and Coates, 1888.
Davis, Paul. Charles Dickens A to Z: The Essential Reference to His Life and Work. New York: Facts On File, 1998.
Dickens, Charles. The Adventures of Oliver Twist; or, The Parish Boy's Progress. Il​lustrated by​ ​George Cruikshank. London: Bradbury and Evans;​ ​Chapman and Hall, 1846.
Dickens, Charles. Oliver Twist. Works of Charles Dickens. Household Edition. 55 vols. Il​lustrated by​ ​F. O. C. Darley and John Gilbert. New​ ​York: Sheldon and Co., 1865.
Dickens, Charles. The Adventures of Oliver Twist. Works of Charles Dickens. Diamond Edition. 14 vols. Il​lustrated by​ ​Sol Eytinge, Jr.​ ​Boston: Ticknor and Fields, 1867.
Dickens, Charles. Oliver Twist. . Household Edition. Il​lustrated by ​James Mahoney. London: Chapman and Hall,​ ​1871.
Dickens, Charles. Oliver Twist. The Annotated Dickens. Ed. Edward Guiliano and Philip Collins. New York: Clarkson N. Potter, 1986. Vol. 1. Pp. 534-823.
Dickens, Charles. The Adventures of Oliver Twist. Works of Charles Dickens. Charles Dickens Library Edition. Il​lustrated by​ Harry​ ​Furniss. London: Educational Book Company, 1910. Vol. 3.
Forster, John. "Oliver Twist 1838." The Life of Charles Dickens. Ed. B. W. Matz. The Memorial Edition. 2 vols. Philadelphia: J. B. Lippincott, 1911. Vol. 1, book 2, chapter 3. Pp. 91-99.
Kitton, Frederic G. "George Cruikshank." Dickens and His Illustrators: Cruikshank, Seymour, Buss, "Phiz," Cattermole, Leech, Doyle, Stanfield, Maclise, Tenniel, Frank Stone, Topham, Marcus Stone, and Luke Fildes. 1899. Rpt. Honolulu: U. Press of the Pacific, 2004. Pp. 1-28.
---

Victorian
Web

Illus-
tration

Oliver
Twist

Sol
Eytinge

Next
Last modified 20 October 2014