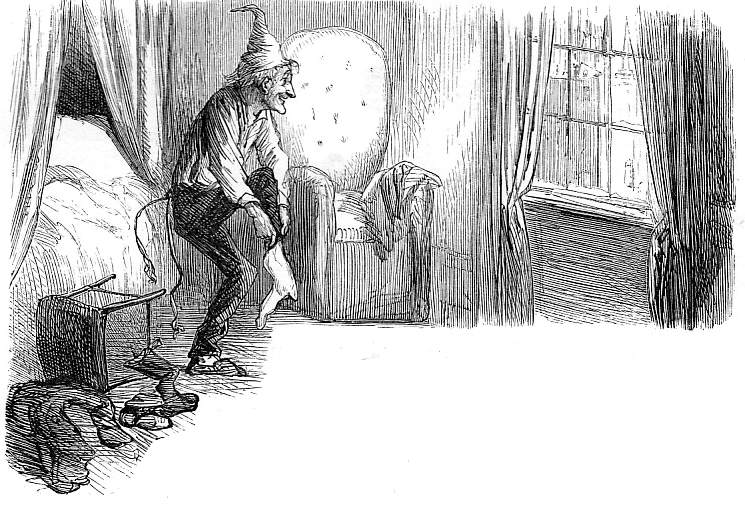 ""Scrooge Awakes," vignette for "Stave 5. The End of It" by Sol Eytinge, Jr., 6.5 cm high by 9.2 cm wide. The fifth vignette for the Diamond Edition of Dickens's A Christmas Carol in Prose: being a ghost story of Christmas (Boston: Ticknor and Fields, 1869), top, page 103. Scanned image and text by Philip V. Allingham. [You may use this image without prior permission for any scholarly or educational purpose as long as you (1) credit the person who scanned the image and (2) link your document to this URL.]
"I don't know what to do!" cried Scrooge, laughing and crying in the same breath; and making a perfect Laocoon of himself with his stockings. "I am as light as a feather, I am as happy as an angel, I am as merry as a school-boy. I am as giddy as a drunken man. A merry Christmas to everybody! A happy New Year to all the world. Hallo here! Whoop! Hallo!" [Stave 5, "The End of It"]
The large chair outlines Scrooge's profile as if it were the newly risen sun, and Scrooge, limber and smiling, seems utterly rejuvenated. Eytinge, having read the text carefully here, does not have Scrooge shout his seasonal greetings out the window.
Bibliography
Dickens, Charles. A Christmas Carol in Prose: being a ghost story of Christmas, il. Sol Eytinge, Junior. The Diamond Edition. Boston: Ticknor & Fields, 1869.
Hearne, Michael Patrick, ed. The Annotated Christmas Carol. New York: Avenel, 1989.
---
Last modified 3 January 2011