[Victorian Web Home —> Visual Arts —> Illustration —> Sir Luke Fildes —> Next]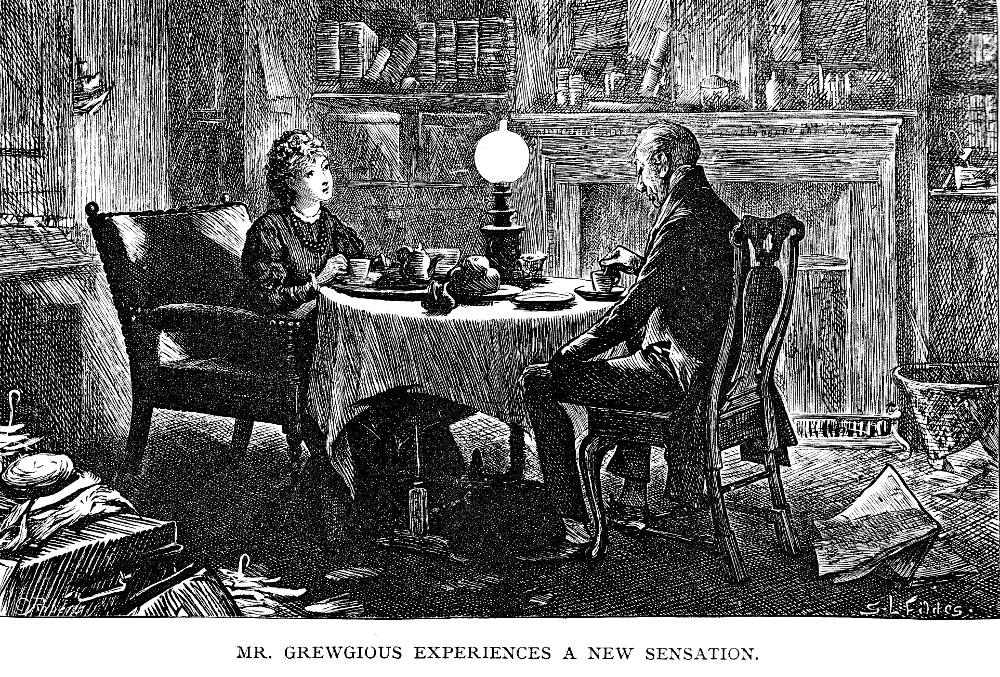 Mr. Grewgious Experiences a New Sensation" by Sir Luke Fildes. Facing page 197. 16.4 cm wide by 10 cm high, vertically mounted.
Scanned image and text by Philip V. Allingham. [You may use this image without prior permission for any scholarly or educational purpose as long as you (1) credit the person who scanned the image and (2) link your document to this URL in a web document or cite the Victorian Web in a print one.]
The sensation that Mr. Grewgious is a mixture of gallantry and attraction, the catalyst for these extraordinary feelings in the mind and heart of a confirmed old bachelor being Miss Rosa Bud. With the tranquil, solicitous bachelor in his rooms she seems far more at ease than in the previous, outdoor scene with the importunate John Jasper. She does not touch any of the mixed repast that her host has spread before her, settling for a cup of tea. He has just placed a lamp on the table, but the room is still dimly lit, as in the text, but Rosa's bag is not evident. The relative positions of the figures suggest that the textual moment captured is, "'what a new sensation for a poor old Angular bachelor, to be sure!" (p. 197). Fildes chose this scene for illustration rather than, as Dickens had apparently proposed, "the meeting between Mr Crisparkle and Lieu Tartar, Ch. 21" (see Graham Storey's note, Letters 12, 514). Jane R. Cohen has pronounced Fildes' choosing this sentimental scene "dramatically questionable though appealing" (226).
The threat against Helena's brother and Rosa's conviction that, in order to possess her, John Jasper is prepared to act upon his threat of judicial murder to eliminate yet another rival, drive Rose to seek the assistance of her guardian in London. The "new sensation" mentioned in the caption is not merely the old lawyer's having to provide the chivalric defense of a maiden in distress, but also the refreshing experience of having to entertain a surrogate daughter in his drab lodgings which double as his office:
Concerning . . . "Mr. Grewgious Experiences a New Sensation," it may be mentioned that not only was this cosy interior actually drawn from a room in Staple Inn, but that the original of the capacious arm-chair in which Rosa is seated still remains in the artist's possession, it being almost the sole survivor of the furnishing items which formed part of his bachelor establishment. [Kitton, 1899, p. 212]
In the dimly lit background, Fildes has sketched in eight very large legal tomes and assorted smaller books on a sideboard and mantelpiece. A recent newspaper lies in sections behind Grewgious's chair, as if suddenly cast aside upon Rosa's unexpected arrival. More accustomed to reading rather than entertaining, Grewgious apparently possesses only one dining chair (on which he sits in Fildes' illustration); as the guest of honour, he has allotted Rosa the easy-chair. At the left, we note salvers on a trolly brought across the way.
This is the second scene in which we have encountered Mr. Grewgious; again, he is in shadow, his face in profile, unbroken by a smile. In both plates he stands before a fireplace, as if, despite his self-professed "angularity" and his formal attire, he represents domestic comfort and security. For her part, "much relieved," Rosa exudes an air of confidence in the elderly attorney, betraying in Fildes' plate no sign of the agitation that he compelled her to travel to London by herself to seek his assistance, counsel, and protection from John Jasper. Her slight look of curiosity may suggest that Grewgious is now in the midst of recounting the tale of Bazzard's frustrated desire to become a produced tragedian.
Bibliography
Cohen, Jane R. "Chapter 18: Luke Fildes." Charles Dickens and His Original Illustrators. Columbus: Ohio State U. P., 1980. Pp. 221-234.
Dickens, Charles. The Letters of Charles Dickens, ed. Graham Storey. Oxford: Clarendon, 2002. Vol. 12 (1868-70).
_____. The Mystery of Edwin Drood and Other Stories. With Illustrations [by Sir Luke Fildes, R. A.] London: Chapman and Hall Limited, 193, Piccadilly. 1880.
Kitton, Frederic G. Dickens and His Illustrators: Cruikshank, Seymour, Buss, "Phiz," Cattermole, Leech, Doyle, Stanfield, Maclise, Tenniel, Frank Stone, Landseer, Palmer, Topham, Marcus Stone, and Luke Fildes. Amsterdam: S. Emmering, 1972. Re-print of the London 1899 edition. PP. 207-17
---
Last modified 9 May 2005