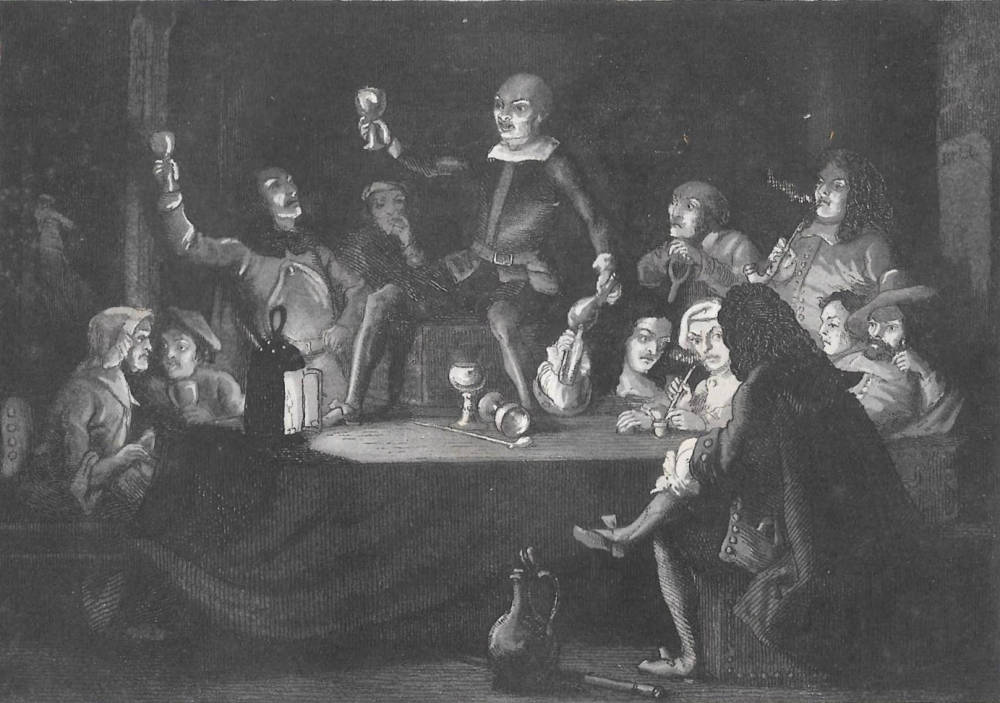 The Coffin Maker's Carousal. Artist: John Franklin. Drawn and engraved by Franklin, 1841, reprinted 1847. Steel-plate etching, 3.75 by 5.5 inches (9.2 cm high by 14 cm wide). Initial illustration for W. H. Ainsworth's historical romance, Old St. Paul's: A Tale of the Plague and the Fire (London: Parry, Blenkharn & Co., 1847): Book the First, "April, 1665," Chapter II, "The Coffin-Maker," facing p. 25. The nightmarish scene establishes the chaos that descends upon English society with this last, greatest visitation of the bubonic plague. In 1847, Phiz interpreted the very same scene of the coffin-maker's unbridled entertainment in a caricatural style, injecting a note of grim humour into what for Franklin had been a dark plate. In the 1841 original, the illustrator has employed extreme Baroque chiaroscuro to highlight the mask-like visages of revellers, and to accentuate the bizarre figure and face of their peculiar leader, the grotesque host who leads the chorus of the "Song of The Plague."
Scanned image by Simon Cooke, color correction and sizing by George P. Landow. Caption and commentary by Philip V. Allingham. You may use this image without prior permission for any scholarly or educational purpose as long as you (1) credit the person who scanned the image and (2) link your document to this URL in a web document or cite the Victorian Web in a print one.
Passage Illustrated: "Drink the Plague!"
Song of The Plague
I.
To others the Plague a foe may be, To me 'tis a friend — not an enemy; My coffins and coffers alike it fills, And the richer I grow the more it kills. Drink the Plague! Drink the Plague!
II.
For months, for years, may it spend its rage On lusty manhood and trembling age; Though half mankind of the scourge should die, My coffins will sell — so what care I? Drink the Plague! Drink the Plague!
Loud acclamations followed the song, and the doctor, who was filled with disgust and astonishment, opened the door. He absolutely recoiled at the scene presented to his gaze. In the midst of a large room, the sides of which were crowded with coffins, piled to the very ceiling, sat about a dozen personages, with pipes in their mouths, and flasks and glasses before them. Their seats were coffins, and their table was a coffin set upon a bier. Perched on a pyramid of coffins, gradually diminishing in size as the pile approached its apex, Chowles was waving a glass in one hand, and a bottle in the other, when the doctor made his appearance.
A more hideous personage cannot be imagined than the coffin-maker. He was clothed in a suit of rusty black, which made his skeleton limbs look yet more lean and cadaverous. His head was perfectly bald, and its yellow skin, divested of any artificial covering, glistened like polished ivory. His throat was long and scraggy, and supported a head unrivalled for ugliness. His nose had been broken in his youth, and was almost compressed flat with his face. His few remaining teeth were yellow and discoloured with large gaps between them. His eyes were bright, and set in deep cavernous recesses, and, now that he was more than half-intoxicated, gleamed with unnatural lustre. The friends by whom he was surrounded were congenial spirits, — searchers, watchmen, buriers, apothecaries, and other wretches, who, like himself, rejoiced in the pestilence, because it was a source of profit to them.
At one corner of the room, with a part-emptied glass before her, and several articles in her lap, which she hastily pocketed on the entrance of the doctor, sat the plague-nurse, Mother Malmayns; and Leonard thought her, if possible, more villainous-looking than her companions. She was a rough, raw-boned woman, with sandy hair and light brows, a sallow, freckled complexion, a nose with wide nostrils, and a large, thick-lipped mouth. She had, moreover, a look of mingled cunning and ferocity inexpressibly revolting. [Book the First — "April, 1665," Chapter Two, "The Coffin Maker," pp. 24-25]
Related Material: Phiz's Frontispiece and Title-page Vignette (1847)
Reference
Ainsworth, William Harrison. Old Saint Paul's: A Tale of the Plague and the Fire. London: Parry, Blenkharn & Co., 1847. This was a one-volume reprint of the three-decker published by Hugh Cunningham in 1841. Routledge re-issued the single volume with the Franklin illustrations prefaced by two additional engravings by Hablot Knight Brown.
---
Last modified 4 November 2018