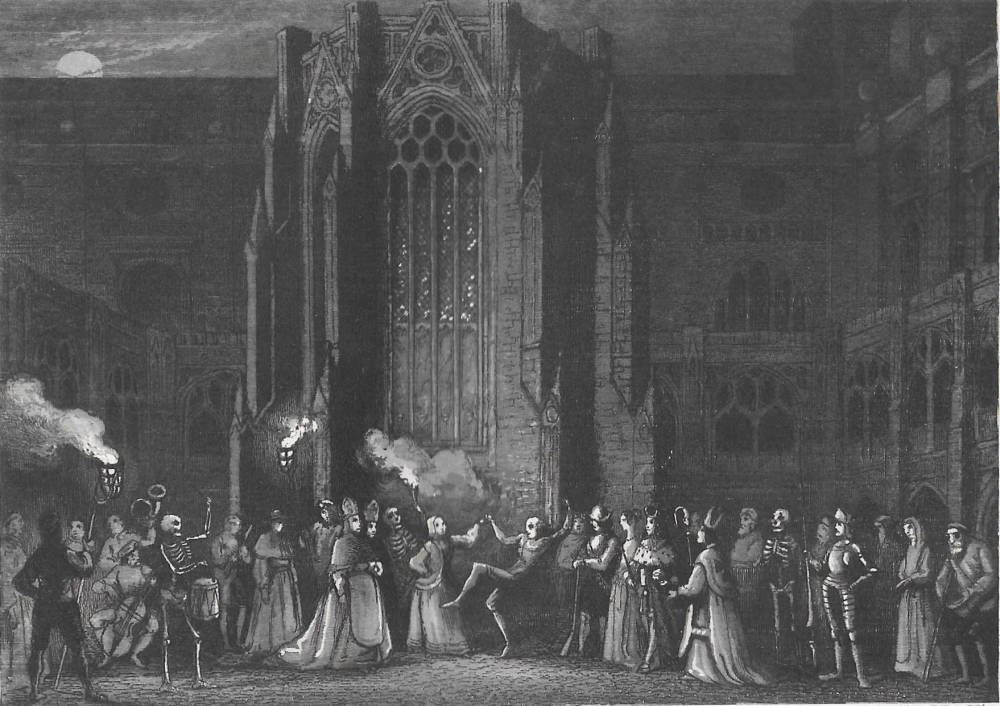 The Dance of Death. Artist: John Franklin. Drawn and engraved by Franklin, 1841, reprinted 1847. Steel-plate etching, 9.9 cm high x 14.1 cm wide. An illustration for W. H. Ainsworth's historical romance, Old St. Paul's: A Tale of the Plague and the Fire (London: Parry, Blenkharn & Co., 1847): facing p. 189 in Book the Third, "June 1665," Chapter III, "The Plague-Pit." Ainsworth initially serialised the novel in The Sunday Times, from 3 January through 26 December 1841 in fifty-one weekly instalments, which Ainsworth almost immediately reconfigured as twelve monthly parts for publication that same year, a pattern more famously adopted by Charles Dickens in 1859 for A Tale of Two Cities (June-December).
Scanned image by Simon Cooke, color correction and sizing by George P. Landow. Caption and commentary by Philip V. Allingham. You may use this image without prior permission for any scholarly or educational purpose as long as you (1) credit the person who scanned the image and (2) link your document to this URL in a web document or cite the Victorian Web in a print one.
Passage Illustrated
As they opened the door and crossed the charnel, such an extraordinary combination of sounds burst upon their ears that they again paused, and looked anxiously at each other. Chowles laid his hand on his companion's arm, and strove to detain her, but she would not be stayed, and he was forced to proceed. Setting down the lamp on the stone floor, Judith passed into the subterranean church, where she beheld a sight that almost petrified her. In the midst of the nave, which was illumined by a blue glimmering light, whence proceeding it was impossible to determine, stood a number of grotesque figures, apparelled in fantastic garbs, and each attended by a skeleton. Some of the latter grisly shapes were playing on tambours, others on psalteries, others on rebecs — every instrument producing the strangest sound imaginable. Viewed through the massive pillars, beneath that dark and ponderous roof, and by the mystic light before described, this strange company had a supernatural appearance, and neither Chowles nor Judith doubted for a moment that they beheld before them a congregation of phantoms. An irresistible feeling of curiosity prompted them to advance. On drawing nearer, they found the assemblage comprehended all ranks of society. There was a pope in his tiara and pontifical dress; a cardinal in his cap and robes; a monarch with a sceptre in his hand, and arrayed in the habiliments of royalty; a crowned queen; a bishop wearing his mitre, and carrying his crosier; an abbot, likewise in his mitre, and bearing a crosier; a duke in his robes of state; a grave canon of the church; a knight sheathed in armour; a judge, an advocate, and a magistrate, all in their robes; a mendicant friar and a nun; and the list was completed by a physician, an astrologer, a miser, a merchant, a duchess, a pedler, a soldier, a gamester, an idiot, a robber, a blind man, and a beggar — each distinguishable by his apparel. [Chapter III, "The Dance of Death," pp. 187-88 ]
Related Material: Phiz's Frontispiece and Title-page Vignette (1847)
Reference
Ainsworth, William Harrison. Old Saint Paul's: A Tale of the Plague and the Fire. London: Parry, Blenkharn & Co., 1847. This was a one-volume reprint of the three-decker published by Hugh Cunningham in 1841. Routledge re-issued the single volume with the Franklin illustrations prefaced by two additional engravings by Hablot Knight Brown.
Vann, J. Don. "William Harrison Ainsworth: Old Saint Paul's in the Sunday Times, 3 January-26 December 1841." Victorian Novels in Serial. New York: MLA, 1985. Pp. 21-22.
---
Last modified 4 November 2018