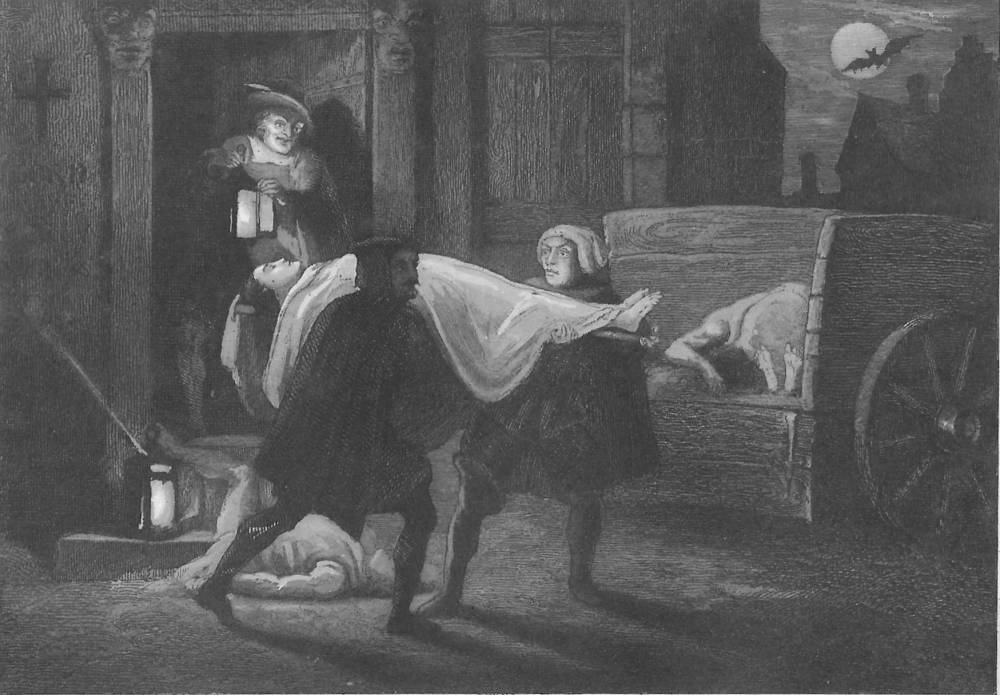 Leonard Holt conversing with the Masons before the Portico of Saint Paul's. Artist: John Franklin. Drawn and engraved by Franklin, 1841, reprinted 1847. Steel-plate etching, 9.7 cm high by 14.4 cm wide. An illustration for W. H. Ainsworth's historical romance Old St. Paul's: A Tale of the Plague and the Fire (London: Parry, Blenkharn & Co., 1847): facing p.174 in Book the Third, "June 1665," Book the Third, "June 1665," Chapter II, "How the Fires were lighted in the Streets." Ainsworth initially serialised the novel in The Sunday Times, from 3 January through 26 December 1841 in fifty-one weekly instalments, which Ainsworth almost immediately reconfigured as twelve monthly parts for publication that same year, a pattern more famously adopted by Charles Dickens in 1859 for A Tale of Two Cities (June-December).
Scanned image and caption by Philip V. Allingham. [You may use this image without prior permission for any scholarly or educational purpose as long as you (1) credit the person who scanned the image and (2) link your document to this URL in a web document or cite it in a print one.] Click on image to enlarge it.
Passage Illustrated
"Shame on them!" exclaimed Leonard Holt, who, being much interested in the conversation of the masons, had silently approached them. "At this season, more than ever, they are bound to attend to their duty."
"Why, so I think," rejoined Gatford; "but I suppose they consider self-preservation their first duty. They aver that all assemblages, whether called together for religious purposes or not, are dangerous, and likely to extend the pestilence."
"And yet crowds are permitted to assemble for purposes of amusement, if not for worship, in those holy walls," returned Leonard.
"Not so," replied Gatford. "Very few persons now come there, and none for amusement. Paul's Walk is completely deserted. The shops and stalls have been removed, and the pillars to which they were attached are restored to their former appearance."
"I am glad to hear it," rejoined Leonard. "I would far rather the sacred edifice were altogether abandoned than be what it has been of late — a den of thieves."
"It was a stable and a magazine of arms in the time of the Commonwealth," remarked Gatford.
"And if Solomon Eagle's foreboding come to pass, it will be a heap of ruins in our own time," rejoined Turgis. "But I see the prophet of ill has quitted his post, and retired to his hiding-place."
Looking up as this was said, Leonard saw that the enthusiast had disappeared. At this moment the great door of the cathedral was thrown open, and, quitting the masons, he ascended the broad steps under the portico, and entered the fane, where he found that the information he had received was correct, and that the stalls and other disfigurements to the pillars had been removed. [Book the Third, "June 1665," Chapter II, "How the Fires were lighted in the Streets," p. 174]
Related Material: Phiz's Frontispiece and Title-page Vignette (1847)
Reference
Ainsworth, William Harrison. Old Saint Paul's: A Tale of the Plague and the Fire. London: Parry, Blenkharn & Co., 1847. This was a one-volume reprint of the three-decker published by Hugh Cunningham in 1841. Routledge re-issued the single volume with the Franklin illustrations prefaced by two additional engravings by Hablot Knight Brown.
Vann, J. Don. "William Harrison Ainsworth: Old Saint Paul's in the Sunday Times, 3 January-26 December 1841." Victorian Novels in Serial. New York: MLA, 1985. Pp. 21-22.
---
Last modified 4 November 2018