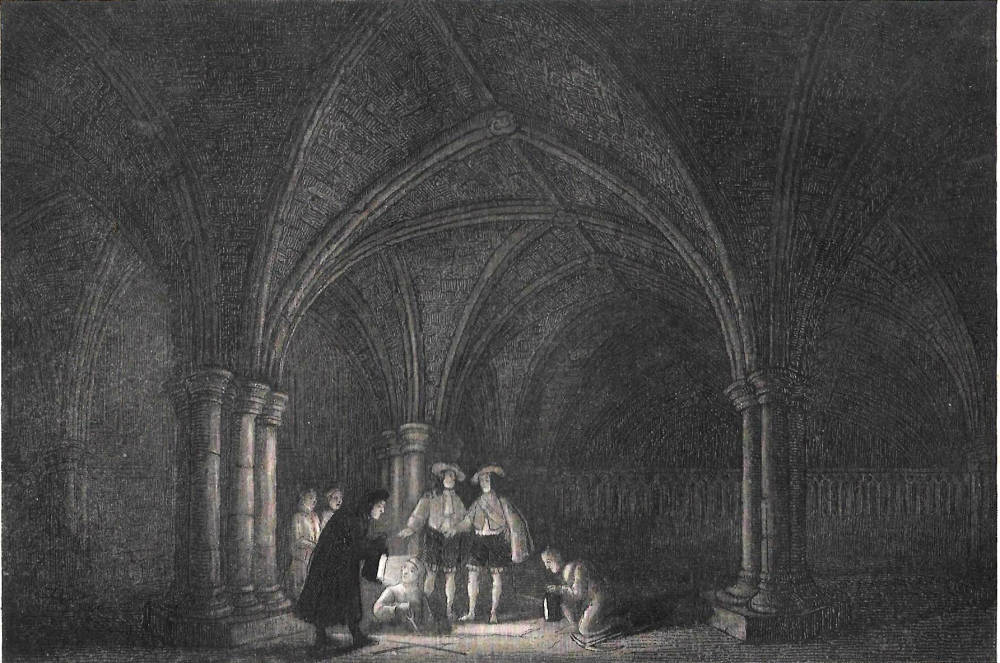 Lilly and Quartremain digging for the treasure in Saint Faith's. Artist: John Franklin. Drawn and engraved by Franklin, 1841, reprinted 1847. Steel-plate etching, 3.75 by 5.5 inches (9.5 cm high by 13.5 cm wide). Fourth illustration by this artist for W. H. Ainsworth's historical romance, Old St. Paul's: A Tale of the Plague and the Fire (London: Parry, Blenkharn & Co., 1847): Book the First, "April, 1665," Chapter IX, "The Miniature," facing p. 64. Yet another nightmarish scene as a dark plate reinforces the chaos that descends upon English society with this last, greatest visitation of the bubonic plague. In the 1841 original, the illustrator has employed extreme Baroque chiaroscuro to highlight the faces of the diggers and the open grave. Ainsworth initially serialised the novel in The Sunday Times, from 3 January through 26 December 1841 in fifty-one weekly instalments, which Ainsworth almost immediately reconfigured as twelve monthly parts for publication that same year, a pattern more famously emulated by Charles Dickens in 1859 for A Tale of Two Cities (June-December).
Scanned image by Simon Cooke, color correction and sizing by George P. Landow. Caption and commentary by Philip V. Allingham. You may use this image without prior permission for any scholarly or educational purpose as long as you (1) credit the person who scanned the image and (2) link your document to this URL in a web document or cite the Victorian Web in a print one.
Passage Illustrated: "Digging for Buried Treasure"
"He is dead, sir," replied Judith.
"Dead!" echoed the doctor. "When I left him at one o'clock this morning, he was doing well. Your attendance seems to have accelerated his end."
"His death was occasioned by an accident, sir," replied Judith. "He became delirious about three o'clock, and, in spite of all my efforts to detain him, started out of bed, rushed into Saint Faith's, and threw himself into a pit, which Mr. Lilly and some other persons had digged in search of treasure."
"This is a highly improbable story, Mrs. Malmayns," returned Hodges, "and I must have the matter thoroughly investigated before I lose sight of you."
"I will vouch for the truth of Mrs. Malmayn's statement," interposed Chowles.
"You!" cried Hodges, contemptuously.
"Yes, I," replied the coffin-maker. "It seems that the sexton had found a chest of treasure buried in Saint Faith's, and being haunted by the idea that some one was carrying it off, he suddenly sprang out of bed, and rushed to the church, where, sure enough, Mr. Lilly, Mr. Quatremain, the Earl of Rochester, and Sir George Etherege, having, by the help of mosaical rods, discovered this very chest, were digging it up. Poor Matthew instantly plunged into the grave, and died of a sudden chill."
"That is not impossible," observed Hodges, after a pause. "But what has become of the treasure?" [Chapter IX, p. 72]
Related Material: Phiz's Frontispiece and Title-page Vignette (1847)
References
Ainsworth, William Harrison. Old Saint Paul's: A Tale of the Plague and the Fire. London: Parry, Blenkharn & Co., 1847. This was a one-volume reprint of the three-decker published by Hugh Cunningham in 1841. Routledge re-issued the single volume with the Franklin illustrations prefaced by two additional engravings by Hablot Knight Brown.
Vann, J. Don. "William Harrison Ainsworth: Old Saint Paul's in the Sunday Times, 3 January-26 December 1841." Victorian Novels in Serial. New York: MLA, 1985. Pp. 21-22.
---
Last modified 4 November 2018