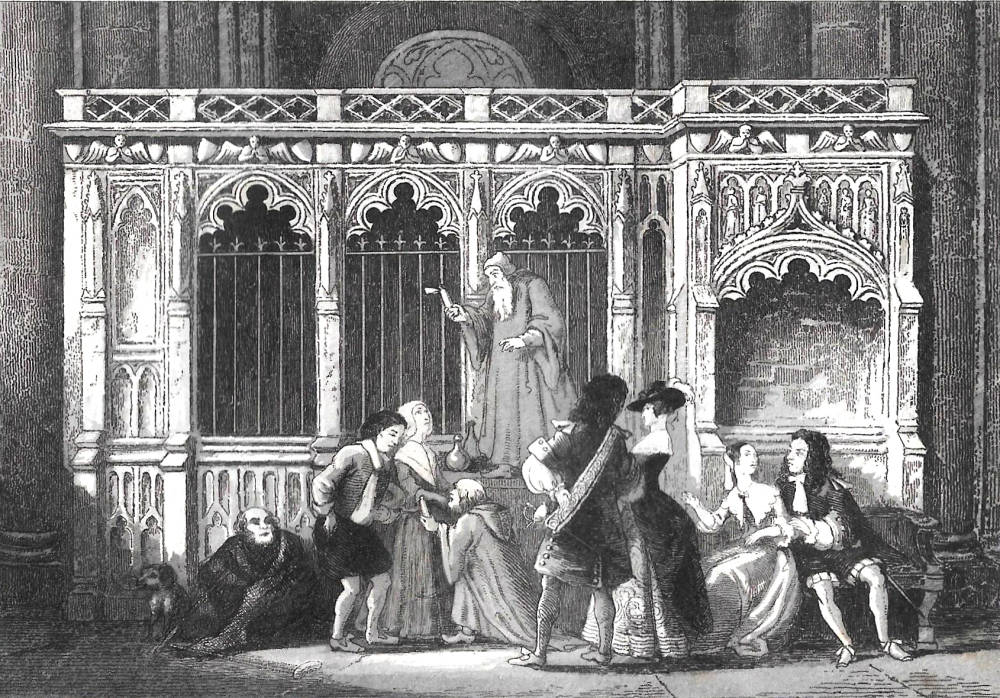 Blaize purchasing the Infallible Antidotes. Artist: John Franklin. Drawn and engraved by Franklin, 1841, reprinted 1847. Steel-plate etching, 9.6 cm high by 14 cm wide. Seventh illustration by this artist for W. H. Ainsworth's historical romance, Old St. Paul's: A Tale of the Plague and the Fire (London: Parry, Blenkharn & Co., 1847): Book the Second, "May, 1665," Chapter III, "The Quack Doctors," facing p. 95. Ainsworth initially serialised the novel in The Sunday Times, from 3 January through 26 December 1841 in fifty-one weekly instalments, which Ainsworth almost immediately reconfigured as twelve monthly parts for publication that same year, a pattern more famously adopted by Charles Dickens in 1859 for A Tale of Two Cities (June-December).
Scanned image by Simon Cooke, color correction and sizing by George P. Landow. Caption and commentary by Philip V. Allingham. You may use this image without prior permission for any scholarly or educational purpose as long as you (1) credit the person who scanned the image and (2) link your document to this URL in a web document or cite the Victorian Web in a print one.
Passage Illustrated
"There would be no harm in making the trial," replied Parkhurst. "But you shall now see the learned gentleman. I ought to apprise you that he has two friends with him—one a young gallant, named Hawkswood, whom he has recently cured of the distemper, and who is so much attached to him that he never leaves him; the other, a doctor, like himself, named Martin Furbisher, who always accompanies him in his visits to his patients, and prepares his mixtures for him. You must not be surprised at their appearance. And now come with me."
With this, he led the way into a small room at the back of the shop, where three personages were seated at the table, with a flask of wine and glasses before them. Blaize detected Doctor Bottesham at a glance. He was an ancient-looking man, clad in a suit of rusty black, over which was thrown a velvet robe, very much soiled and faded, but originally trimmed with fur, and lined with yellow silk. His powers of vision appeared to be feeble, for he wore a large green shade over his eyes, and a pair of spectacles of the same colour. A venerable white beard descended almost to his waist. His head was protected by a long flowing grey wig, over which he wore a black velvet cap. His shoulders were high and round, his back bent, and he evidently required support when he moved, as a crutch-headed staff was reared against his chair. On his left was a young, handsome, and richly-attired gallant, answering to the apothecary's description of Hawkswood; and on the right sat a stout personage precisely habited like himself, except that he wore a broad-leaved hat, which completely overshadowed his features. Notwithstanding this attempt at concealment, it was easy to perceive that Doctor Furbisher's face was covered with scars, that he had a rubicund nose, studded with carbuncles, and a black patch over his left eye.
"Is this the young man who desires to consult me?" asked Doctor Calixtus Bottesham, in the cracked and quavering voice of old age, of Parkhurst.
"It is," replied the apothecary, respectfully. "Go forward," he added to Blaize, "and speak for yourself."
"What ails you?" pursued Bottesham, gazing at him through his spectacles. "You look strong and hearty."
"So I am, learned sir," replied Blaize, bowing to the ground; "but understanding from Mr. Parkhurst that you have an infallible remedy against the plague, I would gladly procure it from you, as, if I should be attacked, I may not have an opportunity of consulting you." [Book II, "May, 1665," Chapter III, "The Quack Doctors," pp. 94-95]
Related Material: Phiz's Frontispiece and Title-page Vignette (1847)
References
Ainsworth, William Harrison. Old Saint Paul's: A Tale of the Plague and the Fire. London: Parry, Blenkharn & Co., 1847. This was a one-volume reprint of the three-decker published by Hugh Cunningham in 1841. Routledge re-issued the single volume with the Franklin illustrations prefaced by two additional engravings by Hablot Knight Brown.
Vann, J. Don. "William Harrison Ainsworth: Old Saint Paul's in the Sunday Times, 3 January-26 December 1841." Victorian Novels in Serial. New York: MLA, 1985. Pp. 21-22.
---
Last modified 4 November 2018