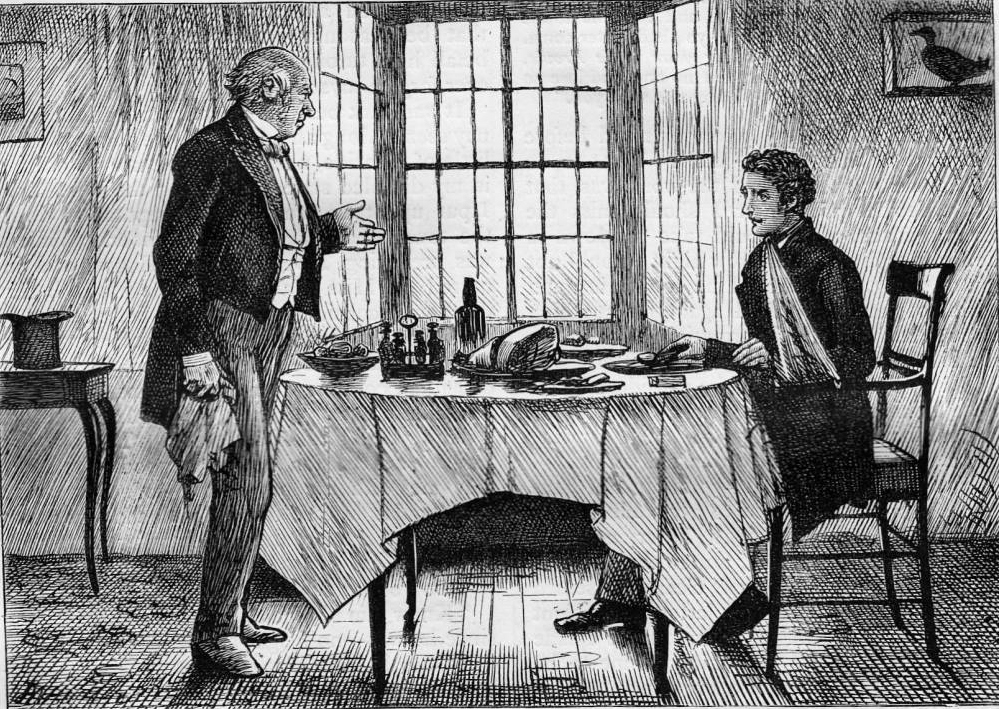 "'Him that I speak of,' said the landlord. 'Mr. Pumblechook'" by F. A. Fraser. 1876. Framed, 9.6 x 13.6 cm. Dickens's Great Expectations, volume 11, The Household Edition, page 196. [Click on image to enlarge it.]
Passage Illustrated
My inn had once been a part of an ancient ecclesiastical house, and I dined in a little octagonal common-room, like a font. As I was not able to cut my dinner, the old landlord with a shining bald head did it for me. This bringing us into conversation, he was so good as to entertain me with my own story — of course with the popular feature that Pumblechook was my earliest benefactor and the founder of my fortunes.
"Do you know the young man?" said I.
"Know him!" repeated the landlord. "Ever since he was — no height at all."
"Does he ever come back to this neighbourhood?"
"Ay, he comes back," said the landlord, "to his great friends, now and again, and gives the cold shoulder to the man that made him."
"What man is that?"
"Him that I speak of," said the landlord. "Mr. Pumblechook."
"Is he ungrateful to no one else?"
"No doubt he would be, if he could," returned the landlord, "but he can't. And why? Because Pumblechook done everything for him."
"Does Pumblechook say so?"
"Say so!" replied the landlord. "He ha'n't no call to say so."
"But does he say so?"
"It would turn a man's blood to white-wine winegar to hear him tell of it, sir," said the landlord.
I thought, "Yet Joe, dear Joe, you never tell of it. Long-suffering and loving Joe, you never complain. Nor you, sweet-tempered Biddy!" [Ch. 52, pages 195-196]
Scanned image and text by Philip V. Allingham. [You may use these images without prior permission for any scholarly or educational purpose as long as you (1) credit the photographer and (2) link your document to this URL in a web document or cite the Victorian Web in a print one.]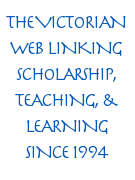 Reference
Dickens, Charles. Great Expectations. Volume 11 of the Household Edition. London: Chapman and Hall, 1876.
Related material
Other Artists' Illustrations for Dickens's
Great Expectations
---
Created 19 March 2004

Last modified 25 December 2019