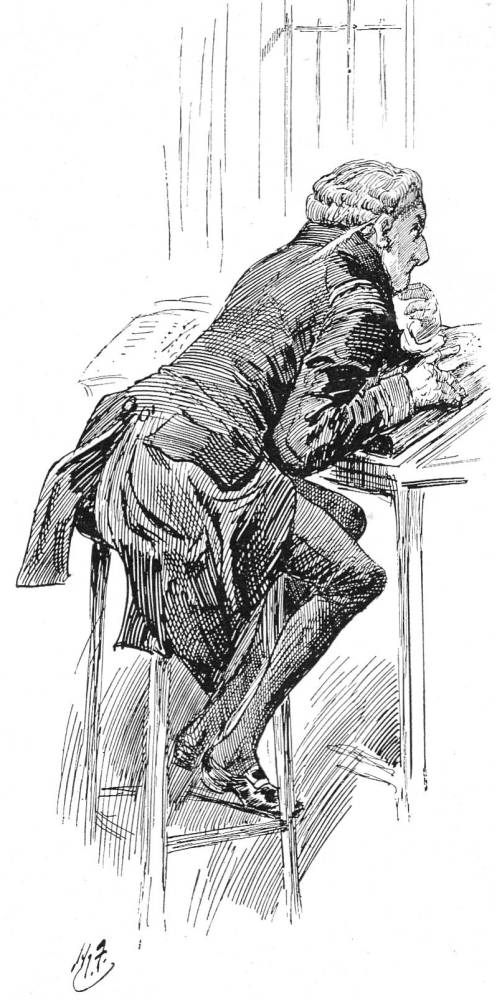 The confidential clerk of Tellson's Bank
Harry Furniss
1910
13 x 7 cm vignetted
If Mr. Stryver, the egotistical barrister, and his "jackal, " Sydney Carton, are fellows of no delicacy, after generations of service to t his venerable commercial establishment , the confidential chief clerk of Tellson's Bank, Temple Bar, is able to keep his own counsel and others'. Furniss suggests his readiness to conduct business — and, like Madame Defarge, keep accurate records for future use — by the quill pen behind his right ear. [Commentary continued below.]
[Click on image to enlarge it.]
Scanned image and text by Philip V. Allingham.
[You may use these images without prior permission for any scholarly or educational purpose as long as you (1) credit the photographer and (2) link your document to this URL in a web document or cite the Victorian Web in a print one.]
Passage Illustrated
His [Stryver's] way taking him past Tellson's, and he both banking at Tellson's and knowing Mr. Lorry as the intimate friend of the Manettes, it entered Mr. Stryver's mind to enter the bank, and reveal to Mr. Lorry the brightness of the Soho horizon. So, he pushed open the door with the weak rattle in its throat, stumbled down the two steps, got past the two ancient cashiers, and shouldered himself into the musty back closet where Mr. Lorry sat at great books ruled for figures, with perpendicular iron bars to his window as if that were ruled for figures too, and everything under the clouds were a sum.
"Halloa!" said Mr. Stryver. "How do you do? I hope you are well!"
It was Stryver's grand peculiarity that he always seemed too big for any place, or space. He was so much too big for Tellson's, that old clerks in distant corners looked up with looks of remonstrance, as though he squeezed them against the wall. The House itself, magnificently reading the paper quite in the far-off perspective, lowered displeased, as if the Stryver head had been butted into its responsible waistcoat.
The discreet Mr. Lorry said, in a sample tone of the voice he would recommend under the circumstances, "How do you do, Mr. Stryver? How do you do, sir?" and shook hands. There was a peculiarity in his manner of shaking hands, always to be seen in any clerk at Tellson's who shook hands with a customer when the House pervaded the air. He shook in a self-abnegating way, as one who shook for Tellson and Co.
"Can I do anything for you, Mr. Stryver?" asked Mr. Lorry, in his business character.
"Why, no, thank you; this is a private visit to yourself, Mr. Lorry; I have come for a private word."
"Oh indeed!" said Mr. Lorry, bending down his ear, while his eye strayed to the House afar off.
"I am going," said Mr. Stryver, leaning his arms confidentially on the desk: whereupon, although it was a large double one, there appeared to be not half desk enough for him: "I am going to make an offer of myself in marriage to your agreeable little friend, Miss Manette, Mr. Lorry."
"Oh dear me!" cried Mr. Lorry, rubbing his chin, and looking at his visitor dubiously.
"Oh dear me, sir?" repeated Stryver, drawing back. "Oh dear you, sir? What may your meaning be, Mr. Lorry?"
"My meaning," answered the man of business, "is, of course, friendly and appreciative, and that it does you the greatest credit, and — in short, my meaning is everything you could desire. But — really, you know, Mr. Stryver —" Mr. Lorry paused, and shook his head at him in the oddest manner, as if he were compelled against his will to add, internally, "you know there really is so much too much of you!" [Book Two, "The Golden Thread," Chapter Twelve, "The Fellow of Delicacy," pages 133-134]
Relevant Illustrations from earlier editions: 1859, 1867, and 1874.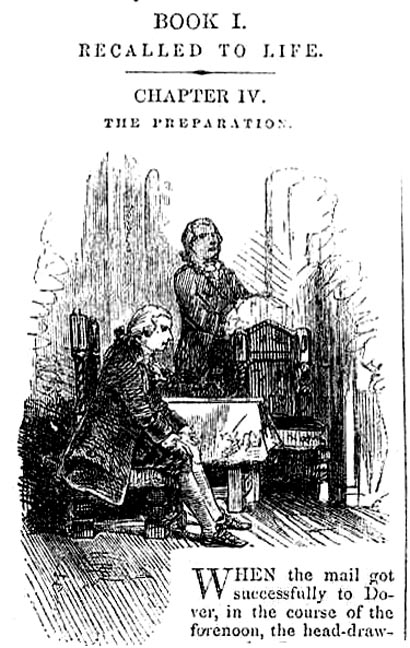 Left: John McLenan's introduction of Jarvis Lorry at the inn in Dover, Headnote vignette, Book One, Chapter Four. Right: Phiz's study in contrasts, "Mr. Stryver at Tellson's Bank" (August 1859).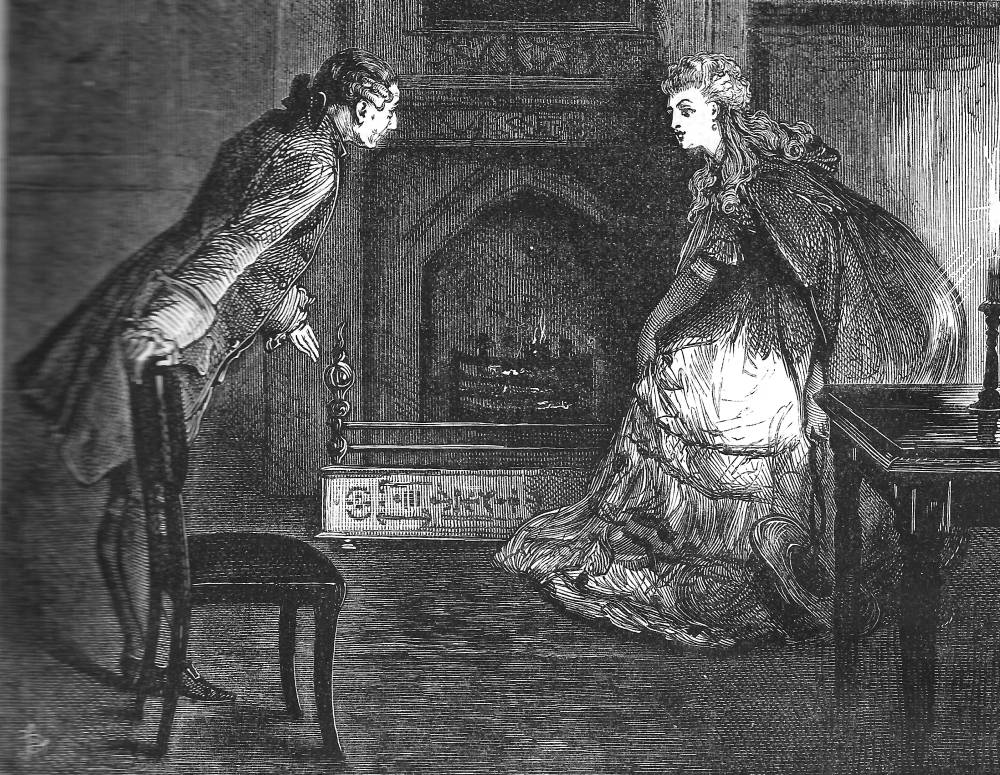 Left: Fred Barnard's introduction of Mr. Lorry, in "She curtsied to him. . ." and (right) Sol Eytinge, Jr.'s "Mr. Lorry and Miss Pross" (1874). [Click on images to enlarge them.]
Commentary
The illustrators have often introduced Mr. Jarvis Lorry, confirmed bachelor and confidential clerk, in conjunction with the other defender of the Manette family, the old maid, Miss Pross. Phiz juxtaposes Mr. Lorry, an elderly fellow of extreme delicacy, with a younger, far more florid and less scrupulous professional, the exploitative attorney, in Mr. Stryver at Tellson's Bank, whereas Furniss, as is his wont, introduces Mr. Lorry by himself in a characteristic pose, bent over ledgers while perched on his stool in Tellson's counting-house. The illustrators, like Dickens himself, underscore Lorry's position at the Bank since it serves as a plot vehicle for introducing the Manettes into Paris at the height of the Revolution and then for extricating them at the crucial moment in Book Three, Chapter Thirteen, as the Reign of Terror rages. Perhaps more revealing of Jarvis Lorry's conflicted emotional state in protecting the Manettes and attempting to do what is best for his old friend Dr. Manette's sanity is Phiz's dual study of the guilty partners destroying the shoe-mender's bench in The Accomplices (August 1859). In contrast, in John McLenan's dual portrait of Miss Pross and Mr. Lorry, Miss Pross and Mr. Lorry (25 June 1859), the spinster and the confidential clerk seem too frail for the roles in which Dickens has cast them.
Furniss introduces Lorry in much the same pose in the lower left-hand corner of the volume's equivalent of Phiz's monthly wrapper, Characters in the Story, where he is juxtaposed with another careful recorder of human transactions, Madame Defarge. Furniss thereby emphasizes the elderly banker's alertness and dedication to protecting his old friend, even as Madame Defarge is bent upon the destruction of anyone allied to the house of St. Evrémonde. Furniss's characterization of Jarvis Lorry emphasizes his "business mentality" by his posture as he pours over financial ledgers, but Furniss has not included the background details that make Phiz's parallel illustration, Mr. Stryver at Tellson's Bank, so interesting: only the bars of Tellson's appear sketchily in the background, and merely implied by the accompanying text (three pages earlier) are such contextual elements as the ancient cashiers paying out a client with bags of coins (left, a pure bit of invention on Phiz's part), the annual ledgers (immediately above Lorry's desk), the wastebasket (lower right), and the strident, fashionably-dressed Stryver, striking a pose.
Bibliography
Bentley, Nicolas, Michael Slater, and Nina Burgis. The Dickens Index. Oxford and New York: Oxford U. , 1988.
Davis, Paul. Charles Dickens A to Z: The Essential Reference to His Life and Work. New York: Facts On File, 1998.
Dickens, Charles. A Tale of Two Cities. All the Year Round. 30 April through 26 November 1859.
Dickens, Charles. A Tale of Two Cities. Il. John McLenan. Harper's Weekly: A Journal of Civilization. 7 May through 3 December 1859.
Dickens, Charles. A Tale of Two Cities. Il. Hablot Knight Browne. London: Chapman and Hall, 1859.
Dickens, Charles. A Tale of Two Cities and Great Expectations. Il. Sol Eytinge, Jr. The Diamond Edition. 16 vols. Boston: Ticknor and Fields, 1867.
Dickens, Charles. A Tale of Two Cities. Il. Fred Barnard. The Household Edition. London: Chapman and Hall, 1874.
Dickens, Charles. A Tale of Two Cities. Il. A. A. Dixon. London: Collins, 1905.
Dickens, Charles. A Tale of Two Cities, American Notes, and Pictures from Italy. Il. Harry Furniss. Charles Dickens Library Edition. 18 vols. London: Educational Book Company, 1910. Vol. 13.
Sanders, Andrew. A Companion to A Tale of Two Cities. London: Unwin Hyman, 1988.
---

Victorian
Web

Illustration

Harry
Furniss

Next
Last modified 18 November 2013