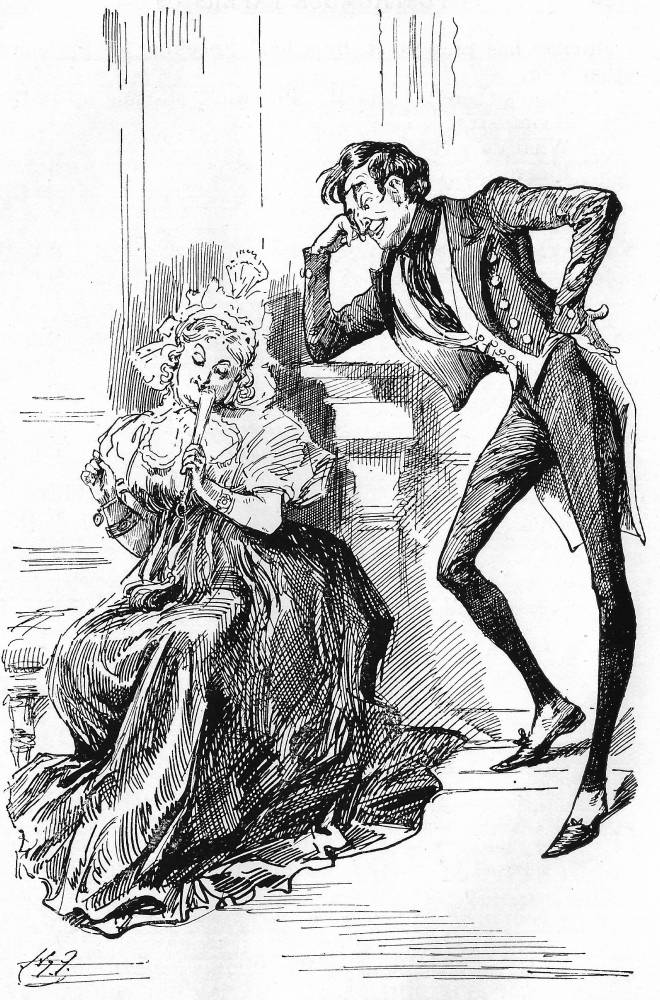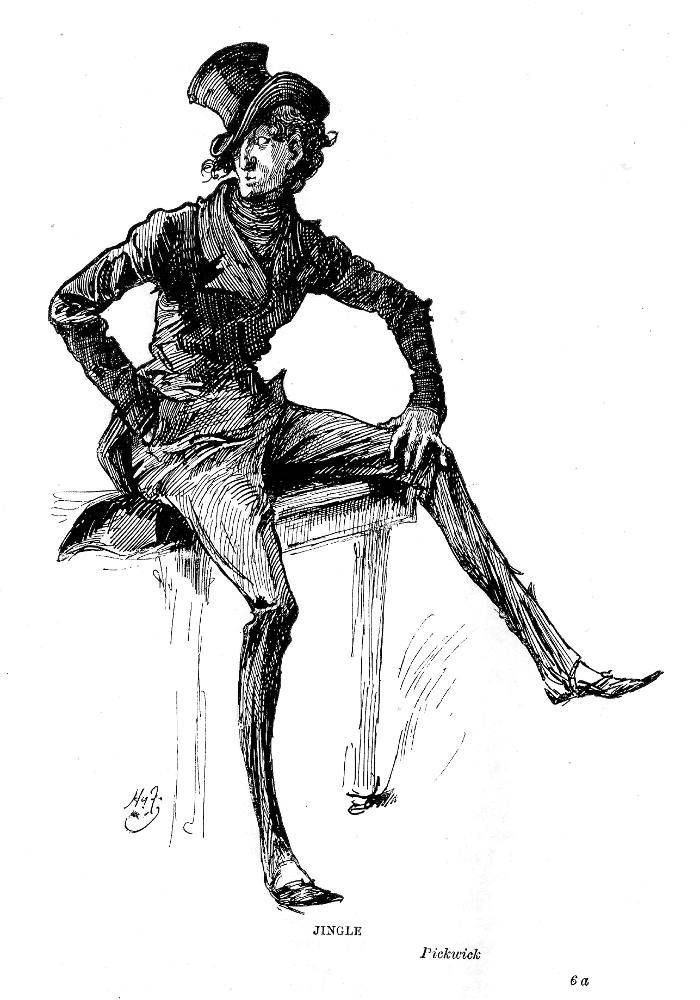 Mr. Alfred Jingle in two distinct studies — Jingle and the Widow at the Ball, facing 24, 13.8 cm high by 9.3 cm wide (5 ½ inches by 3 ½ inches) vignetted, and Jingle, facing 161, 13.8 cm high by 10 cm wide (5 ½ inches by 3 ¾ inches) vignetted, in Dickens's The Posthumous Papers of the Pickwick Club. 1874. Lithographic reproductions of pen-and-ink drawings from The Charles Dickens Library Edition, Vol. 2 (1910).
Passages Illustrated: The Out-of-Work Actor who rescues Pickwick from the Cabman
While his three companions were busily engaged in proffering their thanks to their new acquaintance, Mr. Pickwick had leisure to examine his costume and appearance.
He was about the middle height, but the thinness of his body, and the length of his legs, gave him the appearance of being much taller. The green coat had been a smart dress garment in the days of swallow-tails, but had evidently in those times adorned a much shorter man than the stranger, for the soiled and faded sleeves scarcely reached to his wrists. It was buttoned closely up to his chin, at the imminent hazard of splitting the back; and an old stock, without a vestige of shirt collar, ornamented his neck. His scanty black trousers displayed here and there those shiny patches which bespeak long service, and were strapped very tightly over a pair of patched and mended shoes, as if to conceal the dirty white stockings, which were nevertheless distinctly visible. His long, black hair escaped in negligent waves from beneath each side of his old pinched-up hat; and glimpses of his bare wrists might be observed between the tops of his gloves and the cuffs of his coat sleeves. His face was thin and haggard; but an indescribable air of jaunty impudence and perfect self-possession pervaded the whole man.
Such was the individual on whom Mr. Pickwick gazed through his spectacles (which he had fortunately recovered), and to whom he proceeded, when his friends had exhausted themselves, to return in chosen terms his warmest thanks for his recent assistance. [Chapter II, "The First Day's Journey, and the First Evening's Adventures; with their Consequences," page 10]
Second Passage Illustrated: Alfred Jingle and the wealthy widow
Upon the doctor, and the widow, the eyes of both Mr. Tupman and his companion had been fixed for some time, when the stranger broke silence.
"Lots of money — old girl — pompous doctor — not a bad idea — good fun," were the intelligible sentences which issued from his lips. Mr. Tupman looked inquisitively in his face.
"I'll dance with the widow," said the stranger.
"Who is she?" inquired Mr. Tupman.
"Don't know — never saw her in all my life — cut out the doctor — here goes." And the stranger forthwith crossed the room; and, leaning against a mantel-piece, commenced gazing with an air of respectful and melancholy admiration on the fat countenance of the little old lady. Mr. Tupman looked on, in mute astonishment. The stranger progressed rapidly; the little doctor danced with another lady; the widow dropped her fan; the stranger picked it up, and presented it — a smile — a bow — a curtsey — a few words of conversation. The stranger walked boldly up to, and returned with, the master of the ceremonies; a little introductory pantomime; and the stranger and Mrs. Budger took their places in a quadrille. [Chapter II, "The First Day's Journey, and the First Evening's Adventures; with their Consequences," 21-2]
Commentary
As the placement of the initial Jingle illustration suggests, Dickens has made the out-of-work, itinerant actor a suitable foil to the virtuous but naive Pickwickians; despite his shabby-genteel appearance, Jingle is a force to be reckoned with: opportunistic, observant, astute, Jingle is endlessly resourceful and a keen judge of character. The reader instantly recognizes his arrival in the text by his staccato-like, rapid fire delivery of fragmentary sentences. At every turn, he scoffs at and betters the followers of Pickwick, as, for instance, when he steals the propertied woman whom Tracy Tupman has been courting, Rachael Wardle.
Jingle appears first on a London street, establishing himself indelibly in readers' minds through his distinctive manner of speech. He then reappears at Rochester and Dingley Dell Farm. He is present again at the Eatanswill election, and through his cunning and adaptive servant, Job Trotter, plays a practical joke on Pickwick at Bury St. Edmunds. Even so, Pickwick takes pity on him, and bails him out of the Fleet Prison at the end of the book. Unlike Robert Seymour and Hablot Knight Browne, the original illustrators of the 1836-37 serial,Furniss would have known of this character's trajectory prior to undertaking the program of illustration. Jingle appears in a prominent position, lower left-hand-corner, in Furniss's engraved title-page, Characters in the Story, and in five further illustrations, much as Dickens and the original illustrators described him. His signature garment is the formerly dressy green coat with out-of-fashion swallowtails. Significantly, Furniss has omitted him from Mrs. Leo Hunter's Garden Party in Chapter XV in order to focus on Pickwick and the florid German tourist, Count Smorltork, since "Mr. Fitz-Marshall" (Jingle's alias for the occasion) does not appear in that scene in which Dickens satirizes a German intellectual attempting to speak English.
Other artists who illustrated this work, 1836-1910
Eytinge's Diamond Edition (1867) and Kyd's studies of Alfred Jingle (1910)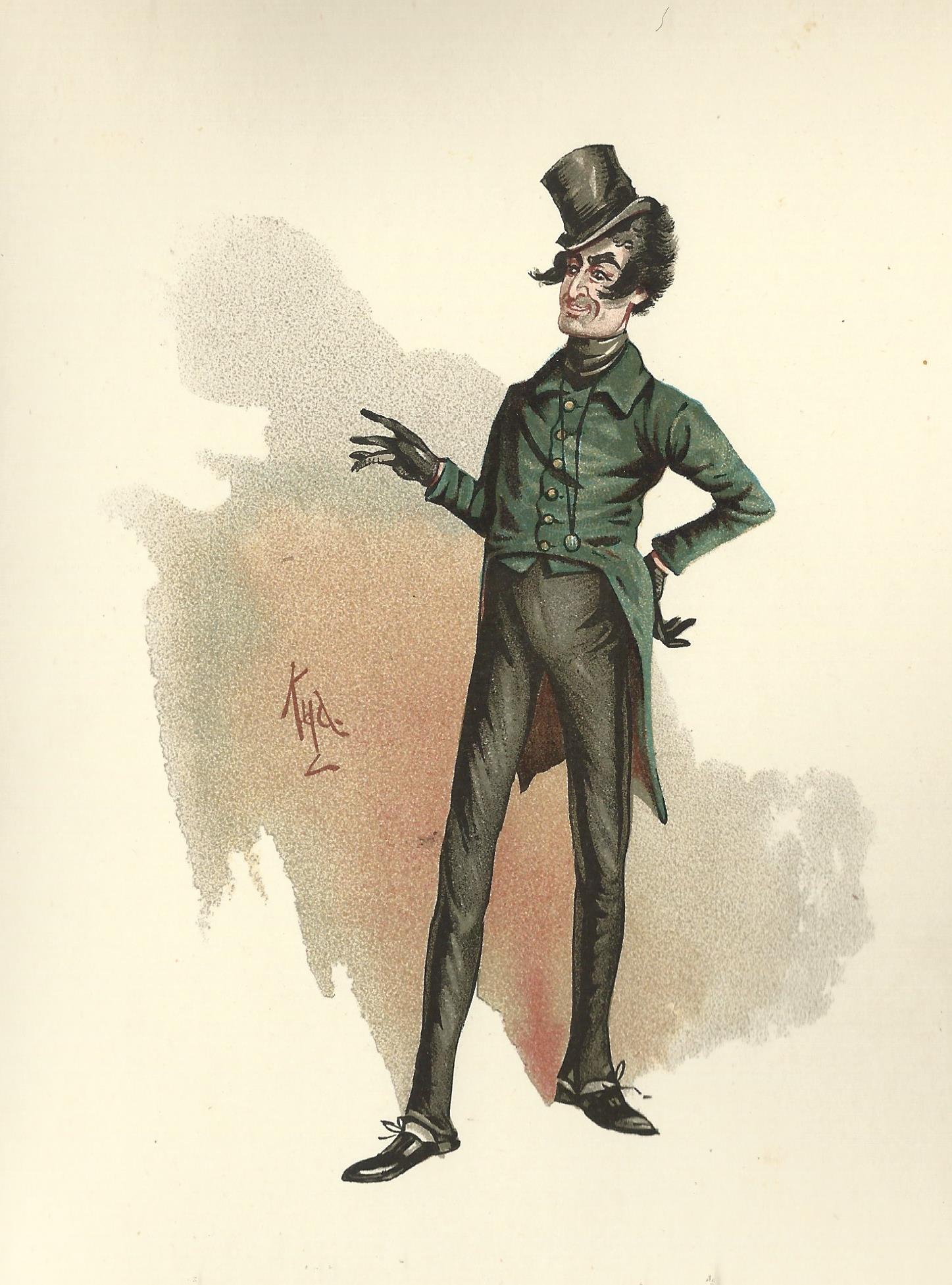 Left: Sol Eytinge, Jr.'s dual character study of the slippery actor and his valet, Mr. Alfred Jingle and Job Trotter. Centre: Clayton J. Clarke's Player's Cigarette Card No. 8, Alfred Jingle (1910). Right: Kyd's extra illustration, Alfred Jingle, Esq., of No Hall, Nowhere. (1910)
Parallel Scene by Phiz in the British Household Edition (1874)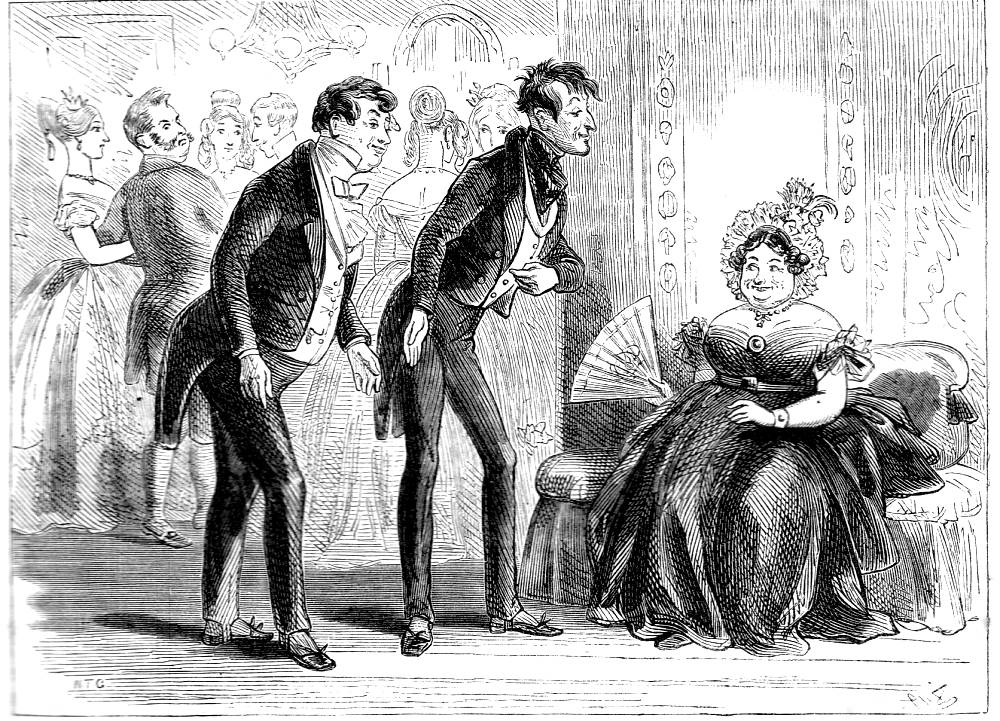 Above: Phiz's version of the original Seymour steel-engraving, an 1874 wood-engraving which focusses on Tracy Tupman (left), Jingle (centre), and the wealthy widow after Jingle has made fun of the "PC" on the Pickwickian's new coat: "What! Introducing His Friend!"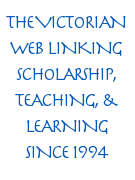 Scanned image, colour correction, sizing, caption, and commentary by Philip V. Allingham. [You may use this image without prior permission for any scholarly or educational purpose, as long as you (1) credit the person who scanned the image, and (2) link your document to this URL in a web document or cite the Victorian Web in a print one.]
Bibliography
Clarke, Clayton J. ('Kyd'). The Characters of Charles Dickens portrayed in a series of original watercolours by "Kyd." London, Paris, and New York: Raphael Tuck & Sons, n. d.
Clarke, Clayton J. ('Kyd'). "Mr. Jingle." John Player Cigarette Cards. Nottingham, 1910. No. 8.
Davis, Paul. Charles Dickens A to Z: The Essential Reference to His Life and Work. New York: Checkmark and Facts On File, 1999.
Dickens, Charles. Posthumous Papers of the Pickwick Club. Illustrated by Hablot Knight Browne ("Phiz"). The Authentic Edition. London: Chapman and Hall, 1901 [rpt. of the 1868 volume, based on the 30 May 1857 volume].
_____. Posthumous Papers of the Pickwick Club. Frontispieces by Felix Octavius Carr Darley and Sir John Gilbert. The Household Edition. 55 vols. New York: Sheldon & Co., 1863. 4 vols.
_____. Posthumous Papers of the Pickwick Club. Illustrated by Sol Eytinge, Jr. The Diamond Edition. Boston: Ticknor & Fields, 1867. 14 vols.
_____. Posthumous Papers of the Pickwick Club. Illustrated by Thomas Nast. The Household Edition. 16 vols. New York: Harper and Brothers, 1873. Vol. 4.
_____. Posthumous Papers of the Pickwick Club. Illustrated by Hablot Knight Browne ('Phiz'). The Household Edition. 22 vols. London: Chapman and Hall, 1874. Vol. 5.
_____. Posthumous Papers of the Pickwick Club. Illustrated by Harry Furniss. The Charles Dickens Library Edition. 18 vols. London: Educational Book, 1910. Vol. 2.
---
Created 16 July 2019

Last modified 4 February 2020