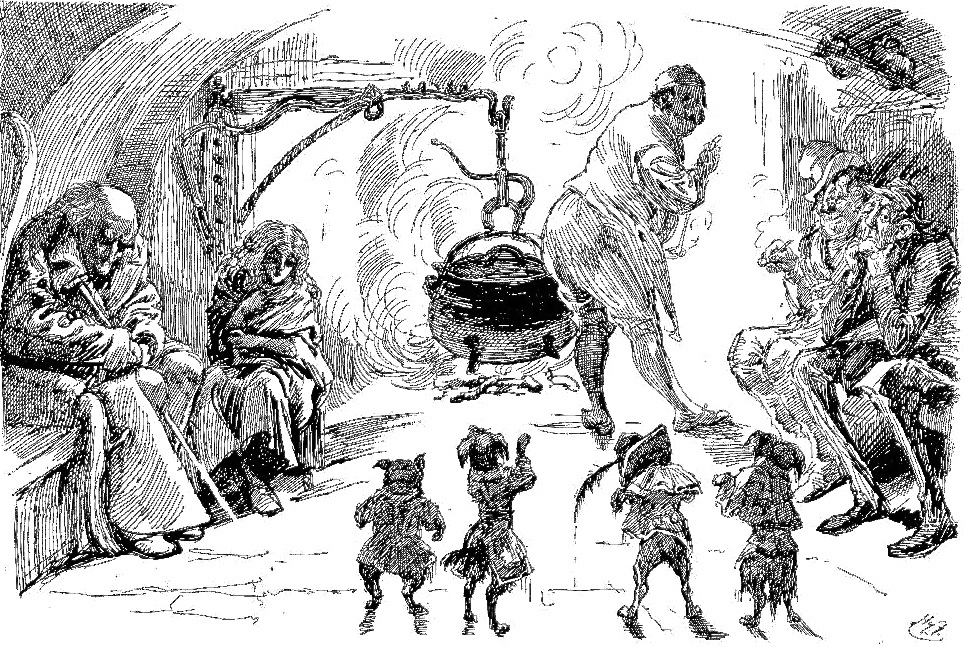 The new Visitors to the Jolly Sandboys (p. 136) — Chapter 18, 9.7 cm high x 14.2 cm wide, vignetted, in Charles Dickens's The Old Curiosity Shop, Charles Dickens Library Edition (1910), facing V, 137. Original caption: Nell and her grandfather separated when fresh company arrived. There were four very dismal dogs, each of them wearing a kind of little coat, who immediately stood upon their hind legs in a row. [Click on the image to enlarge it.]
Jerry and His Performing Dogs Arrive
His companion had only time to nod a brief assent to this position, for the child awoke at the instant. They had drawn close together during the previous whispering, and now hastily separated and were rather awkwardly endeavouring to exchange some casual remarks in their usual tone, when strange footsteps were heard without, and fresh company entered.
These were no other than four very dismal dogs, who came pattering in one after the other, headed by an old bandy dog of particularly mournful aspect, who, stopping when the last of his followers had got as far as the door, erected himself upon his hind legs and looked round at his companions, who immediately stood upon their hind legs, in a grave and melancholy row. Nor was this the only remarkable circumstance about these dogs, for each of them wore a kind of little coat of some gaudy colour trimmed with tarnished spangles, and one of them had a cap upon his head, tied very carefully under his chin, which had fallen down upon his nose and completely obscured one eye; add to this, that the gaudy coats were all wet through and discoloured with rain, and that the wearers were splashed and dirty, and some idea may be formed of the unusual appearance of these new visitors to the Jolly Sandboys.
Neither Short nor the landlord nor Thomas Codlin, however, was in the least surprised, merely remarking that these were Jerry's dogs and that Jerry could not be far behind. So there the dogs stood, patiently winking and gaping and looking extremely hard at the boiling pot, until Jerry himself appeared, when they all dropped down at once and walked about the room in their natural manner. This posture it must be confessed did not much improve their appearance, as their own personal tails and their coat tails—both capital things in their way — did not agree together.
Jerry, the manager of these dancing dogs, was a tall black-whiskered man in a velveteen coat, who seemed well known to the landlord and his guests and accosted them with great cordiality. Disencumbering himself of a barrel organ which he placed upon a chair, and retaining in his hand a small whip wherewith to awe his company of comedians, he came up to the fire to dry himself, and entered into conversation. [Chapter XVIII, 136-37]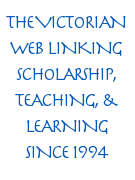 Related Material about
The Old Curiosity Shop
Scanned image and text by Philip V. Allingham. [You may use this image without prior permission for any scholarly or educational purpose as long as you (1) credit the person who scanned the image, and (2) link your document to this URL in a web document or cite the Victorian Web in a print one.]
Bibliography
Dickens, Charles. The Old Curiosity Shop. Illustrated by Harry Furniss. The Charles Dickens Library Edition. 18 vols. London: Educational Book Company, 1910. V.
---
Created 7 May 2020

Last modified 27 November 2020