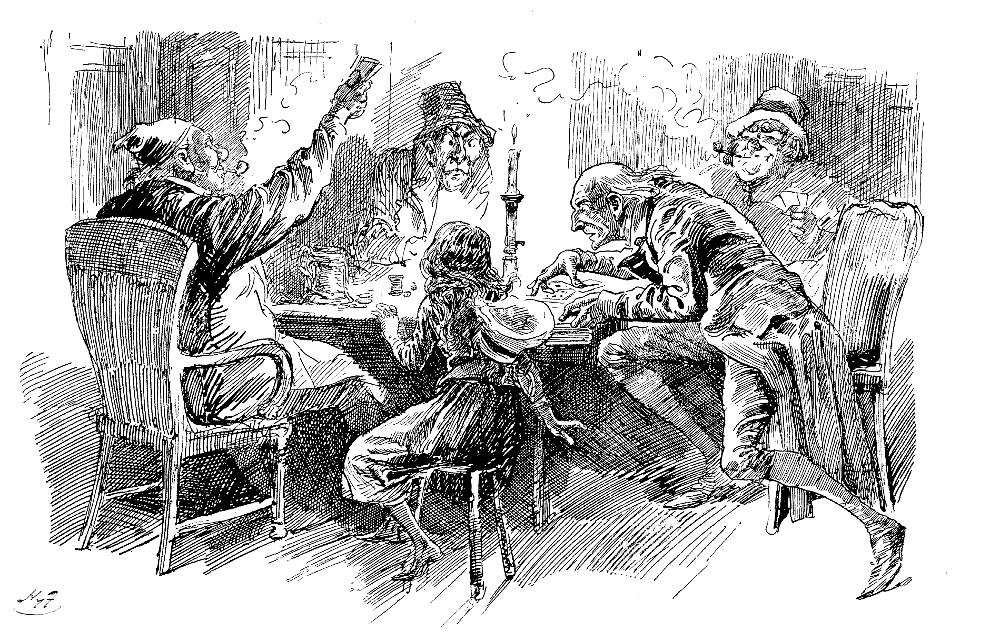 A Card Game at the Valiant Soldier (p. 220) — Chapter 31, 9.5 cm high x 14.4 cm wide, vignetted, in Charles Dickens's The Old Curiosity Shop, Charles Dickens Library Edition (1910), facing V, 225. Original caption: Exulting in some brief triumph, or cast down by a defeat, Nell's grandfather sat there so feverishly and intensely anxious, so terribly eager, so ravenous for the paltry stakes, that she could have almost better borne to see him dead. [Click on the image to enlarge it.]
Context of the Illustration: The Old Obsession
The child sat by, and watched its progress with a troubled mind.  Regardless of the run of luck, and mindful only of the desperate passion which had its hold upon her grandfather, losses and gains were to her alike. Exulting in some brief triumph, or cast down by a defeat, there he sat so wild and restless, so feverishly and intensely anxious, so terribly eager, so ravenous for the paltry stakes, that she could have almost better borne to see him dead. And yet she was the innocent cause of all this torture, and he, gambling with such a savage thirst for gain as the most insatiable gambler never felt, had not one selfish thought!
On the contrary, the other three — knaves and gamesters by their trade — while intent upon their game, were yet as cool and quiet as if every virtue had been centered in their breasts. Sometimes one would look up to smile to another, or to snuff the feeble candle, or to glance at the lightning as it shot through the open window and fluttering curtain, or to listen to some louder peal of thunder than the rest, with a kind of momentary impatience, as if it put him out; but there they sat, with a calm indifference to everything but their cards, perfect philosophers in appearance, and with no greater show of passion or excitement than if they had been made of stone. [Chapter XXIX, 220]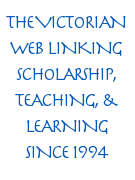 Related Material about
The Old Curiosity Shop
Scanned images and texts by Philip V. Allingham. [You may use this image without prior permission for any scholarly or educational purpose as long as you (1) credit the person who scanned the image and (2) link your document to this URL.]
Bibliography
Dickens, Charles. The Old Curiosity Shop. Illustrated by Harry Furniss. The Charles Dickens Library Edition. 18 vols. London: Educational Book Company, 1910. V.
---
Created 7 May 2020

Last modified 27 November 2020